I kicked off July by falling in love.
After giving myself permission to stop putting everything I had into visiting everysinglecountryintheworldrightnow, I reduced the pressure in my brain enough that I could turn my attention to returning to my homeland. The U.K. has been a sorely neglected travel destination in my world, with me rarely opting to head outside of London whenever I return to visit. Aside from a ten-day road trip around Cornwall and a short trip up to Oxford, I hadn't explored any more of the country since leaving to travel. I've spent well over six months there over the past six years, so this felt like a huge oversight.
When you add that to my newly-created challenge to tackle a long-distance walk and throw in the U.K.'s impressively large selection of multi-day hikes, I had a recipe for a month spent walking all over the country.
First up: Bristol!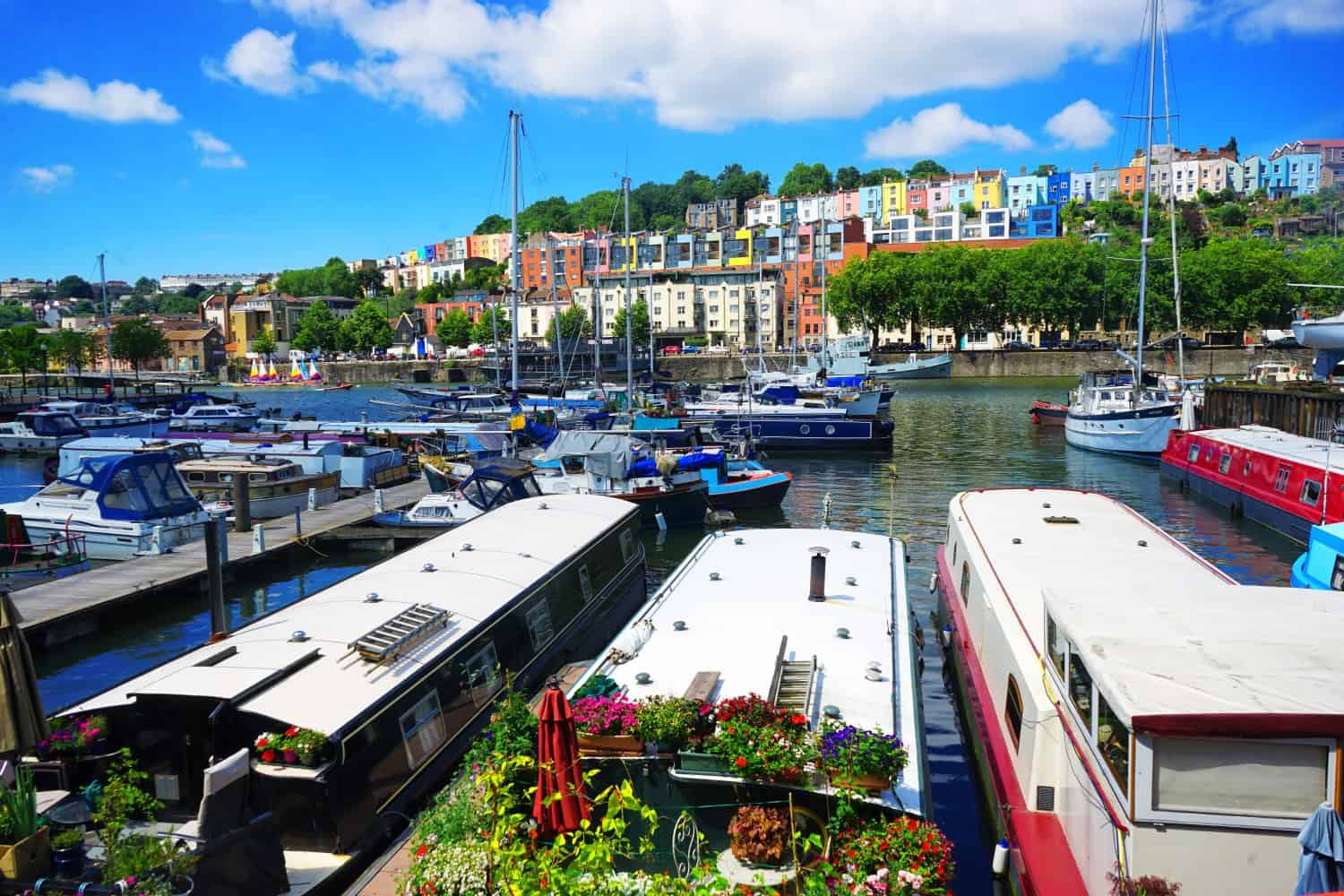 Back when Dave and I were deciding on the handful of spots we wanted to check out, Bristol was the one city that seemed to top every list of the best places in the country. It was recently named the coolest city in the U.K., and after further research, it sounded like it had everything we love in a place.
And it totally did.
It was like somebody had sat me down and told me to create my perfect city, then plonked me right down in the centre of it.
Bristol has an incredible food scene, with some of the best meals I've had in the U.K., as well tons of fun street food eats to snack on. Wapping Wharf became an instant favourite of mine, packed full of independent bars, restaurants, and cafes, all in converted shipping containers alongside the water.
Bristol's close to nature, with hiking trails within walking distance of the city centre and the Cotswolds a short drive away.
It's one of the best cities in the world for street art, so there was always something to snap photos of, including several Banksy pieces.
The city is full of creative people and is one of the most diverse places in the U.K. — and the fact that it was one of the highest remain-voting cities is always going to be a bonus for me.
It's the most active city in the country, so it's super-outdoorsy, with dozens of people paddle-boarding and kayaking on the river in the sunshine, tons of rock climbing gyms, yoga studios everywhere, and cyclists all over the city.
Don't be surprised if you see a lot more visits to Bristol in my future — I'm still gushing about how amazing it is to anyone who'll listen.
Next up on our whirlwind adventure of the country was a stint in Manchester.
Dave had never been before and I'd only spent five-ish hours there back when I was applying to universities. I got motion sickness on the flight over there, threw up at a bus stop, spent a few hours feeling sorry for myself while I was interviewed, then flew home.
Needless to say, I saw nothing of the place and was excited to see what I'd been missing out on.
From the second Dave and I stepped off the bus and into the city centre, I couldn't stop talking about how I could totally live there. Of course, I'd also said exactly the same thing about Bristol and you know I'm always saying it about London, too.
But Manchester reminded me of London — a much cheaper London — so I immediately felt as though I slotted into life there. I loved the grand architecture, and spent much of my time gawping up at the gorgeous buildings that surrounded us.
Gorgeous buildings that I, apparently, didn't take a single photo of.
From Manchester, we travelled to Leeds, which was yet another city that won my heart.
As a Londoner who's spent their life dismissing The North as cold, miserable, and boring, I was now holding up my hands as I sat down and devoured my words.
I loved walking along the waterfront, stopping at pubs and bars along the way for a drink in the sunshine. I loved eating my way around the city, and discovered so many delicious brunches and cafes to work from. I especially loved the inside of the 150-year-old Corn Exchange:
And onwards to Newcastle!
There, I found another beautiful city filled with spectacular architecture. On the day we visited, however, everyone seemed to be angry. We saw fights everywhere, people were yelling in the streets, and you know the locals were sweary when even your Kiwi boyfriend comments on how many times people were calling each other cunts.
We had just 12 hours in the city, so we spent our afternoon walking alongside the beautiful river, taking photos of the bridges, and drinking at The Old George: a pub Charles I used to frequent, dating from 1582. Badass.
Newcastle was probably the prettiest city I visited on my travels in England, but man, it just seemed to have such an aggressive vibe while we were there. I left with fairly mixed feelings.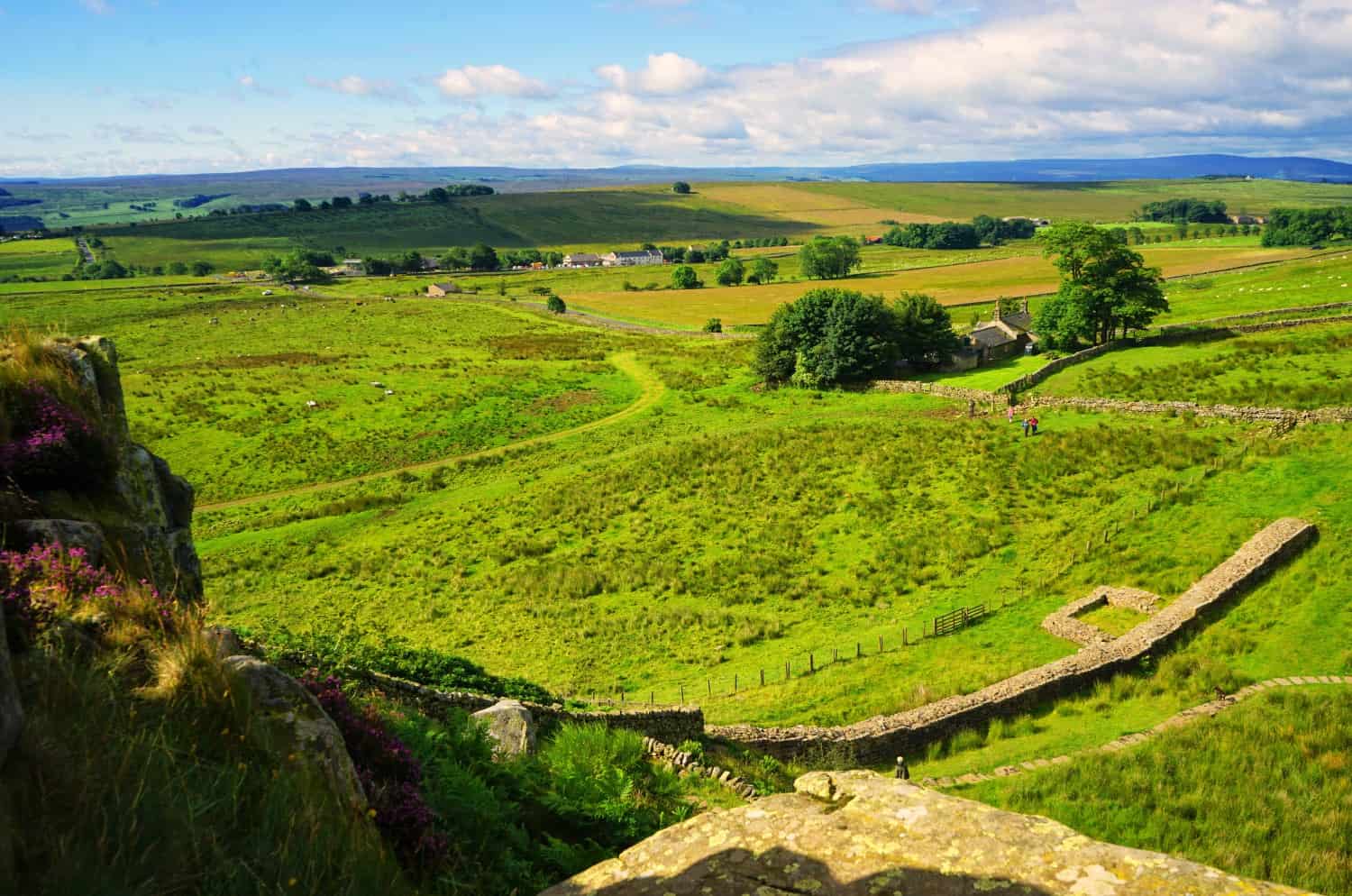 And then, the main event: walking Hadrian's Wall.
After listening to Dave gush non-stop about his life-changing experiences on the Camino, it had fired me up to the point where I wanted to see what all the fuss was about. I love to challenge myself, and a week-long walk across the U.K. sounded like the perfect way to do so.
I started off strong, with a spring in my step and determination in my thighs. From the starting point at Wallsend, we walked through Newcastle and out into the rolling English countryside. And we walked and walked and walked.
Bashing out a 20 mile day on paved surfaces on that first day was a big mistake, and even Dave ended up blistered and in pain by the end of it.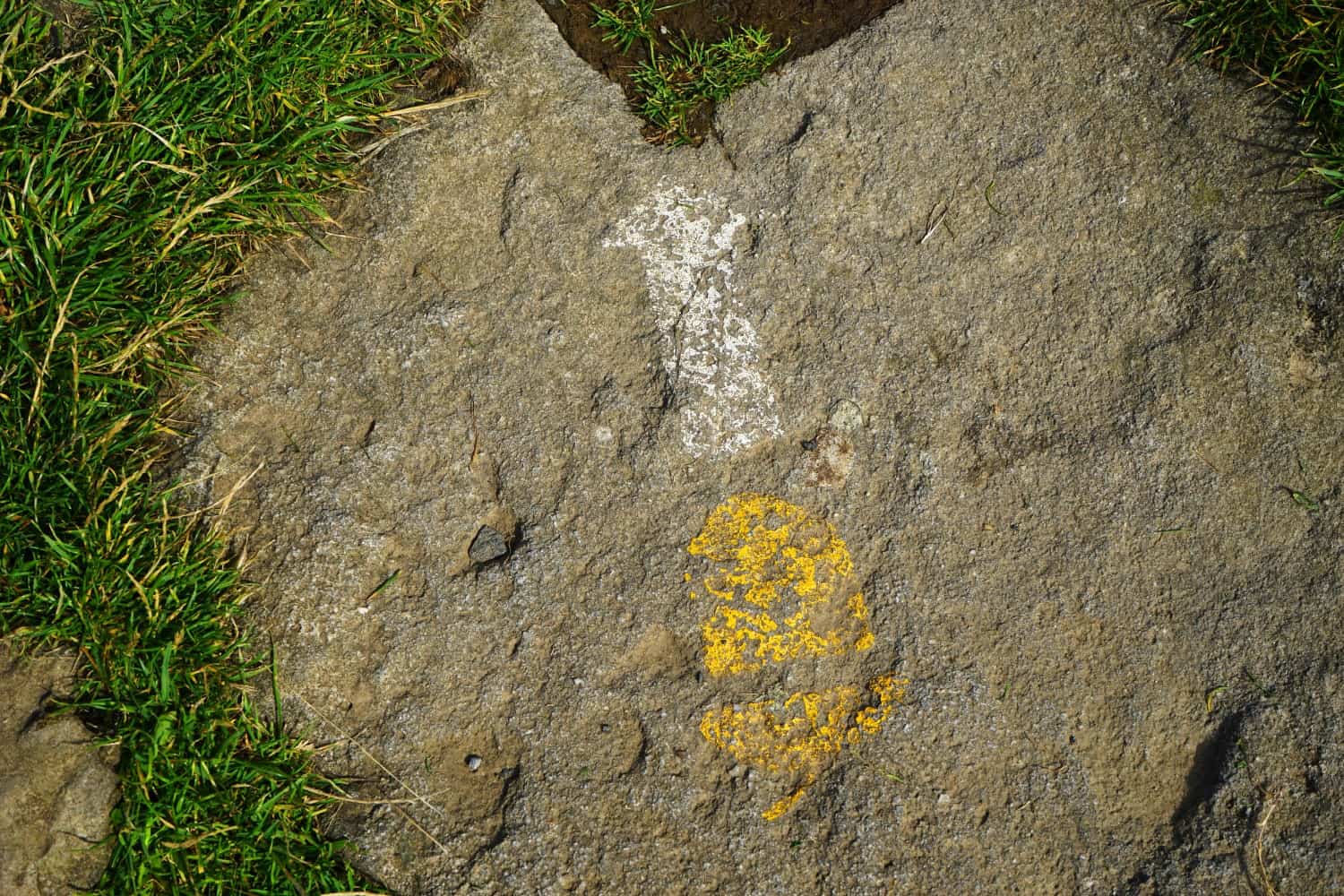 Day two was another 20 miles, and at this point I was just about broken. My feet were throbbing, my toes were killing me, my heels were bruised, and I had so many blisters. I cried during the final mile of the day. I'm stubborn as hell, though, so I wasn't about to give up on day freaking two.
Day three brought 15 miles to my throbbing toes. Fifteen miles in howling winds and sideways rain. My shoes were so agonising I could barely walk in them. I developed half a dozen more blisters. One of my toenails fell off.
I quit the walk, and I was so embarrassed about doing so that I wrote an entire post all about it.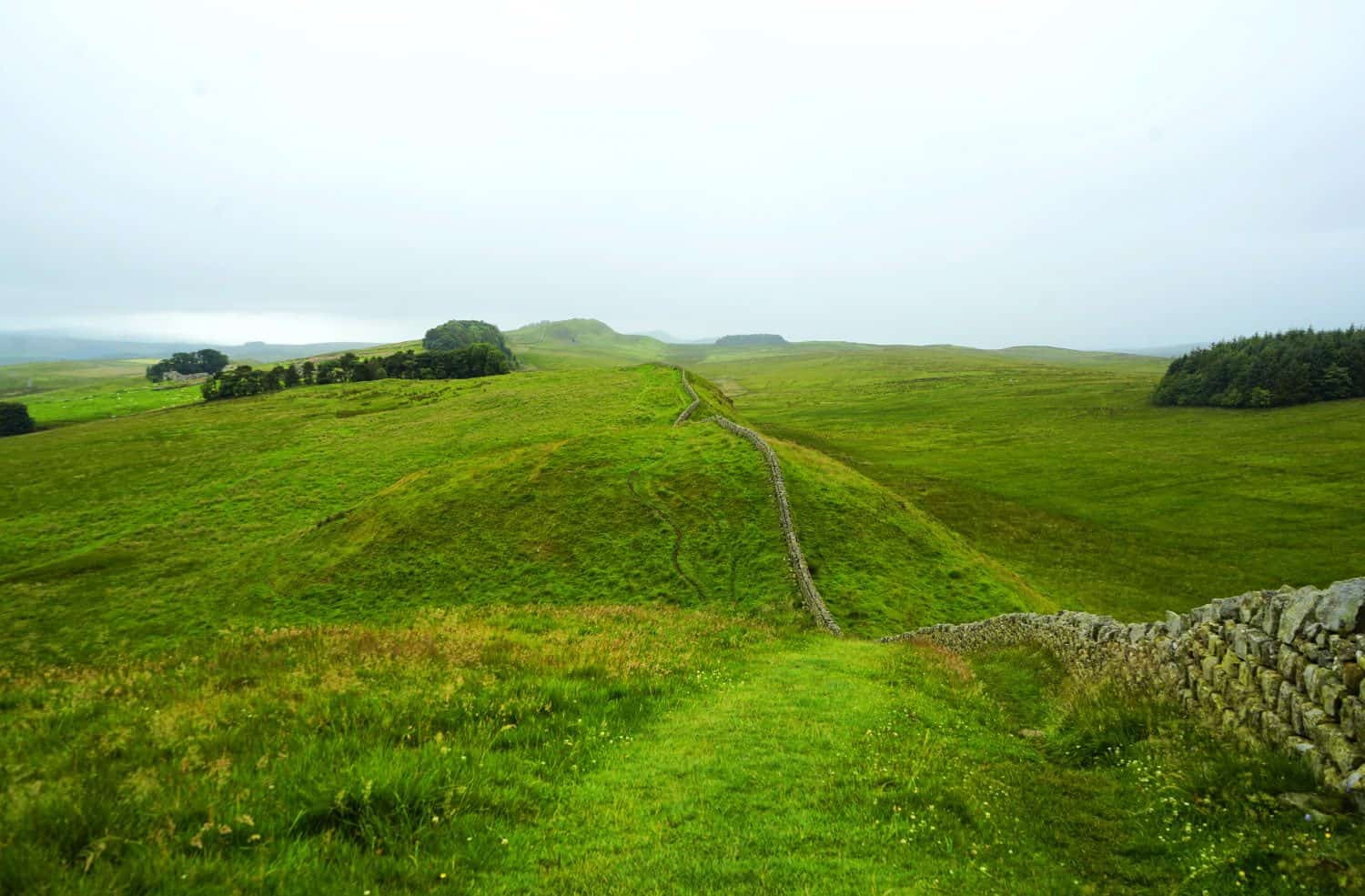 When Dave set off on day four, I donned my flip-flops and skipped over to Haltwhistle — a town that claims to be the geographic centre of the U.K., but actually isn't unless you pretend that Shetland doesn't exist.
But that didn't stop the town from proclaiming its tenuous claim to fame absolutely everywhere: The Centre of Britain Launderette! The Centre of Britain Hotel! The Centre of Britain Gallery!
I thought spending some time in Haltwhistle would make for a fun blog post, but it was actually a fairly boring place, so I shelved my plans to spend the night there and hopped on a train to Carlisle.
Meeting back up with Dave at the end of his walk, we threw out my hiking boots, then set off to Edinburgh for the very first time.
And man, what a beautiful city!
Edinburgh is easily one of the prettiest cities I've ever been to, and I quickly fell hard for it. I loved the architecture and the cosy pubs and being close to the sea and eating cullen skink and discovering that haggis is delicious. Seriously, guys, haggis is so unbelievably good! Why does everyone freak out about eating it?
We had a full week in town and decided to do as much as we could while the weather was cooperating.
It rained a lot, guys.
At times I was like, this city is so atmospheric that I want to move here and never leave! But then it would pour with rain for three days straight in the middle of July and I'd be like, could I really handle this over summer?
Regardless, we crammed a lot into our time in the city. We climbed to the top of Arthur's Seat on a gorgeous sunny day. We wandered along the Royal Mile. We walked a fair chuck of the Water of Leith walkway. We explored the hipster Leith neighbourhood.
Edinburgh: this definitely won't be the last time I pay you a visit!
Just please be sunnier next time, okay?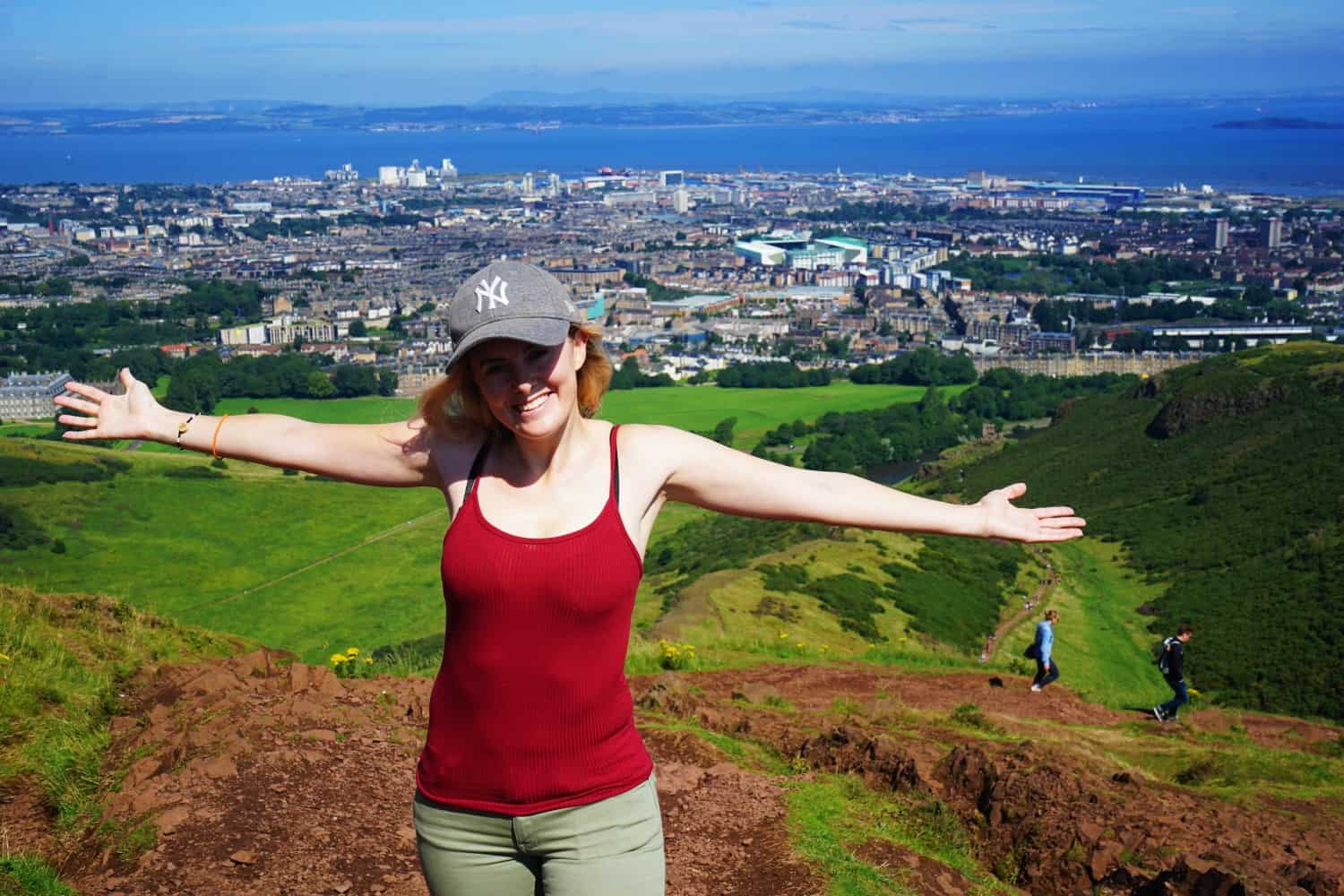 On to the statistics for the month!
Highlights of the Month
Falling in love with spectacular Bristol: I can't get over how fabulous the city is! If you've never been, you should do everything you can to get there.
Discovering how affordable bus travel is in the UK: So, um, I'd never been on a bus when I first left to travel, so this month, I learned just how much I'd been missing out on. London to Bristol for £11, Bristol to Manchester for £12, Leeds to Newcastle for £6: this month was all about falling in love with National Express and their cheap, cheap fares. So much more affordable than taking the train!
Getting to hang out with so many of my blogging buddies: I met up with Victoria and Steve in Bristol, Julia and Scott in Manchester, Beverley in Leeds, and Karen in Edinburgh. It was great to catch up with so many friends after many months of not meeting up with a single blogger.
Lowlights of the Month
Dropping out of my Hadrian's Wall walk: I felt an awful lot of shame and embarrassment over my failure to complete our walk, even though I know it was the right decision and I know I shouldn't call it a failure and…
But I really wanted to finish, you know? I'm disappointed my hiking boots stopped me from doing so.
Gaining so much weight in the U.K.: Every time I go back to the U.K., I end up gaining weight. And on this trip, Dave and I ate out for practically every single meal, and the vast majority of those were in pubs. So many enormous dinners. So much alcohol. So much good food. I wanted to delve into the food scene of the places we were visiting, and that resulted in us trying to check out as many restaurants as possible.
And then there was the junk food I can't find anywhere else in the world. I always go crazy for chocolates and sweets and crisps whenever I'm back.
I may have gained a whopping 15 lbs from the two months I spent in Eastern Africa and the U.S.
Bad weather in Edinburgh: We were in Edinburgh for six days, and I think it rained for every single one of those but one. And at times it was cold-torrential-downpour-can't-go-out-without-getting-drenched rain. I know that summers can sometimes be glorious in Edinburgh, so we definitely chose the wrong week to visit!
Incidents of the Month
I lost a toenail: You know your shoes aren't right for you when your toenail comes off after just three days of walking. Apparently they take 18 months to grow back.
Failing at the self checkout in Leeds: Lol.
So, I grabbed some snacks from a supermarket in Leeds and scanned them through the self-service checkout. I wasn't wearing my contact lenses at the time and when it came time to pay, I just could not see where to put my card.
So I stood there for a good three minutes just gawping at this machine while it bellowed at me to insert my card and I had no idea where to do so. A queue formed behind me. A group of teenagers were in hysterics.
I ran out of the store in embarrassment.
The following day, I made Dave come in with me so I could prove to him the card reader didn't exist, but guess what? It had been right in front of my face all along. Sigh.
Losing my phone twice in two months: At Leeds train station, I balanced my phone on top of the toilet paper dispenser, then completely forgot I left it there and walked out. If I hadn't needed my phone to show my ticket to leave the station, I would have likely not realised for days. Fortunately, it was waiting for me when I rushed back inside.
And then I did exactly. the. same. thing in a pub in Edinburgh. I put my phone in the same place, and I left without realising.
Fortunately, again, a woman had found it and handed it back to me when I rushed back inside.
And that was the month!
My Next Steps
I can't deny it: seeing a map so sparse is bringing an awful lot of joy to my life right now.
I've got a big U.S. trip planned for September, so August is going to be all about settling into a routine, losing the 15lbs of English breakfasts I gained while in the U.K., and writing about my recent travels in more depth. I'm also going to be attempting to wake up at 4 a.m. every morning for the entire month to see if it helps me get stuff done, getting a wisdom tooth pulled, and launching my first ever course.
Exciting times ahead!