I'm now three months into this current stint of long-term travel and I'm delighted to announce it's going better than I had even dared to imagine. January, in particular, was one of the best months I've ever had on the road!
I'm enjoying the spontaneity full-time travel is bringing, and I'm grateful to have the freedom to change up my life, whether it's altering my travel plans to head somewhere on a whim or mixing things up if something isn't going well. The decision to prioritise spending so much time around friends and family has made it an even more incredible trip, as the main reason why we left Portugal was to see more of those we love.
From 2011, I spent five years as a digital nomad, and by the end of that period, I was broken, sick, unhappy, and stressed. Over and over again, I believed I'd slammed into rock bottom only to have a new, darker depth of anxiety reveal itself to me. It's part of the reason why I'm just so goddamn happy and optimistic these days, because my life has finally turned itself around again.
I was concerned I'd begin having panic attacks the moment I started travelling long-term, but I haven't had even the slightest tinge of anxiety on this trip. It feels so good to know my breakdown days are well and truly behind me, and I'm happy to be back in control of my life.
Let's talk about my January travels.
When I left you last, I had just welcomed 2018 into my life while out in the suburbs of Melbourne. It's always enjoyable spending time with Dave's family in the outer reaches of the city, but in unsurprising news: the suburbs are the definition of boring for two travellers like us. I knew I wouldn't be able to leave Melbourne without spending some time in our favourite Fitzroy neighbourhood, so we packed our backpacks and travelled into the central city.
What an action-packed week! We met up with more friends than I can count, ate just as many brunches as we had on previous visits, battled the hot weather while taking plenty of long walks, and kept an eye out for any new street art that had materialised while we'd been away.
Something that weirdly ended up being a highlight for me was being in town during one of the hottest days of the year. As the mercury rocketed to 42°C/108°F, I kept myself firmly inside beneath the air conditioning, wondering what the cool change Dave was praying for was. He told me when it was due to arrive, I took myself out onto the balcony, and gasped as the temperature dropped 22 degrees over just a few minutes. It was such a surreal experience!
With another wonderful trip to Australia under my belt, it was time to hop the Tasman to my beloved New Zealand.
My main plan for the following week was to catch up on work. I'd been travelling quickly over the past two months and my list of blog posts I wanted to write was piling high. Unfortunately, we were due to spend much of the week in Hanmer Springs, where we were staying in Dave's family's holiday home, which doesn't have internet. Groan!
I threw my arms up in despair, then got stuck in with experiencing a typical Kiwi summer (a surprising amount of rain).
Hanmer Springs is an alpine village in the South Island that isn't on the tourist trail, but is popular with vacationing New Zealanders. During summer, the two main activities are hiking mountains and bathing in hot springs, so I set about tackling both in-between catch ups with Dave's relatives and eating my body weight in fush and chups.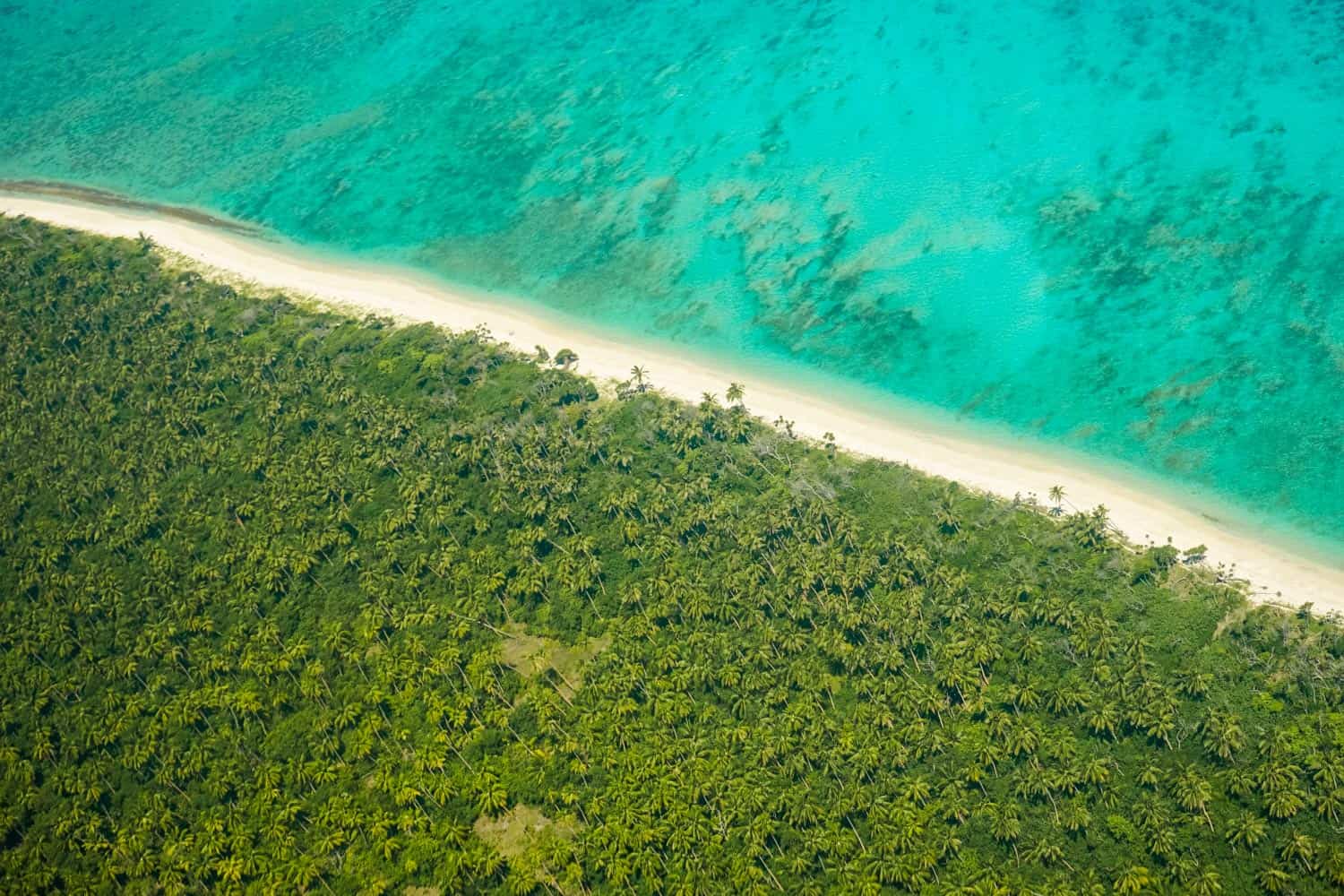 While Dave settled in for a fortnight's worth of hiking with his dad around the South Island, I jumped on a plane bound for Tonga: a destination I'd long been dreaming of visiting. The South Pacific is the region that fascinates me most in the world, so every time I find myself in Oceania, I attempt to visit a handful of new islands.
This was one of the best solo trips I've ever taken.
I dove into adventure on the main island of Tongatapu and came up beaming. Most people choose to skip over the capital of Tonga, and home for the vast majority of Tongans, but I always feel guilty leaving a destination without seeing any of it. I gave myself a full day to look around.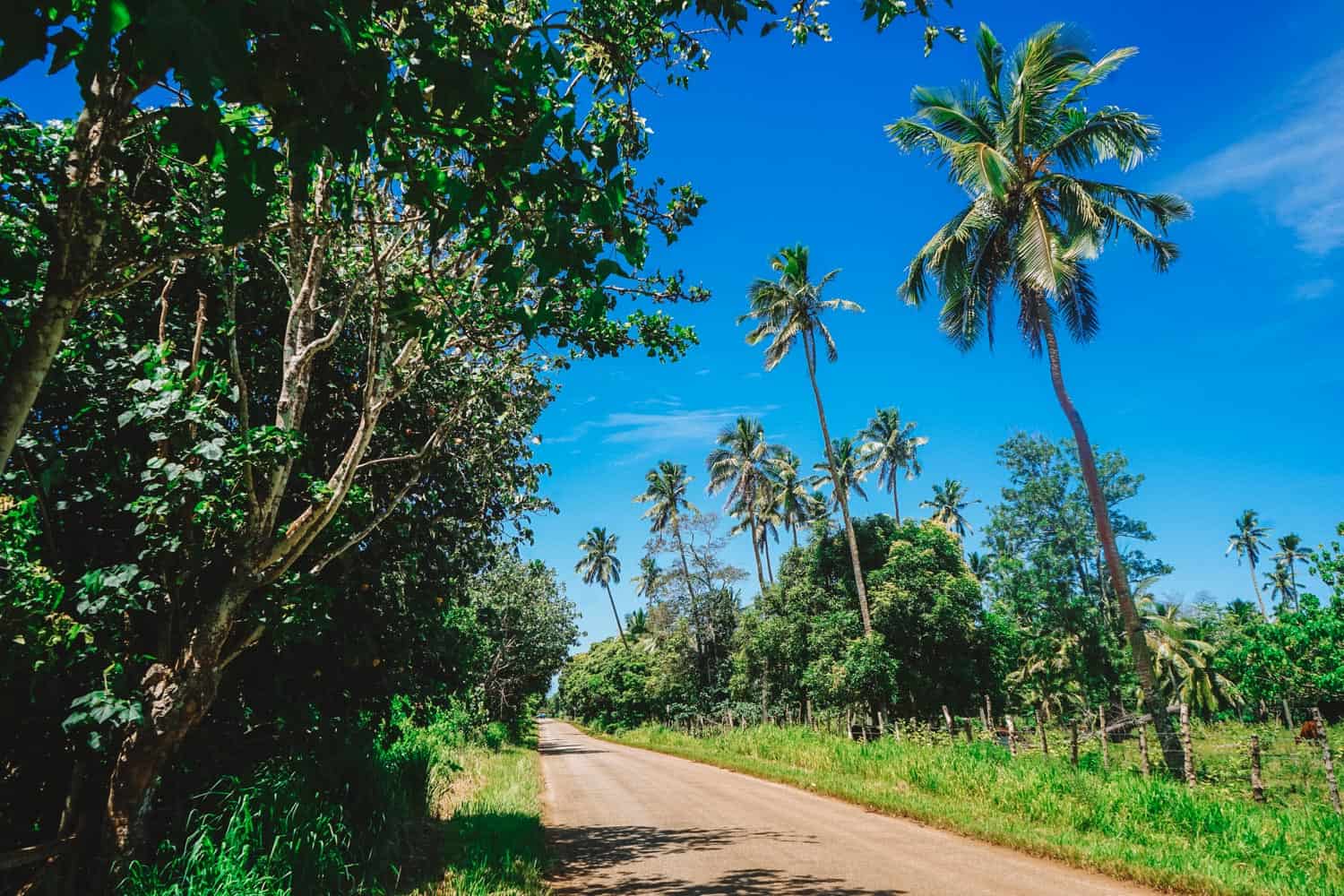 I hired a driver, Edward, to take me on a eight-hour tour that would bring me to the main highlights of the island. I couldn't believe my luck when I discovered I'd landed one of the best tour guides on the island. As he confessed to me over lunch: "If I need a rest, I have to leave the country or my phone is always ringing! Tours everyday! I'm flying to Hawai'i for three months next week to take a break from it all!"
Tongatapu didn't change my life, but I'm still glad I took the time to learn about the history and culture of the island. I checked out Tsunami Rock, a 1600 ton boulder that was carried 300 feet inland by an enormous wave, giggled as I spotted a family of pigs fishing in the ocean, wandered around the landing points of both Abel Tasman and Captain Cook, and even got up close to Tonga's version of Stonehenge.
You don't need more than a day in Tongatapu, if that, but I'm so happy I took the time to catch a glimpse of this island.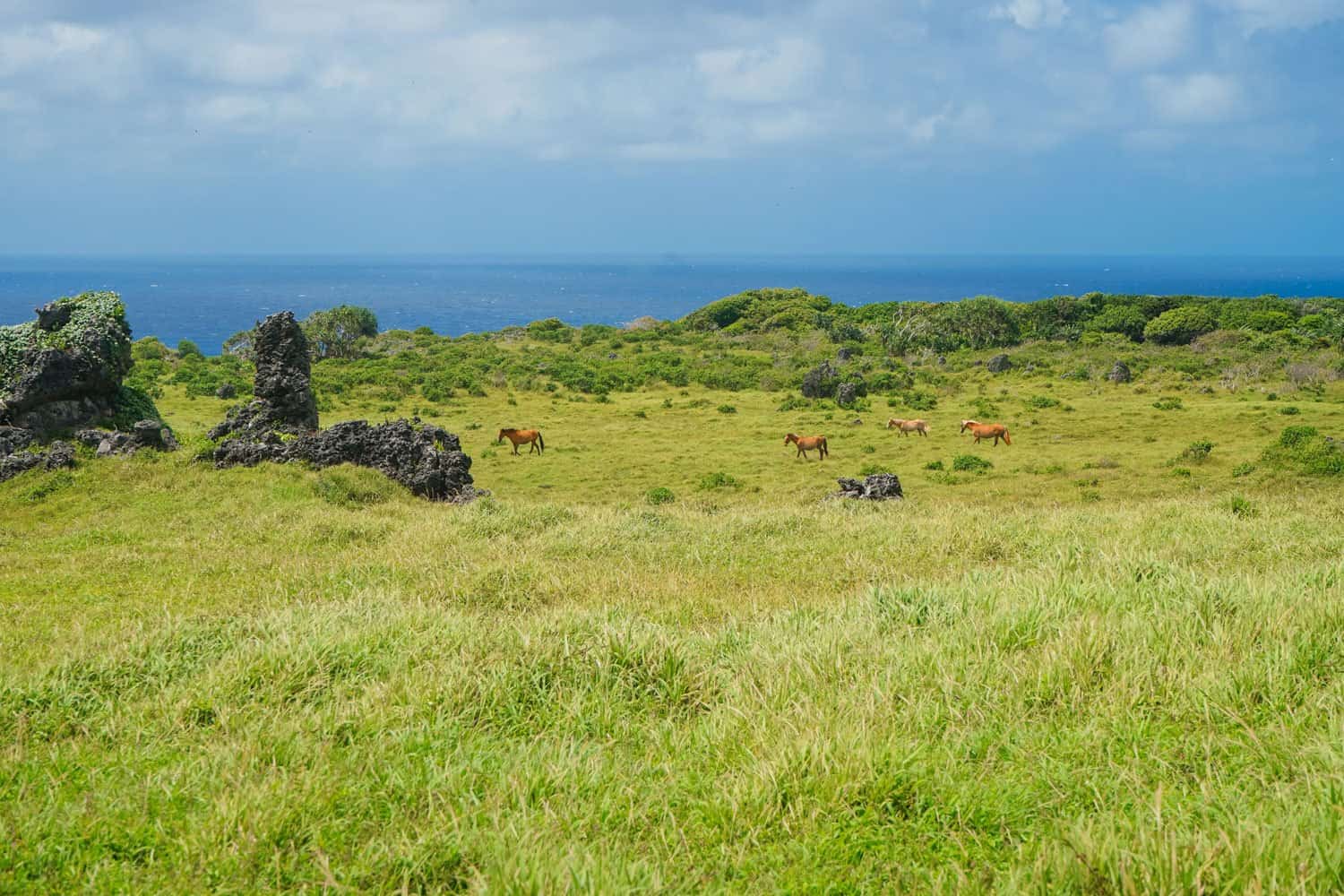 The next destination on my island-hopping escapade was one of the lesser-visited islands in Tonga: 'Eua.
'Eua is a tiny spot close to Tongatapu, and its main attraction for tourists is its mountains and beaches. I wanted to visit because little-known destinations call to me, and because to get there, you can jump on one of the shortest scheduled commercial flights in the world. Yes, the teeny tiny plane was more like a canoe than an aircraft — you sat single file without even an aisle down the plane — and the flight was just six minutes long.
Let me tell you now, in a plane that tiny, those were the longest six minutes of my life.
I spent half of my time in 'Eua chilling in my lovely guesthouse — The Hideaway — that was close to destroyed in the cyclone that swept through Tonga last week. It's a surreal feeling to see photos of my room with the roof torn off, and I've been disappointed to see there's been little coverage of the damage sustained by this wonderful country in the media.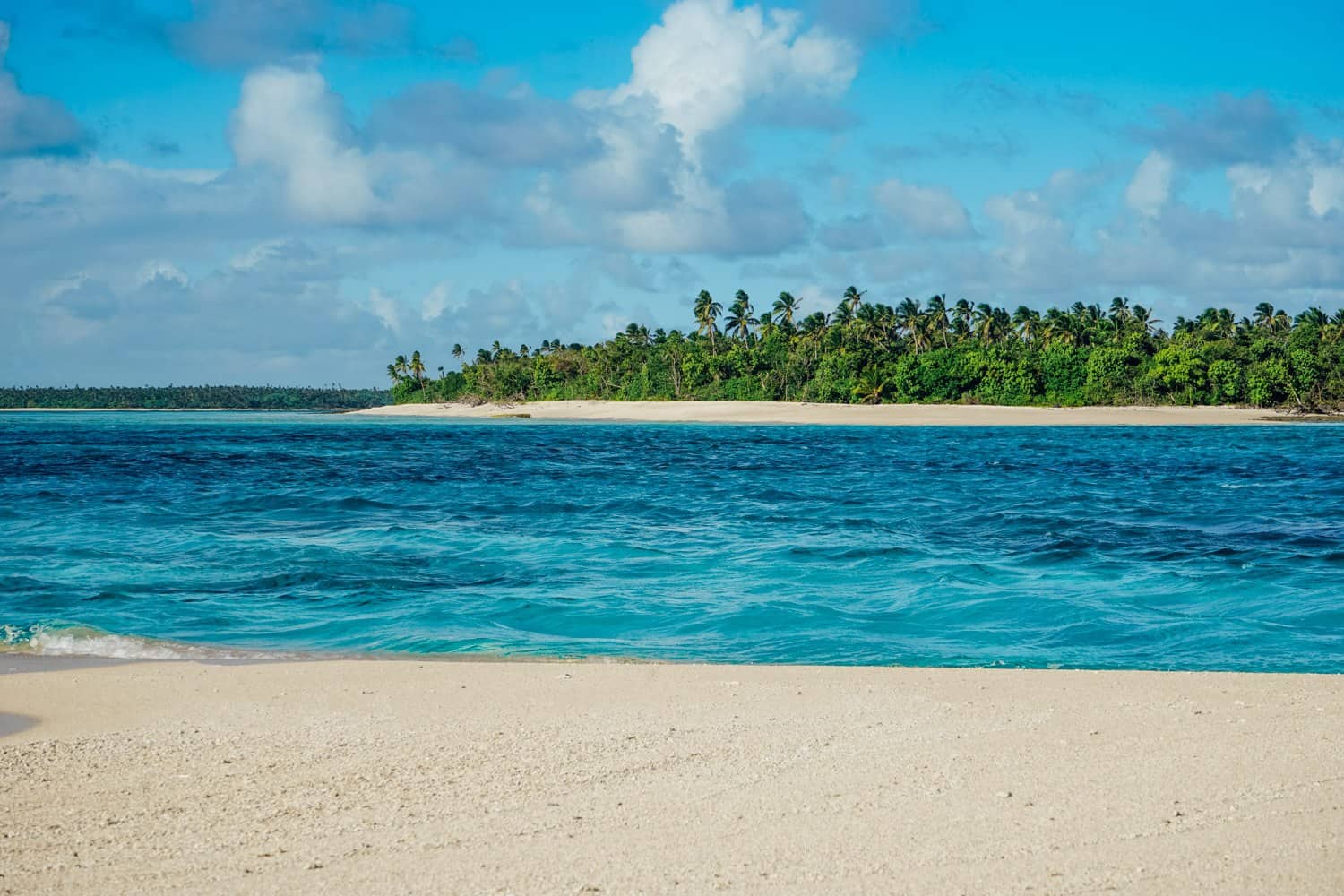 When it comes to paradise islands, my next stop more than fit the bill.
The Ha'apai island chain is most well known for being the destination of choice for calving humpback whales. It's one of only two destinations in the world where you can get in the water and swim with these giants, and if you're lucky, you'll get to play with the calves, too. I wasn't on the islands at the right time of year for whale-related fun, though, so I settled for spending a few days on one of the best beaches I've ever stepped foot on.
Yes, Tonga in the low season was an unbelievable experience.
I couldn't believe that I was somewhere so beautiful, and that I could also sit on the beach for six hours and not see another person. In a world that can sometimes feel as though every stunning spot is full of Instagrammers and selfie sticks, it was lovely to have a reminder that you can still find a deserted paradise island.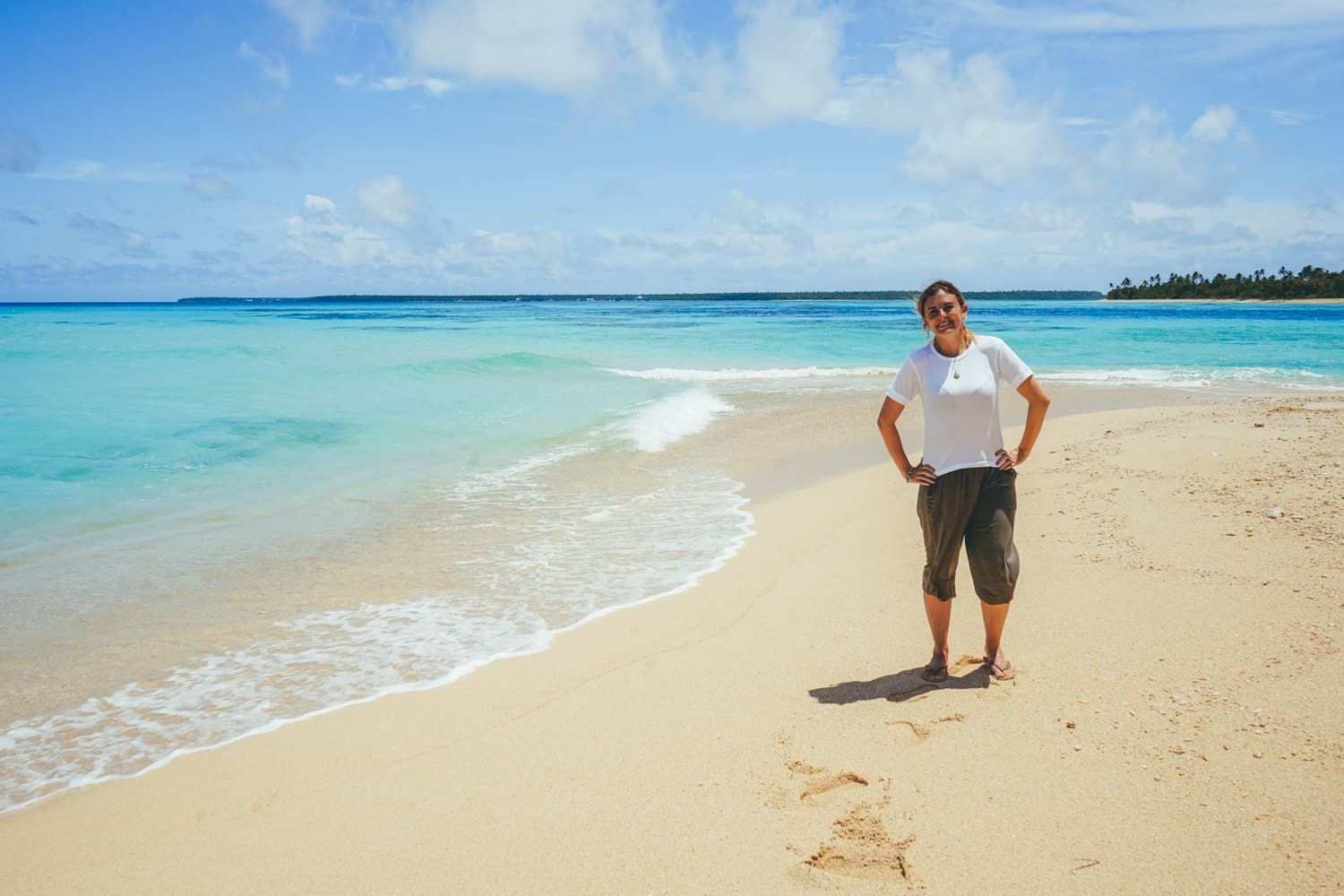 I opted to stay in the excellent Matafonua Lodge on Lotofoa island, and I had such an incredible time that I've convinced Dave to return with me for a 10-day stint. It was that amazing.
There was a gorgeous beach that almost all of my photos were taken on, there was a restaurant on-site with some seriously delicious options, and there were a group of kickass travellers that were so much fun to chat to. I made so many friends while I was at Matafonua, had so many great conversations with interesting people, got to fly my first ever drone, and spent my days blinking at disbelief at how ridiculous my life is.
My new friend Josh tried to convince me to stay.
"Cancel your flight to Vava'u," he pleaded. "Hang out here with me for the next week instead."
If I hadn't already booked a beautiful hotel in Vava'u and bought my flights, I would have stayed.
I should have stayed.
I arrived in Vava'u to pouring rain. I was in a fancy hotel with an infinity pool overlooking the ocean and a beautiful beach to lie on, and I couldn't leave my room because the rain was so strong.
There was eye-wateringly expensive internet that barely worked, no other guests in the hotel, and nothing to do.
Slowly, I started to lose my mind. Josh sent me a message to tell me he was digging in to a lobster dinner on Matafonua. I was eating mackerel from the can:
I sat in my room and read books until my mind turned to slime. I tried to meditate for hours on end. I began grinding my teeth. Talking to myself. I wrote half a dozen blog posts. I watched the same episode of Blue Planet four times because it was the only video I had on my laptop.
I'd always thought solitary confinement sort of sounded like a dream, but it turns out just three days of being locked up inside with little food and nothing to entertain my brain is enough to have me descending into insanity.
I booked a flight out of Vava'u for two days earlier than I'd originally planned, cancelling my planned second hotel stay on the island in the process. I altered my flight back to New Zealand to get me back earlier. With my heart jumping for joy, I joyfully made my way to the airport.
My flight was cancelled.
My flight was freaking cancelled.
Every flight was cancelled due to bad weather.
There was literally no way off the island.
Only two airlines fly out of Vava'u and neither of them were going to be running flights for days. The ferry back to Tongatapu takes 24 hours over rough seas.
I cried.
Back to my resort again. Back to my room. Back to the thunderstorms. Back to my canned mackerel.
Would I ever make it out of Tonga and back to Dave?
Number of Countries Visited: 3
Australia, New Zealand, Tonga
Number of Places Visited: 8
Ashburton, Christchurch, 'Eua, Hanmer Springs, Ha'apai, Melbourne, Tongatapu, Vava'u.
Distance travelled: 3830 miles
Number of flights taken: 8
Number of photos taken: 573
Highlights of the Month
All of Ha'apai: If you'd asked me to design my perfect travel experience, my time in Ha'apai is exactly what I'd have dreamed of. A gorgeous setting, some lovely owners, a communal atmosphere, and delicious food all came together to have me declaring this one of my favourite places on the planet. I can't wait to return.
Hanging out in the Hot Springs: No trip to Hanmer is complete without a visit to the thermal springs! The outdoor complex has a whopping 15 pools to choose from, all with varying temperatures and chemical compositions. There are waterslides, rock pools, massage jets, a lazy river, a spa, and a cafe, all of which equals a fun day out for me and Dave. We spent one afternoon pool-hopping in the pouring rain, chatting about our plans for 2018, and generally marvelling about how this was a Monday and look what our lives are like!
Being shown incredible kindness by the Tongans: I couldn't believe how welcomed I felt in Tonga! When one local heard that I hadn't yet tried a traditional Tongan roast pig, he put in a call to some friends and 30 minutes later, I had a pile of meat on a plate in front of me. When I had to go to hospital in 'Eua (more on that below!) the staff at the airport told me they'd hold the plane for me until I'd received the meds I needed. When my driver in Tongatapu found out I was travelling alone, he halved the minimum price of his tour because he didn't want me to spend too much of my money. Whenever I stepped outside on any island, a local would pull over and offer to give me a free lift to wherever I was heading. Everywhere I went, I felt cared for and looked after. I love this country so much.
Lowlights of the Month
All of Vava'u, unfortunately: If Ha'apai was the definition of a perfect travel experience, Vava'u was a textbook example of a terrible one. If I'd stayed in Ha'apai, I would have been around friends, had access to great food, and not cared about the rain. In Vava'u, there was nobody to talk to, nowhere to go, and nothing to eat. I haven't lost my mind through sheer boredom like that before, and when my flight back to New Zealand was cancelled, I felt like sobbing in the middle of the airport.
Vava'u is usually the highlight of any trip to Tonga — it's meant to be the prettiest island chain in the country — so I'm disappointed the weather left me with such a poor impression.
Falling far, far behind on work: When I set out on this stint of long-term travel, I didn't anticipate having quite so many struggles to get online. From the holiday home in Hanmer Springs not having any internet to practically every guesthouse in Tonga having an unusable connection, I rounded out the month with a laptop full of blog posts and no internet with which to upload them.
I got sunburnt in Ha'apai: The sun in Tonga felt stronger than I've ever experienced before. Worse than in Australia or New Zealand! While lying out on the beach in Ha'apai, I applied SPF50 sunblock to my entire body three times over the space of an hour and still ended up with a horrible burn.
Incidents of the Month
I was hospitalised in 'Eua: I got struck with food poisoning so severe in 'Eua that I was running to the bathroom every three minutes, mere hours from an all-day travel day. I didn't have any Imodium with me, and none of the staff at the guesthouse did either. I was about to cancel my flight to Ha'apai because I wasn't sure I'd be able to sit at the airport for 45 minutes before my flight without my bowels exploding over my fellow passengers.
Fortunately, Tongans are lovely, so the owner of my guesthouse took me to the airport, dropped my bags there, had the staff promise to hold the plane until I returned (how ridiculous is that?!), and took me to the hospital. It looked exactly like you'd expect a hospital to look on a tiny island in a developing country.
I got my meds, raced back to the airport, and jumped on board the plane with minutes to spare.
I flew on an MA60: Ah, the MA60, otherwise known as the Death Plane. When Tonga first began running the MA60, New Zealand withdrew aid to the country and issued a travel warning because this plane crashes. It crashes a lot. Google it and all you find are reports of the plane crashing.
Tonga stopped running the plane for a while, then sneaked it back into their fleet, and of course, I was one of its lucky passengers. Our pilot joked about kissing the ground whenever he successfully lands it, the Mormons sat beside me were praying nervously, and at one point the entire plane started juddering as though it was about to stall. Everyone screamed, and I full-on prepared to die.
I ran out of food in Vava'u: Tonga is a very religious country, and one of their laws is that nothing can happen on a Sunday. And when I say nothing, I mean nothing.
Exercise is illegal.
Business transactions are illegal.
The only thing you can do on Sundays is sit inside or go to church.
So when I awoke on a Sunday morning and discovered I had one can of awful-looking mackerel to last me through the entire day, I knew the next 12 hours were going to be grim.
I managed to hang on until 6 p.m. before I gave in and cracked the can open. It tasted exactly how it looked.
My Next Steps
I'll be kicking off February in Tonga and then leaving immediately afterwards.
Back in New Zealand, I'll be — you guessed it! — spending plenty of quality time with Dave's entire family and friends. Still, not wanting to spend another trip to the Land of the Long White Cloud in my comfort zones of Ashburton and Hanmer Springs, I'm planning to get out and see some of parts of the South Island I haven't yet explored.
Kaikoura is somewhere that has been a big New Zealand oversight for me, so Dave and I will spend a day hiking the coastline, spotting seal pups, and relaxing on the beach. And also: Geraldine. I've been reliably informed that the best thing about Geraldine is leaving it, but I'm going to have to disagree with that assessment, because I'll be trekking with alpacas there!
Then, Thailand!
Yep, the next three months will see me bumming around Southeast Asia and where else to start but my beloved Thailand?
I'll be starting off my Thai travels with a week-long stint in Bangkok. The last time I was in town, I fell in love with the hipster Ari neighbourhood, so I'll be spending all of my time exploring it in greater depth. I love this spot because it's full of delicious street food, has tons of adorable cafes and bars, and very few Westerners.
From there, I'll be heading up to Chiang Mai for a week or two to revisit my old home for the first time in four years. On the agenda is plenty of work catch-ups and face masks, because the burning season has just begun, which makes this one of the worst times of year to visit if you value having healthy lungs. Dave and I are willing to change our plans if the air quality is terrible and head south to the islands if we can't properly breathe.
It looks set to be another fantastic month!
What are you going to be up to in February?