I can't not acknowledge the fact that my monthly summaries have been all over the place! I hit the pause button on them for a while, as they've always been some of my least popular posts, but after so many requests to bring them back, I realised they were more loved than I'd realised. I'm currently nine months behind and the thought of playing catch-up with so many posts was overwhelming, so instead, I'm starting afresh and sharing what I've been up to from 2017 onwards!
---
January: what a month!
These wonderful four weeks took me from London to Lisbon to Mozambique to South Africa, and man, did I have some adventures along the way.
It all kicked off in London, with one of the best family holiday seasons I've had in years.
As always, my time back home had me rushing around to try to see everyone and do everything, and I'm not sure I had a day to myself over the entire fortnight we were there.
I met up with so many friends. I had a Juliff family reunion for the first time ever and got to introduce Dave to my extended family. Dave and I took a trip into Windsor for a romantic meal.
One of the highlights was when Dave and I checked out the Backyard Cinema experience. It's an indoor cinema with around fifty beanbags to lounge on and watch a movie. It's set up to feel like you're in someones back garden and there were fairy lights and plants everywhere, which made it so cosy and romantic. If you get the date night package, you get a bottle of prosecco (because England) and some mince pies and popcorn thrown in, too!
If you're in London, get yourself there, because it's amazing!
I returned to Lisbon several weeks later, gasping for air.
I didn't have long to recover, though, as I had just ten days to prepare for my trip to Mozambique and I still hadn't been able to get my hands on a Mozambican visa.
And guys, I only managed to do so on the day before my departure date.
In an example of true African bureaucracy, I compiled the fourteen different documents and photocopies I needed, travelled across Lisbon to the Mozambican embassy, and found that it was closed for the next six months.
There was an alternative address on the door, so I walked back across town to that building and was told they don't process visa applications there, and to go to the consulate in Belem, an hour-long walk away.
I wandered over there the next day and bumbled my way through the application process with my terrible Portuguese. I was told through miming that I'd need to get some of my documents photocopied, so I then had to run around Belem trying to find a print shop while hoping I wouldn't have lost my spot in the queue by the time I was done.
I returned an hour later and the queue literally hadn't moved.
And that was how I spent an entire day in the Mozambican consulate.
I was told I'd have to return in a week's time to collect my passport, which was the day before my departure date, so I had to cross my fingers and hope my application wouldn't be rejected, because reports online suggested the consulate staff change their minds and ask for extra documents they don't actually need all the time.
And because getting a visa was so tricky, I was right in the middle of writing a comprehensive guide to applying for one when Mozambique announced they were changing the rules and now everybody can get a visa on arrival.
But everything always works out in the end.
I collected my visa, packed my backpack, and flew to Mozambique, where I was immediately smacked in the face with culture shock.
Maputo was the worst city I've visited, and as much as I tried to find its heart, I hated it. It was dirty and ugly, the locals were aggressive, the men hissed and clicked their tongues at me, there was nothing interesting to see there, I was scared of the police, and the touts were relentless.
I'd heard that African capital cities are often dangerous and crap, and Maputo certainly fit that mould.
I made the best of a bad situation, though, and altered my terrified state of being to one of peace. I found that when I stopped acting like I thought someone was going to rob me and started smiling, the locals weren't as aggressive and I didn't feel as frightened.
I wouldn't recommend heading to Maputo, but if you do, a positive attitude will vastly improve your experience.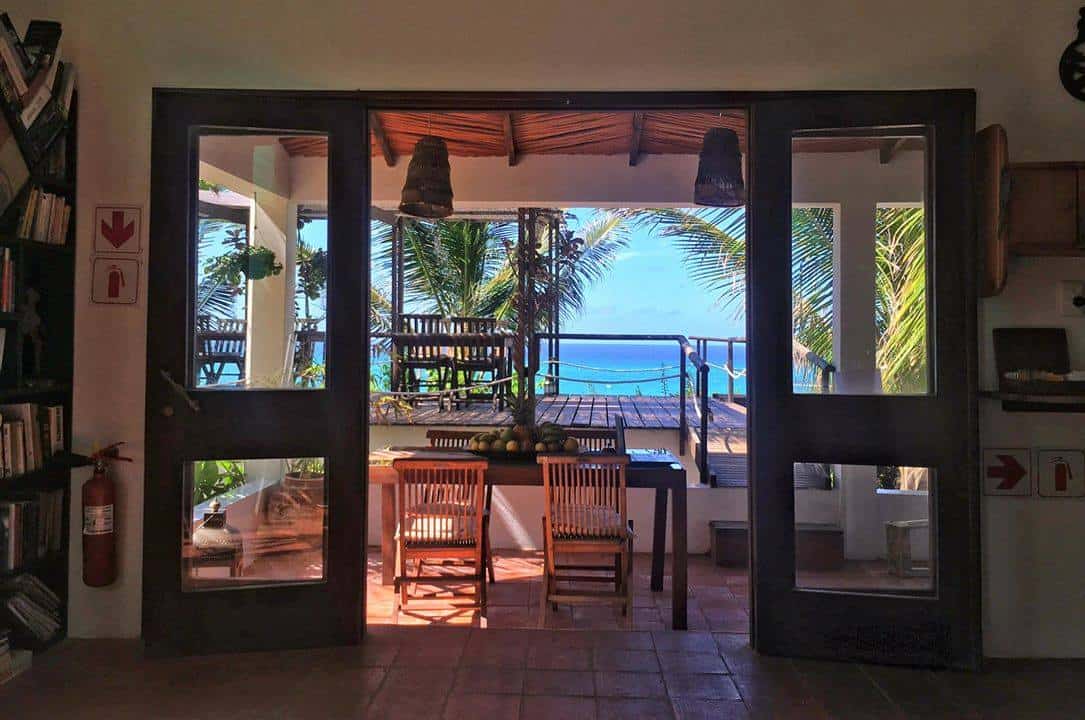 From Maputo, I travelled north in search of a better experience and found it in Tofo.
I'd been looking forward to checking out this hippie beach town for a while now, so I was thrilled when it didn't disappoint.
I fell into the perfect travel routine over the five days I was there. Waking up to a delicious cooked breakfast, lounging on the beach, snacking on fresh coconuts and seafood, playing with whale sharks, and relaxing in my hammock.
I loved Tofo so much that when it was time to move on, I thought about staying. And if I hadn't had a flight booked from Vilanculos, I most likely would have. It's the sort of place where people turn up for a few days and leave a month later.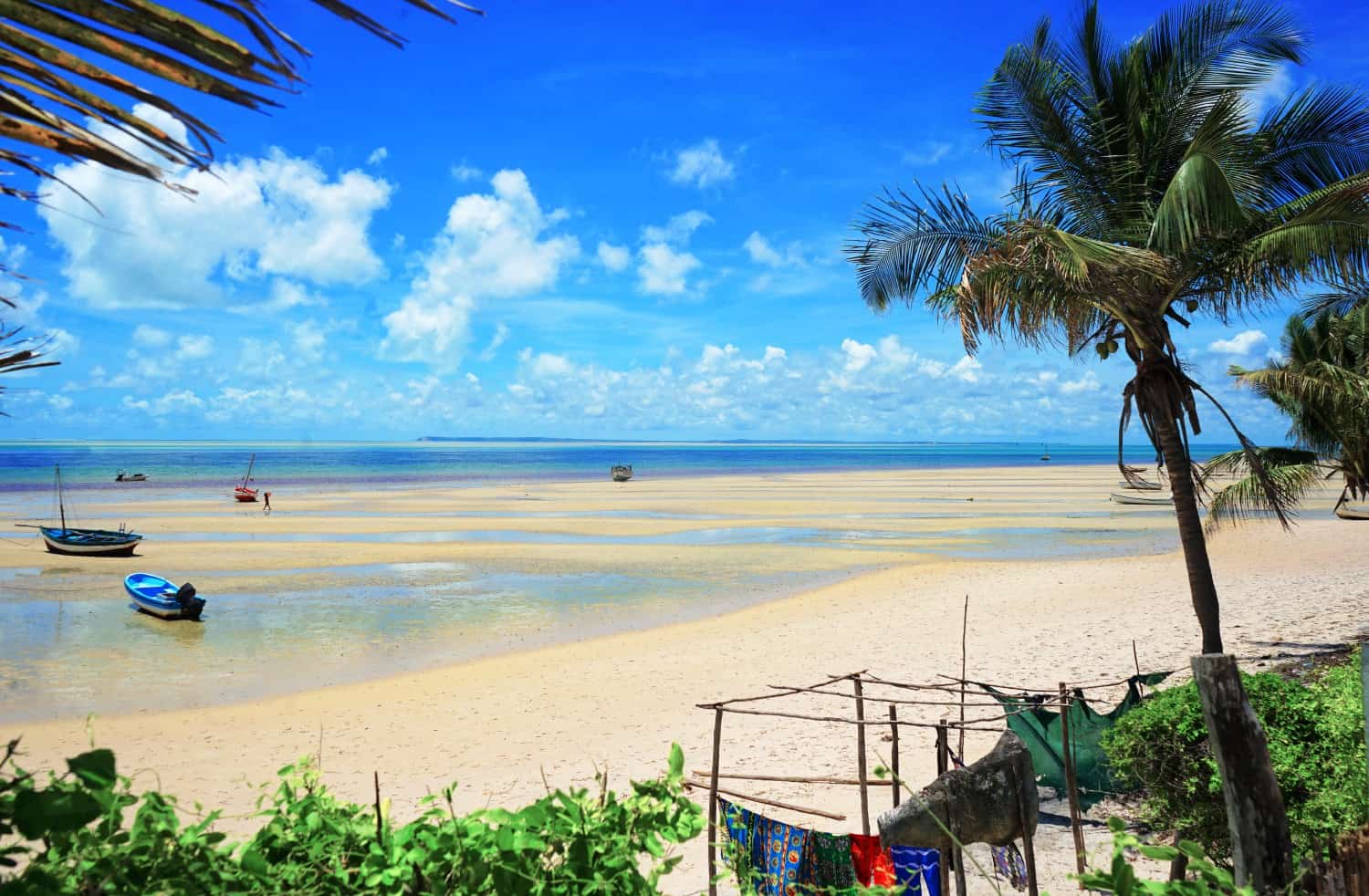 I'm glad I didn't stay, though, because I liked Vilanculos even more.
I loved the sandbanks and watching the dhows float past. I loved hanging out at Baobab Backpackers and making friends with hardcore travellers. I loved the seafood barbecues and the coconut drinks and the fresh fruit smoothies.
I wasn't in Vilanculos just to kick back and chat, though. I was here for the spectacular Bazaruto Archipelago. I jumped on the first tour out of Vilanculos.
We were aiming for Magaruque Island, the closest island to Vilanculos, and one that had me experiencing the best snorkelling of my life. We drifted our way alongside the reef, marvelled at the sandbanks stretching all the way back to our guesthouse, and explored the island before heading back for a cold shower because the power was out.
Oh, and I almost got swept out into the open ocean, because I can never have a successful trip without a little misadventure thrown in.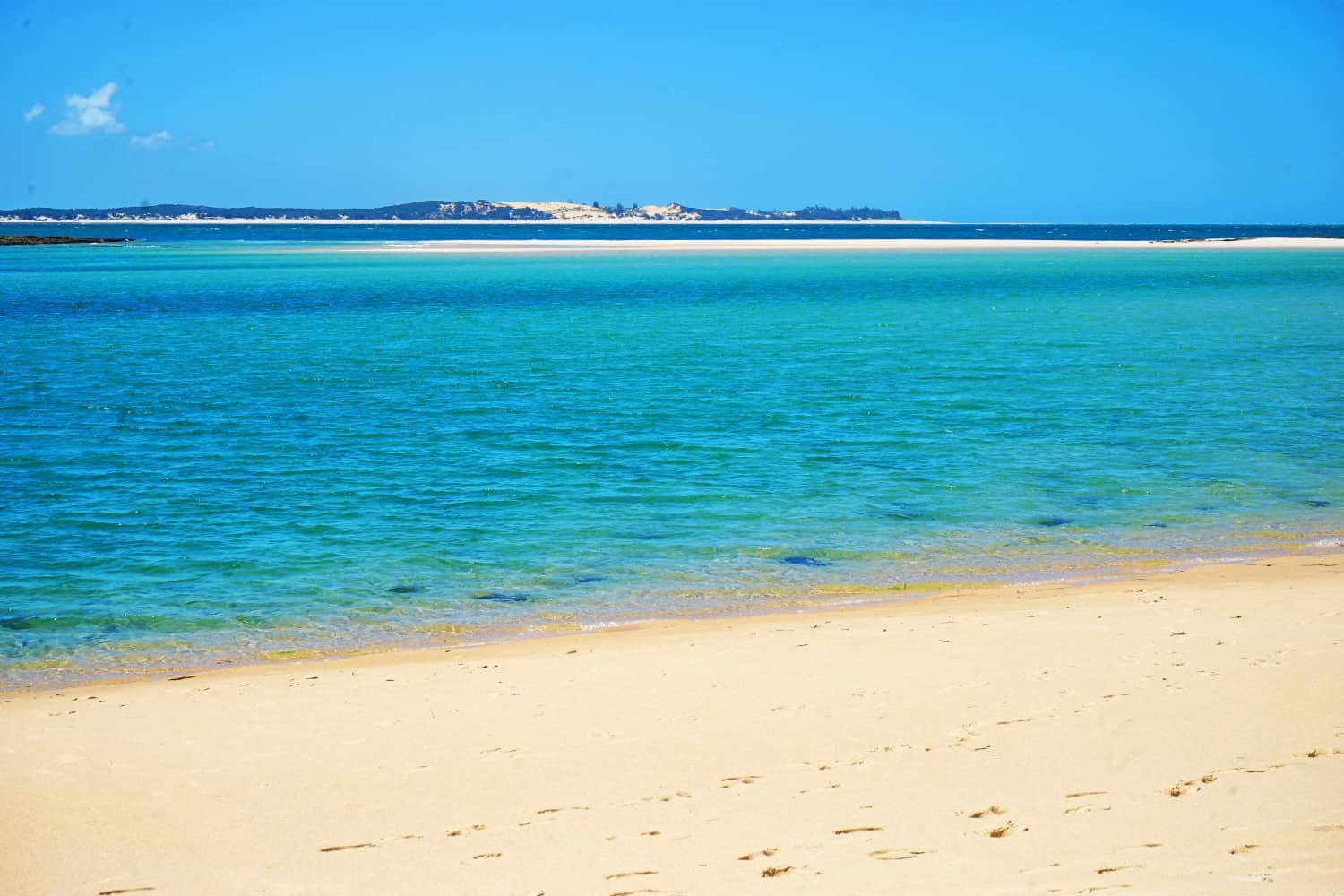 Onwards! With a week to go until I needed to reunite with Dave in Cape Town, I jetted into South Africa and made my way down to chilled-out Durban for some beach time and shopping.
I originally planned to take as many tours as I could cram into my time in the city, but when every single company cancelled on me, I took it as a sign to slow down and recover from Mozambique.
It ended up being the perfect, relaxing beach break I hadn't known I'd needed.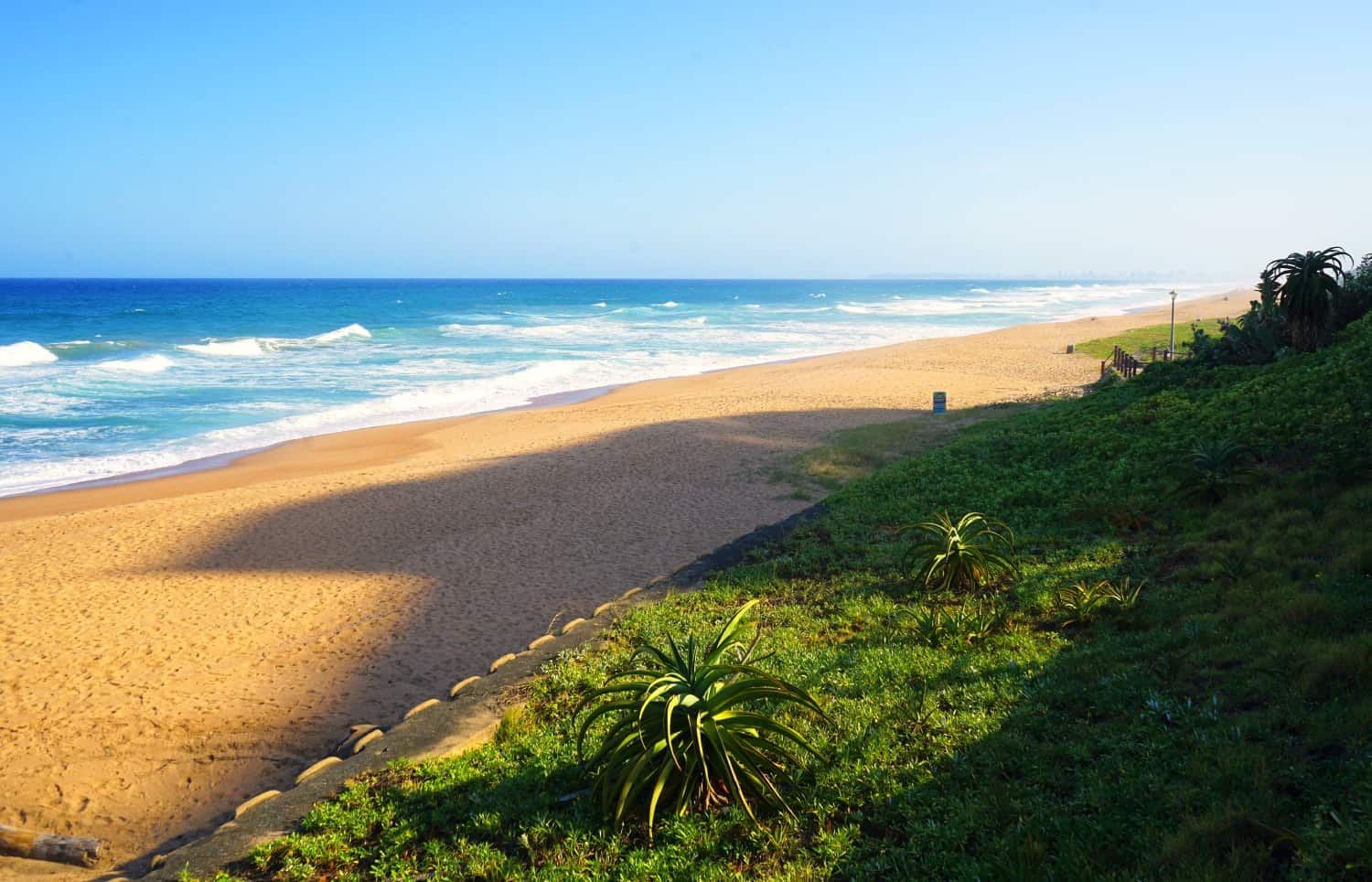 And that was the month!
Countries Visited: 4
Mozambique, Portugal, South Africa, United Kingdom
Places Visited: 8
Durban, Lisbon, London, Maputo, Staines, Tofo, Vilanculos, Windsor
Distance Travelled: 7,585 miles
Number of Flights: 7
Highlights of the Month
Re-confirming I've found a balance: I've struggled for five years to find the perfect travel-life-work balance, and I've only recently attained one. Getting to head offline in Southern Africa was the perfect way to fully immerse myself into the destination I was visiting, and I felt as though I learnt so much more through doing so. I can see myself travelling offline for a month, returning to Portugal for a few weeks to write about it all, then doing it all over again for months to come.
Successfully travelling solo and anxiety-free in Mozambique: After wrestling with anxiety for a full year, it still feels like a novelty when I get to take a trip and not have to deal with panic attacks and all the other fun stuff that comes from having dodgy brain chemistry. But with a combination of diet, exercise, and supplements, I feel so far removed from the person I was last year and that means I now can fully throw myself into every destination I visit!
Day-tripping the Bazaruto Islands: My number one highlight from Mozambique was spending the day cruising around the sandbanks in the Bazaruto Archipelago. I've never been anywhere like it before and highly recommend checking it out if you're planning a trip to Mozambique. Snorkelling, sandbanks, and seafood: what's not to love? (Snorkelling, usually)
Lowlights of the Month
Chronic pain flare-ups. I've been battling an auto-immune disease over the past few months that can sometimes result in the unpleasant combination of agony and infection. I've managed to get the majority of the pain under control with diet, but I experienced a huge flare up just before I flew to Mozambique.
I was in so much pain. On the day of my flight, I couldn't even sit still because it hurt so much. And I very nearly cancelled the trip, because stress makes the pain worse and Mozambique wasn't going to be a stress-free experience. I basically sobbed my way to Mozambique, and the pain fortunately resolved itself for a few days. And then it got worse. And then it got better. Eventually, I realised the bouts of pain coincided with when I was taking B vitamins and once I cut them out completely, my discomfort dropped from an 8 to a 2.
Losing touch with friends. I spent most of my time in Vilanculos hanging out with a lovely couple, and we soon discovered our paths were going to overlap in Cape Town, where one of the guys was from. We made plans to hang out together there, and I was so excited introduce them to Dave.
And then I lost them in Johannesburg airport. We passed through immigration together, I ran to the toilets, and when I came back they were gone. Did they think I'd wandered off without them and then left as well? Did they think I'd ditched them? Had they ditched me? We hadn't exchanged contact details, so I had no way of getting in touch with them.
The worst sunburn ever. I'm so, so meticulous with my sunburn application that I had no idea how this happened. I think I may have forgotten to apply sunscreen to one of my arms[!], because after spending a day on the beach in Tofo, I returned to my room with one entirely red arm. And it must have been bad, because a week later, it was still painful. On my snorkelling trip in Tofo, the only way for the guide to get us up onto the boat from the water, was for him to wrap his hand around my burn and tug me on board. OH MY GOD, IT HURT SO MUCH. Here's how it looked (disgusting) ten days after the burn.
My Next Steps
February will be just as busy as January, with my first jaunt into Swaziland, followed a full ten days exploring as much of Cape Town as possible! On the agenda is lots of hiking, great food, and as many picnics as I can find.