Located just south of Yellowstone in possibly the best area of the country for those seeking wide open spaces is Grand Teton National Park. In northwest Wyoming, on the border with Idaho, Yellowstone National Park tends to steal the show, but the lakes and mountains of Grand Teton National Park make their own case. While you should absolutely see both if visiting Wyoming, Grand Teton is something you can't pass up!
At just over 70 years old officially, Grand Teton National Park was actually established twice! First established in 1929, although extremely unpopular, 96,000 acres were declared federally protected. In 1950, Harry Truman merged the original Grand Teton National Park with Jackson Hole National Monument and a large land donation from John D. Rockefeller to designate the 310,000 total acres as what we now know as Grand Teton National Park.
Grand Teton is open year-round but fall and winter seasons have partial closures due to weather. Here's a full list of what will be open when you visit.
Peak season is from May to September and when you can expect most of the park to be open and available for use. Expect November through April to have the most closures and reductions in hours and services. Grand Teton sees roughly 3.5 million visitors a year and has been gaining popularity in recent years.
The earliest parts of fall are some of the most desirable times to visit as you'll be there at the end of peak season and experience the unveiling of Grand Teton's fall colors!
Before Entering the Park
Bring layers to Grand Teton! The highest average temperature is in July at 77 degrees. The highest average low temperature is also in July at just 41 degrees (the lowest average low is in January at 0 degrees)!
In terms of safety, there are two main things to note:
Grand Teton may have fire restrictions in place certain parts of the year; check for fire regulations so you avoid fines! In the lower stages of fire restrictions, you can still use designated fire rings if you want to grill!
You will be in active bear country. You're much less likely to run into one when hiking in the frontcountry as opposed to the backcountry, but you'll still want to be aware of your surroundings. While it's unlikely you'll ever get close enough to a bear to be concerned, make sure you know what to do if you do happen to run into a bear!
There are numerous great places to camp in Grand Teton, but all campsites are now reservation only. Make sure you get your reservations ahead of time if you plan to camp in the park campgrounds.
As always, check the park's website for the most up to date information.
Day One in Grand Teton National Park
The most popular entrance into Grand Teton National Park is from the south via Highway 26-89 past the Jackson Hole Airport. Take this highway until you turn onto Teton Park Road. This will take you through the unincorporated community of Moose, Wyoming. Take a left onto Moose-Wilson Road from there. Head down Moose-Wilson Road and the pull-off for the trailhead will be on your left.
Stop 1: Woodland and Lake Creek Trail Loop
Length: 3.3 miles
Elevation Gain: 272 feet
Type: Loop
Difficulty: Easy
Estimated Time to Complete: 1 hour and 30 minutes
This is a great way to stretch your legs as you get out of the car to start day one. With minimal elevation gain, this is a great trail to get yourself acclimated to the park.
While not as high in the air as someplace like Rocky Mountain National Park, you'll still be over 6,000 feet up. No need to concern yourself with elevation gained on this trail, as the ascent and descent are both quite moderate. There is a rest area at the halfway point by Phelps Lake, so feel free to take your time and enjoy it! This is a heavily trafficked hike, so getting there early will help!
Do note that bears are often spotted in this area. While it's a popular trail and thus you're less likely to run into a bear, always hike responsibly and safely.
Stop 2: Bradley Lake Trail
Length: 5.1 miles
Elevation Gain: 646 feet
Type: Loop
Difficulty: Moderate
Estimated Time to Complete: 2.5 hours
Head back the way you came on Moose-Wilson Road and take a left onto Teton Park Road. Drive until you see a pull-off area with parking. Look for Bradley-Taggart Trailhead located just next to the parking area.
Bradley Lake Trail is a bit more difficult than the Woodland and Lake Creek Trail Loop, but nothing you can't handle! You'll pass by both Bradley and Taggart Lakes on this hike. At the 2 mile mark you'll see a fork in the trail. If you go right onto the Valley Trail, you can get a better look at Bradley Lake and take some photos before heading back onto the Bradley Lake Trail. You won't need to go too far either. Expect to add 0.2-0.3 miles to your overall trek if you opt for this additional part.
The first half of the trail has all of the elevation gain with the second half being either downhill or flat.
Stop 3: Moose Ponds
Length: 3.2 miles
Elevation Gain: 150 feet
Type: Loop
Difficulty: Easy
Estimated Time to Complete: 1 hour 15 minutes
Those first two stops may be enough hiking for one day for most people. If you aren't most people, continue up Teton Park Road towards Jenny Lake. Take a left onto South Jenny Lake Entrance and you'll find a number of parking areas. The first parking lot past the visitors' center will be the closest to the trailhead.
There are a couple of quick uphills on this trail, but it's quite tame overall with very little elevation gained. You'll get to walk alongside Jenny lake for the first half mile or so and you'll see this trail's namesake, Moose Pond, about a mile in. You may run into actual moose as well and possibly other wildlife. You'll also definitely run into other hikers, so take your time and enjoy the trek.
If you plan to camp inside the park, there is an NPS campsite at Jenny Lake itself! You'll need a reservation to get a spot, and it is quite popular, but well worth it if you can snag yourself a campsite!
Day 2 will be starting just north of Jenny Lake. You can put Moose Ponds off until day 2 and start with that if you prefer.
Day Two in Grand Teton National Park
Your second day in Grand Teton National Park is centered around Jenny Lake. If you managed to grab a campsite, you get to enjoy a bit of extra sleep as today will entail minimal travel for you.
Yes, there are only two stops on the second day. However, expect String and Leigh Lakes to take five hours minimum if hiked on their own. If you left Moose Ponds for the second day, you'll have a full day's worth of hiking, sure to satisfy all levels of hiking interest!
Stop 1: String Lake Trail
Length: 4.4 miles
Elevation Gain: 292 feet
Type: Loop
Difficulty: Moderate
Estimated Time to Complete: 2 hours
If you didn't get to Moose Ponds yesterday, you can push this to your second stop of the day. Do note that today's hikes are on the longer side. While they're all breathtaking and worthwhile, you can opt to pick two of the three if you so choose.
If you haven't picked up on this already, some of Grand Teton's greatest features are its lakes. Today is going to be focused on a few of the more than 100 total lakes in the park. String Lake is quite popular, so if you opt to start your day with this hike, you'll have the best chance at a relaxing lakeside walk. With the first 1.5 miles of the trail following String Lake, expect to run into the most traffic in that section.
This first two miles are almost completely flat and should be enjoyed as you walk along String Lake. Miles 2 to 2.5 of the trail make up the majority of the total elevation gained. The remainder of the trail is a fairly gradual downhill.
Stop 2: Leigh Lake Trail
Length: 7 miles
Elevation Gain: 111 feet
Type: Out and Back
Difficulty: Easy
Estimated Time to Complete: 3 hours
With this lake bordering String Lake, the first mile will be the same as the String Lake Trail, but continue to the right instead of looping back around. This is the easier of the two trails with very mild elevation gain throughout. It is, however, also a well-trafficked trail, so do expect to run into other hikers.
If you get creative here, you have a few options for routes. If you opted to hike Moose Ponds this morning instead of on the first day, you may be short on time as these are longer trails. If you have to choose here, String Lake is a more popular option than Leigh Lake and is recommended.
Alternatively, you can hike the first 1.5 miles or so of the String Lake Trail and enjoy breakfast or a snack by the southern tip of Leigh Lake. From there, take the Leigh Lake Trail and complete that hike. The end of Leigh Lake will put you within half a mile from your parking lot (or less, depending on where you found parking)! This option minimizes the total elevation gained as most of String Lake's ascents are in the second half of the hike. Bonus: You'll be hiking by a lake the entire time if you combine the two trails!
Expect the combined hike to be 7.5 to 8 miles in total with about 130 feet in elevation gained. Allot 3.5 hours ideally. You could even make this your whole day and plan a lunch spot at the northern tip of Leigh Lake. If you turn right onto the Bearpaw Lake Trail as the trail forks at the Leigh Trail turnaround point, you can have lunch by Bearpaw Lake!
Should you want to get a head start on the final day, reserve a campsite at the Colter Bay Campground.
Day Three in Grand Teton National Park
Where exactly you go for the final day depends on your exit plan. If you plan to continue north towards Yellowstone, you may want to modify this last day a bit. If you plan to exit east through Moran, you can follow this itinerary to the letter. Of course, if you plan to leave the way you came into the park, you won't have to edit this itinerary either.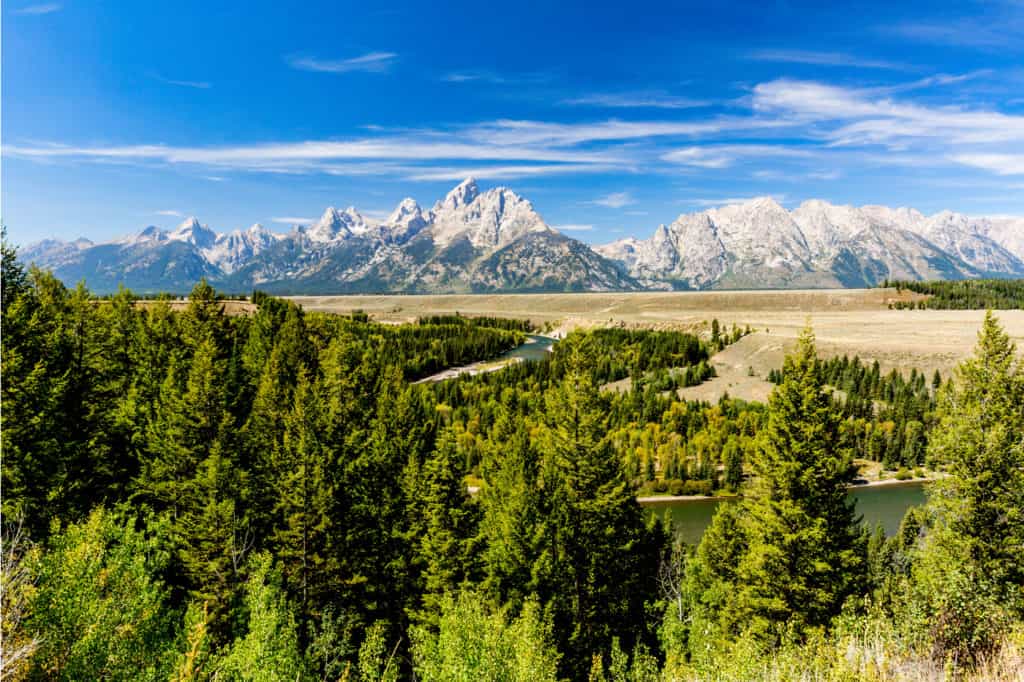 Stop 1: Grand View Point Trail
Length: 5.1 miles
Elevation Gain: 1,364 feet
Type: Out and Back
Difficulty: Moderate
Estimated Time to Complete: 3 hours
This stop may come as a welcome change after two days of popular, well-travelled trails. While not the most remote hike in the park by any means, fewer hikers trek out this way.
If you opted not to camp at Colter Bay, then continue travelling up the Teton Park Road just like yesterday. You'll come to a T-intersection for Highway 89. Take a left onto Highway 89/North Park Road and continue until you see Grand View Point Road on your right. Keep your eyes open as people sometimes have some trouble locating the trailhead. As you get onto Grand View Point Road, look for the trailhead to come up fairly quickly on your left. The bonus of it being a bit harder to find is fewer hikers on the trail!
There are two main ascents and descents on this trail, but the access to wildflower and mountain views with fewer hikers is worth that price!
Stop 2: Swan Lake and Heron Pond Trail
Length: 3.2 miles
Elevation Gain: 236 feet
Type: Loop
Difficulty: Easy
Estimated Time to Complete: 1.5 hours
This hike is much easier than Grand View Point. If you're looking to stretch your legs and enjoy a few more of the bodies of water that Grand Teton National Park has to offer, then this is the choice you'll want to make! Expect fewer hikers on this trail as well though as it gets lower annual traffic.
Stop 3: Colter Bay Lakeshore Trail
Length: 2.5 miles
Elevation Gain: 85 feet
Type: Loop
Difficulty: Easy
Estimated Time to Complete: 1 hour
If you camped in Colter Bay, then you'll probably want to put this trail and the next one first and make Grand View Point your last stop. The Colter Bay Lakeshore Trail is essentially two spits of land connected to each other, so you'll be hiking by the water the entire time. This is definitely a good way to start your morning if you camped nearby. The difficulty is quite low and it's something all hikers can enjoy!
If you plan to continue north to Yellowstone, you'll probably want to keep this itinerary in the order that it is, even if you got a spot at the Colter Bay Campground. If you got really lucky and got a second night at Jenny Lake campsite, you'll definitely want to keep this in order. If you're looking to exit towards Moran or if you're flying out of the Jackson Hole Airport, you have some flexibility in just how you want to approach this last day.
Hopefully this itinerary brought you inspiration and excitement. While you likely won't be doing as many hikes per day in Grand Teton as in other national parks, the beauty of Grand Teton's lakes and mountains should more than make up for that. Take your time; not just because of the elevation, but to fully take in all that this park has to offer!
Grand Teton, more so than many other parks, is a hub of wildlife activity. Make sure you're aware of what animals you may run into during your visit to Grand Teton and what to do if you encounter them. As long as you recreate responsibly, even during the busiest seasons of animal activity, your trip to Grand Teton is sure to be an adventure you'll remember for years to come!
Hopefully this itinerary has helped inspire your next trip to the Teton Range and all its surrounding areas! We can't wait to hear all about it!