Arriving in Sighisoara is a bit like stepping back in time.
This tiny medieval city of winding cobbled alleys, steep stairways and secluded squares was my last stop in Romania and ended up being the highlight.
Sighisoara is like a prettier, smaller, quieter and slower version of Brasov. I got the impression that nothing here ever happens quickly and so I dutifully slowed down too.
Meandering down towards the Old Town, Dave and I lingered over lunch, spending a few hours eating pizza and ice cream, drinking coffee and beer, before wandering down the road to sample some gelato.
I was enjoying having such a relaxed pace of travel.
It would be easy to explore Sighisoara over a couple of hours. There aren't too many tourist attractions inside the citadel – the clock tower, a few churches, a couple of museums and the home of Vlad the Impaler.
None of these seemed particularly appealing once we were there though. The real attraction for me was allowing myself to get lost down tiny alleyways while marvelling at the incredibly gorgeous architecture.
Sighisoara is seriously stunning.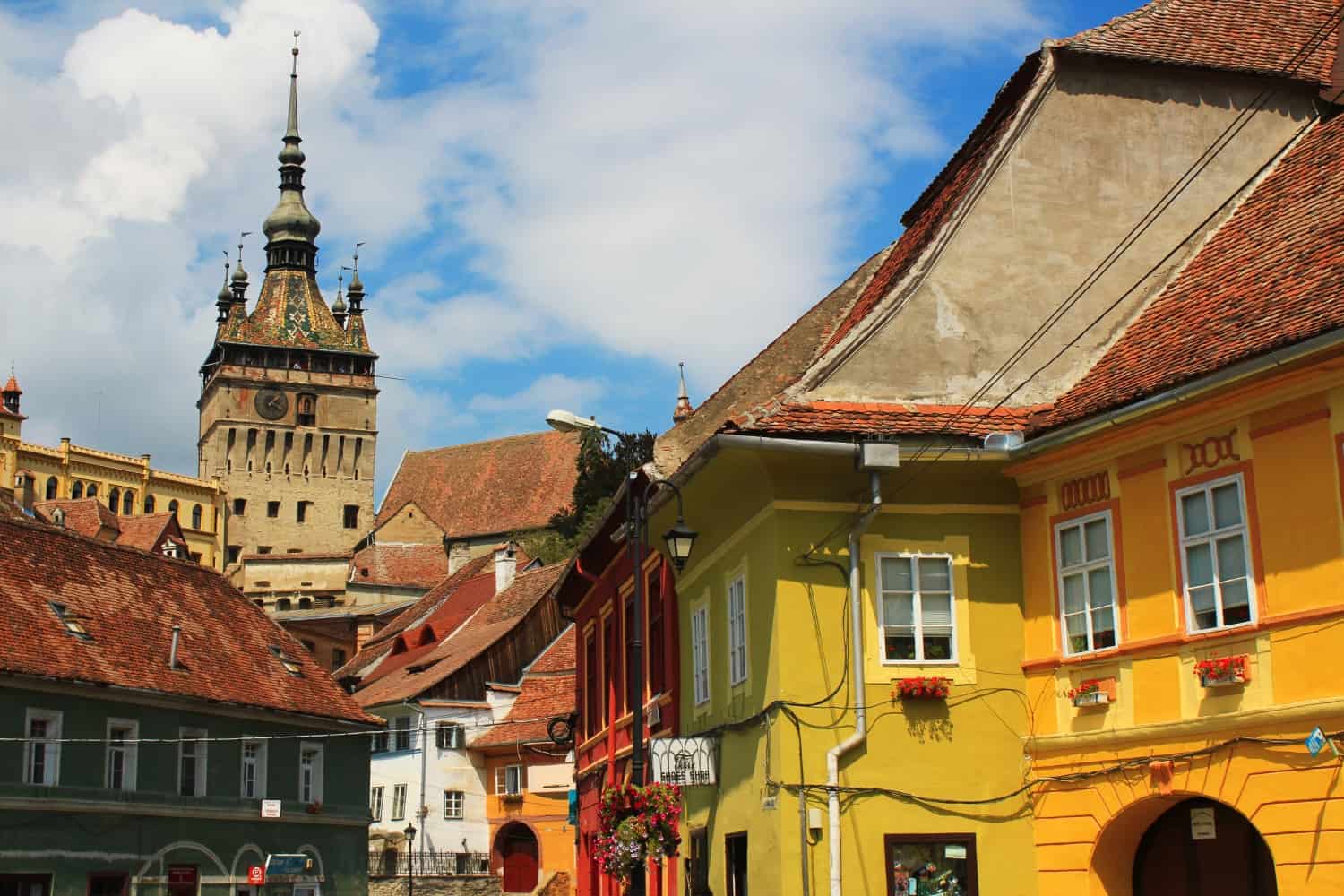 I love colourful cities and Sighisoara has to be the one of the most colourful I've ever come across! Every single house is painted a different colour resulting in ridiculously photogenic streets and alleyways.
Sighisoara is one of those places where almost everywhere you look you'll find beauty. Whether it's a dead-end street with a couple of run-down houses or a parking lot in the middle of nowhere, it was guaranteed to be stunning. I knew I would be spending the entire day walking down every single pathway I could find.
And yes, I found it near-impossible to narrow down the number of photos in this post to just a few…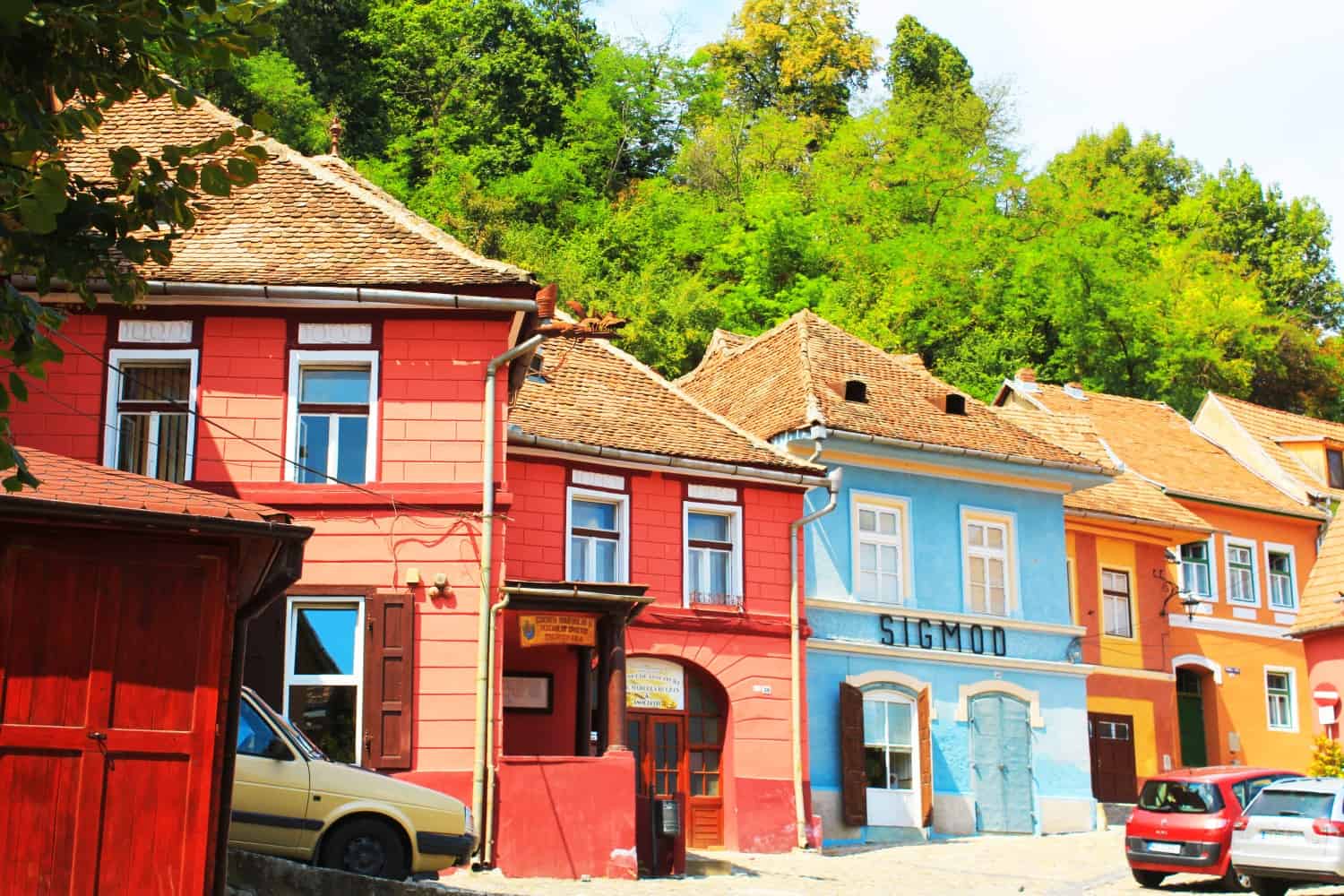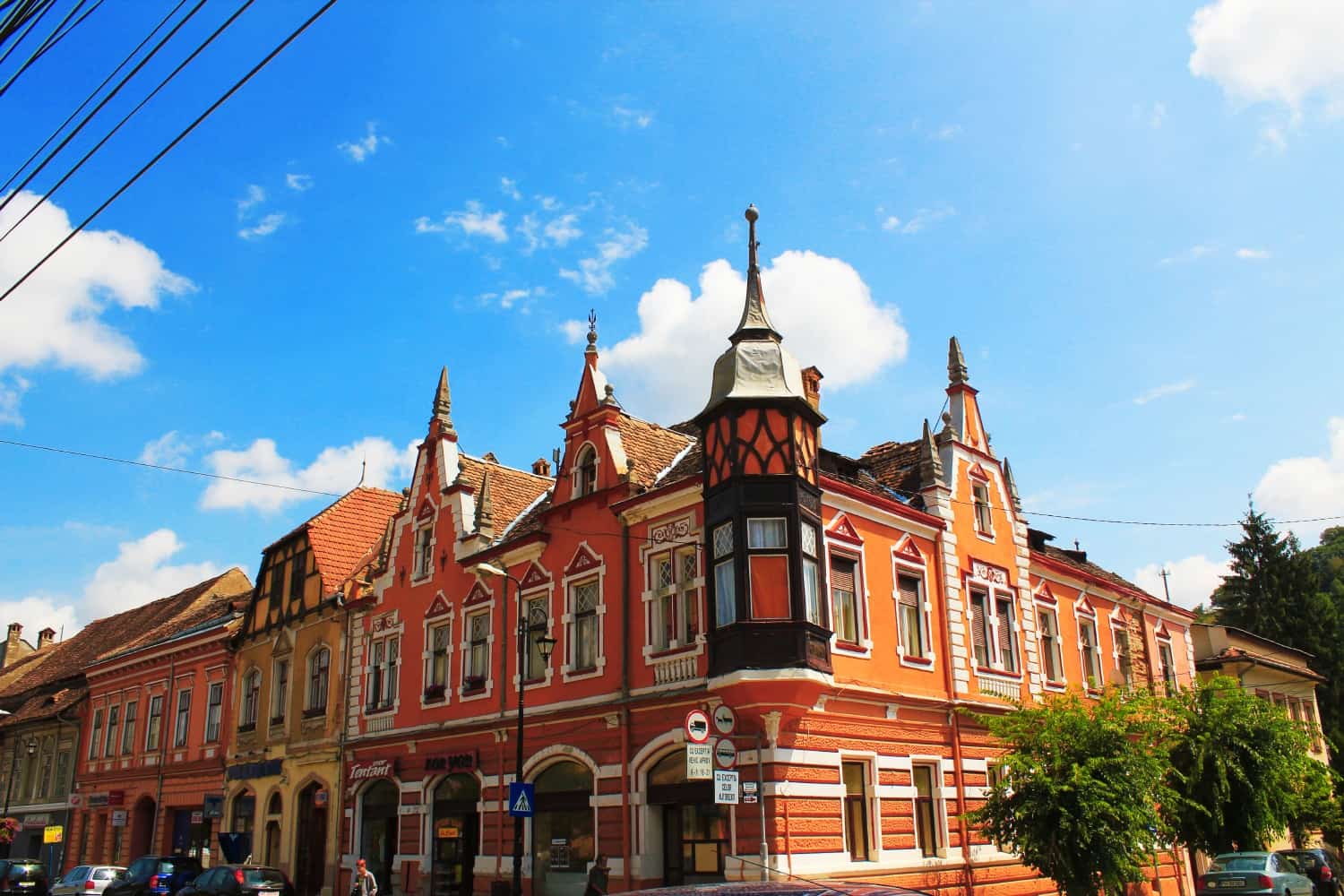 One of the things I really loved about Sighisoara was the adorable old women that would spend all day hanging out of their windows. Whether they were watching what was going on on the streets below, or gossiping from house to house, you could spot them all over the city.
Mid-way through our exploration of Sighisoara, we stumbled across one of the more bizarre statues I've seen on my travels. Given to the city by Italy to commemorate the connection between Rome and Romania, it depicts a wolf feeding Romulus and Remus, the founders of Rome.
Deciding that we couldn't leave Sighisoara without seeing the main tourist attractions, Dave and I headed over to check out the clock tower.
Emerging from a quiet alleyway, the noise and crowds were an unwelcome encroachment on our relaxing day. This was the one time where we felt like we were among more tourists than locals and the shock of seeing more than five people on a street had us quickly snapping a few photos before heading down another backstreet.
The view from the clock tower, however, more than made up for the violation of our personal space.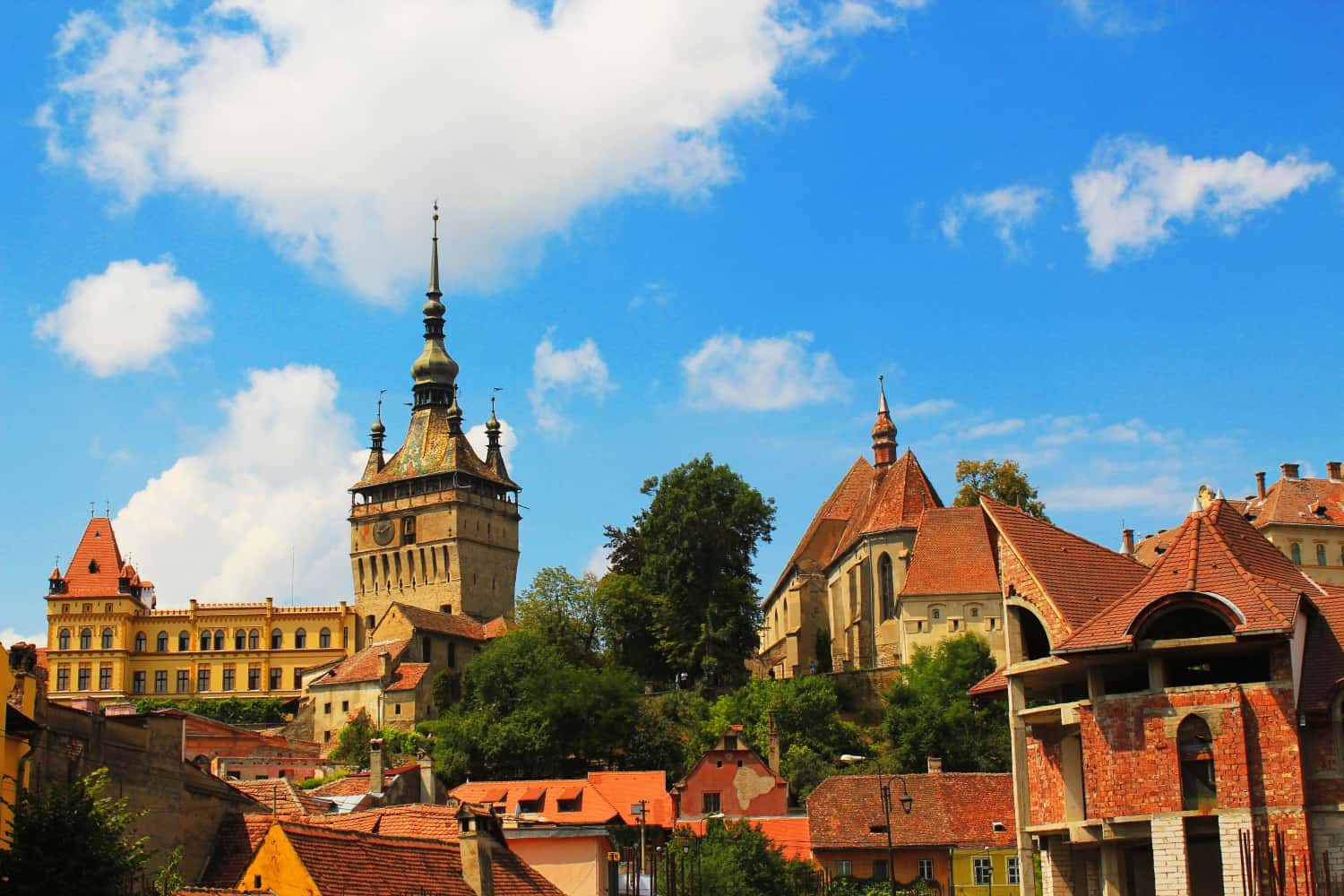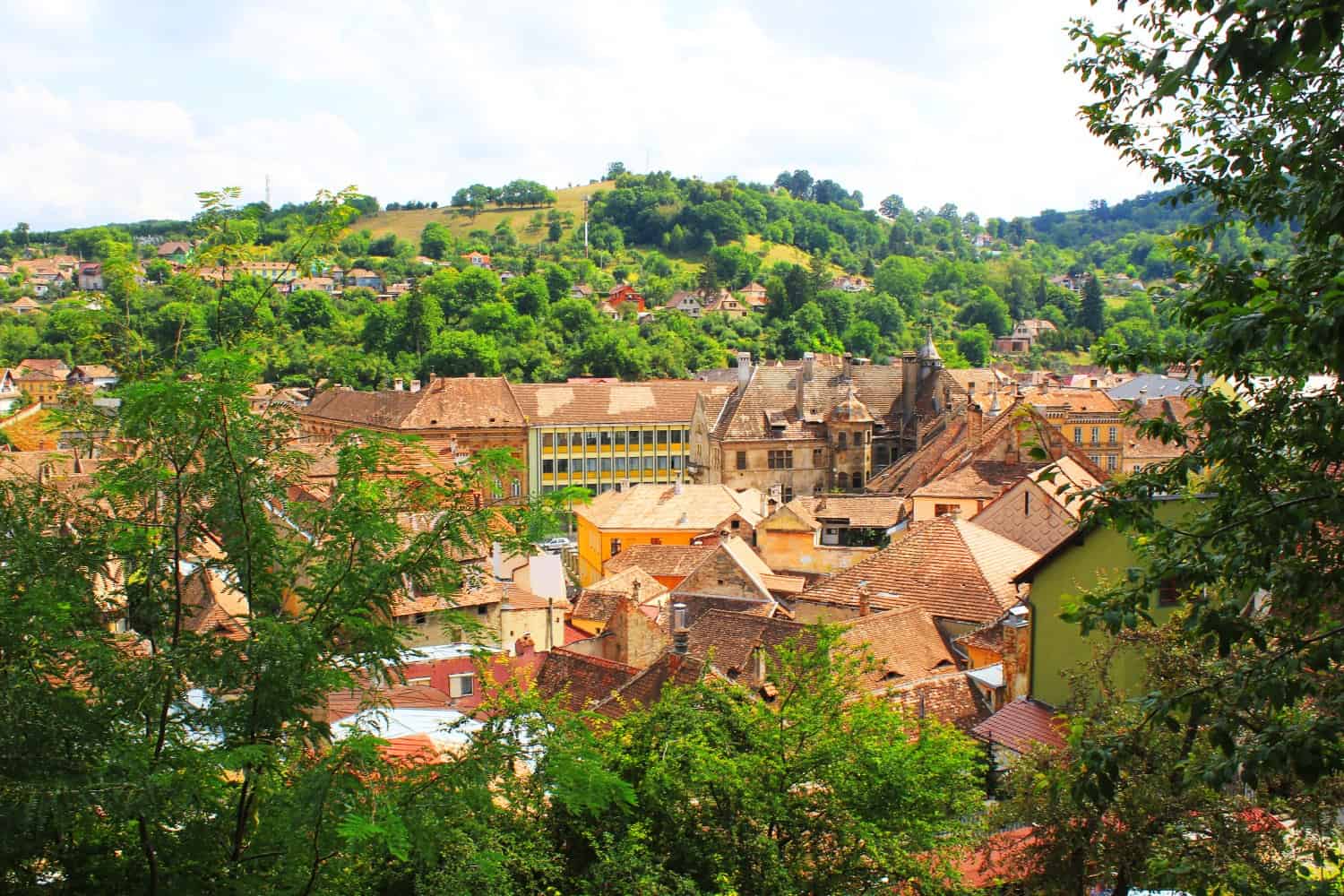 Being in Transylvania means that Dracula references are never far away. Sighisoara is the the birthplace of Vlad Tepes, the inspiration for Dracula, who was, judging by this statue, apparently part-unicorn.
I loved Sighisoara because it was so incredibly peaceful with an extremely slow pace of life. We took this rhythm to heart and spent much of our time there doing nothing at all — something which we were desperately craving at the time.
I left feeling that Sighisoara is the type of place I could see myself arriving at, planning to stay a couple of days and leaving months later.
So if you're planning on heading to Transylvania then be sure to add Sighisoara to your itinerary.