As Masters students, whenever my friends and I need a break from classes, books, and deadlines we head to Eilat.
Located on the Red Sea, and surrounded by the legendary Red Mountains, Eilat is the go-to destination for snorkelling, beaches, booze, hiking, and a ton of tax-free shopping. Eilat's locals have a true genuine nature, everyone is naked — both metaphorically and literally — and unafraid to be direct, honest, or start drinking at an ungodly hour.
Once, a Russian man offered my friends and I shots of vodka on the beach at 10:00am.
The same day an elderly gentleman with the appearance of Dwayne Johnson, but with the skin of a saddlebag, offered me a smooth black stone he had brought up from the sand bed. Kneeling in front of me he whispered, "a beautiful gift for a beautiful senorita." Then he and his tiny speedos dove back into waves.
Although Eilat has a well earned reputation for being a party town, where the tanned and beautiful youth of Israel dance into the night, it's also a family-friendly getaway, with plenty of activities to wear your kids out.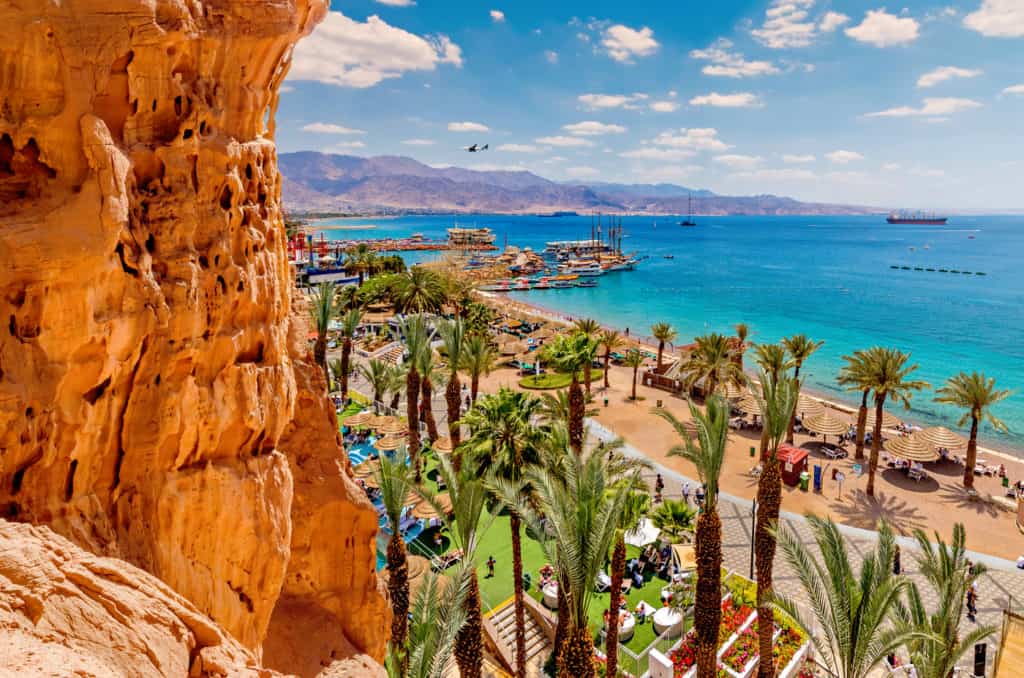 Getting to Eilat
There are two ways of getting to Eilat: either by bus or by car, and both have their advantages and disadvantages
The drive down to Israel's most southern city is nothing short of breath taking, with the road taking you along the Dead Sea, through the mountains, and into the desert.
The bus takes around four hours with a twenty-minute rest stop in between.
Whenever I personally have travelled to Eilat, I've always gone by bus because it is the cheapest option as they offer a student discount. You can download the Egged app right onto your phone to book your departure and return tickets. The app is a lot easier to navigate than the site, by the way, and will email your ticket confirmation right to your phone. Be sure to save the ticket and confirmation number! You'll need this information in order to print out your ticket to board the bus. This can be done at any one of the ticket stands inside the central bus station.
Your second option is to rent a car.
The one time me and my friends decided to rent a car, one amazing benefit was being able to pull over and visit the Dead Sea, explore the desert a little, take some group photos, and take advantage of the ability to, um, take-a-leak at leisure. Hertz Rental Cars has several branches located all around Israel so finding a car to rent is no issue. Having the car also makes it easier to travel around Eilat to visit the national parks and hiking trails all while in your own air-conditioned space. Waiting for a bus in 35°C heat is not ideal if you're with little ones or hungover.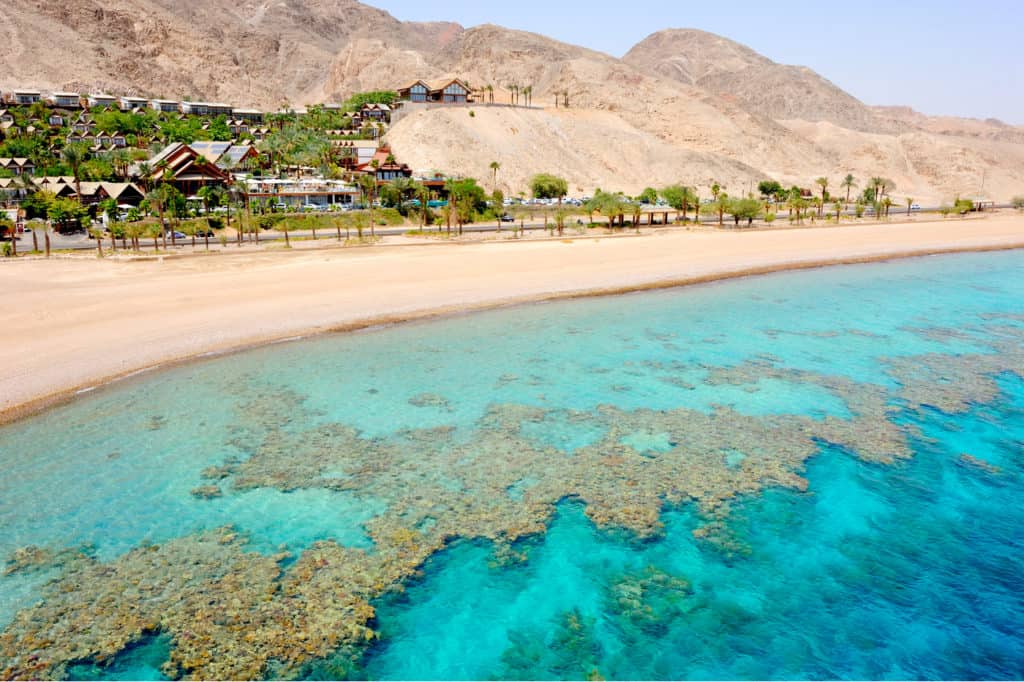 Where to Stay in Eilat
Depending on your budget, there are several hotel and hostel options available to you either right on the beach or closer to the city centre.
If you usually travel on a budget, like myself, I would highly recommend checking out some of the local hostels. These tend to be the cheapest options, and a great way to meet the locals as well as other foreign nationals.
During my last visit to Eilat, I stayed at the Shelter Hostel, which was founded in the 70s by a Messianic Christian preacher from the Netherlands. It was an interesting experience, to say the least, but the people were absolutely lovely and for 70 ILS a night it was a steal.
There are other options for those of you looking for a more conventional place to rest your head. Avraham Hostel on Shfifon St 3 has many different accommodation options including private rooms and bathrooms.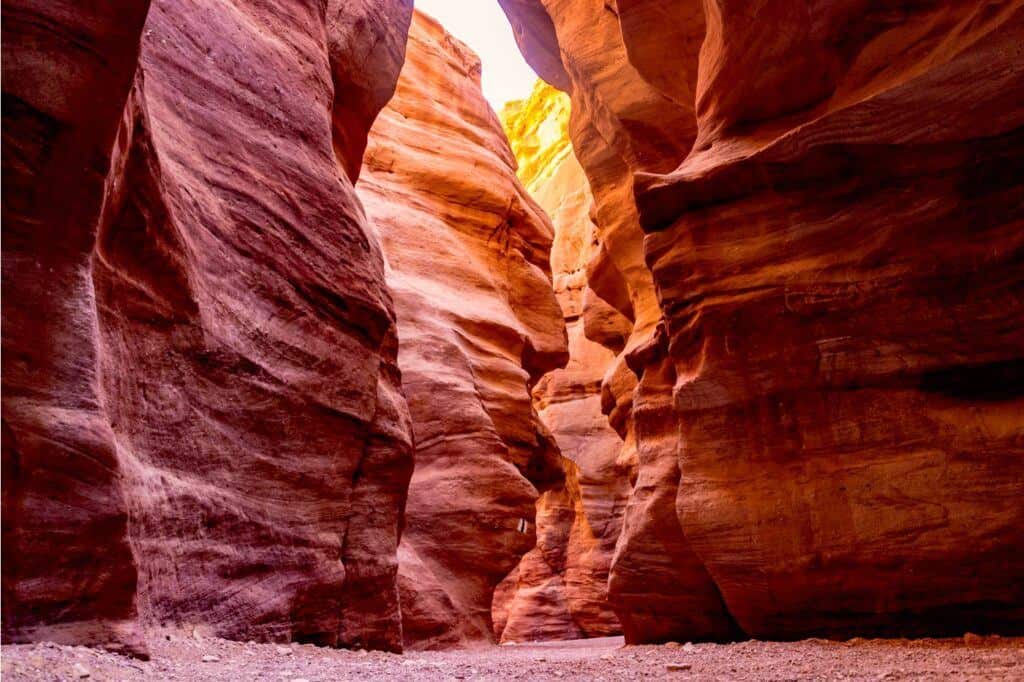 Day One
Hiking in the Red Canyon
Israel's southern landscape is arguably one of the most striking in all the country. Millions of years ago the entire desert area was completely submerged below the ocean. The rock, cave, and canyon formations you will see were formed underwater and overtime were sanded down by wind and sand including the famed Red Canyon. The large boulders that rest inside the canyon are actually the calcified remnants of dead whale and fish bones compressed overtime. The Red Canyon includes several trail options for all types of hiking experiences. If you're hiking with small children I would recommend sticking to the green trail markers. However if you want to tempt fate a little bit, there are also trails that run alongside the walls of the canyon, giving climbers the opportunity to flex their muscles. Temperatures in the Negev can reach well above 38C by midday so it is best to start your hike as early as possible. Be sure to wear a good hat, close toed shoes, and bring more water than you think you'll need!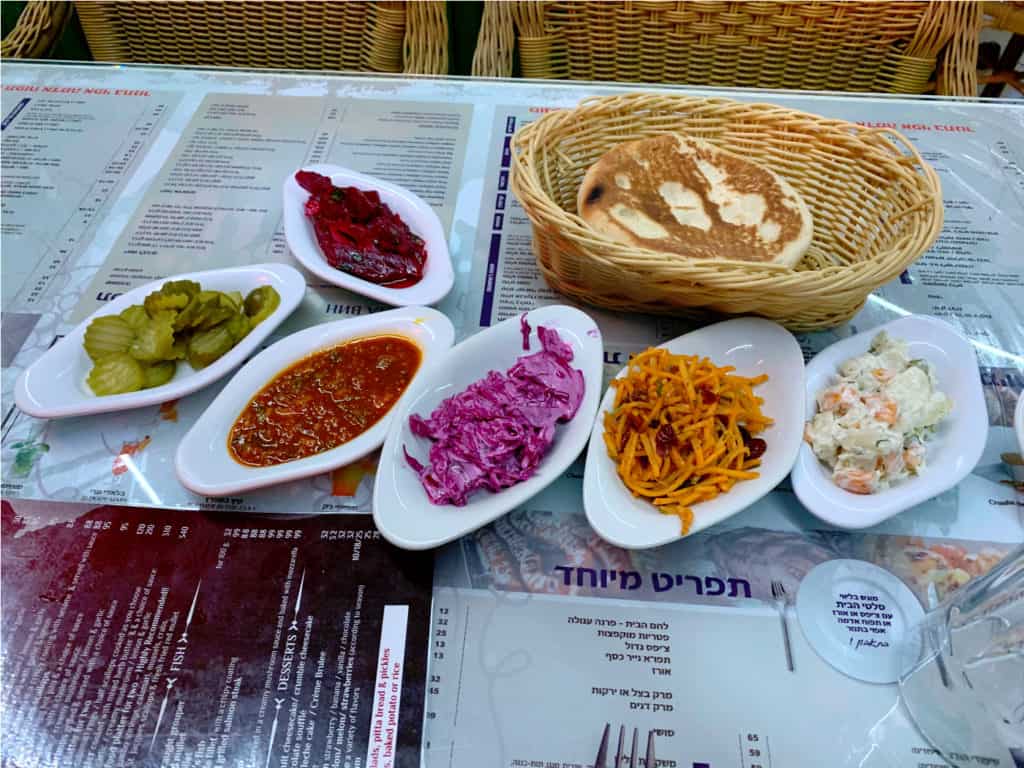 Lunch at Ashkara Grill
Whose ready for unlimited salads and a classic Israeli barbeque experience?! Ladies and gentleman I present to you Ashkara Grill. Here unlimited Israeli salads are only 18 shekels a person making this an ideal place for large families or students. There are over five different varieties of salad including roasted and pickled beet, grated carrot and Dijon, tomato matbucha, babaganoush, spicy pepper, lentils etc. They also bring you fresh pita for dipping and pickles. Although it will be hard you need to try and not fill up on the delicious salads because they have a wide selection of prime meats to try. I recommend getting the lamb kebab and the grilled eggplant dressed with tahini, parsley, roasted garlic, and sumac. For those of you are searching for a more unconventional food experience put your taste buds up against the chicken hearts and livers. These are usually spiced Jerusalem grille style with turmeric, cumin, curry, and cardamom and then flame grilled. The staff and waiters here are super friendly and are constantly interacting and joking with the customers. This is definitely a place where you could spend hours eating, drinking, and talking.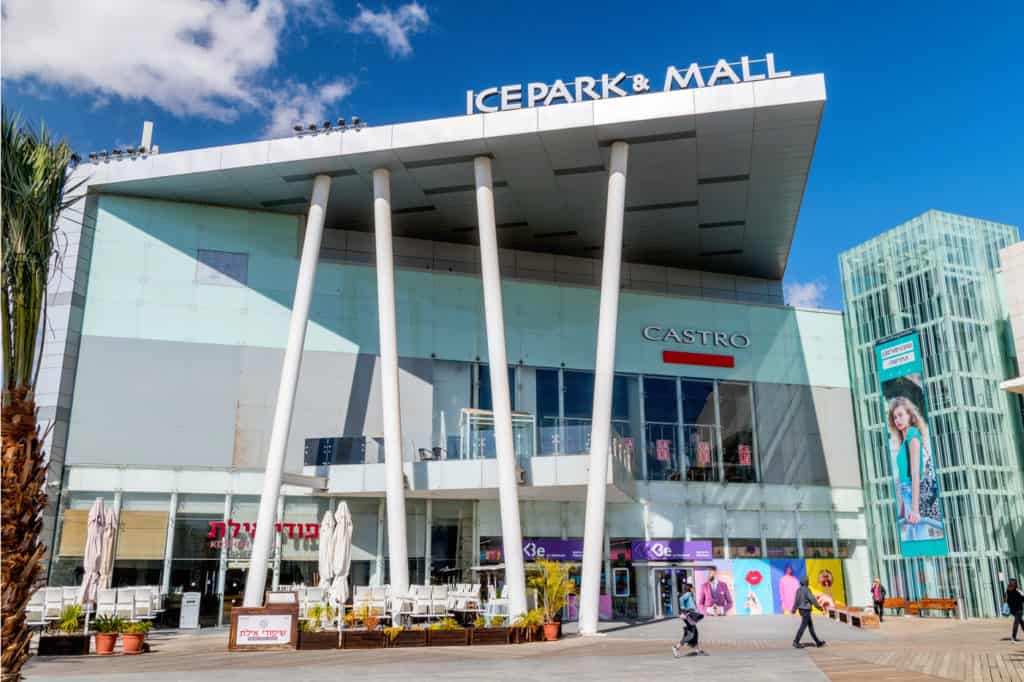 Tax free shopping
One of the beautiful things about Eilat is that it is a free trade environment so there is no tax on anything! Prices here tend to be 17% lower that the rest of Israel so if you have a need for the finer fashions, electronics, and beauty products but detest the regular price here is your opportunity to have the best of both worlds. Choose from any one of eleven outlet malls like Le Boulevard Eilat for high-end brands, or even one of the open air options like the Queen of Sheba shopping mall right off the Eilat's main beach and boardwalk.

Afternoon cruise and swim in the Red Sea
Drop your shopping bags at the hotel and grab your swimsuit because it is time for some afternoon sailing around the Red Sea. This is one of the easiest and most satisfactory activities to do in Eilat. Whether you want to take the family out for an afternoon of swimming and frolicking in the Red Sea, or you and your friends are looking to take a little booze cruise Eilat has boat and yacht services too meet all your needs. Fly On the Water is one of Eilat's most respected and trustworthy businesses for sailing, water sports, cruises, and fishing tours with professional fisherman. Eilat's reefs and beaches are protected so it is illegal to fish off any dock. For those of your who are looking to catch a fish or two this is your only way of doing so. You can also plan special events like birthdays, proposals, or even bachelor and bachelorette parties to take place on the water. This is definitely a must-do for my friends and me when we go with enough people to split the bill for the boat making it an affordable activity for every budget.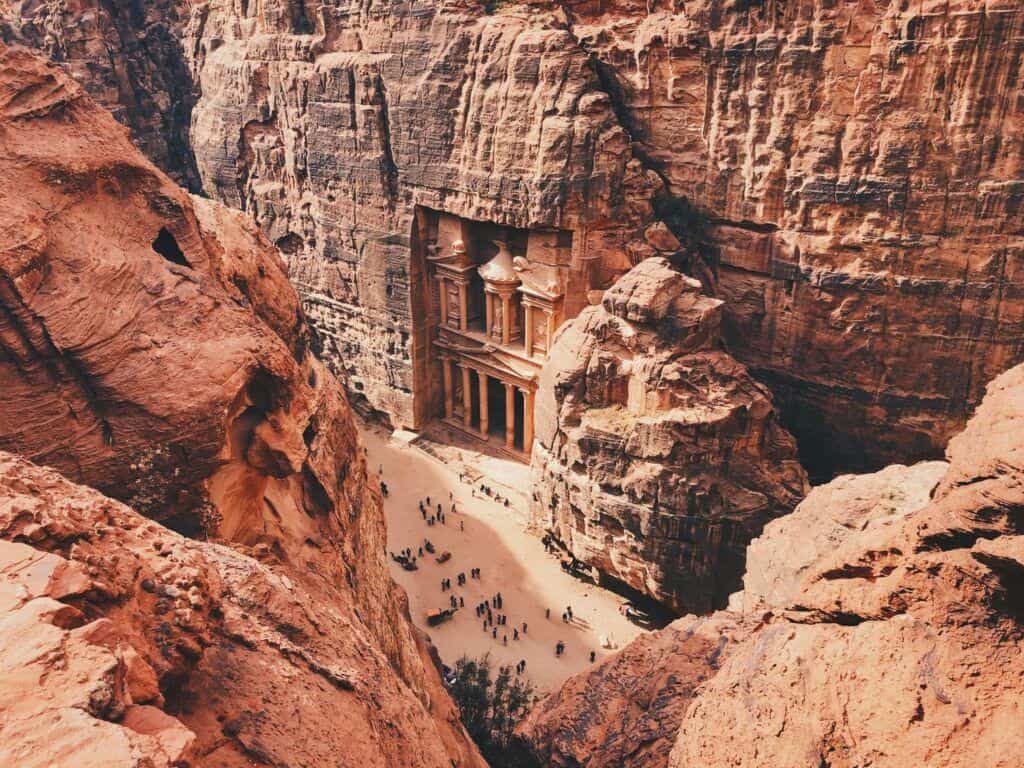 Day Two: Day Trip to Petra
One day of your Eilat itinerary admittedly won't technically be in Eilat. The best part about heading down south in Israel is traveling to two countries for the price of one. Roughly fifteen minutes from the centre of Eilat is the Jordanian border and two hours after the Jordanian border is the ancient Nabataean city of Petra. This 5th c. site features intricately carved monumental tombs, temples, and a rather large treasury carved into the pink rock of Jordan's mountains. These sites are amazingly just 15% of the original city with archaeologists noting that the rest of this ancient civilization still lies buried beneath the rock and sands of Jordan. This iconic UNESCO world heritage site serves as a reminder of the grandeur and sophistication of the Ancient Near Eastern empires. In regard to your visit there are several methods of getting there and your preferences may change depending on how many people are in your group and your collective budget. For larger groups or families I would highly recommend booking an official private tour and tour guide. There are of course group tours with rates that reach usually no higher than $200 USD per person for a whole day tour. This includes pick up and drop off as well as meals and of course touring the sites. Compared to traveling to Petra on your own a tour is one of the cheapest and safest options when you factor in the cost of the visa, the border crossing fee, the bus tickets, car gas etc. It is always best when visiting any archaeological site to travel with someone who intimately knows the history of the location as well as the rules for getting there and back. Visa regulations change quite often in this part of the world so the tour is for your peace of mind as well as overall organization and enjoyment. Although this trip will take up a whole day of the vacation it is more than worth it if you're not a frequent visitor to the Middle East or a local living in the country.
Day Three
Early morning swim with the dolphins at Katza beach
The Red Sea hosts one of the healthiest coral reefs in the world attracting all sorts of marine life: fish, octopi, eels, sharks, and yes dolphins. Several pods call the Red Sea home feeding on the abundant reef life and enjoying the protected waters. You can get up close and personal with these dolphins free diving at Katza Beach. This quiet sandy paradise is just a few meters south of the main Dolphin Reef. There are more organized dolphin meet and greets in shallow water, however, if you're brave enough to really get up close and personal with these amazing animals I would recommend free diving at Katza. The dolphins usually are feeding in the early hours of the morning so try and be in the water by 6:00am or 9:00am at the latest. I know the thought of getting up at the crack of dawn on your vacation is horrible but trust me you will not be sorry. If you're in need of snorkelling gear there are plenty of stores on the main boardwalk to buy and rent goggles, fins, and wet suits the day before. You can also ask your hotel or hostel if they have any free gear that you can use. Divers tip! Rub some toothpaste on the inside of your mask and wash it off in the sea right before use. This will keep your goggles from fogging up.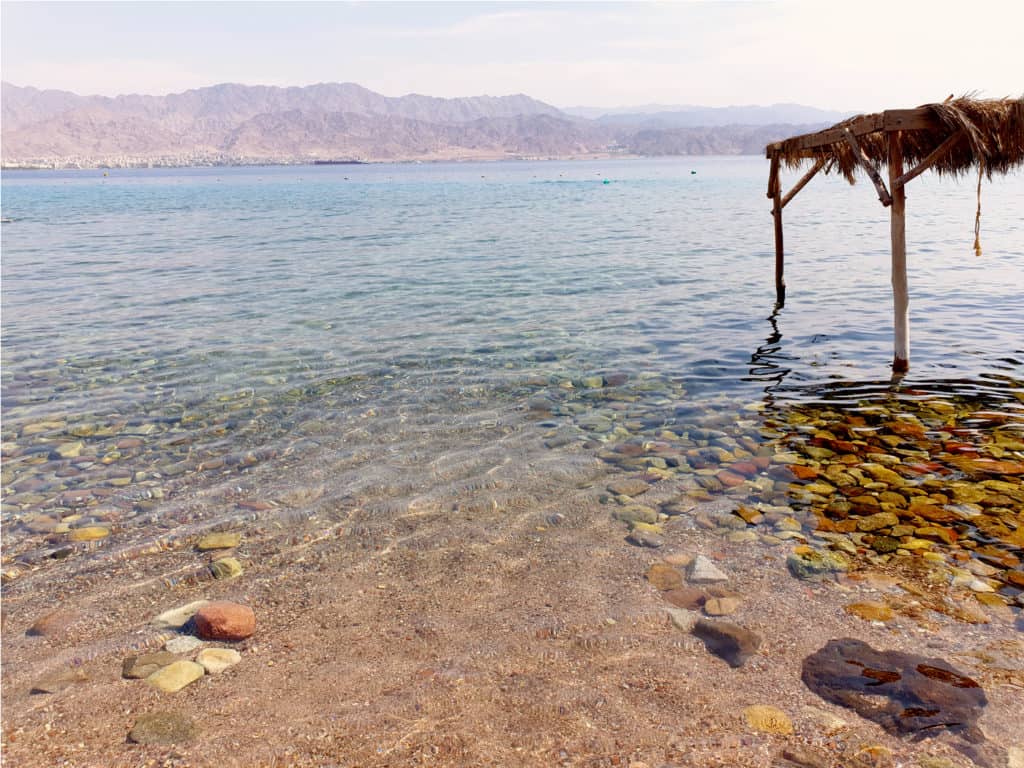 Morning at Mosh Beach
After your early morning adventure relax with a delicious breakfast at Mosh Beach on Derekh Mitzrayim.  If you made managed to wake up for the dolphins than you should arrive at Mosh beach early enough to avoid the crowds.  Although there is an entrance fee this beach paradise is definitely worth the experience.  It has a very young bohemian vibe and is a must for anyone looking to have a more non-commercial Eilat experience.  There are a multitude of cafes and restaurants that serve vegan and Mediterranean cuisine and you can order food right to your table on the shore.  Sit back on plush beach cushions with a book and munch on fresh watermelon and feta slices, then take a dip in the blue waters with the Red Mountains as your view.  After breakfast you can even indulge in a post meal hookah smoke session if that's your thing. 
This is a great spot for couples looking to experience a little romantic alone time, an excellent location for a travel photoshoot, as well as a safe place for the kids to play.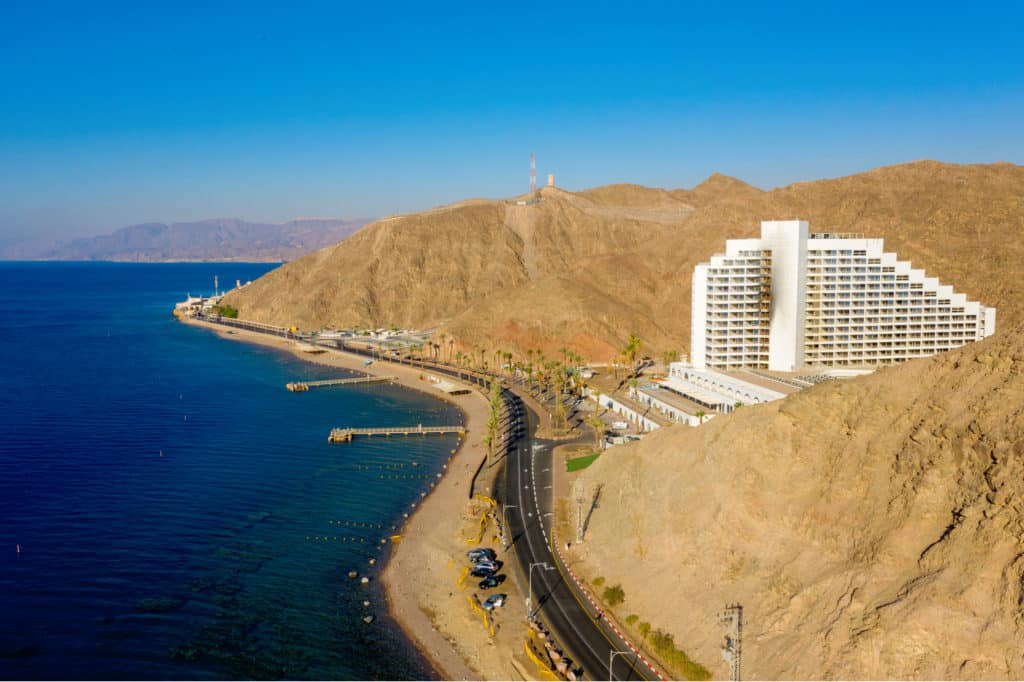 Snorkelling at Princess Beach
After you have rested at Mosh beach it is time to see more of Eilat's amazing marine animals. The mid to late afternoon is one of the best times to go snorkelling in Eilat because the light is just right to light up the whole reef. Princess Beach on Highway 90 is one of the best little local spots for snorkelling and not to far from Mosh Beach. You can spot octopi, stingrays, dolphins, barracudas, groupers, sea snakes, turtles, parrotfish, angelfish, butterfly fish, lionfish, blowfish and more. This is a great spot for seasoned divers as well as novices. Iron piers jut out into the water so you can skip making your way barefoot over the rocks if you're brave enough to just drop into the water. However if you're uncomfortable with ocean depths, you can always snorkel a little closer to shore but still get the full experience.
Dinner at Whale Burger
After the active day you've just had it is time to reward yourself with a calorie dense meal and lay that bread base for the drinking later in the evening.
I live in Jerusalem full time so one of the best things about Eilat is the fact that it serves non-kosher food. The best non-kosher spot — and indeed the best restaurant in town — is definitely Whale Burger.
They serve a multitude of cheeseburgers, chicken sandwiches, and even shrimp burgers. My favourite sandwich here by far is their "chick-burger," a boneless fried panko chicken breast, topped with their signature "big mess" sauce, and legendary purple coleslaw, on a fresh and toasted brioche bun.
They do seated dining as well as take away making it an easy place to pick up lunch and head back to the beach to eat so keep this place in mind for future Eilat trips!
Bar hopping and dancing on Derekh Yotam
For the grand finale of your trip and evening it is time to do a little dance, make a little love, and get down tonight with the locals in anyone of Eilat's legendary party venues. The bars and clubs are mostly outdoors with several different vibes depending on your preference. My friends and I usually roll up to this little nest of bars and dance halls at the end of Derekh Yotam. Check out The Bears Pub but make sure you abide by the sage drinking law: when you feel good stop! I have lost myself once or twice to the carefree intoxication of the environment and by the end of the evening ended up dancing on top of the tables. For this reason whenever I frequent the Bears Pub I am usually dressed in a pair of basketball shorts and sneakers for mobility.
There is nowhere in Israel as fantastical as Eilat. It is a place that almost sounds unreal when you describe it out loud. Just a small city resting beside a deep blue sea, located at the edge of a red desert, with a lovely view of Jordan, Egypt, and Saudi Arabia. You'll mix and mingle with people of all colours and creeds from Messianic Christians to Russian ex-pats and everything in between, with a joie-du-vivre that comes with living life in a bathing suit and sandals. Join in the fantasy and merriment and add Eilat to your list of cities to visit on your next trip to Israel!
Related Articles on Israel

🇮🇱 Tel Aviv Three-Day Trip Itinerary
🕍 How to Spend Three Days in Jerusalem, Israel