This month, the inevitable happened. I had been dreading it for weeks and spent most of my days avoiding thinking about the looming deadline. At the beginning of the month I couldn't escape it any longer; I had run out of time.
I finally left Chiang Mai. 
Chiang Mai had been my home for the past three months and I loved the time I spent there. For the first time since leaving England, I felt like I had a home, as temporary as it may have been.
There were plenty of tears as I packed up my bag for the first time in months and said goodbye to my apartment – I was devastated.
But to my surprise, after a few minutes of leaving I found that I actually didn't miss it at all.
I was excited to be travelling again and I couldn't wait to spend a lot of time on some gorgeous beaches. 
After a horrific 12 hour train ride where I got a total of three minutes sleep and watched 20 episodes of Californication, Dave and I met up with Poi and Kirsty in Bangkok and we headed down to Koh Chang together.
Koh Chang was my first Thai island and I've yet to find one to match it. Lonely Beach was perfect. It had everything I could ever want from a beach paradise and I definitely plan on returning next year.
With a quick visit to the northern beaches of Phuket, it was time to head to Koh Phi Phi.
I was expecting to hate it. I'd read the hundreds of blog posts online saying how terrible a place it is. How it's overrun with tourists. That it's too loud, too dirty and too smelly.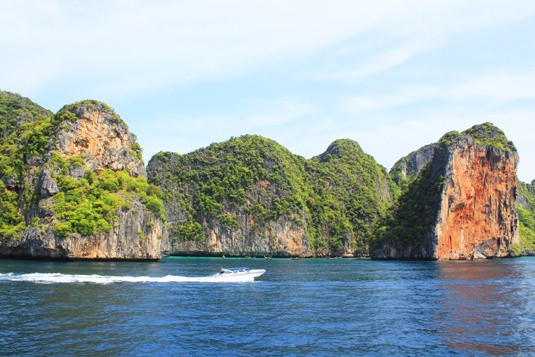 And to a certain extent it was… but it was nowhere near as bad as I was expecting. There was something about it that grabbed me. I found myself wandering around thinking that I actually really, really like it here. With just one day in Phi Phi, I was sad to leave but excited to be moving on to Koh Lanta.
Lanta was the Thai island I was most excited about. I hadn't heard anyone ever say a bad word about it, everyone I spoked to seemed to adore it and I was certain that I would feel the same way.
However, when I arrived I was disappointed. It was nice… but that was it. Nice. Being a large island, everything felt very spread out, the majority of accommodation options were resorts and the beaches weren't that amazing either. It felt like the type of place where you would spend your days going to the beach outside your room, eating your meals at the resort restaurant and hanging out with the same people every day. I tried two different parts of the island and found it to be the same in both places.
It just goes to show that you shouldn't judge places before you get to them! I didn't ever expect that I'd end up loving Phi Phi and be disappointed with Lanta.
At the start of March, I had to leave Thailand for a visa run. A few months ago, I had planned on visiting India during this time for Holi but after freaking out that I wouldn't be able to eat anything, would become really sick and get attacked by men, we decided that a more relaxing and enjoyable location would be Bali!
Spending most of my time in Ubud, I fell in love with the relaxed, hippie way of life and spent my days cycling through rice paddies and canoeing on lakes.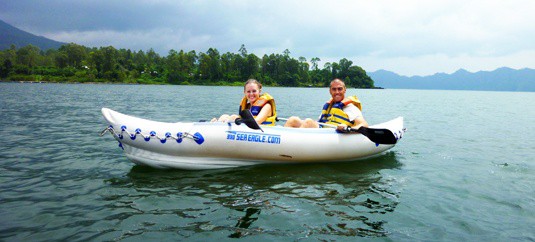 I even celebrated my eight month travel anniversary by having my first ever surf lesson.
It was one of the best things I've ever done and I can't even begin to explain just how much fun it was!
I was expecting to be terrible. My balance and co-ordination on land have been compared to that of a baby giraffe many times. To my complete surprise, I found that surfing almost felt natural to me… Within an hour I was leaping up onto the board and riding the waves all the way to the beach.
I haven't felt that buzz in a long time and I'm already planning my next surfing adventure! It was the perfect way to spend my 8 month travelversary…
So, onto my statistics for the month!
Distance travelled: 5981 km
Countries visited: Thailand, Indonesia
Cities Visited: Chiang Mai, Bangkok, Trat, Koh Chang, Phuket, Koh Phi Phi, Koh Lanta, Legian, Ubud, Kuta
Number of photos taken: 1792
Number of flights: 3
Number of trains: 1
Number of buses: 5
Money spent:
Thailand: £292.57 over 16 days = £18.28 a day
Indonesia: £331.85 over 13 days = £25.52 a day
Total amount spent: £624.42 = $1016.73
The next month:
After feeling quite disappointed with my experience in Koh Lanta, I'm not sure where to go after Bali. I have three weeks to kill and I want to spend it relaxing and writing on a Thai island. It's looking like Phi Phi might be the best option right now…
After those three weeks are up I'll be heading back up to Chiang Mai for a couple of weeks for Songkran. I'm looking forward to going back so that I can visit my favourite restaurants, do some temple hunting and see all of my travel blogger buddies again.
Looking to follow along with my travels through my monthly summaries? You can read the previous month's summary here, the next month's summary here, or head on over to the monthly summary page to read from the very beginning!