Mālō e lelei from Vava'u, Tonga!
One thing I've learned from my time in this country so far? This is a destination in which to disconnect! With unusable and/or expensive Wi-Fi ($25 for 500 mb!) and rarely more than an 2G connection on my phone, posting on Never Ending Footsteps has had to take a backseat until I get myself back to better connected places — most likely not until mid-freaking-February! Yes, I'm struggling to deal with this. The positive to my unexpected disconnection for you guys, however, is me finding the time to write 11 blog posts, so prepare yourself for a deluge of stories when I next get fully online.
Until then, enjoy this delayed monthly summary that I was finally able to put together over the worst internet of my life.
---
When I left you last, I had just arrived in Tokyo and was wrestling with a stomach-churning case of jet lag — the worst I've ever battled. The subsequent exhaustion sank deep into my bones and resulted in me wandering the city in a weary haze, failing to experience it in the way I'd hoped to. I left Tokyo having seen little of the city, but determined to make the most of the rest of my time in Japan.
Hakone was our next destination, and we were using it as a base from which to snap photos of majestic Mount Fuji. December is said to be one of the best months for volcano-spotting, but despite arriving to glistening blue skies, we soon found ourselves huddling beneath a stormy blanket of grey.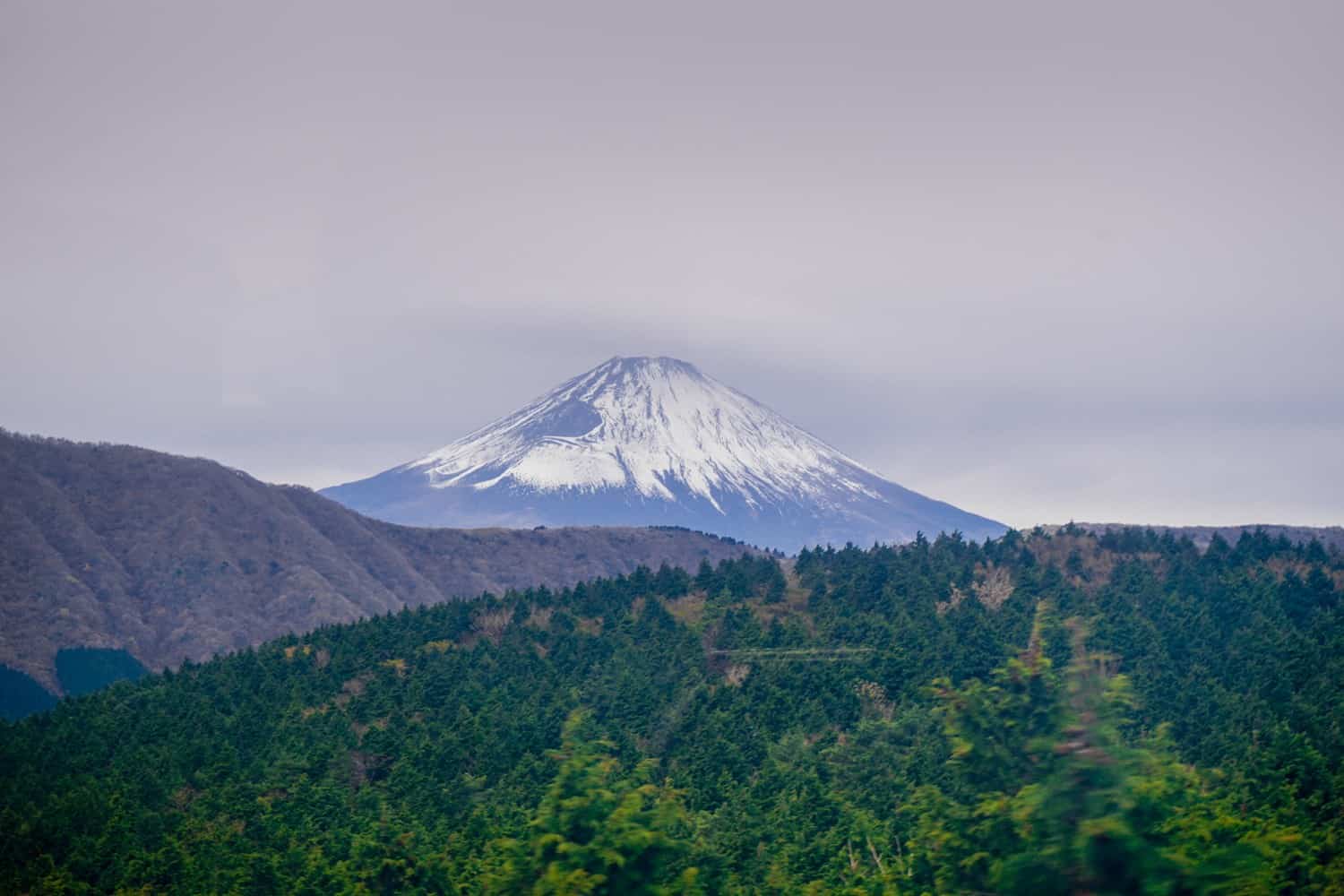 So the weather didn't cooperate with our plans, but I didn't let it ruin my day and instead cheered when I had the opportunity to add something new to my list of Weird Shit I've Eaten Around the World. I spotted a stall selling jet-black eggs that had been hard-boiled in a nearby hot spring. Aside from a strange hint of sulphur, they made for an energising mid-morning snack and I quickly devoured two more.
Something that quickly became apparent as I made my way around Japan was that this was going to be a trip of firsts. When you've been travelling for as long as I have, it's rare to find a destination that offers so much you haven't already experienced in other countries around the world.
In Japan, every day brought something strange and exciting into my life.
It was day five of our trip and not only had I eaten a pungent egg, but I was sleeping on a tatami mat floor for the first time in my life. And I was taking full advantage of the private couples onsen at the excellent Hakone Tent hostel. As a lover of almost anything that will result in me being warm, spending an hour chatting to Dave in the hot waters was enough to have me researching whether I'd be able to easily build an onsen in our next apartment. Or, I guess, just find somewhere with a bath?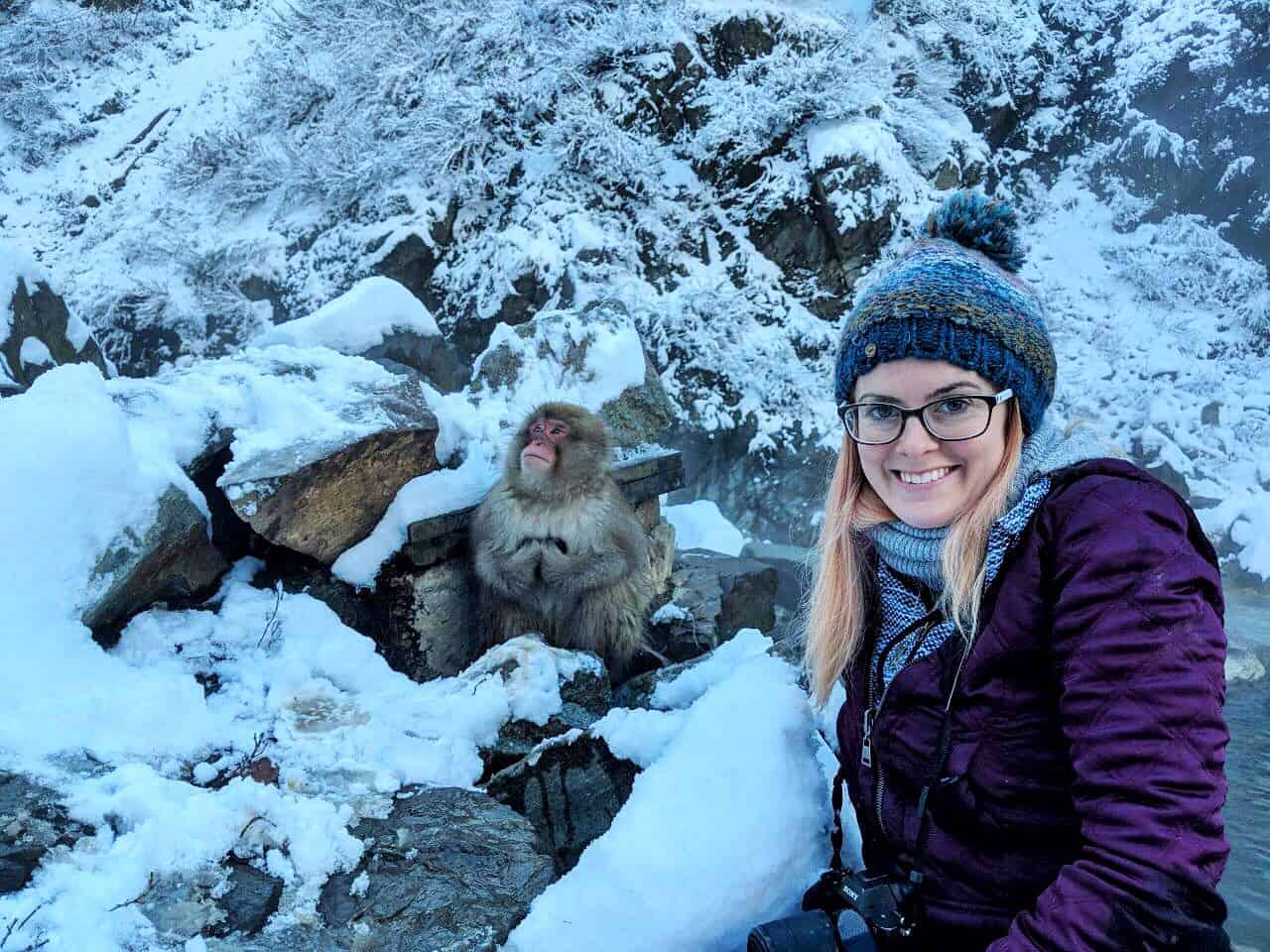 I've often said the main thing I've learned about how to have a successful travel experience is to always, always lower your expectations. It should come as no surprise, then, that I was disappointed by the snow monkeys. I had been expecting it to be the highlight of my life!
Dave and I arrived at the park shortly before closing, at a time when the monkeys climb back up the mountain to their homes. We witnessed staff members herding the animals back down the slopes whenever they tried to leave, blocking their path, whistling at them, distracting them with handfuls of food, and encouraging them to fight — anything to keep them around the paying tourists. I'll write about this in more depth in its own blog post, but needless to say, I left with a bad taste in my mouth. This was the complete opposite of an organic, ethical experience with animals in the wild.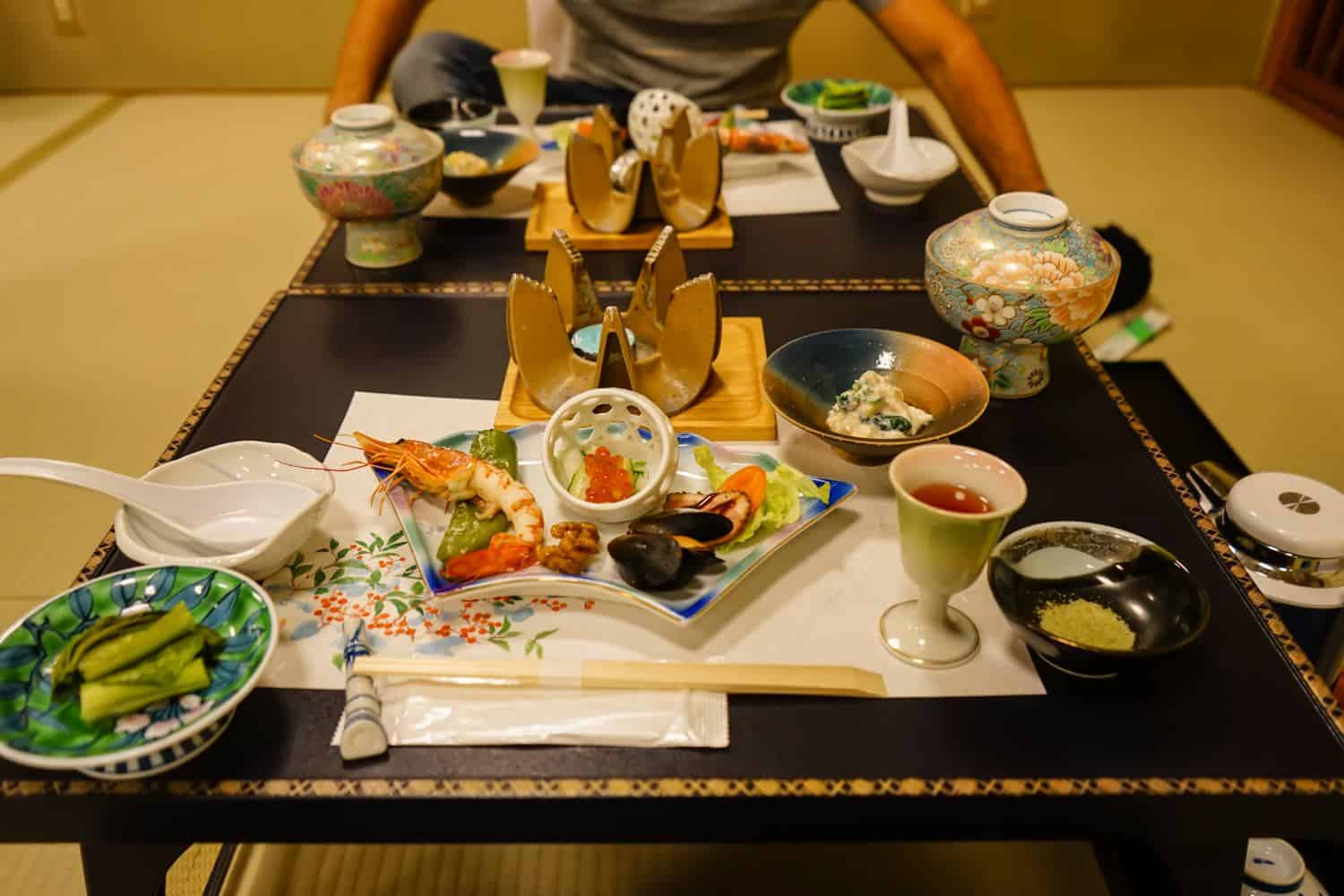 We spent that night in Yudanaka, and opted to say in a ryokan — a traditional Japanese inn — while we were in town. One of the highlights of our stay was the multi-course kaiseki dinner the owners put on for us. Dave and I ended up so stuffed full of delicious food that we didn't eat for the following 24 hours!
We later learned this had been our first cultural faux pas in Japan, as we were supposed to be wearing our yukatas (cotton kimonos) for the entirety of our stay in the ryokan — whoops! We didn't even notice they were in our rooms!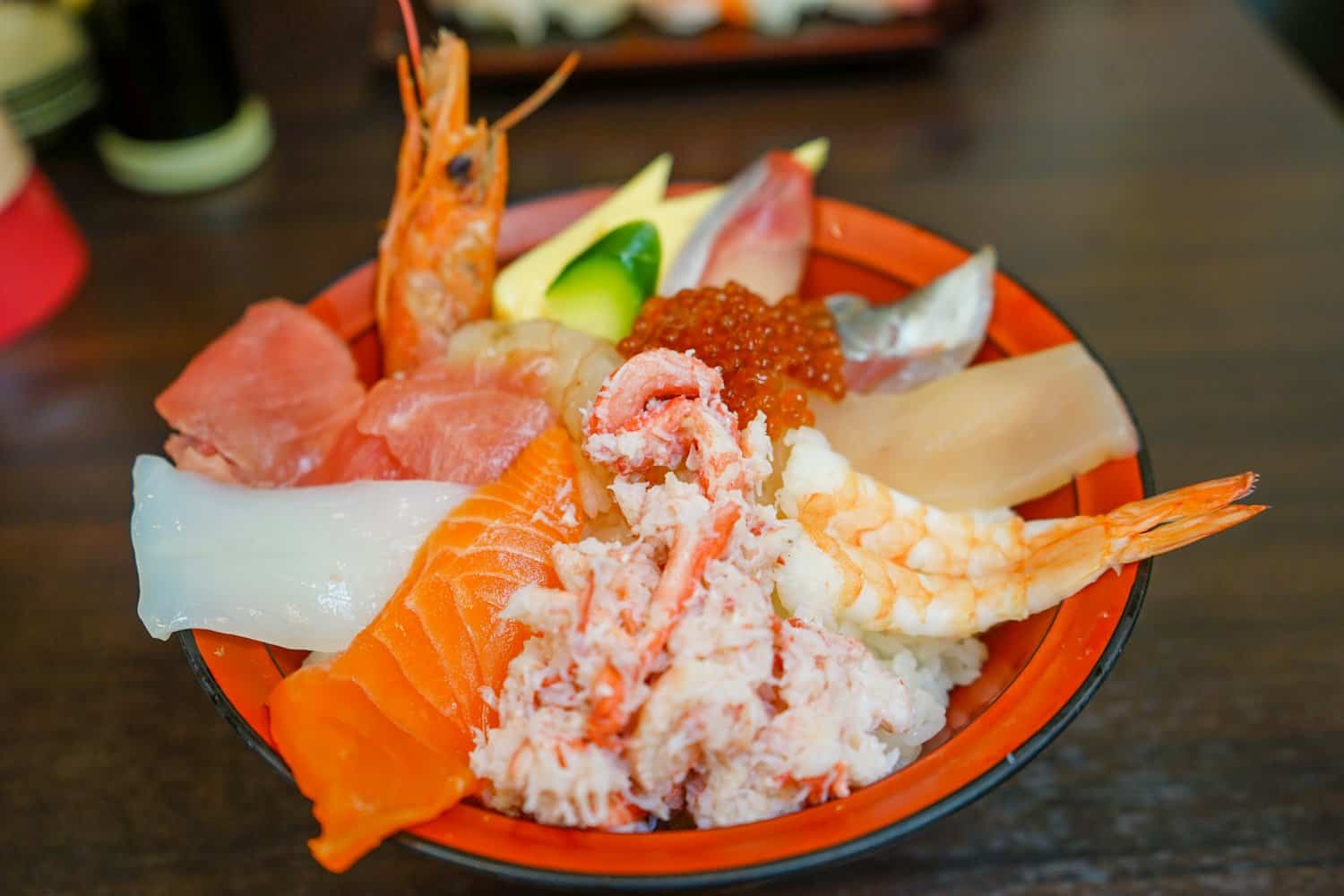 Next on our itinerary was Kanazawa and Takayama — two places we added to our list because everyone we spoke to told us they were more than worth visiting. Kanazawa was the perfect place to spend two days slowly exploring on foot. We wandered around the famous Kenroku-en garden, ate incredible sushi at Omicho Market, unsuccessfully went geisha-spotting in the Higashi Chaya district, and snapped photos of the beautiful Kanazawa Castle. I have to mention our hostel in Kanazawa, too – the Share Hotels Hatchi was my favourite hostel from the entire trip — it was so modern yet cosy that I wanted to extend our stay just to spend more time in our room.
Unfortunately, I had to leave and I say unfortunately because in Takayama, the cold hit.
Despite us wanting to check out as many of the sights as possible, the sideways rain and sleet quickly put a freezing-cold dampener on our spirits and had us seeking shelter in a cosy teahouse to warm up. Fortunately, the rain cleared overnight, so we were able to rush around and admire the architecture with bright blue skies above our heads the following morning.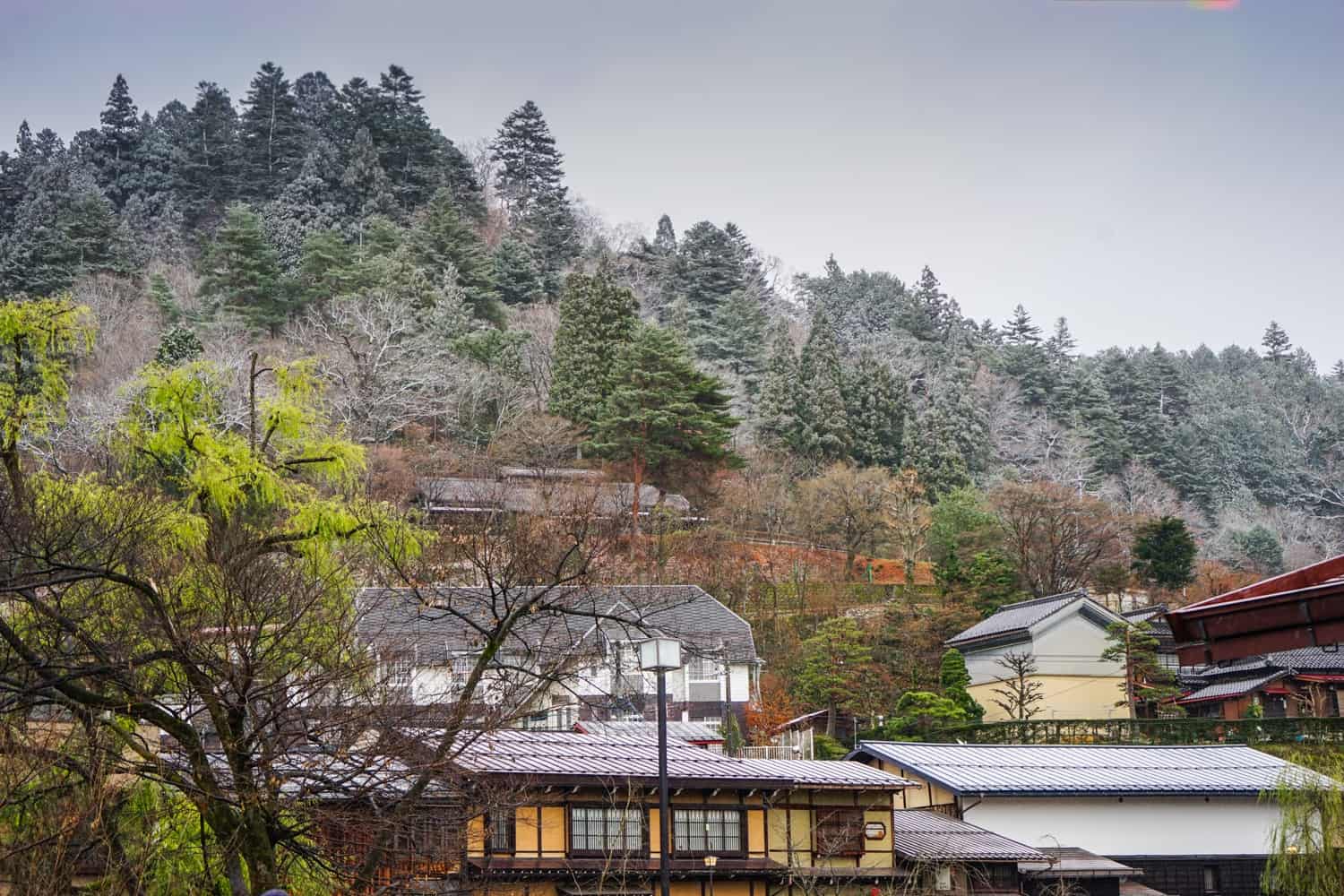 It was time to get our tourist on in Kyoto!
We were in town to see as much as possible and we had three days to try to cram it all in. Some of the highlights included finally making it to the Golden Pavilion after first discovering it on a geography quiz on Facebook back in 2008, and wandering through the red torii gates at the Fushimi Inari Shrine and having much of the four kilometre walk to ourselves. The lowlights included the Bamboo Forest, which had more tourists than it did bamboo, and the Ryōan-ji Zen temple, which was exceptionally boring.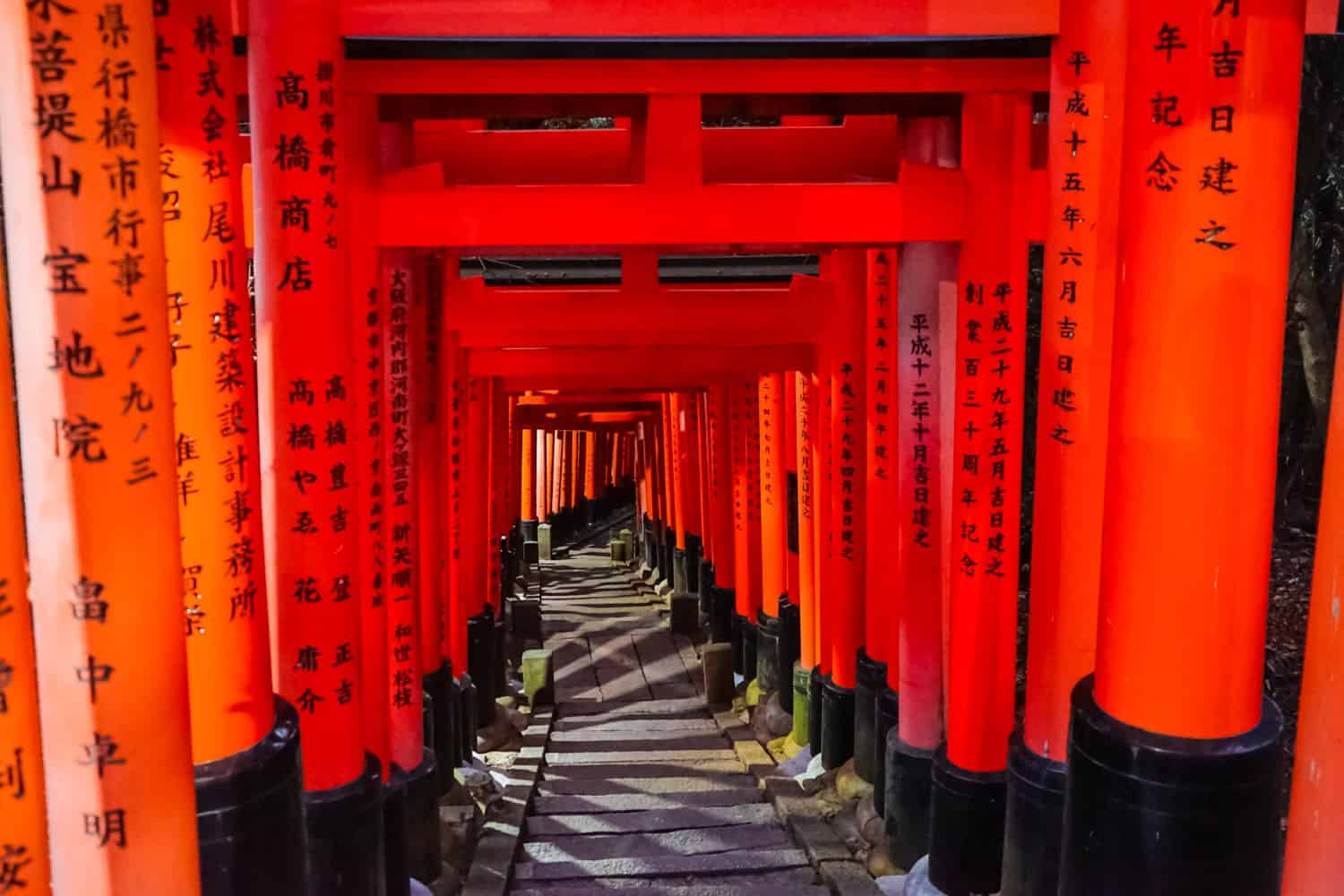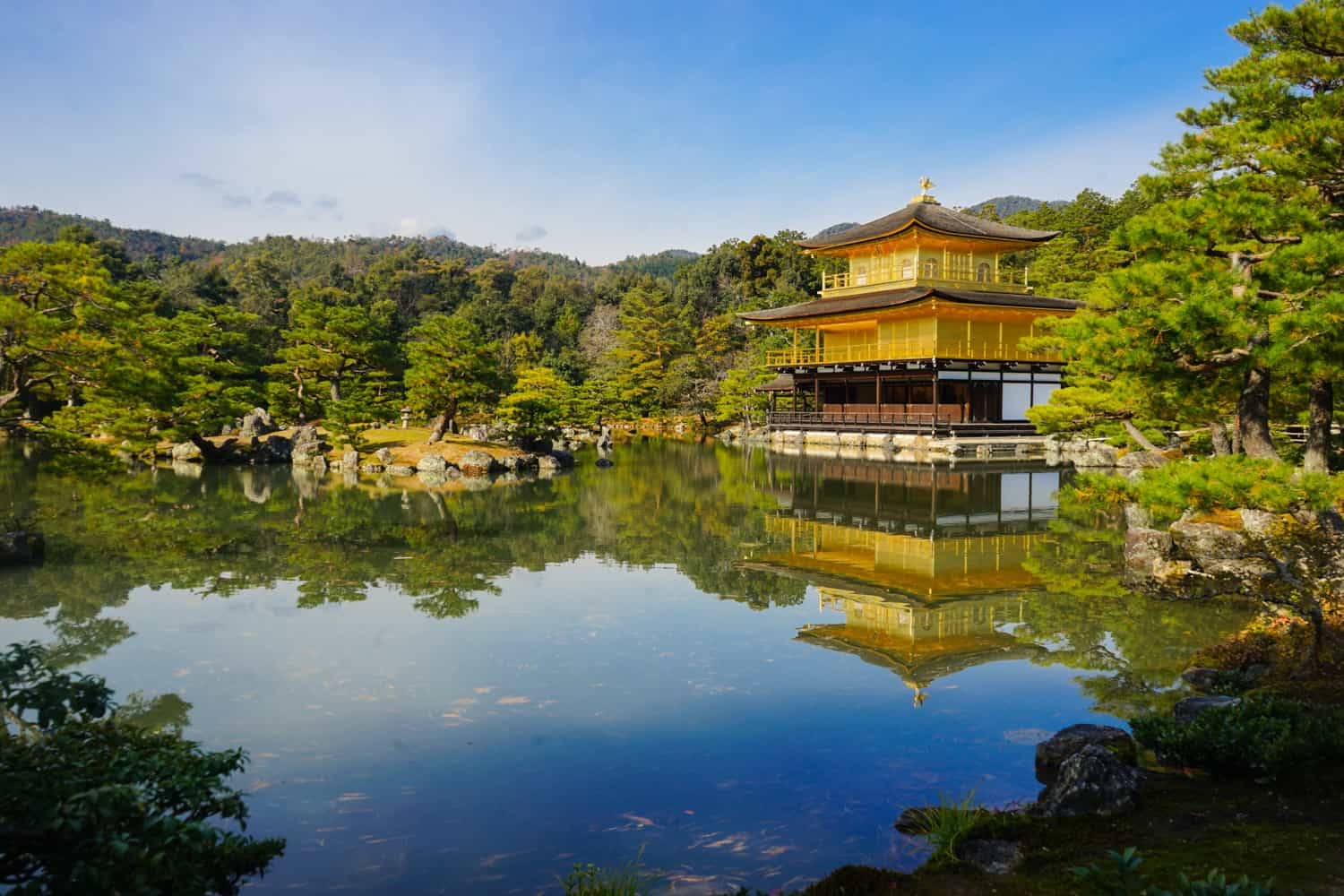 One of the highlights of my life was my time in Nara, thanks to the hundreds of wild deer that roam the city. They were so tame, so gentle, and so loving that I burst into tears of joy while at one point, then bought about 15 deer-themed souvenirs to put in my next home.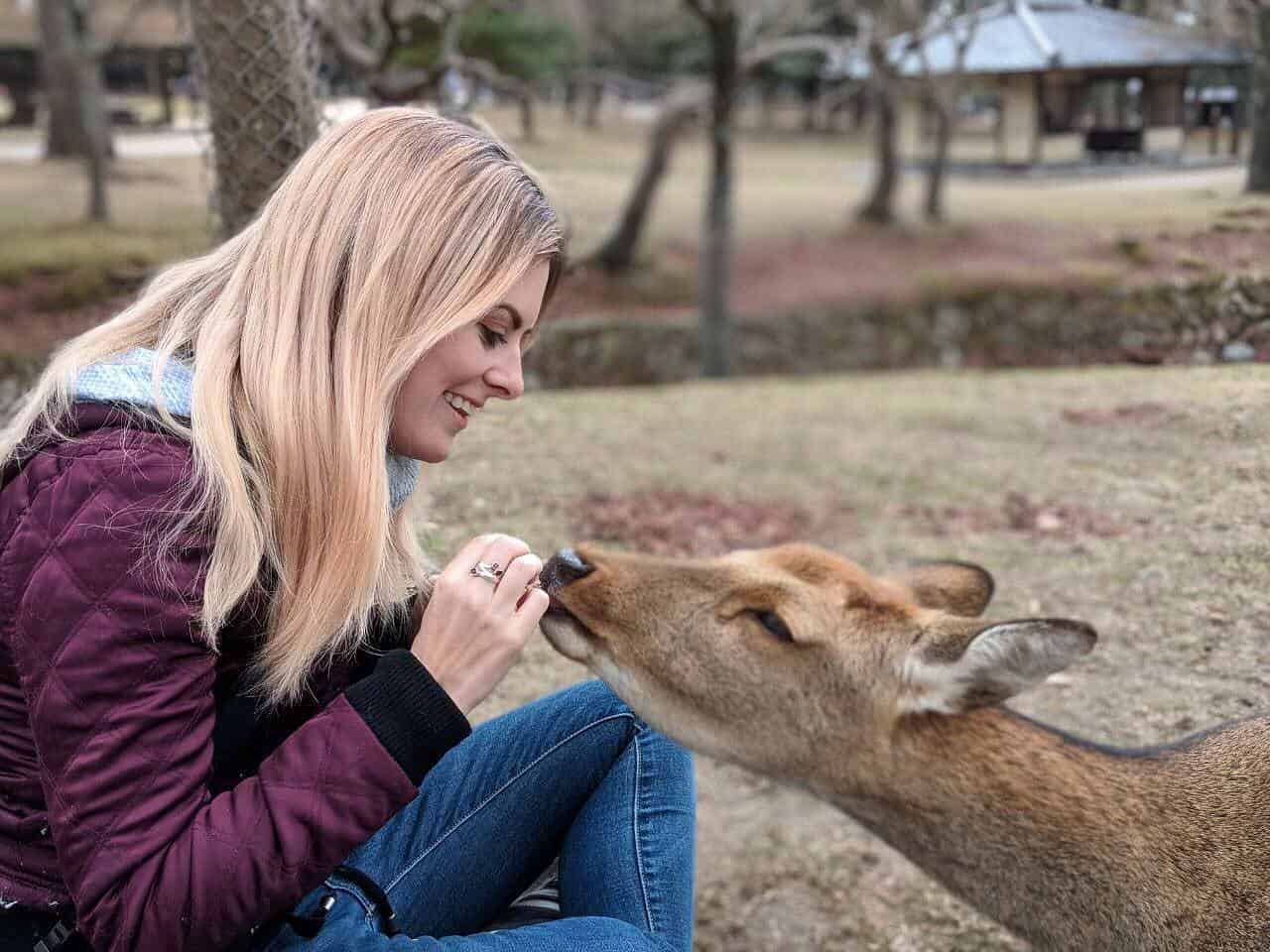 From unbridled joy to deep sorrow: our next stop was Hiroshima, where we spent 24 hours learning about the city's tragic past. It was Hiroshima's Peace Memorial Museum that had the greatest impact on me and Dave. With so many harrowing eye-witness accounts, confronting exhibits featuring charred remains of children's toys and clothing, and horrifying photos of human suffering, we were both shaken up and on the verge of tears for the rest of our time in the city.
For the remainder of our time in town, we squeezed in a day trip to Miyajima Island, tried Hiroshima's version of okonomiyaki, and I added to my accommodation bucket list by spending the night in a capsule hotel! It was not as claustrophobic as I expected and I actually found it kind of cosy.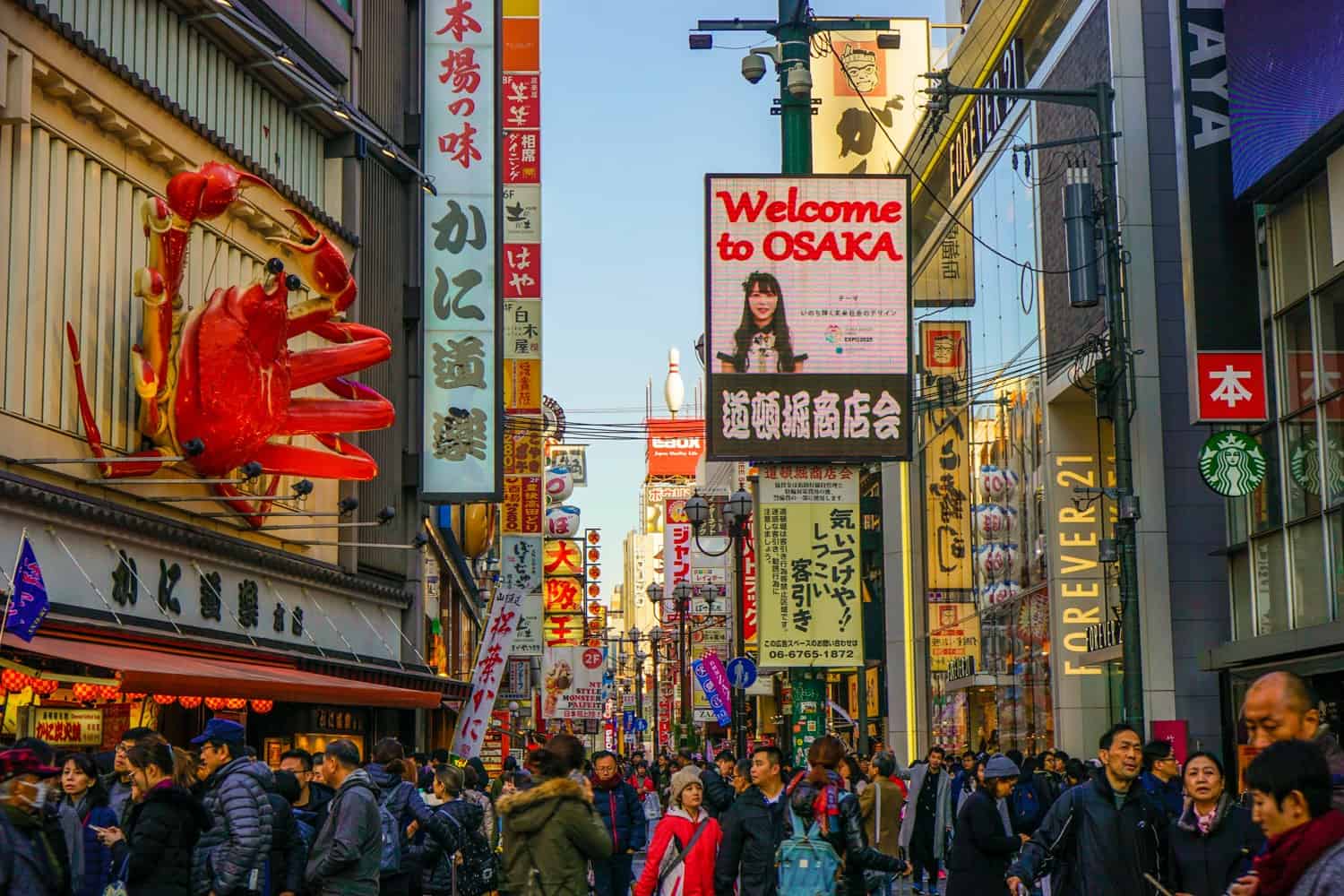 By the time we reached Osaka, Dave and I were well and truly burnt out. We'd been on the road for a full month at this point, but not spent more than four days in one spot. Moving at such a fast pace and in such cold temperatures (it was 2°C/35°F — sorry to all of my readers who live in far colder places and now think I'm ridiculous) with no spare time to work meant that we were exhausted and stressed by the time we reached Osaka.
Still, given that our only plan for this city was to eat as much as possible, this wasn't a disaster. We set about exploring the city through our stomachs — while taking regular breaks to write and warm up — and I can't remember the last time I ate this well. I could easily spend a month in Osaka in the future with my only aim being to eat. It was my favourite city in Japan.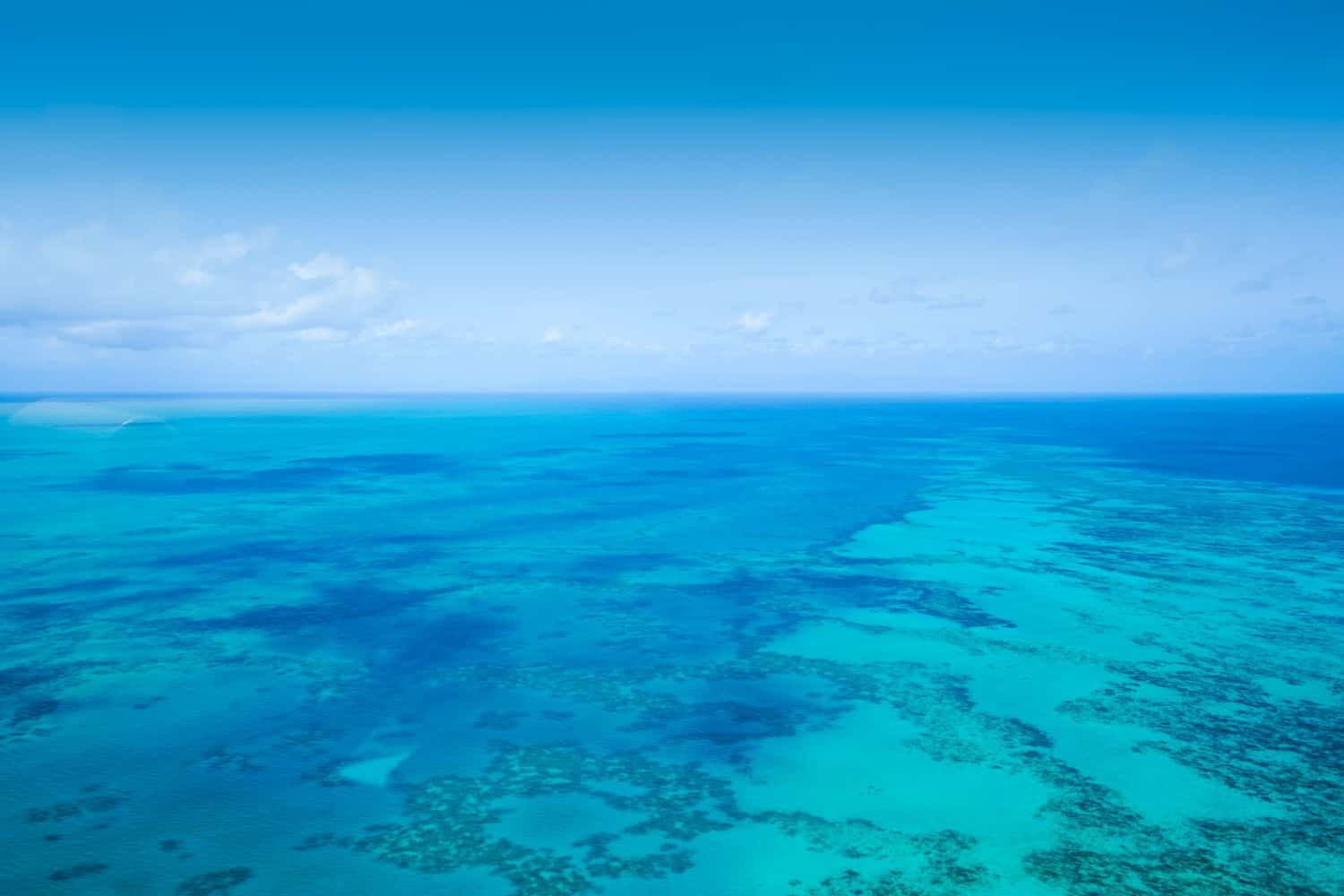 It was an extreme temperature and humidity change when we flew south from Osaka to Cairns, but it was one that had me grinning from ear to ear. Once again, I was back in my natural habitat.
Dave and I decided to treat ourselves in Cairns and booked a weeklong stay in a fancy apartment complex that boasted a whopping 18 swimming pools. It was a decadent but much-needed break after such fast-paced travel through Italy and Japan. When we weren't drinking wine and listening to music beside the pool — which we did almost every day — we were out on the water and taking the opportunity to see the Great Barrier Reef before it dies. And guys, right now, I'm pleased to say it's far from dead.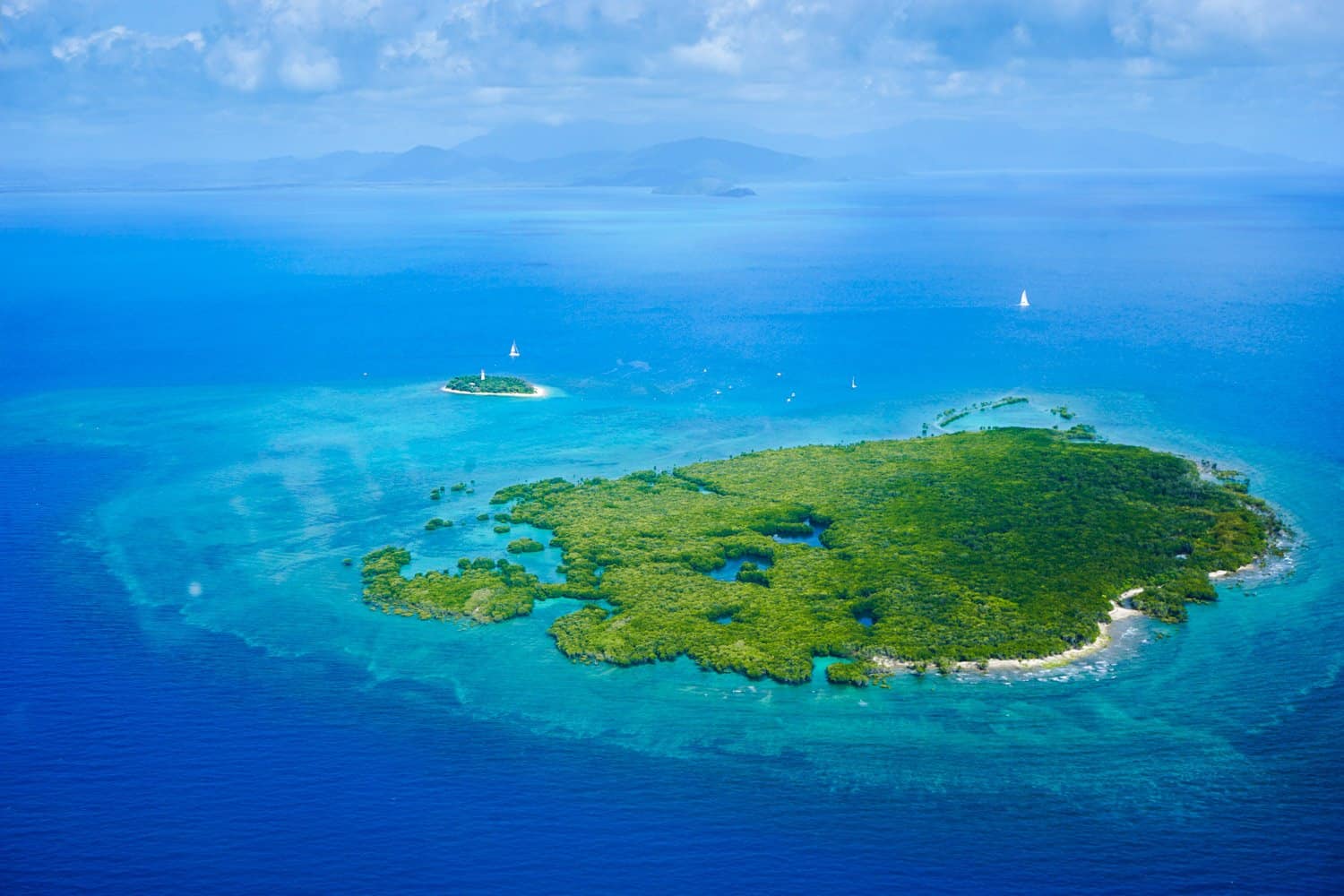 Splurging on a scenic flight over the reef was a highlight, especially as I was nominated to sit up in the tiny cockpit with our pilot! It was an incredible experience to not only be awed by the vastness of the reef, but to also spot turtles and manta rays from just 500 feet above the water. We even saw the spot where Steve Irwin was felled by an overly-stingy stingray.
Back on land, Dave and I hopped on a liveaboard boat to explore the reef up close. As you guys know, I haven't had the best experiences when it comes to the underwater world, but I was willing to break my No Snorkelling Rule for the Great Barrier Reef. And you know what? This was the best snorkelling of my life! I managed to see so many turtles, sharks, potato cod, and a whole lot of vibrantly coloured coral. In fact, snorkelling was the absolute best thing for me to do because getting to float on the water and watch the divers descend made it seem like the least intimidating activity ever. I want to try it now! I see you, long-time readers that are currently rolling your eyes at your screen
We both had such a fantastic time on the ocean that we found ourselves confessing we could see us returning to Cairns for more Great Barrier goodness on one of our next trips to Australia. Even Dave said it was the best diving of his life!
On Christmas Eve, Dave and I boarded a plane bound for Melbourne to spend the holidays with Dave's sister and family. This is a tradition of ours every second year, and it makes for some boring updates for you guys. Yes, even though I'm on the other side of the world, this is still a time for family rather than adventures, so we were out in the suburbs, we rarely ventured into the city, and we were all about catching up with family and friends. Our final few days of the year were spent playing with cats and children, building a sandpit, creating LEGO models, and falling off the Whole30 wagon.
We did however do one minorly touristy activity and that was checking out ArtVo, an immersive 3D art gallery that makes for some kickass photos. I'll be sharing a full photo essay of these when I write about this trip.
And as for the end of 2017?
Dave and I have a long-standing tradition to do absolutely nothing for New Years Eve, which we stuck to with ease. Our experiences of this overrated day in the past have been uniformly expensive, exhausting, and annoying, so we now resolve to stay inside instead.
I rang in 2018 by excitedly writing my round-up of 2017 — easily the best year of my life — while drinking vodka, listening to Toto, and eating crisps.
What a wild end to a fabulous year!
Countries visited: 2
Australia and Japan
Cities visited: 11
Cairns, Hakone, Hiroshima, Kanazawa, Kyoto, Melbourne, Miyajima Island, Nara, Osaka, Takayama, Yudanaka.
Distance travelled: 6261 miles
Number of photos taken: 1524
Number of planes: 2
Number of trains: 19
Number of buses: 6
Bowls of ramen consumed: 10
Not bad for a two week trip!
Number of weird things eaten: 7+
Pufferfish jerky, sulphuric eggs, chicken hearts, chicken gizzards, pork cartilage, pork intestine, pork tongue, and 32 other things that were so strange I had no idea what I was eating.
My Next Steps
Coming up next is a whole lot of South Pacific wandering!
After two weeks in the Melbourne suburbs, it was time for something a little more exciting, so the first week of January was all about slotting back into life (read: eating everything) in my favourite Fitzroy neighbourhood.
As always, New Zealand was next on the cards and, as always, it was a time for family rather than sightseeing. After a few days spent hanging out with Dave's friends and family in the hot pools in Hanmer Springs, I spent a few days of catching up on work in Ashburton before flying out to a brand new country.
Tonga! I spent the rest of January in this criminally underrated South Pacific country, island-hopping across the best beaches on the planet, hanging out with the friendly locals, and eating delicious seafood. I can't wait to share more details about what has quickly become one of my new favourite countries in the world.