Tunisia is a pretty cheap country to visit. A less visited part of the North African coast, its tourism industry isn't quite as developed as Egypt or Morocco, which makes it an excellent place to go if you're somebody who likes to take the road less traveled.
There's so much to love about Tunisia, starting with Tunis, the country's capital, which contains an estimated 700,000 people. Easily the most bustling place in the nation, the city is a fascinating mix of architecture, speaking to the shifting history of the area. In the Islamic part of town, you can wander the sprawling alleyways of the medina, replete with beautiful mosques alongside numerous vendors of souvenirs and street food. This abuts the former French colonial district, featuring grand mansion blocks designed in the Belle Epoque style and watched over by the striking Cathedral of Saint Vincent de Paul, completed in 1897.
To the northeast of the town center, you will find the storied ruins of Ancient Carthage, some dating back more than 2,000 years. Perched atop the nearby cliffs, overlooking the sea, are the blue and white buildings of Sidi Bou Said, which lend a Greek island vibe to the city.
Thanks to the network of cheap trains and the availability of affordable taxis in the main cities, transport is wonderfully convenient. You can escape to the white sand beaches of Hammamet in under two hours from Tunis, or head further south, to the cities of Sousse, El Jem and Kairouan, for a deeper glimpse into the country's past. These parts of the country are home to some impressive 1st millennium AD fortifications and mosques, as well as one of the best-preserved Roman amphitheaters in the world.
To the west, you will find two preserved former Roman settlements, Dougga and Bulla Regia. Situated in quiet countryside, the former was once a buzzing metropolis of 3,500 people, while the latter has some fascinating subterranean villas to excavate.
If you're coming to Tunisia for the beaches, it's obviously best to visit during the heat of the summer, when temperatures rise to around 86 degrees Fahrenheit (30 degrees Celsius). Otherwise, it is arguably better to travel to the country in the spring, when everything is less swelteringly hot.
One of the downsides of being a less popular destination is that there tend to be fewer really cheap accommodation options in Tunisia. That doesn't mean you should expect to spend a great deal of money on your lodgings – unless you want to go for five-star luxury – but it does mean you won't find hostels for a mere $10-20, as you can in places that have a steady stream of backpackers filtering through.
In this post, I'm going to help you figure out approximately how much you should budget for your trip. I will cover the cost of accommodation, both at the cheaper end of the scale and at the more luxurious end of the scale, as well as how much you should expect to pay for taxis, trains and the local 'louages' (more on that later).
Once you have finished reading, you will have a pretty good idea of the cost of food, as well as the entrance fees and tour prices for some of the most popular experiences that Tunisia has to offer.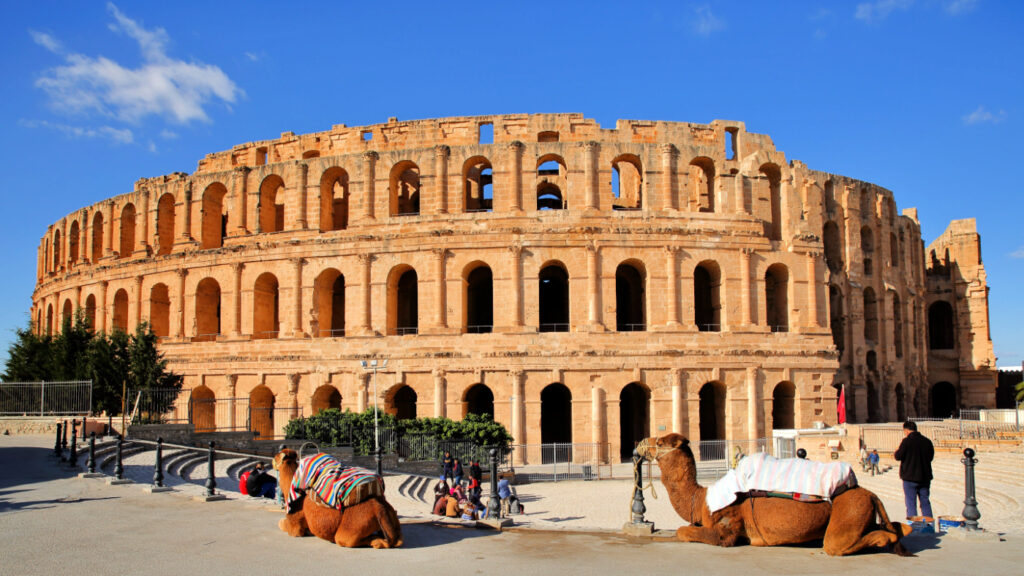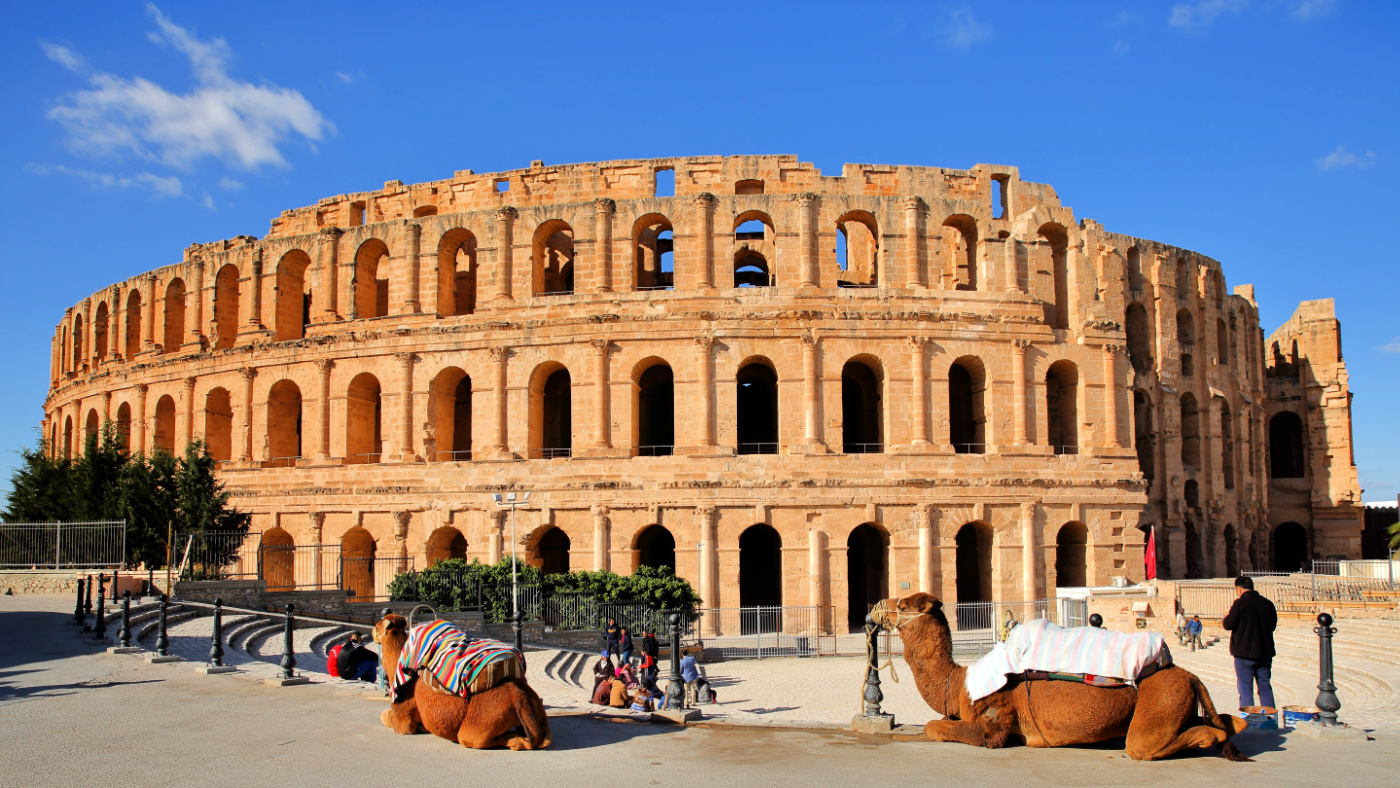 Where to Go
In this post, I will just briefly take you through some of the country's highlights, before getting onto the amount you should expect to spend on your trip.
In general, I would advocate spending between two and three days in Tunis, followed by a day excursion to the old Roman habitations to the west. After that, you can journey south to see some of Tunisia's other major cities and towns. I have also included plenty of time for rest and relaxation at the end of the trip, so you return home feeling rested and refreshed.
Since Tunis is the only city with a major airport, it makes sense to begin and end your journey there, with forays west and south of the capital in the middle.
For convenience, I chose to base myself out of just three cities: Tunis, Sousse and Hammamet, though I've also included some options for Kairouan stays since there is a bit more to check out there and it's not as simple to reach on a daytrip as the other places I visited.
You could of course also spend overnight stays in El Jem and Monastir. Just bear in mind that El Jem has very little to explore aside from the absolutely must-see amphitheater, while Monastir is so conveniently reachable from Sousse via the Sahel Metro that there hardly seems much point in changing accommodations just for a day.
Day One: Tunis
Day Two: Tunis
Day Three: Tunis
Day Four: Dougga and Bulla Regia
Day Five: Sousse
Day Six: Kairouan
Day Seven: El Jem and Monastir
Day Eight: Hammamet
Day Nine: Hammamet
Day Ten: Tunis
The Cost of Accommodation in Tunisia
Tourism isn't that developed in Tunisia, which means your options are relatively limited when it comes to accommodation That's not to say you're completely devoid of choice, just don't expect a great deal of hostels or housesitting opportunities.
Overall, the prices are affordable, though you'll be hard pressed to find the kind of quirky, super cheap spots you can find along more well-traveled tourist routes. On the other end of the scale, it's also fairly hard to spend a great deal of money, though you can of course splurge if you want a luxurious room at the Four Seasons, located along the most upmarket part of the Tunis coastline in Gammarth.
I opted to stay mainly in the larger cities, and then travel from there on daytrips to other locations. This meant less lugging my luggage around – which is always a bonus!
Before we get stuck into the real meat of the choices, there are a couple of ways you can stay in the country for free. First is through couch surfing. There is of course the pioneering Couchsurfing site, which requires a subscription fee for you to sign up, before allowing you access to the thousands of people in Tunisia willing to host travelers for no cost. A newer entrant on the scene is Travel Ladies, which is an app specifically aimed at female couch surfers looking to stay with other women. There are far fewer people on here, but it's a solid concept, so worth checking out.
Another free alternative is housesitting. Again, there isn't a great deal on offer in Tunisia, but still worth a look on the off chance that you find a gorgeous pad and don't mind keeping an eye on a pet in exchange for free accommodation.
Alternatively, if you are looking for value rather than something completely free, there are some cheap options out there. Sure, you won't find the same profusion of hostels as you would find in destinations like Vietnam or Peru, but there are some comfortable, basic stays for under $50 a night per person.
So, for a quick recap: as a single traveler, you probably want to budget about $30-50 per night, while couples or pairs of friends should expect to pay around the $60 per night mark. There are cheaper options out there, but we've only included places that actually have a certain degree of comfort, rather than complete dives.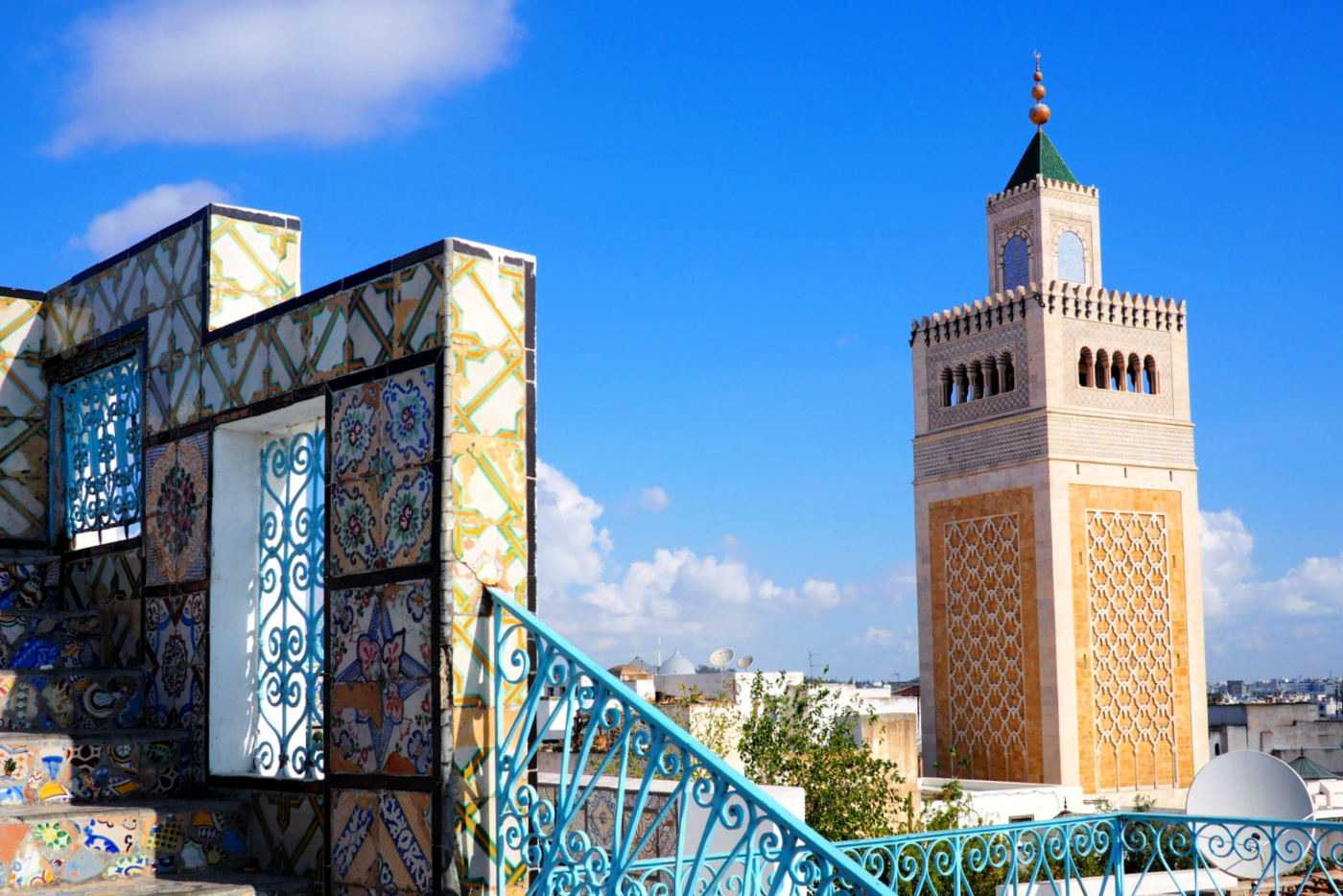 Where to Stay While Traveling in Tunisia
If you're looking for something with a few more facilities, there are a range of mid-to-high-end options around Tunisia. With these, you can expect a little more comfort – and in some cases, even an in-house spa or outdoor swimming pool.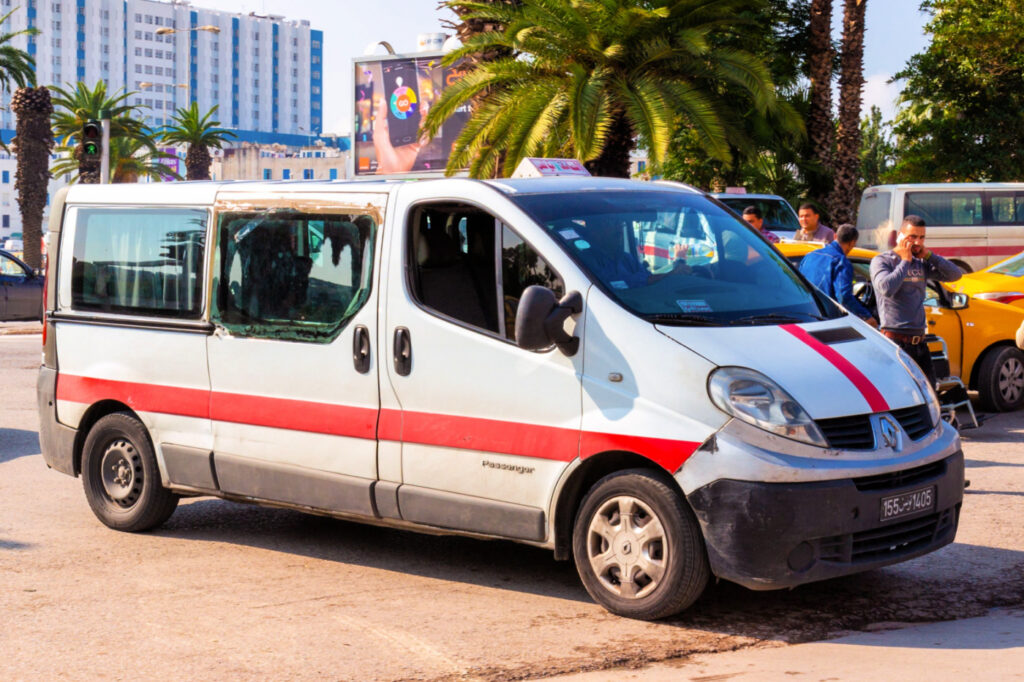 The Cost of Transportation in Tunisia
There are two main transportation aspects I'm going to discuss here: intercity and intracity. Let's start with intercity, which is a bit more complicated but, for the most part, manageable.
First off, Tunisia is not the easiest country to travel across using public transportation, I assume because tourism hasn't hit the market as hard as it has in Egypt and Morocco. There were even some places I wanted to go that I ended up skipping just because they seemed logistically risky without renting a car, hiring a private driver or joining a tour – I'm talking getting stuck in a small town in the middle of nowhere, waiting for a bus that may or may not come.
To travel between cities, a lot of locals rely on the network of louages (literally 'rentals') that crisscross the country. These minivan taxis are particularly useful – or, indeed, often the only way – to get to rural places like Douz (where overnight stays in the Sahara Desert commence) or Tataouine (the area where remnants of Berber living can be found). If you're not afraid of a little adventure and aren't on a tight schedule, these are easily the cheapest way to travel. As a rough guide, you should expect to pay around 5 Tunisian dinar ($1.60 at time of writing) for short intercity routes and about 10 Tunisian dinar ($3.20) for longer ones, give or take.
Louages are absolutely not easy to figure out, unless your bewildered looks at the depot attract a kindly stranger, or you speak either French or Arabic. Bear in mind that for some routes, departures are fairly frequent – louages usually only leave when they are full up. For other less popular intercity connections, there may just be a handful leaving per day, and sometimes only in the morning. The best thing to do is to consult with your hotel and see if they can help you navigate the system. Or, you know, learn French or Arabic.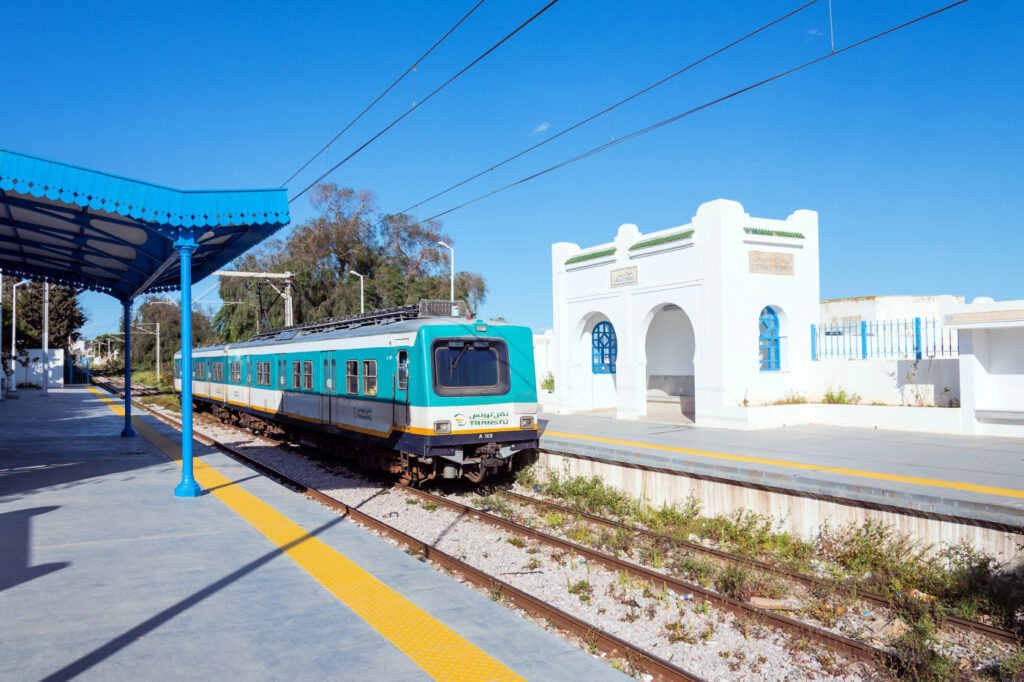 Fortunately, the major cities of Tunisia are serviced by a perfectly reasonable national railway system, the SNCFT (Societe Nationale des Chemins de Fer Tunisiens), overseen by the government. You can check what times trains depart between various cities via the SNCFT website, which has Arabic, French and (phew) English. However, in my experience the English version for some reason is a bit buggy when it comes to showing you all the available trains, so you might still be better viewing the page in Arabic or French in conjunction with Google Translate. Not difficult, just a bit of a pain.
Train journeys between the major cities are very affordable, especially if you travel in second class, where tickets cost between six to 12 dinars ($2-4). You can also upgrade your experience to first class or classe confort for just a couple more dinar, which gives you a little more space and, as the name suggests, comfort.
Within cities, taxis are fantastically easy to use and very cheap. All the rides I took were between six to12 dinars ($2-4), including crossing almost the entirety of Tunis. Drivers on the whole are very honest, though it doesn't hurt to just double check the fare is being charged according to the meter when you enter the vehicle. Each cab has a sticker pasted on the inside with a number to call if you think you are being gouged.
The one exception to the positive taxi experience is when traveling from the airport in Tunis. Here, you can expect to be massively overcharged, so it might be worth ordering a Bolt instead. Generally, this is a more expensive option, but you will be quoted a price beforehand, which you pay to the driver in cash.
If you want to travel between Tunis and the beach area around La Marsa, the standard-gauge light railway known as the Tunis-Goulette-Marsa (TGM) is a unique experience – and one that has a great deal of history. The line was first opened in 1872 and has been running ever since.
In Sousse, you can hop on the Sahel Metro to visit the coastal town of Monastir, which boasts a beach resort and some old fortifications. Tickets between Sousse and Monastir cost just 1 dinar (33 cents), with the journey taking about half an hour from one downtown area to the other.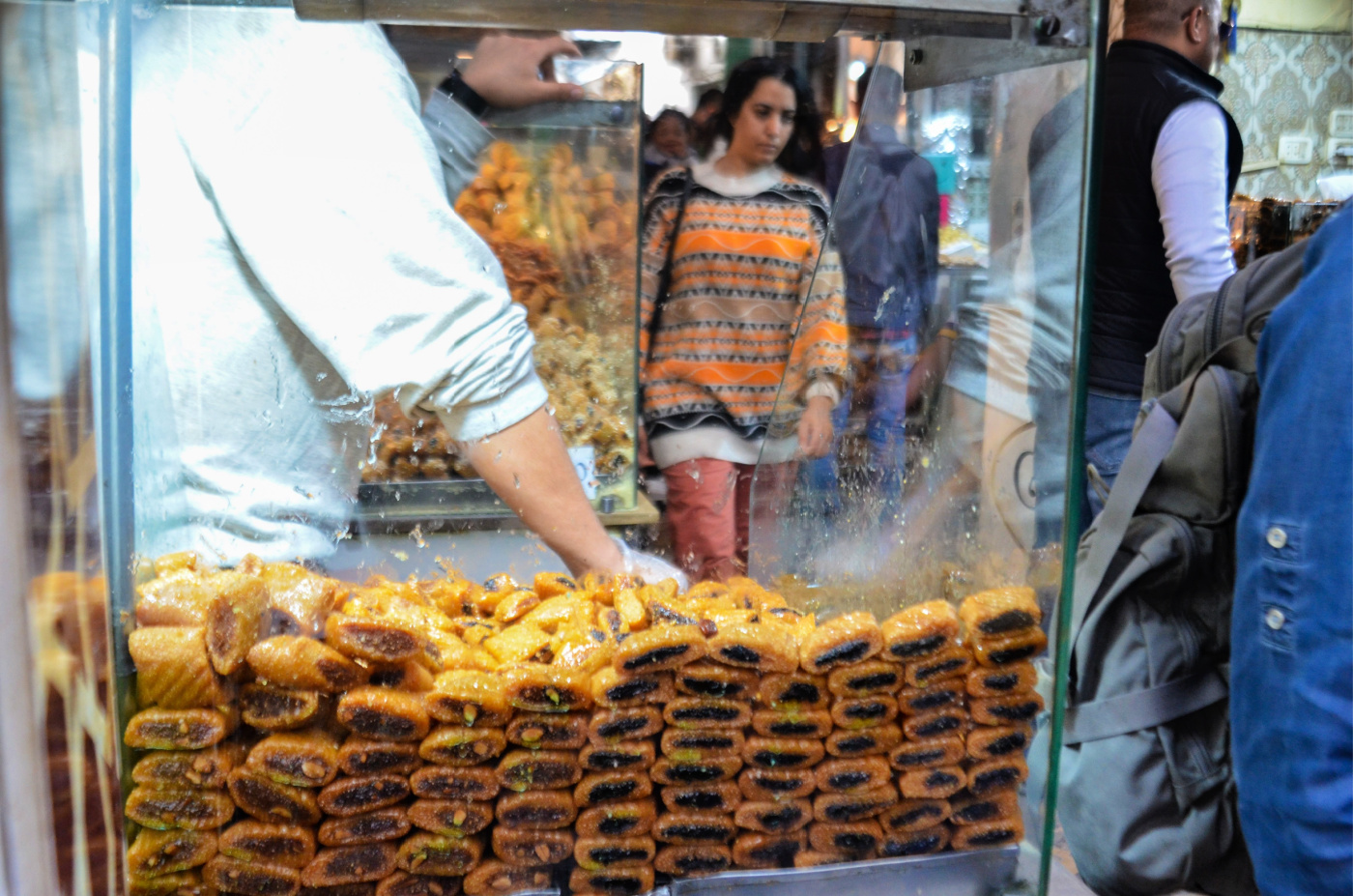 The Cost of Food in Tunisia
Tunisia has a rich culture of street food, a lot of it based around flatbreads, which are eaten for breakfast, lunch and dinner. You can expect to pay around 8-10 dinar (about $3) for staples like a baguette farcie (flatbread stuffed with cheese, mixed veg and either chicken or jambon, then baked) and one to two dinar (about 50 cents) for the smaller fricassee (deep-fried roll containing olives, boiled eggs, canned tuna and potatoes).
For dessert or a sweet snack, make sure you don't miss the bambalouni, a giant donut-like dough that's freshly fried in front of you, then covered in sugar. It only costs a single dinar ($0.33)
At restaurants, you can expect to pay a little more – though not much more – for you meal. At your bog-standard, everyday joints, a hearty main like an ojja merguez (tomato-based stew with eggs and spicy lamb sausage, flavored with harissa and garlic) will set you back 12 dinar ($4). At the fancier establishments – particularly the top-notch spots found in Tunis – you can expect to pay about 25 dinar ($7) for a main or 55 dinar ($18) for a three-course meal.
If you fancy cooking your own food, head down to the local market, where you can find fresh veggies, fish, meat and other snacky bits and bobs. For example, at Tunis' municipal market, you can purchase fresh octopus for about 70 ($23.10) dinar per kilo, complemented by a simple salad of cherry tomatoes (2.7 dinar, 89 cents) and parsley (0.45 dinar, 15 cents).
The same market also has a range of local cheeses to sample, which you can purchase for around 20 dinar ($6.60) for a 250-gram block. Don't miss out on the heavenly fresh baguettes, which are just a few cents, or the pots of harissa, which is heavily used in various local specialties.
Buying and drinking alcohol is entirely legal in Tunisia, but you will only find it in some specific locations, including luxury hotels and supermarkets like Monoprix. Local wine is particularly affordable – and quaffable – at around 25 dinars ($8.25) for a decent bottle, though you can get the really basic stuff for about half that.
Overall, the average cost of food in Tunisia is 50 dinar ($16.50) per person per day, excluding any alcohol you might choose to imbibe.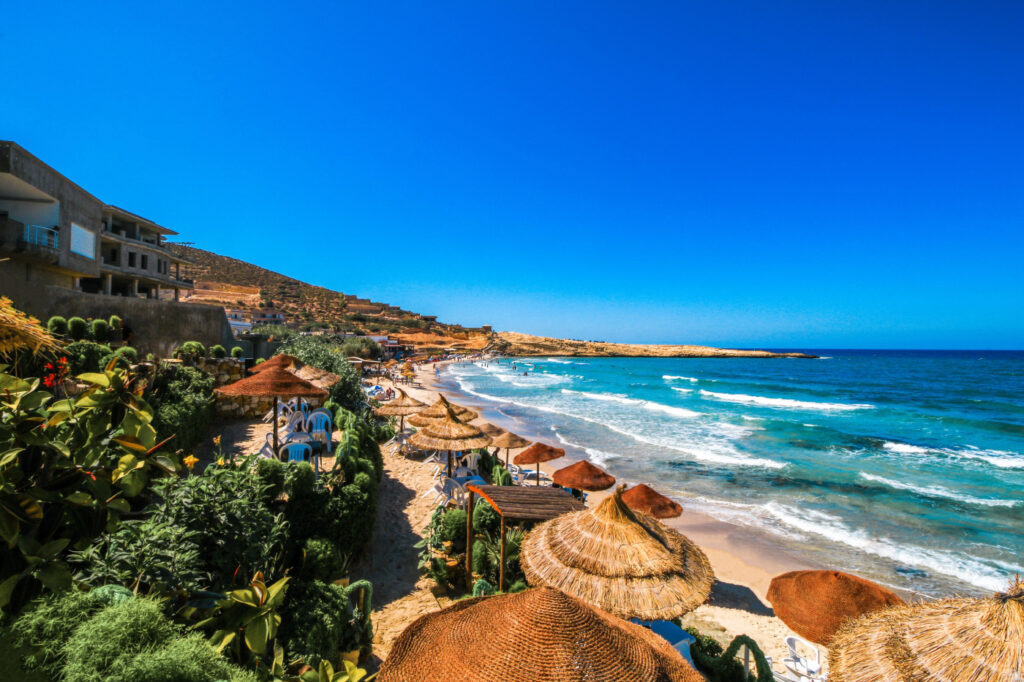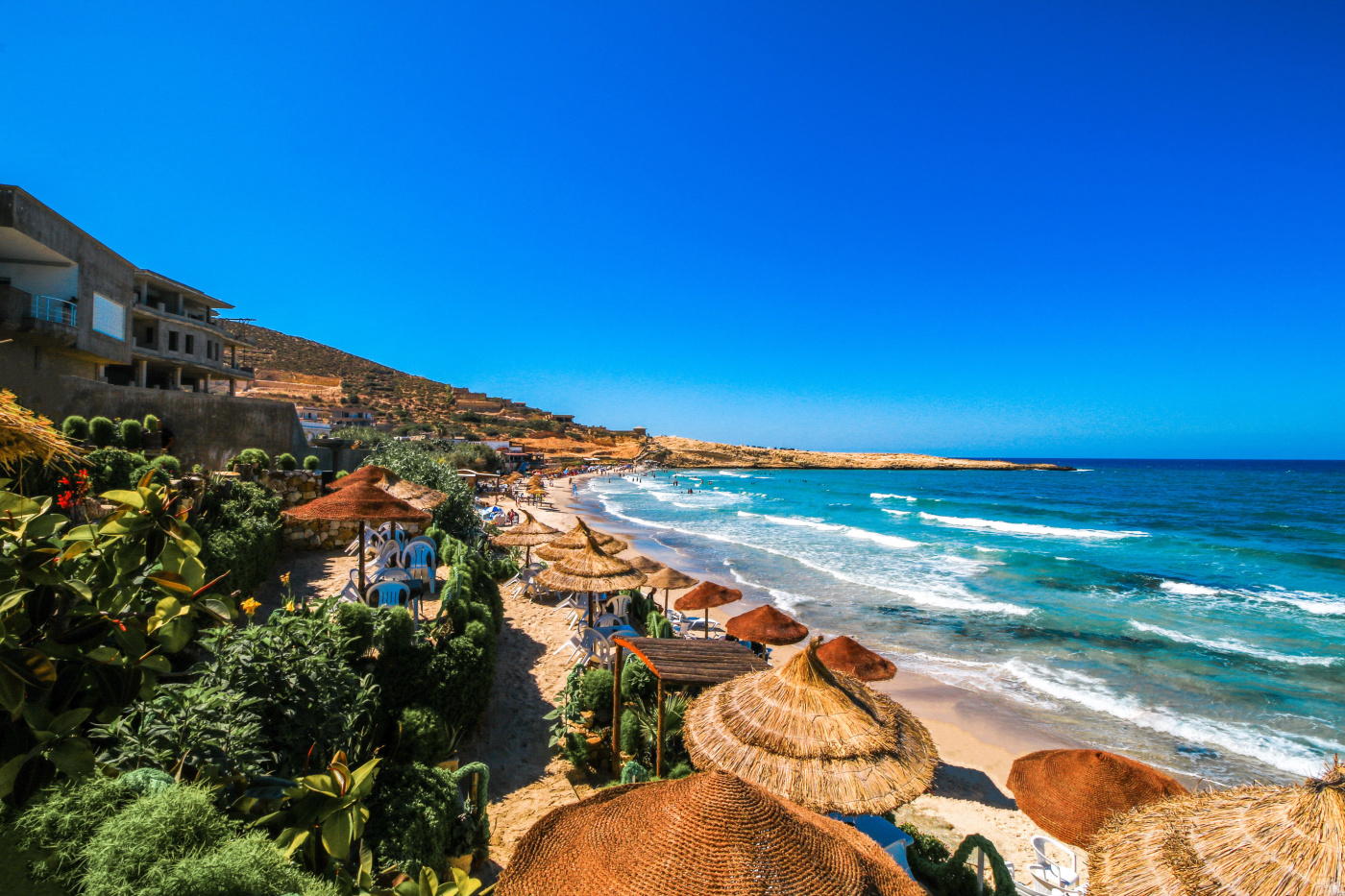 The Cost of Activities and Entrance Fees in Tunisia
One of the most fascinating activities you can do in Tunisia is to explore the medinas scattered across Tunisia's various cities. Each one offers plenty to see and explore, entirely for free – unless you are seduced by a souvenir vendor into handing over some cash for pottery, clothing or other hand-made handicrafts. That's particularly true in Tunis and Sousse, which have the most colorful and attractive medinas, as well as the most historical.
Another top free thing to do in Tunisia is to head to the beach and enjoy some sun, sand and sea. Tunis has its share of coastal stretches, though Hammamet's white sands are what truly draw the crowds.
If there's one thing people know about Tunisia aside from its beaches, it is that it's home to the ruins of Carthage. While not a lot remains of this ancient past, what does still exist has been classified as a UNESCO World Heritage Site. For 12 dinars ($4), you can visit the various remnants, which are spread across the northern part of the city of Tunis. The Baths on Antoninus are particularly impressive.
Other highlights in Tunis include the Ennejma Ezzahra Palace (entry 5 dinars, or about $1.65), an impressive homage to Arab-Islamic architecture in the picturesque Sidi Bou Said quarter, and the Bardo Museum (entry 11 dinars, or about $3.60), which has a world-beating collection of ancient mosaics.
Some of the more stunning Ancient Roman ruins are located in rural parts of Tunis, including Dougga and Bulla Reggia, to the west of the capital. Entrance to each one of these sites costs 7 dinars ($2.30), providing access to copious architectural marvels.
Further south, Sousse has an archeological museum located inside a former kasbah (fortress), which you can enter for 9 dinars ($3), as well as an impressive ribat fortification (7 dinars, or about $2.30). In El Jem, the amphitheater is 10 dinars ($3.30) to enter and is one of the most complete arenas from the Roman world still in existence.
While you can't go inside the prayer halls of a lot of mosques in the country, you can usually enter the courtyards – sometimes for free, sometimes for a price. In Kairouan, for example, you can get a 1-day multi-site pass for 10 dinars ($3.30) that provides entrance to the Kairouan Great Mosque, as well as the Raqqada Islamic Art Museum.
It's possible to do a daytrip tour from Tunis that squeezes in Sousse alongside nearby El Jem and Kairouan all at once for $139. It is quite an intense amount to do in a 24-hour period, involving lots of driving, so I would instead recommend spreading the cities across several days.
If you want a bit more of an adventure, you can take a 2-day trip into the desert for around $222 per person. It's a wonderful experience (as long as you don't mind camels), featuring sunset over the dunes and an overnight stay in a Berber camp.
For an interesting cultural excursion, you can also journey to see the ruins of Tataouine and Chenini, former Berber habitations that inspired Luke Skywalker's home in Star Wars. Guided visits cost around $61, leaving from the island of Djerba.
Though tours tend to bump up the costs significantly, in general you should budget around 10-15 dinars (about $3-5) per person per day for activities.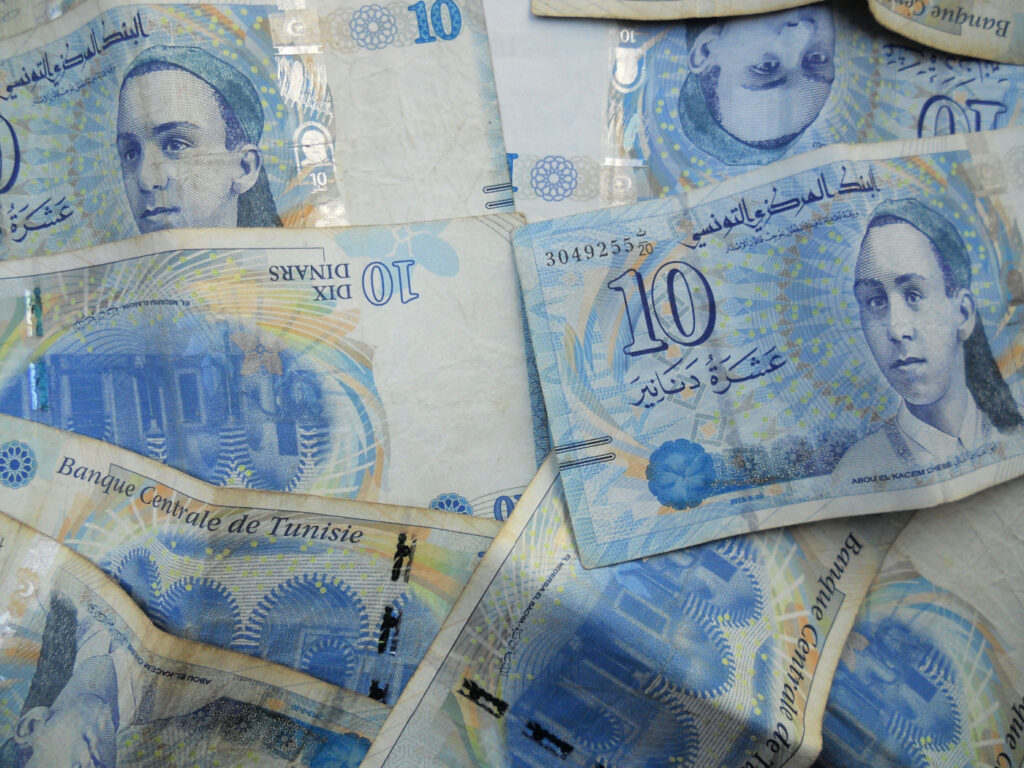 How Much Does It Cost to Travel in Tunisia?
Now I've gone through all the main expenses of your trip, it's time to add everything together, so you can get a good overall idea of what to budget for your trip.
Accommodation: $60 per day for a double
Transportation: 21 dinars ($7) per day
Food: 50 dinars ($16.50) per day
Activities: 12 dinars ($4) per day
Total daily expenses for Tunisia: $87.50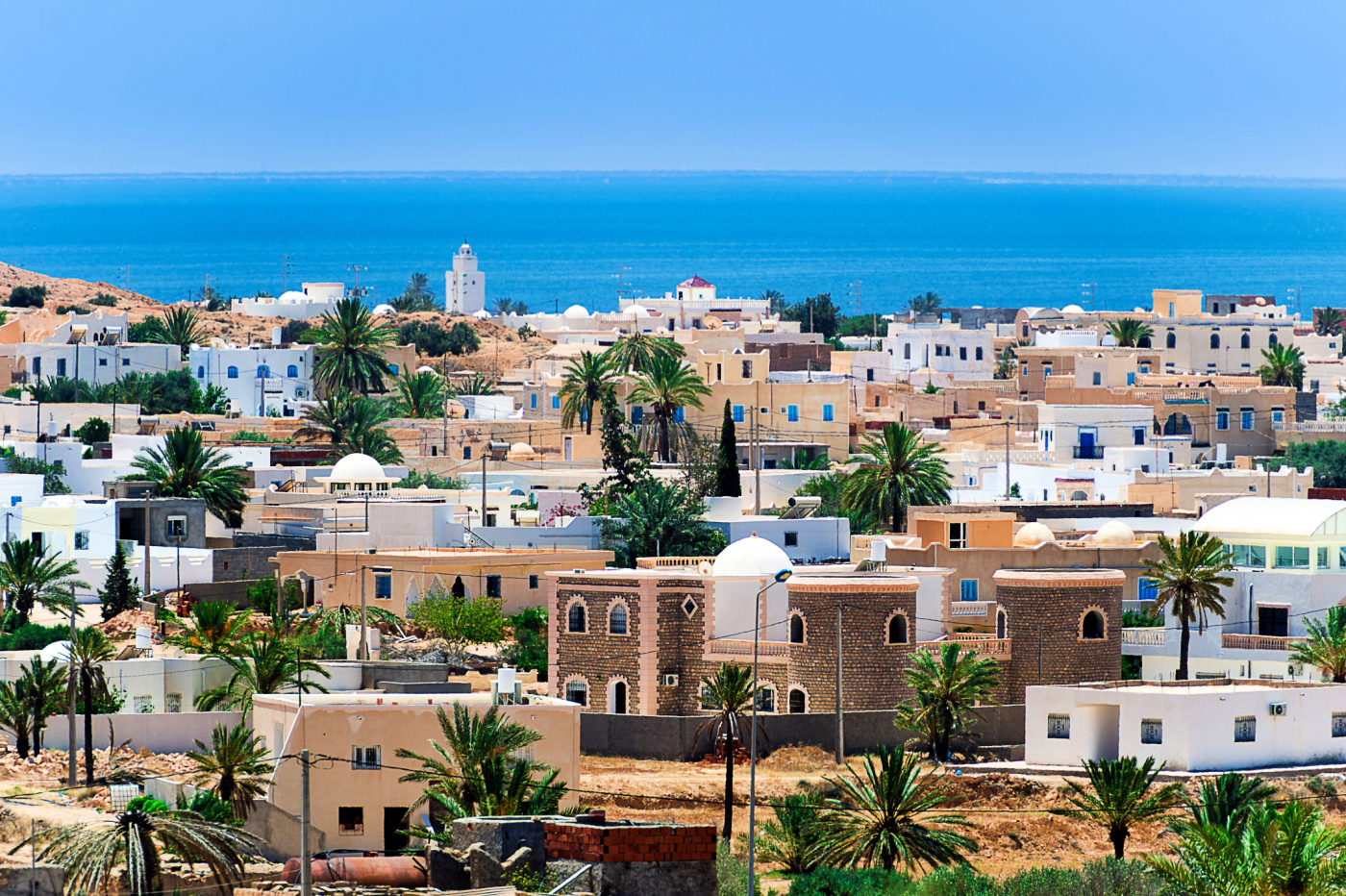 Planning a Trip to Tunisia?
I have put together a guide for how to spend 10 days in Tunisia, covering the main highlights across the country, from ancient ruins to the best beaches.
You can find a list of other African countries I've visited with accompanying itineraries here, including information on other North African coastal locations like Egypt and Morocco. If you are able to take a little more time off, you could visit them all, as part of a comprehensive trip that takes you along the Barbary Coast.
You can also check out the price of travel for other destinations across the globe through my master list, which has detailed expense reports, covering the cost of visiting over 60 countries around the world!