Is Switzerland expensive? This European country has a reputation for being one of the most expensive countries on the planet, but how accurate are the rumours?
Well, I hate to break it to you, but, uh, yeah, they're pretty accurate.
Personally, I've travelled to a hundred countries over the past decade and Switzerland? It easily makes the top three when it comes to expensive countries.
It's not all bad news, however, as I found tons of way to cut costs and find great value for money. Whether it's taking the bus over the train, seeking out street food instead of eating in restaurants, or opting for comfortable guesthouses over high-end hotels, there are plenty of ways to keep on budget.
I've been keeping track of every single dollar I've spent over my past 11 years of travel, and I love distilling that information into detailed budget breakdowns. In these articles, I aim to share exactly how much I spent while travelling, covering budgets for all different kind of travellers, and ways in which you can lower your costs.
Today it's Switzerland's turn, so let's get started.
The Cost of Accommodation in Switzerland
You can visit Switzerland on a whole range of budgets, from a €20 a night dorm bed in the Alps to an absolutely incredible €800-a-night hotel, the latter of which is the best hotel in Zurich and a haven for world-famous celebrities.
In this blog post, I'm going to be focusing on value. Because whether you're travelling as a solo backpacker on a shoestring, as part of a couple on a mid-range budget, or as a family looking for a little luxury, value is the one thing you're going to be looking for. That doesn't mean cheap — it means offering up more than similarly-priced options.
There's some seriously expensive accommodation up for grabs in Switzerland, so to start with, I'm going to cover the cheapest way to travel the country.
If you're on the tightest of tight budgets, there are several options that'll land you with free accommodation while you're in the country. Courchsurfing allows you to connect with locals by sleeping on spare sofas in their homes. It doesn't cost a penny to do so and is a fantastic way to gain an insight into Swiss daily life away from the tourists. There are 200,000 hosts in Norway, so there's sure to be someone who's right for you.
Housesitting is a more upmarket way to avoid paying for accommodation, as it's aimed at the mid-range and luxury travellers. You'll be looking after homes and pets while their owners are on holiday, and the houses can be extremely luxurious. This option works best if you don't have fixed travel dates, as you'll be agreeing to dates that the owners set.
Finally, when it comes to free accommodation, you could take a look at WorldPackers in Switzerland, where you'll be able to volunteer for locals in exchange for food and board. There are some seriously cool options available on the site, from volunteering at an eco farm in the Alps to helping build a yoga studio in a small, traffic-free village in the mountains. Readers of this site get a $10 discount for WorldPackers with the promo code neverendingfootsteps.
If you're not looking to travel for free and just want a clean and comfortable room to sleep in, there are plenty of great options, too.
One of the most affordable ways to explore Switzerland is by staying in a hostel. I stayed in several over my first visit to the country and was impressed by the quality of the hostels, although there unfortunately isn't much to choose from. Let's look at the best-reviewed hostels in the country.
The best hostel in Zurich is easily the Zurich Youth Hostel, where a space in a six-bed dorm is priced at just €48 per person, and private doubles come in at €112 per night. We loved our stay here! This is the only hostel in Switzerland that receives great reviews, so it's easily the best option in town.
In Bern, you can't get better than Bern Backpackers where the dorms are €48 per night and the private double rooms are €99 a night. There are plenty of decently-reviewed spots in Bern, but this one is rated just as well but far cheaper than the alternatives.
You'll likely be heading to Lucerne while you're in Switzerland, and if so, I recommend Young Backpackers Homestay, which has dorms for €83 a night and double rooms for €150 a night. It's certainly pricey for a hostel, but it's also one of the best-rated hostels in the entire country! Trust me: it's 100% worth the price.
Basel is home to Community Hostel & Lounge by Hyve Basel, where dorms are priced at €46 a night and doubles at €114. No wonder it's the best-rated budget accommodation in town, with its great location, friendly staff, well-priced breakfast, and immaculate vibes.
What about Geneva? MEININGER Hotel Genève Centre Charmilles is the only place I'd consider staying. Not only is it inexpensive (well, for Switzerland) at €52 a night for a dorm and €123 for a double but the design is sleek, the location perfect, and the breakfast delicious.
And finally, Lausanne, where budget accommodation is truly in short supply. I recommend staying at Lausanne Youth Hostel Jeunotel (dorms are €54 a night; doubles are €102 a night). It's a cosy property, right in the heart of town, with clean and modern furnishings.
Overall, then, you can see that you can expect to spend around €50 a night for dorms in Norway — but that they're pretty hard to find in this country, and around €120 a night for the cheapest double rooms in each destination.
Okay, but what if you're not a budget traveller and just want to stay in a lovely, well-reviewed hotel or guesthouse that's good value for money and has all the things you need from a place to lay your head? I've got you! For around €150-200 a night, you'll be able to stay in an excellently-reviewed hotel, in a central location, with friendly staff.
My 2023 Accommodation Recommendations for Switzerland
When I'm travelling, I'm always conscious to book the absolute best accommodation out there — well, as long as it doesn't amount to hundreds of dollars a night. I can easily spend several hours researching accommodation for every stop along my way, ensuring I've chosen the place in the best location with the friendliest staff, and the greatest value for money.
My biggest tip? When you head to Booking to find a hotel, ignore the results that are sorted under "Our Top Picks" — that's a list of all of the hotels that pay Booking the highest commission, some of which have some pretty poor write-ups. Instead, opt to sort the properties by "Top Reviewed". That way, you'll be able to see which options genuinely have the best reviews.
But all that to say, when I was planning my multiple trips to Switzerland, I put in the hard work so you don't have to. Here's where I recommend staying:
The Cost of Transportation in Switzerland
Switzerland: Swiss All-in-One Travel Pass
Swiss Travel Pass: Unlimited Travel on Train, Bus & Boat
Every city in Switzerland is very walkable, so within the stops on your trip, you won't need to worry about transportation costs. I walked absolutely everywhere — even in Zurich — and never once found it difficult or tiring to do so.
The Cost of Food in Switzerland
If I were to ask you what you know about Swiss food, odds are, you'd come back to me with two iconic dishes: cheese fondue and chocolate. After all, they're two of Switzerlands most famous creations, so — unless you don't eat dairy! — you're definitely going to want to sample both while you're in town.
Fondue is life up in those Swiss mountains, and most restaurants offer it on their menus. You can think of it as a gigantic cheese dip that's often served in a communal pot atop a small stove. To eat it, you dip rustic country bread into the melted cheese with a long metal fork. The cheese itself is typically a blend of 50-50 gruyère and vacherin and has been cooked with white wine and garlic, resulting in one of the tastiest dishes on the planet. You can expect to pay €25-30 per person.
Now, one thing to keep in mind is that the majority of Swiss people treat their lunch as their main meal of the day: this is when you'll find cheap deals at cafes and restaurants. Either opt to join with the locals and have a large meal at midday, or head to a grocery store to pick up supplies for a picnic. Head to Aldi, Lidl, or CoOp to find the cheapest provisions.
Whenever I find myself travelling in an expensive country like Switzerland, I find myself turning to fast food and street eats: specifically, kebabs. Yep, on a day trip from Zurich to Lucerne, I decided to up the classy dial and opt for a kebab for lunch. The cost? €11. So much cheaper than almost any alternative in the city!
The Cost of Activities and Entrance Fees in Switzerland
Next up: activities! Activities and entrance fees can make up a large proportion of your travel expenses. Fortunately, in Switzerland, those costs can be relatively low, as there's so much available to do for free.
Switzerland is a nature enthusiast's playground, blanketed in mountains and lakes, which are easily to climb and explore. One of my favourite Swiss activities involve simply choosing a hiking trail, packing a picnic, and preparing myself for views that are straight out of a postcard.
An easy way to save money on your vacation is by utilising the country's city cards to gain discounts and entrance to all of the most popular attractions. The Zurich Card, for example, is priced at €26 for 24 hours of use, or €52 for 72 hours. This offers up phenomenal value, because the card gives you access to unlimited use of public transportation in the city, a free boat trip on Lake Zurich, entrance to 40 museums, a 50% discount on the Zurich old town walking tour, and a 20% discount in several stores in the city. The Zurich card is also valid on transport between the airport and the city centre.
There's also a Geneva City Pass, which is priced at €25 for 24 hours, €36 for 48 hours, and €44 for 72 hours. As with the Zurich Card, you'll receive free access to all public transport, entrance to tons of museums and attractions, free skiing, free cable car rides, free boat hire on the lake — you get tons with this pass that you'll be saving money within a couple of hours of arriving.
Aside from the city passes, there's plenty of tours, excursions, day trips, and activities to sample. One museum that is worth the entrance fee is Zurich's Lindt Home of Chocolate Museum — tickets are priced at €15 per person and can be bought in advance here. If you love your chocolate, you're going to adore this museum. Not only does your ticket grant you unlimited tastings of Lindt chocolate, but there's also a nine-metre-high chocolate fountain to take photos with!
Another fun activity in Zurich is participating in this Roman-Irish spa ritual. It's €50 per person, but for that, you'll spend three hours on the spa circuit, combining Roman and Irish ancient bathing cultures as you hop between 12 different sections. Finish your relaxing afternoon off with a swim in the rooftop infinity pool that overlooks the city.
If you're not planning on spending much time outside of Zurich, make sure to squeeze in a day trip or two, to ensure you see more of this beautiful country. This day trip to Grindelwald and Interlaken costs €92 for 12 hours of exploring. You'll see all the prettiest parts of Switzerland, as you gaze up at the triple peaks Eiger, Mönch and Jungfrau, take the cable car up to Mount First, jump aboard the scenic train between Grindelwald and Interlaken, and funicular up to Interlaken's Harder Kulm mountain.
Speaking of mountains, there's so many to see in one country, and plenty of opportunities to do so via day trips. From Lucerne, €66 will get you up to the incredible Mount Titlis on this day trip experience. Mount Titlis is the only accessible glacier in Central Switzerland, and you'll spend your day riding the world's first revolving cable car up the mountain, dancing across Europe's highest spectacular suspension bridge, and wandering through a real-life glacier cave.
From Geneva, I have to recommend taking a day trip out to Chamonix and famous Mont Blanc. How could I not? For €105 per person, you'll get to spend 10 hours exploring two of Europe's most well-known destinations. After crossing the French border, you'll hit up Chamonix — yes, the exclusive ski resort and the site of the first ever Winter Olympics. You'll take the cable car to Aiguille du Midi, and take in Mont Blanc from so many different viewpoints. You can even opt to jump on the Montenvers rack railway to the Mer de Glace glacier.
If you know anything about Interlaken, it's probably that it's one of Europe's top adventure travel destination. And the number one activity in town? Paragliding! For €165 per person, you'll be able to jump on a tandem paragliding experience that'll give you access to some of the best views in the country, if not the entire world. Seriously — check out the photos from the tour company!
And finally, I've saved the best activity for last, because if there's one thing you should experience while you're in Switzerland, it's Jungfraujoch! Simply buy your ticket online (€120 for a return), exchange it for a pass at Interlaken Ost, Jungfraujoch, or Lauterbrunnen train station, then experience the journey to the highest train station in Europe. The views are phenomenal.
The Cost of Travel Insurance in Switzerland
If you've read any other posts on Never Ending Footsteps, you'll know that I'm a great believer in travelling with travel insurance. I've seen far too many Go Fund Me campaigns from destitute backpackers that are unexpectedly stranded in a foreign country after a scooter accident/being attacked/breaking a leg with no way of getting home or paying for their healthcare. These costs can quickly land you with a six-figure bill to pay at the end of it.
In short, if you can't afford travel insurance, you can't afford to travel.
Travel insurance will cover you if your flight is cancelled and you need to book a new one, if your luggage gets lost and you need to replace your belongings, if you suddenly get struck down by appendicitis and have to be hospitalised, or discover a family member has died and you need to get home immediately. If you fall seriously ill, your insurance will cover the costs to fly you home to receive medical treatment.
I use SafetyWing as my travel insurance provider, and recommend them for trips to Europe. Firstly, they're one of the few companies out there who will actually cover you if you contract COVID-19. On top of that, they provide worldwide coverage, don't require you to have a return ticket, and even allow you to buy coverage after you've left home. If you're on a long-term trip, you can pay monthly instead of up-front, and can cancel at any time. Finally, they're more affordable than the competition, and have a clear, easy-to-understand pricing structure, which is always appreciated.
With SafetyWing, you'll pay $1.50 a day for travel insurance.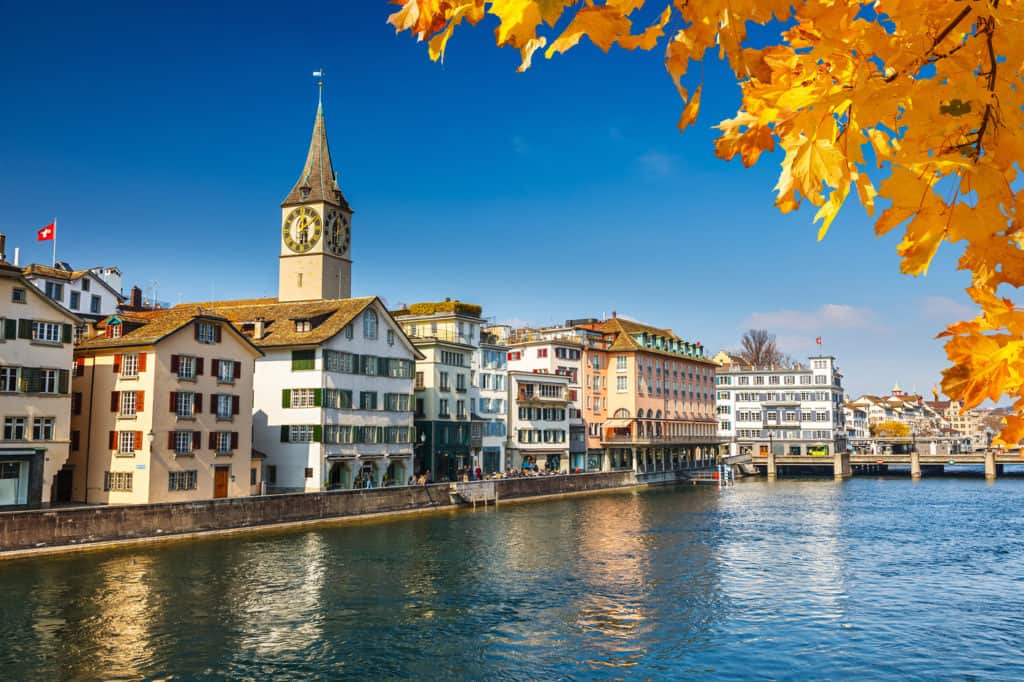 How Much Does it Cost to Travel in Switzerland?
With all of that being said, it's time to tally up all of my travel expenses in Switzerland, in order to give you an idea of how much you can expect to spend while travelling in this wonderful country:
Accommodation: €150 per day
Transportation: €9 per day
Food: €22 per day
Activities: €30 per day

Total amount spent per day: €171
Are you planning a trip to Switzerland? Have any questions? Let me know in the comments below!
Further Reading on Switzerland

🇨🇭 15 Best Things to Do in Geneva, Switzerland
🏔 Top Things to do in Zurich, Switzerland
⚛️ A Private Tour of CERN's Large Hadron Collider