Can you even utter the word Rome without falling into a deep dreamy trance? I know I can't. The Italian capital city is thick with ruins from another time placing you in the depths of a history lesson.
Statues, fountains and ruins are key players in the capital. And can be found in bits around most Roman corners. The hum of the street life is constant in Rome. The energy takes visitors to a rediscovered past. The Colosseum is -for many- a moment of awe as you stare into the bones of ancient Roma. The drama is palpable as you take in your surroundings and imagine life in another time.
Visiting the Vatican is a common and necessary way to experience the unique culture of traditions seeped in religion with over 7 kilometers of art galleries. It's also a chance to appreciate the beauty of artists like Michelangelo as you gaze up at the Sistine Chapel or Bramante as you take in the wonder of the Spiral Staircase.
Day trips are the best way to mix in some new scenery after you've trotted the ruins around town. Tuscany, Amalfi Coast and Florence are close enough to enjoy for the day and memorable enough to not skip. Pompeii is a must, especially if you want a little cardio mixed into your sightseeing. As one of the oldest historical sites in the world, dating back to 79 AD, Mount Vesuvius' eruption left the town devastated both emotionally and physically. You can hike 20 minutes through ancient lava and ash to the famous peak to gather spectacular views of the mountain and ruins below.
The Eternal City is aptly named to convey the endless history and profound spirit of the Roman Empire. During my visit, I felt like I was living within another time, full of historical wonder. The magic of Rome is real.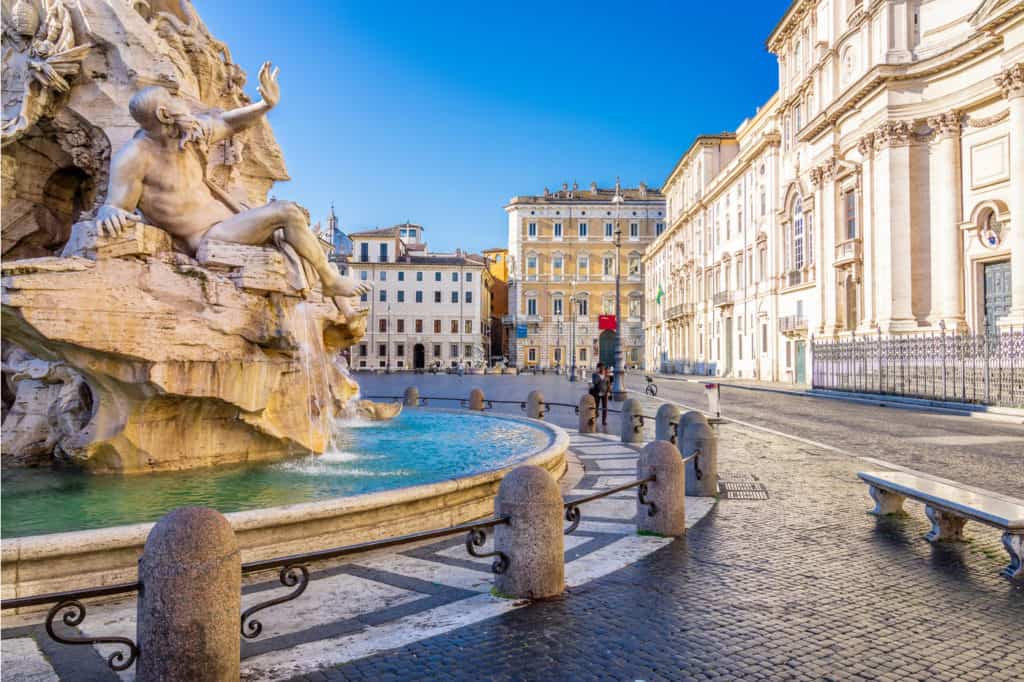 The Cost of Accommodation in Rome
As always with travel, it's possible to cut your accommodation costs down to zero if you have the time and patience to seek out an offer.
Couchsurfing exists in Italy — and, of course, Rome — and allows you to stay with a local for free, sleeping on their sofa and enjoying a local's insight into life in their country. It's not the most comfortable of living situations, but if your budget is tight, it's worth sending out a few requests to hosts to see if anything comes of it. You can search for potential hosts on the Couchsurfing site.
Housesitting is another option. This is where you'll take care of somebody's house for free while they're away, and usually look after their pets, too. It's best for long-term travellers or retirees as you can't pick and choose dates and destinations, so you need to have a lot of flexibility as to where you go and at what time of year. If you do have that freedom, it's a wonderful way to cut down your travel expenses, soak up some home comforts, and live like a local for a while. Trusted Housesitters is one of the best sites for getting started with housesitting.
I'm suspecting, though, that for most of you, you're not interested in the free accommodation and just want somewhere clean, safe, and affordable to rest your head each night. If that's the case, there are several options available for you.
The first of these are hostels. In Rome, you'll come across hostels all over the country, finding them on tiny islands, in large cities, and even in the national parks. They're one of your best options for saving money.
Hostels in Rome are on a par with the rest of major cities in Western Europe, and you can expect to spend around €25 a night for a dorm bed for a well-reviewed hostel in Rome, with the price increasing to slightly about €35 a night for the absolute best of the best.
When it comes to private rooms in hostels, you can expect to spend around €50 a night for a clean, basic room in a good location, so if you're travelling with friends or with your partner, you may find it cheaper to grab some privacy over settling for two beds in a dorm room. €100 a night will get you an exceptionally well-reviewed private room in a hostel or hotel.
If you're an older traveller and put off by the thought of nights spent in hostels, you shouldn't be! Private rooms are usually very quiet and clean, and most hostels are modern, safe, and centrally located. They tend to have a little more personality than generic hotels, and the staff are fantastic at offering kickass travel advice. As long as you check the reviews of any hostel before booking it to make sure nobody refers to it as a party hostel, you're all good to make a booking there.
I use HostelWorld to find the cheapest hostels, as they tend to have the greatest number of listings at the lowest prices.
And, of course, there are always hotels, which will usually start at around €50-€150 a night for a decent, clean, mid-range property in a central location. I always use Booking, as they have the most accommodation options for the cheapest prices.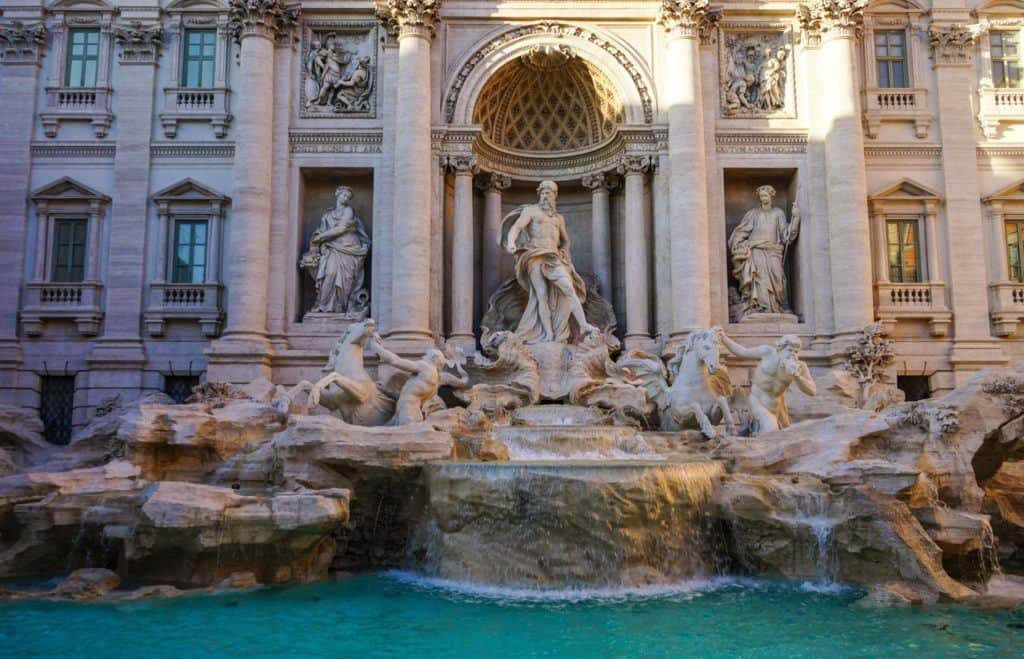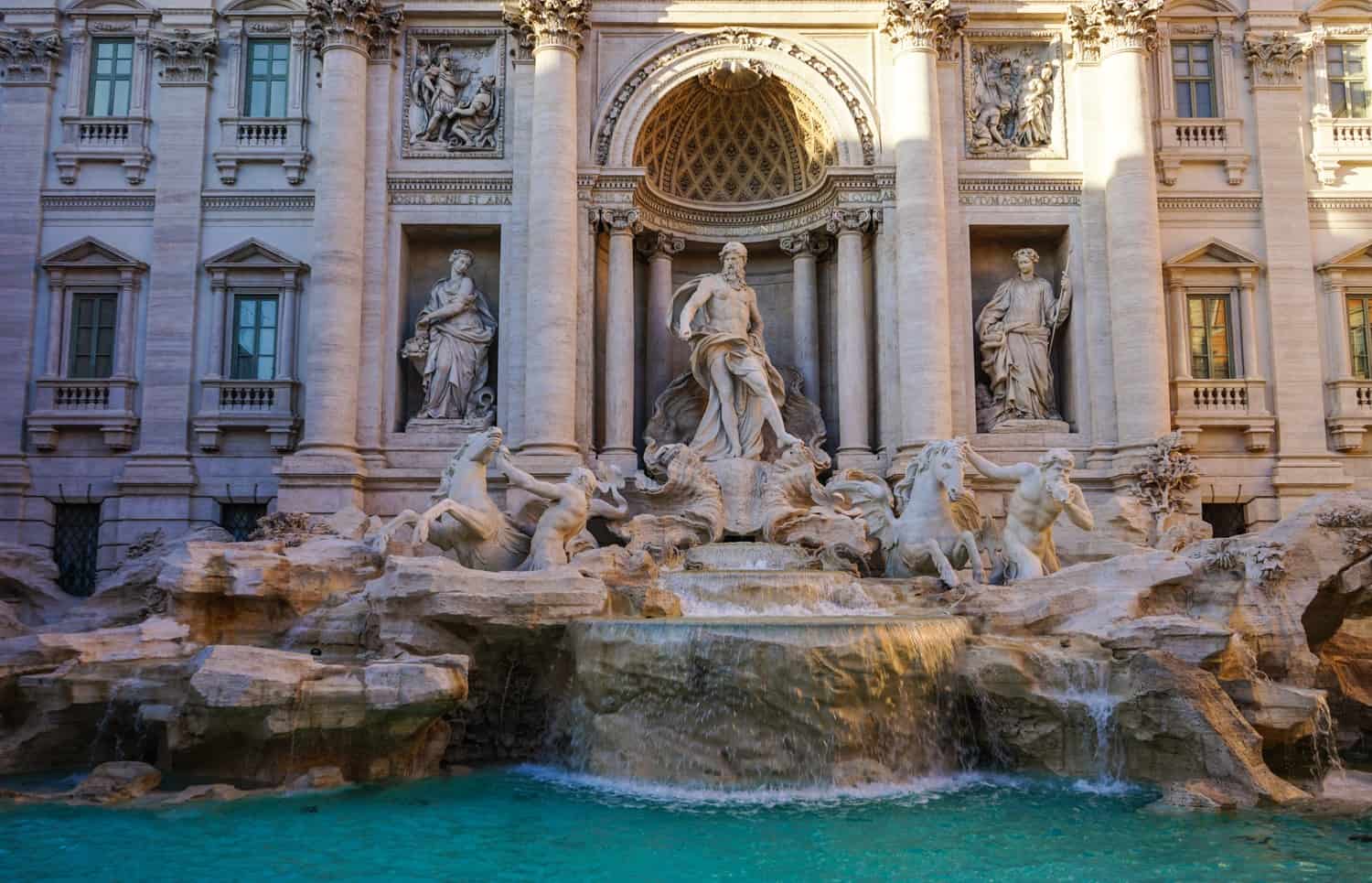 THE BEST HOTELS AND GUESTHOUSES IN ROME
Residenza Venti Settembre ($84 a night): This place is a steal. The rooms are simple and clean, and the mini bar is free. That's right, free! The hosts are more than accommodating, known to go above and beyond to make their guests feel at home, including daily pastries and cappuccinos and assisting in guest outings. The location is smack dab in the middle of Rome, so sightseeing is not a problem. But just because it's in the middle of the liveness of the city, don't expect a noisy location, this hotel is quiet allowing guests to get a proper rest for their travels about town.
Navona Style ($161 a night): It's impossible not to notice the high ceilings, matching windows and a retro modern energy trickling from the walls. The bold pops of color will keep you engaged while the useful amenities, such as wifi, a flat screen TV, air conditioning and a bidet will ensure your needs are met. It is posted up in the Pantheon District just steps from the Palazzo Venezia; and if you go a few more steps, you will find the Piazza Venezia and Roman Forum within walking distance. The concierge is eager to book your tours or help plan your day, and chances are they will do it with a smile. The hotel staff is impeccable at making guests feel welcomed.
Colosseum Corner ($258 a night) This is the spot. But be aware. It might be a bit confusing staring into the intrigue of a Roman past while standing in a modern prize. But the confusion is welcomed here. Just a stone's throw away from the Colosseum, guests are bestowed the most
impressive vantage point in all the land. The lighting and textured wall patterns (which are soundproofed) scream upscale sophistication. Each room is laced with multiple windows to access the views that belong to guests during their stay. If your room isn't facing the Colosseum, don't fret- every room has a view. If you're not gazing upon the Colosseum you will be gazing upon the Piazza Venezia or Domus Aurea. Not a bad consolation prize if you ask me!
THE AVERAGE COST OF ACCOMODATION IS $168 PER DAY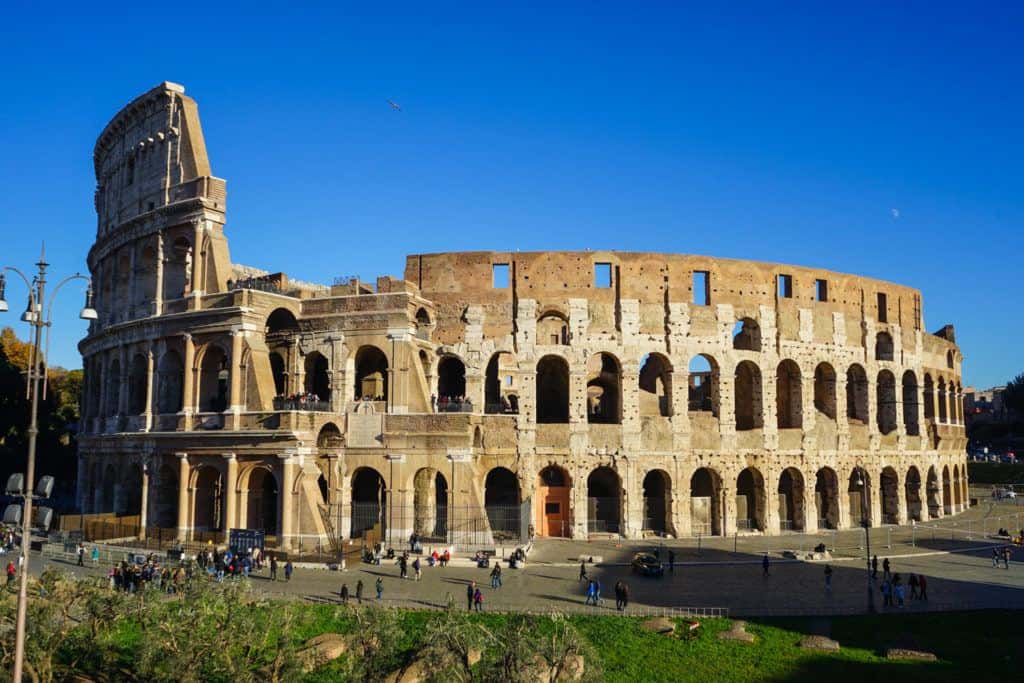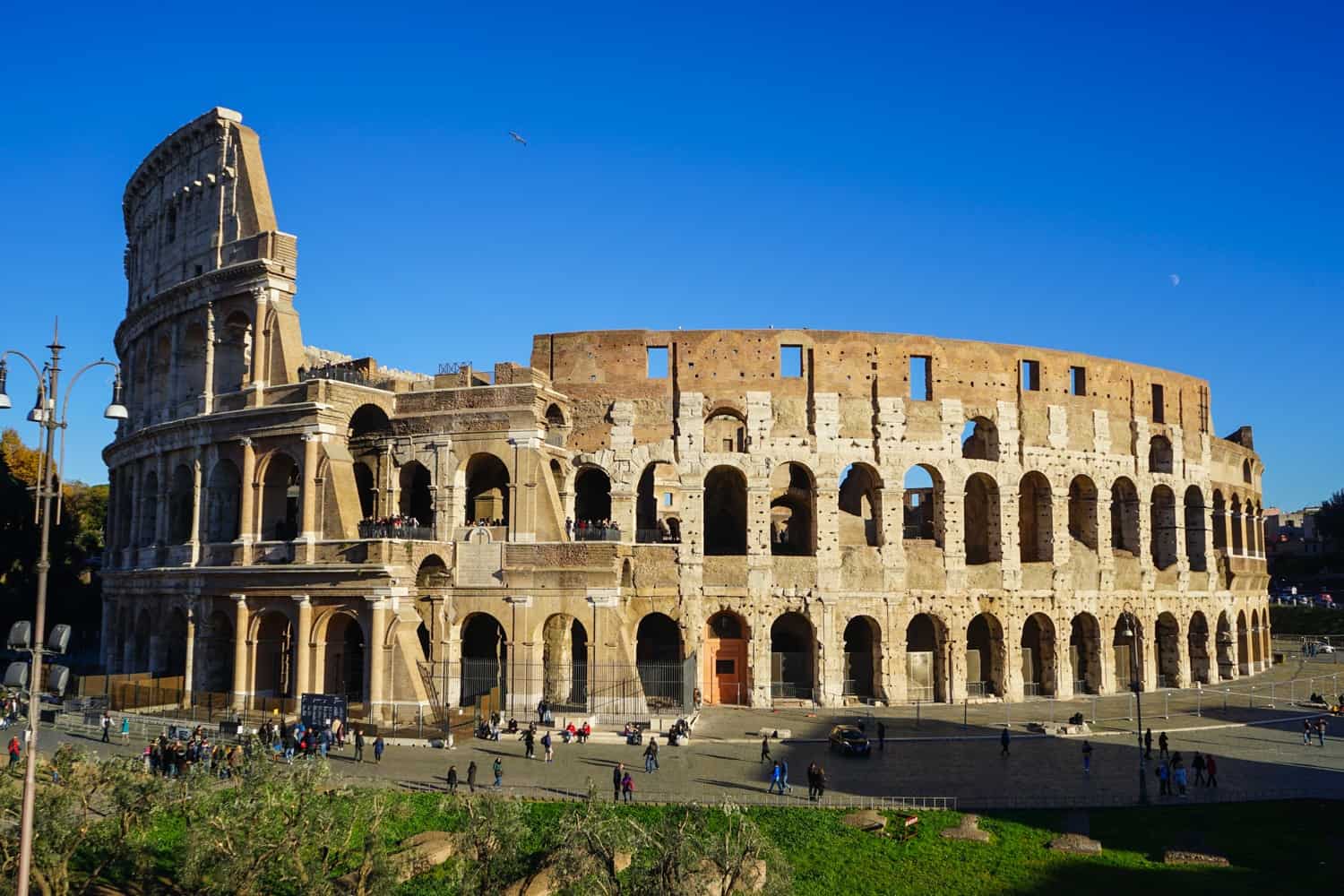 TRANSPORTATION
Rome is one of the major airport hubs in the world, making travel to and from simple and cheap.
Round trip from London- $79
Round trip from Paris- $43
Round trip from NYC- $433
Round trip from Amsterdam- $83
Round trip from Hong Kong- $505
Once you arrive, getting around is easy and economical. The metros are limited with only three lines running diagonally across the city but most of the stops are adjacent to the famous attractions. If you still can't get to where you're going on a metro, don't worry you have options! The metros are complemented by other various forms of travel such as trams, buses and urban trains. Buses are frequent and extensive, but the trams are primarily used for locals as many of the stops skip over the tourist attractions. With three urban train lines called Ferrovie Urbane, you can get where you need to go while gazing out your window at the rush of Rome.
For quick and easy trips, a Day Ticket is less than $2, is valid for 75 minutes after it is purchased and allows unlimited transfer between trains, trams, buses and metros. If you have a "big" day planned, the Big Day Pass is valid from the moment you purchase until midnight of that same day and will cost you $7.
If you are visiting Rome for several days, there are some ticketing options that will help you save. The unlimited 3-Day Pass costs $20 and for the best value you can purchase the Week Pass at $29.
Because you are required to insert your ticket into the ticket barriers to enter and leave the station, you must hold a tangible ticket in your hand. For that reason, you cannot purchase tickets online but instead must buy at the metro station's ticketing office, vending machines, or ticketing machines.
Taxis are always available but the drivers are known to be shady at times. Taxis in Rome are white with a taxi sign on the top and a meter in the front of the car. Also, make sure there is a phone number on the side of the car to ensure they belong to a company. Keep in mind, getting to and from Fiumicino Airport and Ciampino Airport will always cost you $58. If a driver tries to swindle you, leave and try the next.
I found the week pass to be the most reasonable option to get around the city. Between the various means of transport, you will be able to get anywhere you need to go for cheap.
THE AVERAGE COST OF TRANSPORTATION IS $5 PER DAY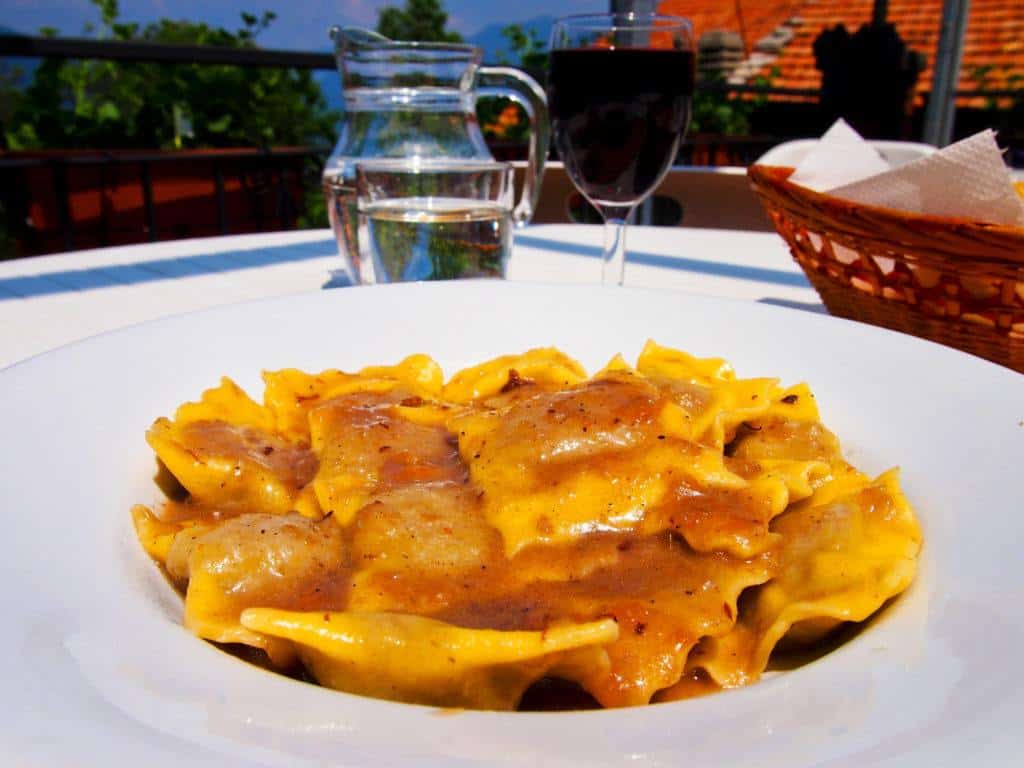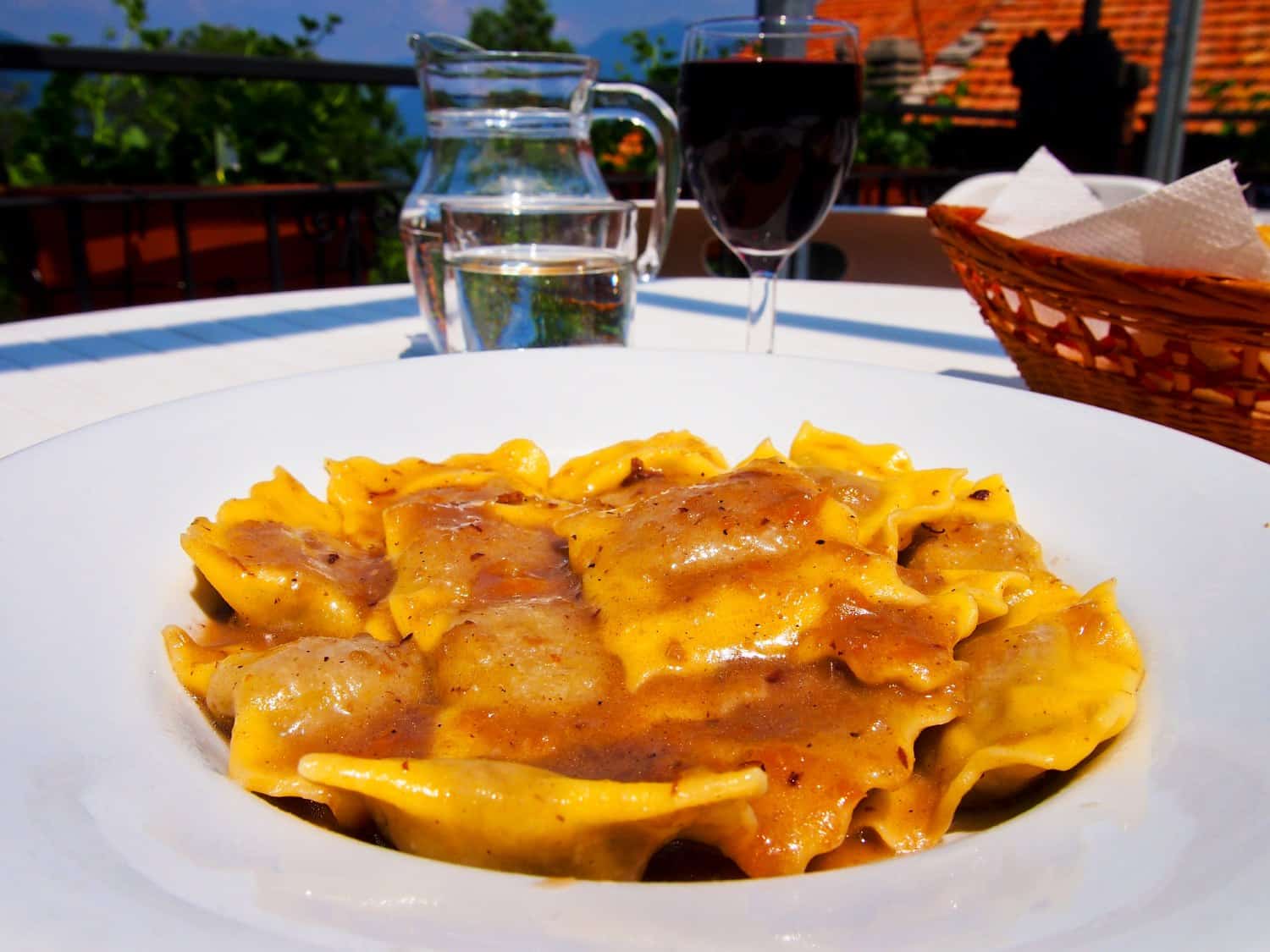 FOOD
To get the most out of your trip, you'll want to nibble your way through Rome. In fact, some even go to Rome, just to indulge in the foodie scene. Either way, expect to undo the top button of your pants during your stay. The food is heavy with passion and substance, but worth every bite.
The first thing that might come to mind when daydreaming about Roman delights is pasta- and believe me, that should be the first thing! There are a variety of pastas that are rightfully popular and equally delicious. Rigatoni carbonara, bucatini amatriciana and spaghetti will likely make your stomach as big as your eyes. A gourmet pasta dish will set you back $17 but you can get the basics at a more casual joint for about $12.
Breakfast in Rome can be as easy as a sweet pasty and a coffee but don't let the simplicity fool you- Roman sweet buns are different from the rest. Maritozzo is a barely sweet yet uber addictive yeast bun often filled with chocolate chips or whipped cream. Expect to pay $2 for a basic maritozzo. Pair it with an espresso ($2) and you have the first meal of the day covered. Keep in mind if you have your coffee at the bar it is much cheaper. If you are seated at a table expect the price tag to climb to $3. If you opt to dine in, the price of a standard breakfast will more than triple for $14.
A typical Roman lunch consists of pasta and wine. Depending on the café, it can cost you anywhere between $14 and $25 for the dynamic Roman duo. Dinner is similar in prices and options but usually holds more wine and a lengthier stay.
Following the main course during lunch and dinner, a special, second course is served (if you're feeling hungry), which usually consists of meat and might actually cost more than the main course at $20. Also note, a side dish of potatoes and veggies is always priced separately from your meal at about $6.
Street food is a terrific option to save some money. A panini from a street vendor will cost you $6 and come in a variety of options. A slice of pizza is cheap but it goes by weight so the toppings you choose might affect the final price. Two slices typically cost $6. If you want a pizza dinner, expect to pay more like $10 for a crispy thin crusted masterpiece, $5 for a beer or $6 for a glass of wine.
Let's not forget about the beloved Italian mascot- gelato! Gelato breaks give people a chance to catch up on the creamy smooth goodness that comes with the treat. And the best part? It won't break the bank at $2 to $3 a scoop. I had gelato following nearly every meal and made sure to find different parlors to experience the various flavors from each gelato creator.
Tipping in Rome isn't a requirement. When you glance at your bill, what you see is what you get but if you want to throw a few extra bucks on the tab, feel free! But it's not expected.
AVERAGE COST OF EATING OUT IS $53 PER DAY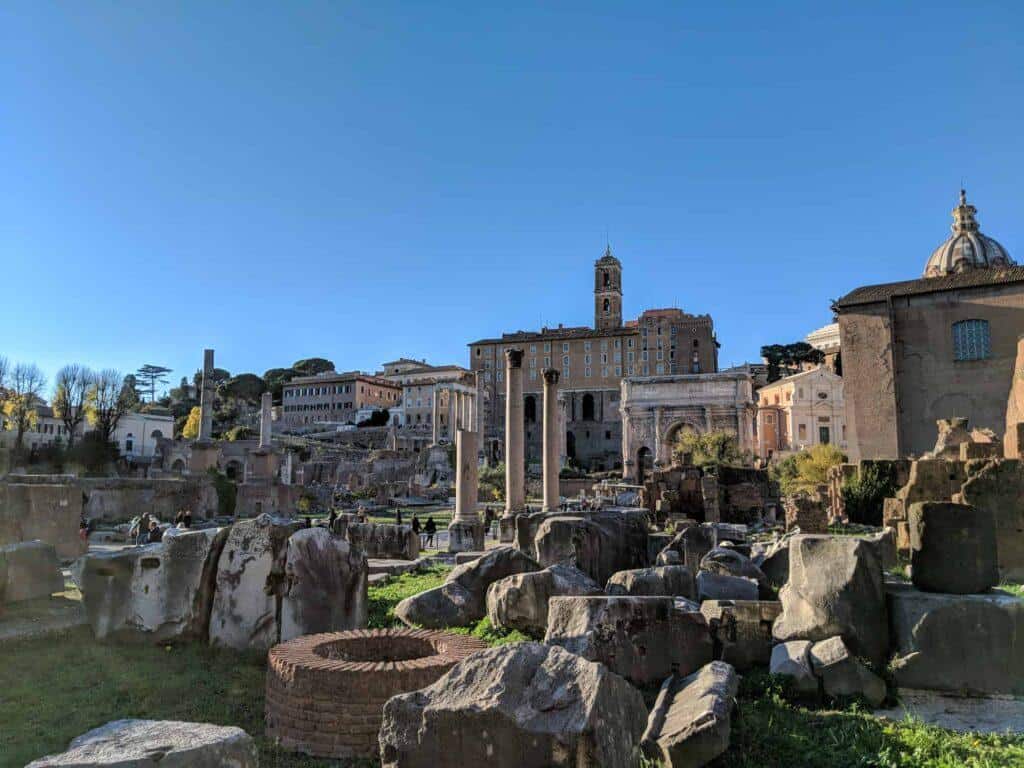 ACTIVITIES
When it comes to getting out and seeing the city, the itinerary can range greatly depending on your interests. Sightseeing happens when you simply walk from one destination to the next, taking in the ruins that lift the historical ambiance to a new level. Decrepit stone ruins neighboring 21st century structures might throw your mind into a tizzy. Food and wine tours are a classic way to feel like a local by experiencing Rome by taste. History fanatics prepare
yourselves- museums and churches are floating in ancient and everlasting antiquity. When you're ready for some new scenery, get out of town and see the natural beauty of the Tuscany countryside or the unbelievably stunning Amalfi Coast.
Vatican City is a must see merely from the intriguing religious culture and impact the church still has on the city. Technically, the area is considered a country, the smallest one, in fact, at 109 acres. Once you're inside the magnificence and wonder of the City the art and architecture are stunning and memorable. In fact, Michelangelo's creations can be life changing if you let them. Admissions into the Vatican Museum and Sistine Chapel start at $24.
Ready to step into the movie Gladiator? The reality of what went down in the Colosseum is humbling, making any patron feel small (and maybe even a bit scared??) as they take in the impressive surroundings. A single day admission is $20 but if you want an audio tour it will cost you $32.
See the list below for a variety of activities that will heighten your Roman experience:
THE AVERAGE COST OF ACTIVITIES IS $90 PER DAY
The Cost of Travel Insurance in Rome
If you've read any other posts on Never Ending Footsteps, you'll know that I'm a great believer in travelling with travel insurance. I've seen far too many Go Fund Me campaigns from destitute backpackers that are unexpectedly stranded in a foreign country after a scooter accident/being attacked/breaking a leg with no way of getting home or paying for their healthcare. These costs can quickly land you with a six-figure bill to pay at the end of it.
In short, if you can't afford travel insurance, you can't afford to travel.
Travel insurance will cover you if your flight is cancelled and you need to book a new one, if your luggage gets lost and you need to replace your belongings, if you suddenly get struck down by appendicitis and have to be hospitalised, or discover a family member has died and you need to get home immediately. If you fall seriously ill, your insurance will cover the costs to fly you home to receive medical treatment.
I use SafetyWing as my travel insurance provider, and recommend them for trips to Italy. Firstly, they're one of the few companies out there who will actually cover you if you contract COVID-19. On top of that, they provide worldwide coverage, don't require you to have a return ticket, and even allow you to buy coverage after you've left home. If you're on a long-term trip, you can pay monthly instead of up-front, and can cancel at any time. Finally, they're more affordable than the competition, and have a clear, easy-to-understand pricing structure, which is always appreciated.
With SafetyWing, you'll pay $1.50 a day for travel insurance.
HOW MUCH DOES IT COST TO TRAVEL IN ROME?
Accommodation: $84 per day
Transportation: $5 per day
Food: $53 per day
Activities: $25 per day
Total amount spent per day: $167
Related Articles on Italy

🇮🇹 Top Things to Do in Milan
🏛 23 Things to Do in Rome, Italy
🚤 53 Best Things to Do in Venice
🛬 How to Make the Most of a Layover in Venice
🍕 The Absolute Best Things to Do in Florence, Italy
🍹 21 Incredible Things to Do in Bologna, Italy
🍝 23 Magical Things to Do in Siena, Italy
🍷 16 Amazing Things to Do in Lucca, Italy
🎉 Liberazione: What to Expect From Italy's Liberation Day