The Netherlands was where I learned how to travel.
When I first decided I wanted to see the world — and potentially on a long-term basis — I decided I needed to have a trial run first. I wanted to stay in a hostel for the first time, see what it was like to explore as a backpacker, and work out if I had the courage to quit my job to travel.
I chose to spend five days in Amsterdam, and those days are what led me to where I am today. Because flying to the Netherlands helped me to fall in love with travel and learn that it wasn't so terrifying after all. Two months after that trip, I stepped on a plane with a one-way ticket in hand and now, ten years later, I've built a career around travel and do this for a living.
The Netherlands, therefore, holds a special place in my heart. I try to return regularly. My brother-in-law even lives in Amsterdam! He's been based there for over a decade, so I'm often popping over to see him and seeing the country through the eyes of a local.
And so, I've now visited this country five times, as a backpacker, as part of a couple on a mid-range budget, and as a solo traveller that's looking for luxury and value. My I've spent six weeks there in total, visiting Amsterdam, Utrecht, Keukenhof, Leiden, Maastricht, and the Hague — and I've loved each and every place.
So, let's talk about travel expenses.
I've been recording every single cent I spend in the countries I visit from day one of my travels, because I want to prove that seeing the world is inexpensive and achievable. I want to be able to give a realistic and accurate look at how much you can expect to spend in each country you visit.
Today, it's the Netherlands' turn. I averaged 64 EUR per day while I was there, and the following blog post gets deep into the specifics.
Here's how much you can expect to spend on a trip to the Netherlands, then, in 2021.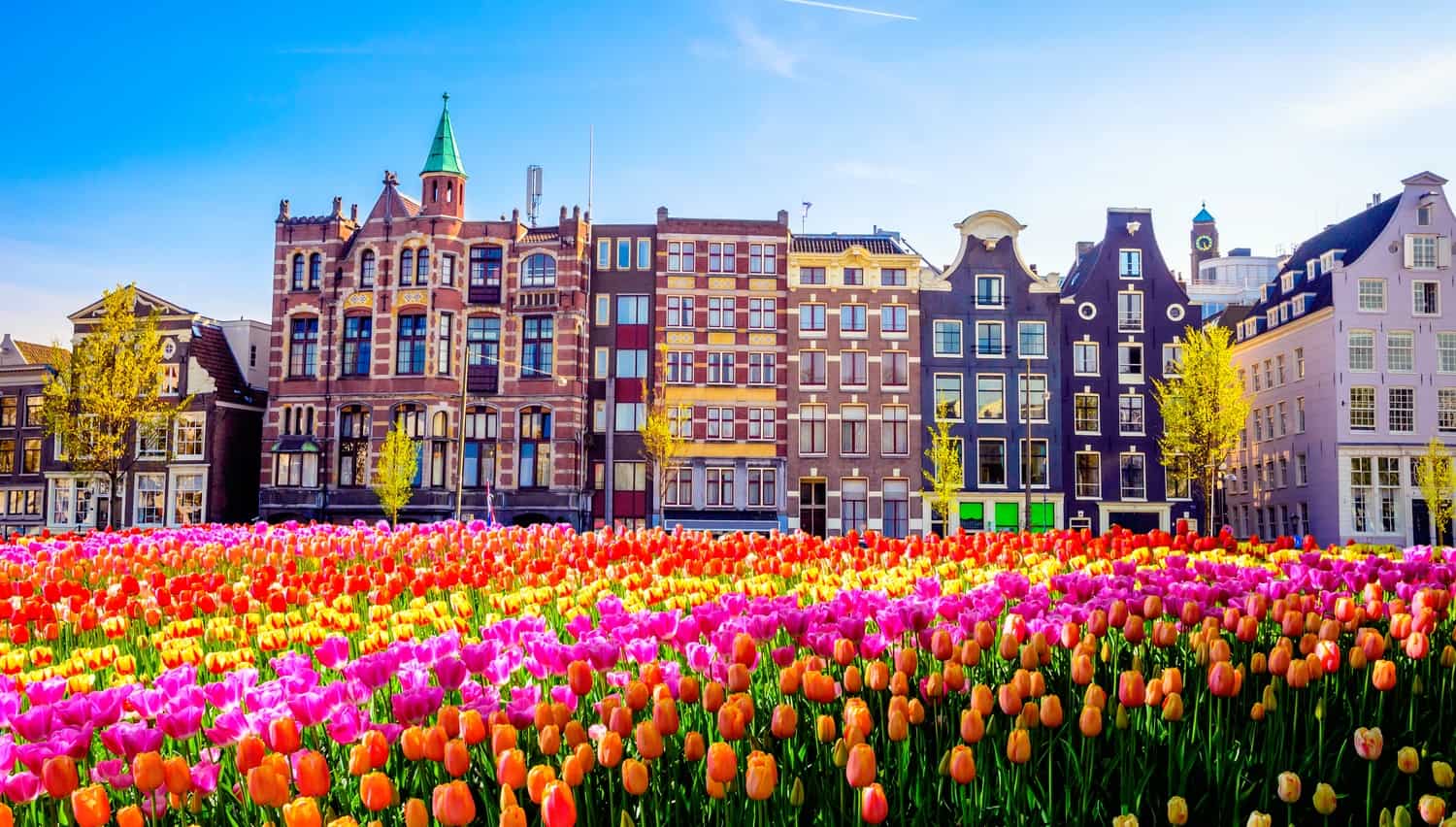 How to Save Money on Accommodation in the Netherlands
As you guys know, I always try to cover all possible budgets in my breakdowns, so I'll kick things off by focusing on the backpackers among us. If you're on a tight budget and want to spend as little as possible on travel, these are my accommodation recommendations for keeping costs low.
Couchsurfing exists in the Netherlands, and allows you to stay with a local for free, sleeping on their couch, and gaining a more authentic look into life in this country. This is probably going to appeal more to my younger readers, as you can imagine it's not the most comfortable of circumstances, but if you're willing to sacrifice a little, you'll be able to keep your travel costs low. You can search for potential hosts in the Netherlands on the Couchsurfing site.
Housesitting is another option, which is more suitable for those of you who prefer a little more comfort in your life. Through a housesitting website, you'll be able to apply to take care of somebody's house for free while they're away, usually looking after their pets, too. It's best for long-term travellers or retirees, as you can't pick and choose dates and destinations, so you need to have a lot of flexibility as to where you go and at what time of year. If you do have that freedom, it's a wonderful way to cut down your travel expenses, soak up some home comforts (some of my friends have landed gigs housesitting in castles!), and live like a local for a while. Trusted Housesitters is one of the best sites for getting started with housesitting.
And finally, if you're travelling long-term and don't mind getting some work done in order to save money, you could have a go at WWOOFing or WorkAway. Both sites allow you to work for a local in exchange for accommodation and food — in WWOOFing's case, it's working on organic farms, and with WorkAway it can be anything from helping out a local hostel to converting a freighter into a houseboat. It's not usually the most glamorous of experiences, but getting to live for free in a foreign country is an incredible experience, so if you're backpacking around Europe, this may be the way forward for you.
I'm suspecting, though, that for most of you, you're not interested in the free accommodation and just want somewhere clean, safe, and affordable to rest your head each night. If that's the case, there are several options available for you.
The first of these is, of course, hostels. In the Netherlands, you'll come across hostels all over the country, finding them in major cities, in small towns, in houseboats, and even in windmills. They're one of your best options for saving money. Unfortunately, it's rare to find ones with consistently amazing reviews, so if you can find anywhere with a rating that's above a 9, you're doing well.
Hostels in the Netherlands are still fairly expensive relative to much of the world, eye-wateringly so in summer. You should plan to spend a minimum of €30 a night for a bed in a dorm room in Amsterdam, with prices dropping to around €20 a night for a dorm bed in the rest of the country.
When it comes to private rooms in hostels, you'll obviously be looking at a little more. For a clean, modern room in a central location, plan to spend around €70 a night, with the price jumping to as much as €100 a night in Amsterdam. If you're travelling with a friend or partner, you may find it's a similar price to pay for a private room rather than two dorm beds, which I'd recommend doing if you value your privacy.
But let's move on from hostels.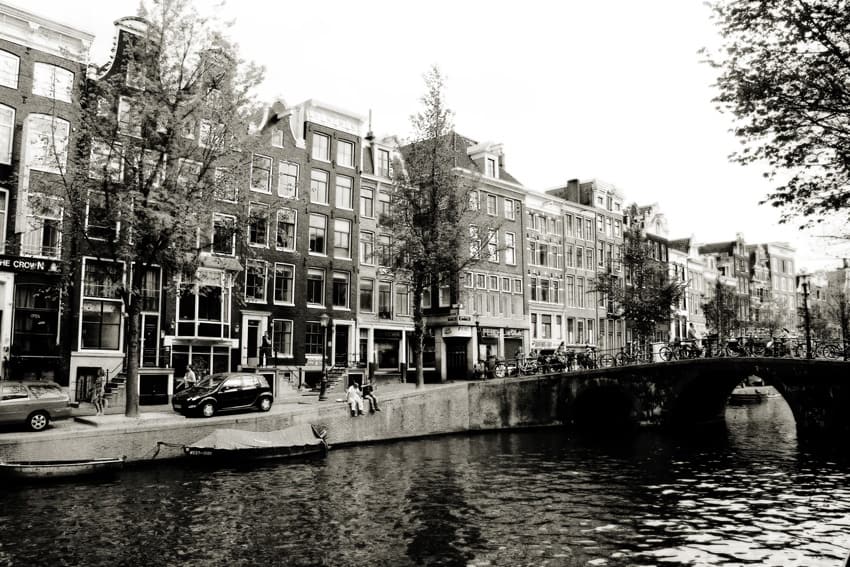 The Best Hostels and Guesthouses in the Netherlands
As I mentioned above, I've visited the Netherlands during various stages of my travel career, both as a backpacker who was travelling on a shoestring budget and as part of a couple that was looking for all things private and mid-range or luxury. I've learned a lot about how to receive good value throughout the country.
I always like to share which accommodation I stayed in on my travels, as well as recommend alternatives when mine sucked. Everywhere I recommend below has excellent reviews and offers great value for money.
Here's my list of some of the best accommodation options in the Netherlands:
Amsterdam — JamieK's B&B (€138 a night): If you're looking for somewhere spacious and comfortable, in a great location, and with an incredibly welcoming host, JamieK's B&B is the place to go for, if you can afford it. With a rating of 9.6 on Booking, this is one of the consistently best reviewed places in the city, so you really can't go wrong with it.
→ Check rates for JamieK's B&B
Utrecht — B&B De Klinkende Munt (€100 a night): This cosy guesthouse is easily the best value accommodation in the city of Utrecht — receiving an average review of 9.7 and not being outrageously expensive means that this is an excellent option for the city. The B&B gives you access to a large apartment that's close to the central train station, which is good for those of you who are travelling around the country by train. The staff are lovely, the breakfast's fantastic, and the heated bathroom floors are a nice touch, too.
→ Check rates for B&B De Klinkende Munt
Leiden — Ibis Leiden Centre (€98 a night): I based myself in Leiden while visiting Keukenhof Gardens, and chose to stay at the Ibis Leiden while I did so. It was one of the cheapest options in the city that still received great reviews, and overall, I was really happy with my stay there. There isn't anywhere else in a similar price range that I'd recommend. Our room was clean and modern, the staff were helpful, it was close to some great restaurants and bars, and there was a delicious breakfast on offer.
→ Check rates for Ibis Leiden Centre
Maastricht — HollaCachet (€82 a night): I love Maastricht! It's such a cool city. When it comes to accommodation, HollaCachet is the cheapest spot in the city that still receives great reviews — which is pretty cool, as this place has an interesting history. It was once an old cow shed that was then converted into a B&B that's only been open since late-2018. The only downside is that it's a few miles outside of Maastricht, so you'll need to catch the bus (the stop is nearby) into the centre of town if you don't have a car.
→ Check rates for HollaCachet
The Hague — Veenkade B&B (€107 a night): Located just a few minutes walk from the centre of the city, this B&B receives exceptionally good reviews. You'll be staying in a lovely spacious apartment with friendly owners, and lightning-fast Wi-Fi. It's close to a supermarket and has a well-equipped kitchen, so if you feel like cooking for yourself one night, that's definitely possible.
→ Check rates for Veenkade B&B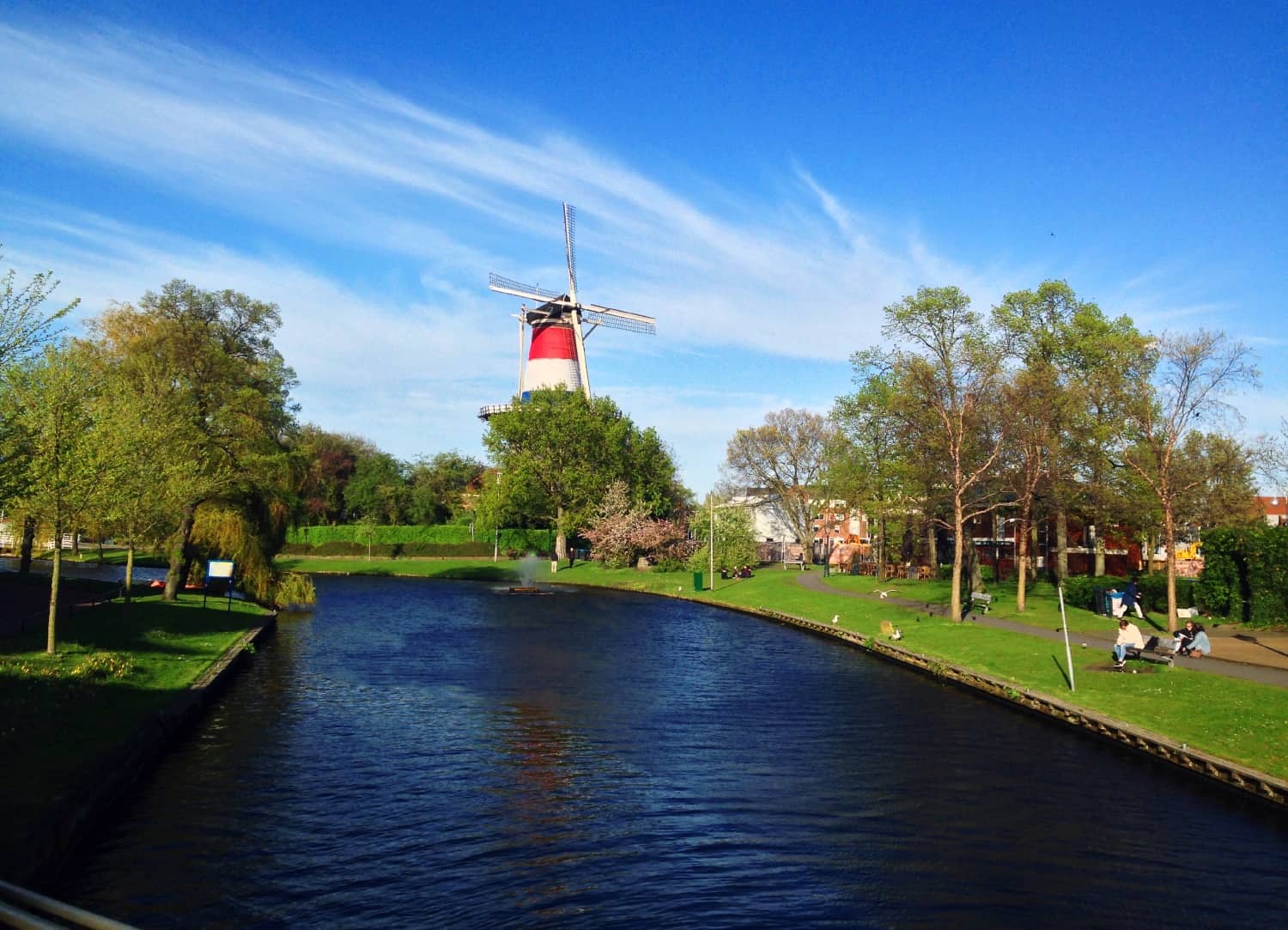 How to Save Money on Transportation in the Netherlands
One of the best ways to get around the Netherlands is by train. When I spent three weeks exploring the country, I travelled everywhere by rail and found it to be comfortable, easy, and inexpensive relative to the prices of other things here. The public transportation system is seriously impressive, too — its infrastructure is ranked fourth in the world — and other countries should take note.
So, how much can you expect to spend on transport in the Netherlands?
The first thing you'll need to do upon arriving is pick up an OV–chipkaart, which is an essential for travel in this country. The chipkaart is what you'll use throughout the Nethelrnads on the trains, metros, trams, and buses — the country no longer issues paper tickets, so you'll need one of these in order to use public transport.
It costs €7.50 to buy an OV-chipkaart from a machine, which you can find at all train and metro stations, as well as some supermarkets, and you can top it up from these machines, too. Like many transportation systems around the world, you'll pay for the total distance of your trip, so you'll definitely want to make sure you swipe out at the end of your journey. If you don't plan on using it much, you can buy a single-use chipkaart for just €1. The card works across the entire country.
As I mentioned before, I wholeheartedly recommend travelling by train. Here's what I paid for my trips across the country:
Train from Amsterdam to Utrecht: €9
Train from Utrecht to Leiden: €10
Train from Leiden to Maastricht: €35
Train from Maastricht to the Hague: €26
Train from the Hague to Amsterdam: €13
I'd personally advise against driving in the Netherlands. While renting a car will give you greater flexibility, parking is hard to find and expensive, and navigating streets filled with bicycles, trams, and pedestrians can be stressful. The only exception would be if you want to visit teeny-tiny villages that the trains don't pass through — given that there are 400-odd train stations in the country, though, this is unlikely to be the case.
Flying is typically expensive and time-consuming, so you'll want to skip out on that if at all possible. You'll save money and see a lot more of the country by travelling overland.
How to Save Money on Food in the Netherlands
Food can be pricey in the Netherlands, but there are plenty of ways to cut costs while you travel around this tasty country.
Cooking is always going to be more affordable than eating out, so if you're willing to sacrifice some meals on your vacation, this is a great way to keep on track with your budget. Hostels will usually give you access to a shared kitchen, and if you're opting for an Airbnb, you'll likely be able to use the kitchen, too. If that's the case, you can head to a local market (a great cultural experience!) and stock up on fish, vegetables, and fruits, and spend far less on your meals than you would at a restaurant.
Many hostels and hotels will offer free breakfasts within their room rate, so if that's the case, I always recommend eating later in the morning and eating a lot of food, as you may find you're too full to have lunch. A lot of accommodation I recommended above are B&Bs with fantastic breakfasts, so factor that into the overall cost of your stay. If hotels do charge for buffet breakfasts, you can expect to spend around €15-20 for them.
You're also going to want to opt for a larger lunch and a smaller dinner. Most restaurants charge less for their lunch menus, even though they're serving the exact same meal for lunch and dinner. If you can eat a bigger meal for lunch, you can then get by with a much smaller one for dinner and save money through doing so.
In general, you should expect to spend the following per person on each meal:
Breakfast: €10 for a cooked breakfast with tea/coffee
Lunch: €8 each for a sandwich/slice of pizza from a deli with a soft drink
Dinner: €10 each if you're on a budget, €20 each for a mid-range restaurant, €40+ each for something higher-end.
I don't often have much success with this suggestion, but I do recommend keeping an eye on your drink consumption while travelling in the Netherlands. Alcohol is obviously a big budget buster on the road (and wines can be quite pricey in Dutch restaurants), so if you're happy to substitute the sodas, juices, and alcohol for tap water, you'll save a ton of money. And yes, the tap water is safe to drink in the Netherlands, so you really don't need to worry about buying bottled water.
If you're determined to jump headfirst into the Dutch food scene and don't want to spend your vacation cooking, you should look to eat at the ethnic restaurants in town. There's a huge population of Indonesians and Surinamese in the Netherlands, and their cuisines make for some tasty cheap eats while you're exploring the country.
You can always ask the locals for food recommendations, too! Ask at your accommodation for recommendations on the best budget eats and they'll be unlikely to steer you wrong.
Here are some typical prices of food in the Netherlands to help you budget better:
Combo meal at McDonald's: €7.50
Pint of draught beer: €2.50
A glass of house wine in a restaurant: €5
A slice of pizza: €3.50
Sandwich from a deli with soft drink: €8
Litre of milk: €0.75
A loaf of bread: €1.20
A dozen eggs: €2.50
1 kilogram of tomatoes: €2.50
1 kilogram of potatoes: €1.60
A 1.5l bottle of water: €0.90
A steak dinner with a glass of wine: €40
A serving of bitterbollen: €6.50
A pack of stroopwafels: €4
A gyros for lunch with a soft drink: €4.50
A three course meal and wine in a high-end restaurant in Amsterdam: €60 each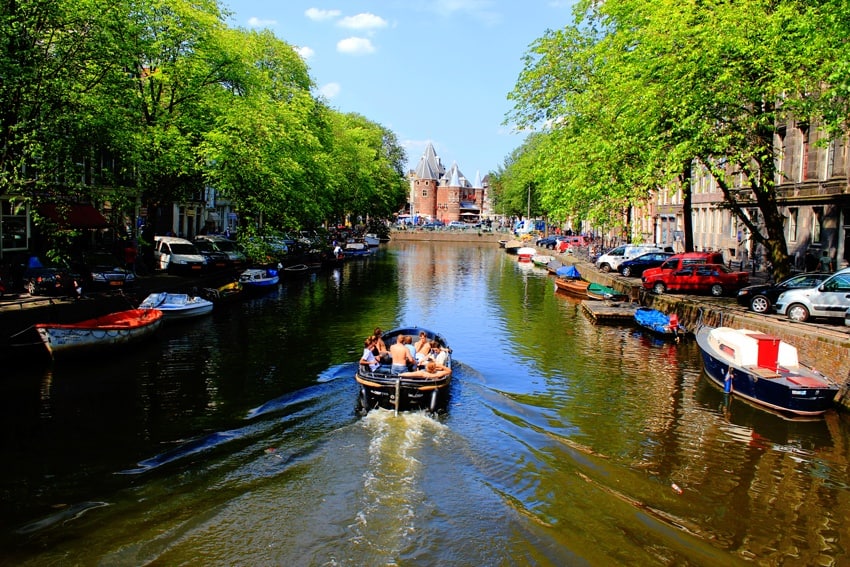 How to Save Money on Activities in the Netherlands
We've covered accommodation, transportation, and food, but let's face it: you're not going to have the trip of a lifetime if you skip out on entrance fees and activities! If I was going to recommend just a couple of experiences to have, I'd suggest checking out the tulips at Keukenhof (if you're visiting in spring), heading out into the countryside (Giethoorn looks incredible!), and jumping on a food tour.
Here's a breakdown of the activity costs you're likely to encounter while travelling around the Netherlands:
Entrance to Anne Frank House: €10
There are plenty of free activities to participate in, too, while you're in the Netherlands, and I know that I had a fantastic time simply wandering through the cities, exploring local markets, admiring the windmills and tulips, and making the most of the museums that don't charge an entrance fee.
If, like me, you love taking tours to get to know a country better, I recommend heading to Get Your Guide for inspiration. They have a whole range of activities and tours available, and I book 95% of the tours I take through them.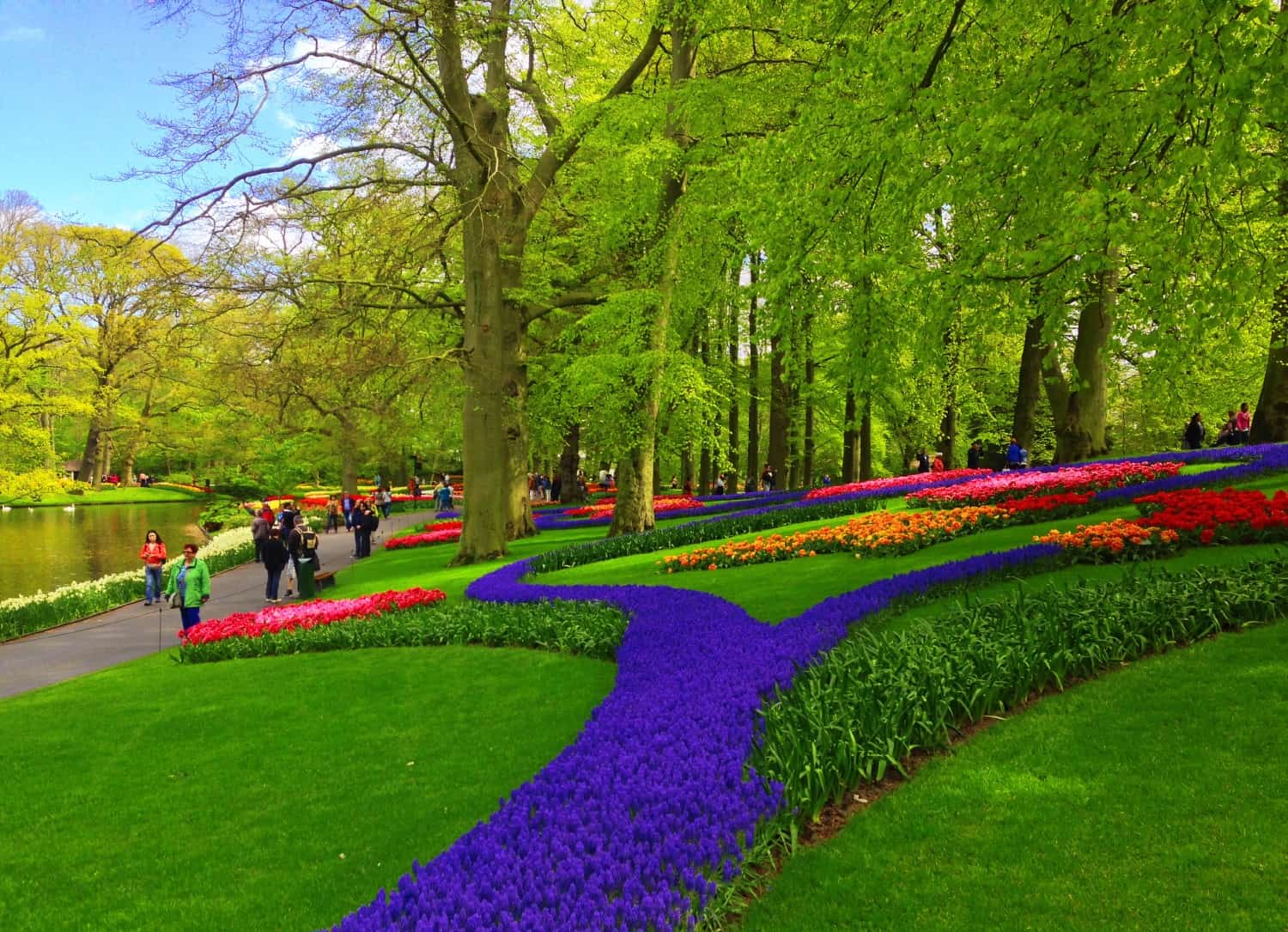 Miscellaneous Items to Buy for a Trip to the Netherlands
A Netherlands guidebook: A guidebook will give you an in-depth look into Dutch culture, suggest the perfect itineraries for the amount of time you have, and offer recommendations for where to eat and what's worth doing. I like Lonely Planet guidebooks, and their Netherlands offering receives great reviews.
Travel insurance: If you've read any other posts on Never Ending Footsteps, you'll know that I'm a great believer in travelling with travel insurance. I've seen far too many Go Fund Me campaigns from destitute backpackers that are unexpectedly stranded in a foreign country after a scooter accident/being attacked/breaking a leg with no way of getting home or paying for their healthcare. These costs can quickly land you with a six-figure bill to pay at the end of it.
In short, if you can't afford travel insurance, you can't afford to travel.
Travel insurance will cover you if your flight is cancelled and you need to book a new one, if your luggage gets lost and you need to replace your belongings, if you suddenly get struck down by appendicitis and have to be hospitalised, or discover a family member has died and you need to get home immediately. If you fall seriously ill, your insurance will cover the costs to fly you home to receive medical treatment.
I use SafetyWing as my travel insurance provider, and recommend them for trips to the Netherlands. Firstly, they're one of the few companies out there who will actually cover you if you contract COVID-19. On top of that, they provide worldwide coverage, don't require you to have a return ticket, and even allow you to buy coverage after you've left home. If you're on a long-term trip, you can pay monthly instead of up-front, and can cancel at any time. Finally, they're way cheaper than the competition, and have a clear, easy-to-understand pricing structure, which is always appreciated.
With SafetyWing, you'll pay $1.50 a day for travel insurance.
How Much Did I Spend on My Trip to the Netherlands?
I always like to share my own personal expenses when travelling in a country, as I think it helps you figure out what you should be expecting to pay each day while you're there. A list of expenses is great and helpful, of course, but putting them all together in order to come up with a reasonable estimate can be trickier.
Here's what I've spent on average over my month in the Netherlands:
Accommodation: €25 per day
Transportation: €2.50 per day
Food: €34 per day
Activities: €2.25
My average daily cost of travel in the Netherlands was therefore: €64 per day. Not bad at all!
Related Articles on the Netherlands

🇳🇱 Three Glorious Weeks Spent Traveling the Netherlands
🧳 How to Pack for the Netherlands: My Complete Packing List
🛶 30 Incredible Things to Do in Amsterdam, the Netherlands
[Photo of the tulips in Amsterdam via: Olena Z/Shutterstock; photo of the bitterballen via: Wut-Moppie/Shutterstock; photo of the stroopwafel via: oxyzay/Shutterstock]