I was in Jordan for just under two months, immediately after the pandemic, so it's fair to say I didn't see the country at its most vibrant and flourishing. Despite that I found it to be an intriguing place, with many different subcultures worth exploring.
For one month of my time there, I lived a pretty ordinary life in the capital, Amman, where I caught up on work and enjoyed the duality of the city before setting out to explore the most popular tourist attractions for the other month.
Like many Middle Eastern countries, Jordan is rapidly modernizing and growing economically. This of course has a major impact on the local culture, and nowhere had I noticed this as strongly during my time in the Middle East as I did in Jordan.
The city's downtown neighborhood was very traditional; filled with colorful stores, the delicious smells that wafted from various street vendors' carts, and frequented by locals in traditional attire. I felt totally foreign and captivated when I ventured downtown, though I found a few quirky cafes and community projects where I worked and met intriguing locals.
On the other hand, there were neighborhoods in Amman that were very westernized. In the neighborhood where I was staying there was a cafe across the road that was a hotspot for university students where, to my surprise, most of them spoke amongst themselves in English rather than Arabic!
In general, Jordanians are well-humored, chatty, and helpful. One evening I was rather stranded in the city center trying to get a taxi home during the traffic rush and two police officers waited with me until we had flagged down a taxi and I was safely on my way home, and another time I walked into a local knife-crafting shop and didn't walk out until about two hours later after chatting with the owner and being given a full tour of his workshop, he even let me have a go doing some knife carving of my own!
One thing that intrigued me about Jordan was how they show their wealth – their cars! At least twice a day flash cars would come revving down my street, alerting me to the arrival of the next casanova to the local university hangout across the road. On various occasions, I saw billboards urging hard workers to "Show off their wealth with the latest car".
In the city's downtown, it's hard to get a grasp of the fancier side of the city, but if you head to Abdali Boulevard you'll get a glimpse of the wealth Jordan possesses, and of the luxury tourism that Saudi Arabians are attracted by!
Whilst there's plenty to see in Amman itself, like the Roman Amphitheater and Amman Citadel, a little further a field wonders like Petra, the Dead Sea, the Ma'in Hot Springs, and the Wadi Rum desert await!
Overall, Jordan isn't as cheap as popular nearby countries like Egypt and Morocco, but it's by no means expensive either. I also felt that the prices in Jordan always reflected the quality of what you got – whenever I paid more for food or accommodation it was well reflected in my experience. I'd say Jordan is a fairly priced country that can be traveled on a range of budgets.
From the Bedouin nomads in Jordan's deserts to the young hipsters in the country's modern capital, this country is rich in landscapes and home to a mix of people.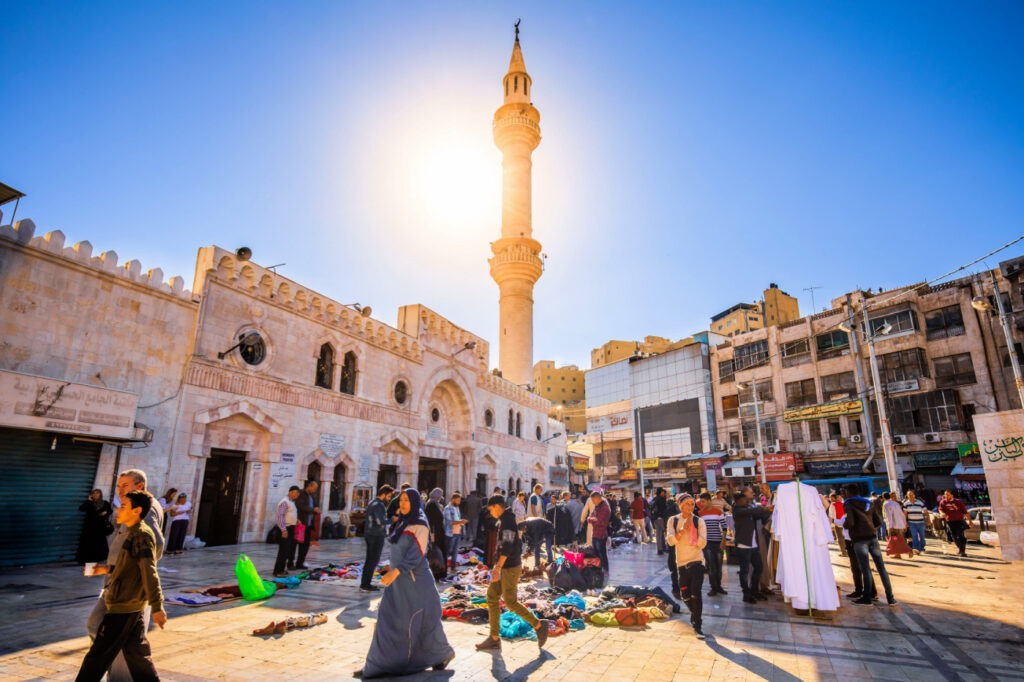 The Cost of Accommodation in Jordan
Jordan has top luxury hotels, like Hilton and The Ritz, as well as backpacker-budget-friendly hostels.
Other options worth looking into if you don't want to spend any money at all on accommodation are volunteering opportunities and housesits. A quick roam on Couchsurfing in the major cities, like Aqaba, Madaba, and Amman, churn up hundreds of host options; although about  99% of them are men. If you're traveling as a solo female traveler be sure to check other guests' reviews and be selective about who you stay with. The Middle East does require being a little more wary, unfortunately. Another top tip is to look for people with a lot of references!
There are also some really fantastic looking WWOOFing opportunities, where you get to stay at eco farms and horticulture centers – a great option if you're looking to learn about sustainability or you want to give your time traveling some purpose.
Whilst AirBnb was totally awful in Egypt, in Jordan it was the opposite. I stayed in a cozy studio apartment for just $16 a night by myself in the capital. Generally, you can get a studio apartment for 2 people for about $30-40 a night and private rooms for even less – safe to say the accommodation isn't going to break the bank even if you opt for a nice place! What a relief….
For budget hostels in Jordan, I'd skip using Booking.com, there aren't many options on there, and the options you will find tend to be hotels with dorms rather than actual hostels with a traveler vibe. 
HostelWorld was my go-to. There were lots of well reviewed hostels for as little as $7 a night and even privates for $15. More secluded destinations or tourist hotspots, like the towns around Wadi Rum and Petra, can be a little more expensive, but you shouldn't need to pay more than $15 to $20 a night even there, especially if you book a little in advance. 
Sometimes hotels advertise their rooms on the site, so be careful and double-check what you're paying for! Bear in mind that in Jordan prices change a lot between peak and off-peak seasons.
Luxury hotels in 4 of Jordan's major cities
Madaba
Whilst Madaba is a top tourist destination because it's close to the legendary Dead Sea, it's not a luxury destination like Aqaba, so expect simpler accommodation during your stay here than in the bigger cities. On the plus side, it's a chance to save some money!
I stayed at two hotels here, splitting my stay between them. First I stayed at the COCO Guesthouse Madaba, which has modern decor and was clean and simple. They serve a great breakfast too! It was about $50 a night for a double room.
Looking to stay somewhere where you'll be made to feel like family? Then stay at the cozy Issam Al Safadi. It's family run and each morning they plate up one of the best breakfasts you'll have in Jordan. The rooms aren't as modern, but there are plenty of other things – like the pool and the outdoor areas – to make up for it. It would be my top pick for families too. Rooms start at around $30 a night.
Aqaba
Aqaba is a stunning beach city built on the shore of the Red Sea, it's also the gateway to Wadi Rum. Whilst I was in Aqaba I went all out and enjoyed a little luxury after a long period of budget traveling and saving on accommodation.
I suggest you splash out and get ready to spend all that money you've saved on a room in the Al Manara Hotel. You sleep practically on the sand, and I'd recommend you get a room with a terrace for the best views. 
In particular, I loved the modern take on traditional Jordanian decor; the colorful Persian carpets and quintessentially Arabic carvings on the arched walls contrasted beautifully with the top-notch facilities. The rooms are absolutely gorgeous, the food was delicious, and the sea view from my little terrace was the perfect spot for a morning coffee. If I could afford it I'd live here. The only drawback is that you are paying for the luxury – about $3,000 for a week.
If what you need is to relax and unwind by the beach, this is the hotel you've been looking for.
Amman
Continuing the theme of glamour, does it get any fancier than a stay at The Ritz? Even from the outside the hotel oozes luxury. 
I don't regret my weekend here, despite the price. The rooms are exquisite, and the attention to detail was second to none. I hardly left the hotel, choosing to spend my time at the spa, the indoor and outdoor pool, and the gorgeous lounge in my room that all inspired some much-needed down time – oh, and did I mention the hot tub? But like all things luxurious, prepare to pay for it! Rooms start at around $2,000 for a one-week stay.
Wadi Musa
On my visit to Wadi Musa, I changed it up a bit and tried out glamping at The Rock Camp Petra! There's something special about sleeping in the desert so close to Petra. The camp has a restaurant with tasty traditional dishes, make sure you have dinner there one of the nights.
The great thing about glamping in the camp's massive white domes was that I felt like I was close to nature without losing any of the comforts of modern life, there was even an electric kettle in my room – which was a plus as I'm a big fan of tea! I would consider hiring a car for your stay though, just to make it easy to get back and forth to attractions.
There's a cool canyon nearby that you can walk into to start your day which is cool. Other pros include the outdoor pool, friendly staff, and a family-friendly environment. Tents start at about $100 a night for a twin dome (but they're huge and you're not sleeping on camping mats!).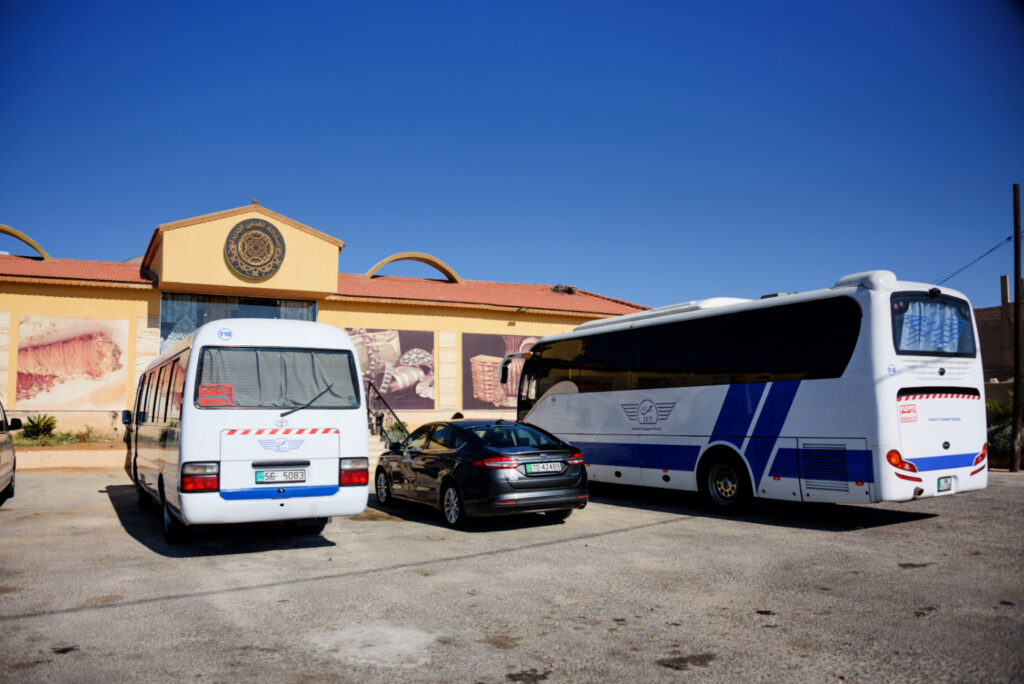 The Cost of Transportation in Jordan
Luckily all of Jordan's attractions aren't far away from each other at all. After getting night bus after night bus and taking multi-day boats in Egypt, traveling around Jordan felt like a real breeze.
The only problem is the informality of the bus system in Jordan. It's really hard to get scheduled times for any route, and most of the buses you'll take are like minibusses, not larger buses as you might be used to.
You'll basically have to ask around when you're at the place of departure to find out where you can take public transport from, and don't expect anything to run on a speedy schedule. Sometimes the minibusses wait until they're full to set off, so there isn't an exact time of departure.
One bus company that does run larger, air conditioned buses is Jordan Express Tourist Transport (JETT), which has actual timetabled routes between Amman, Petra, Aqaba, and a few other destinations. You can check times online!
Since the iconic Hejaz Rail train route between Damascus and Amman was taken out of service there's no chance of traveling around Jordan by train anymore, which is a real shame.
There are some short domestic flights in the country run by Royal Jordanian which are cheap, though not super frequent, and can save you some time if you're on a super tight schedule. Though I have to say I never needed to take a flight whilst I was there.
I used Uber frequently when I was in Amman to get around cities, I mostly felt safe though I did have the occasional driver hit on me (which I of course reported!) or be a bit rude. I took taxis a few times too, and it was a similar story. Traveling as a group or with someone else often avoids this (frustratingly it seems being a solo female traveler doesn't always lend to being respected…).
I'd recommend Uber over a taxi so that you can report if anything does go wrong. They're cheap too! I paid about 1 Jordanian dinar to 3 Jordanian dinar for longer trips within the city even late at night.
If you want to hire a car whilst you're there look into getting a car from Reliable, located in Abdoun in Amman. Some of the car rental outlets you'll find around the city aren't much more than a man with a cell phone and some old cars, so make sure you research where you get your car from beforehand!
Per day you'll pay about 25-30 Jordanian dinar at Reliable for a super new manual or automatic car, a fair price given how much freedom it'll allow you and how much hassle it can save you! They also bring the car to you and have great insurance policies and customer service – I wouldn't hire from anyone else for the small drop in price you'll get.
Typical routes and prices
Amman to the Dead Sea by taxi: To save you the hassle and time of looking and waiting for minibusses from Amman to the Dead Sea, get a group together and take a taxi! It takes less than an hour and shouldn't cost more than some 75 Jordanian dollars for a round trip.
You will need to negotiate with the driver that they drop you off and pick you up, it can be tricky finding a taxi back from the Dead Sea if you haven't arranged anything beforehand. Luckily, this means you can talk to them about stopping off at some of the souvenir shops along the hotel strip near the Dead Sea to get some Dead Sea mud and other unique gifts!
Flight from Amman to Aqaba: If you're in a real hurry to get to Aqaba from Amman you can get a reasonably priced flight between the two with Royal Jordanian. It costs about 50 Jordanian dinar and takes just over half an hour. However, if time allows, it's best to be kind to the planet and take the short 4-hour bus instead!
Wadi Rum to Petra by bus: Daily departures on JETT buses are available for this route. When I was in Jordan there was only one service each day, departing at 9 am for 15 Jordanian dinar per head. The journey takes about 2 hours. 
Aqaba to Madaba by car: It's a four-hour drive between Aqaba and Madaba. As you cross a large chunk of the country getting between the two it's worth considering hiring a car and driving the Jordan Valley Highway which has a stretch of road along the Dead Sea. This route is much better rated by many Roadtrippers than the more well-known Desert Highway which is a bit monotonous as it is, as the name suggests, just desert.  
Amman to Jerash by bus: There are regular minibusses from the North Terminal Bus Station in Amman, though it's worth setting off early in the morning. It's super cheap too, about 1 Jordanian dinar each way!
Alternatively, there are scheduled buses on Saturday and Thursday at 8:15 with JETT, but they're about 15 Jordanian dinar, so it's not worth the price difference for a 40-minute trip.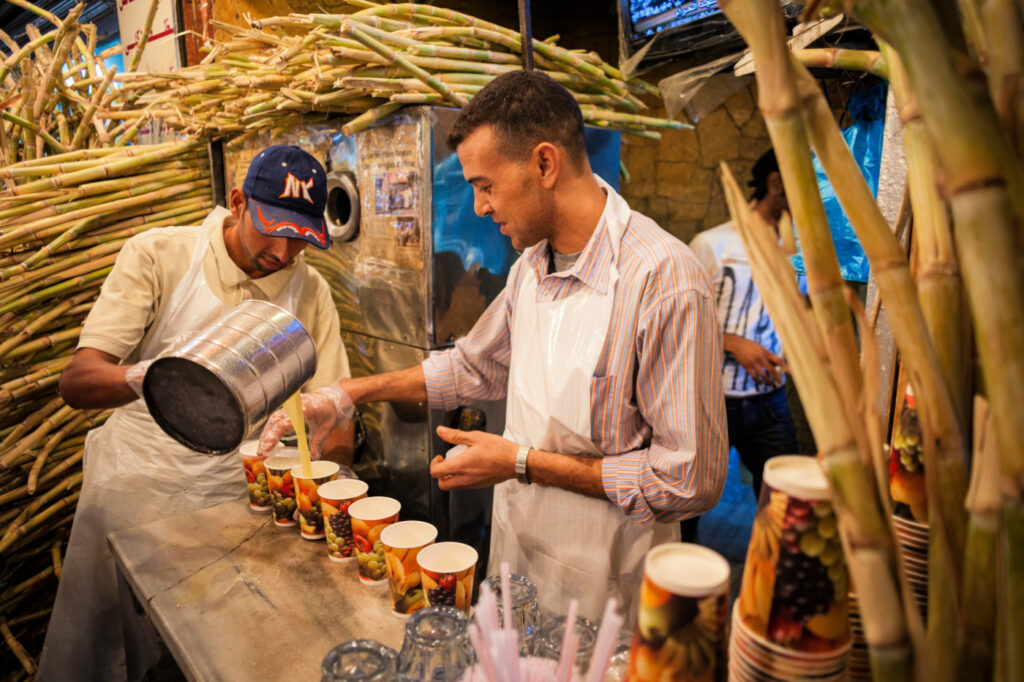 The Cost of Food in Jordan 
The food in Jordan is absolutely mouth-watering. I still can't bring myself to buy hummus in the supermarkets back home because of how disappointing it is after trying the real stuff in Jordan. Their food is always flavorsome and filling, and most plates are a meze of dips, fresh salads, and something bulkier like falafel or meat. The best part is – you can eat like a king for almost nothing!

In a non-touristic area, you can expect to pay around 1 Jordanian dinar (around 1.40 dollars at the time of writing this article) for a huge pot of creamy hummus, 75 cents for a falafel wrap, and one dinar for most on-the-go street cart snacks. Whilst I was in Jordan I also treated myself to meals in fancy restaurants because the price was so fair and the quality of the food was exceptional.
At fancier restaurants, I don't remember ever paying more than $20 a plate, and often I'd have meals at very trendy cafes or high-end dining spots for less than $15. When it comes to gastronomy Jordan is a gold mine.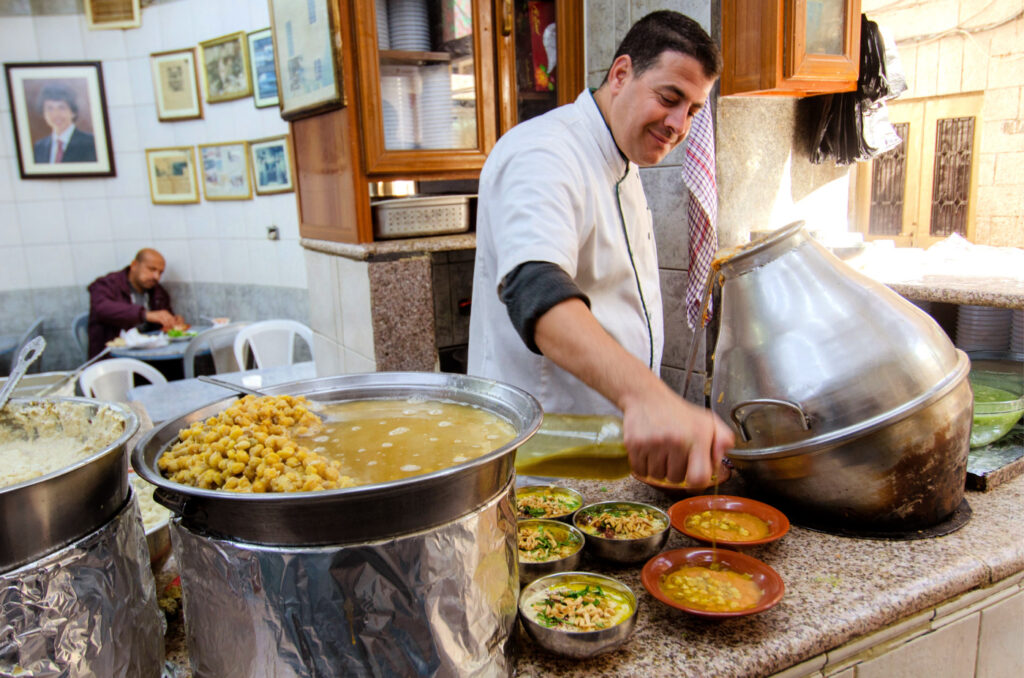 Restaurants worth visiting in Amman
Before we move on to famous dishes and a price breakdown, I wanted to mention a few of my favorite food spots in the capital.
Jasmine House is a higher-end restaurant in the city which you'll need to book in advance to guarantee to get a table at this gorgeous, well-ambient restaurant. It's a bit pricey comparatively, but still very reasonable. One night I couldn't get a table at the Jasmine House so I stopped for an impromptu dinner at the little Oliva Pizza and Pasta restaurant a few blocks up, I paid about $10 and had some of the best pizza of my life, so you can head there if it's full at Jasmine House and you weren't able to book in advance.
An iconic spot you absolutely can't miss in downtown is Hashem, a pookie local restaurant that is notorious amongst the locals. It's nothing fancy, it doesn't even have a menu – but they have some of the best hummus, ful (a bean dish eaten across the Middle East), and falafel. It's an absolute must-visit.
The Cost of Breakfast
A hearty breakfast of an assortment of dips and finger foods shouldn't cost you more than 3 dinar at a local restaurant or street food cart, which are always the best places to have breakfast anyway. I'd imagine you'd pay somewhere between 5 dinar to 10 dinar at a more upper-end restaurant, but I have to admit I only ever ate breakfast at home or in very local and cheap spots. I did once have a fancy poached egg on avocado toast at a hipster cafe in a trendy area and that was only 8 dinar!
The Cost of Lunch and Dinner 
If you're looking for something more filling for lunch or dinner, there are loads of options you can easily get your hands on at a Jordanian restaurant. My favorite Jordanian dish is Maqluba, especially since you can often find vegetarian versions, which is a rice and vegetable dish famous for being served "upside down". It's a hearty and nourishing meal that cheers up a hungry stomach.
Another famous Jordanian dish is Mansaf, which is in fact the national dish of Jordan. It's usually served on a big platter and shared between friends and family. The lamb meat that stars in this dish is prepared in a fermented yogurt sauce and served over rice.
If you want to try something tender and slow-cooked opt for a Zarb, the dish comes from Bedouin culture and refers to the process of "cooking underground for hours". It's usually a mix of succulent meat and vegetables.
Personally, I spent most of my time eating falafel and hummus, which I'd get on the go or at a small local restaurant as I explored. The shawarmas are delicious too, and I have to say I don't remember having a bad meal in Jordan! Add dishes like freekeh, galayet bandora, and rashouf to your must-try list too.
Expect to pay between 75 cents to 3 dollars for an on-the-go wrap, and somewhere between 4 dinar and 15 dinar for a typical dish at a good restaurant in a local area, and around 20 dinar upwards at a high-end restaurant in a more lucrative area.
Overall costs per day
If you're happy to cook, you can spend as little as 5 Jordanian dinar a day on food, cooking simple dishes like pasta and rice with vegetables. I used to do a weekly shop for about 30 Jordanian dinar at the local fruit and vegetable shop and corner shop just behind my flat.
Unfortunately, drinking isn't so cheap in Jordan. If you skip out on alcohol you'll save yourself a lot of money. At a bar, a large beer will cost you about 5 Jordanian dinar. It's not always that easy to get hold of alcohol either, smaller more local restaurants don't serve it and it can be a bit pricey at more upper-end spots. This isn't surprising since over 90% of the population are Muslim. Definitely refrain from doing anything silly like drinking on the street.
Whilst there are a number of bars (even an Irish-pub-styled bar called Dubliners in Amman) and liquor stores in the bigger cities, like Aqaba, Madaba, and Amman, it can be really hard to get your hands on alcohol in smaller cities and towns. Perhaps consider Jordan a detox?
If you don't mind splashing out on food and you want to be dining at high-end restaurants for every meal, budget somewhere between 40 to 60 Jordanian dinar a day.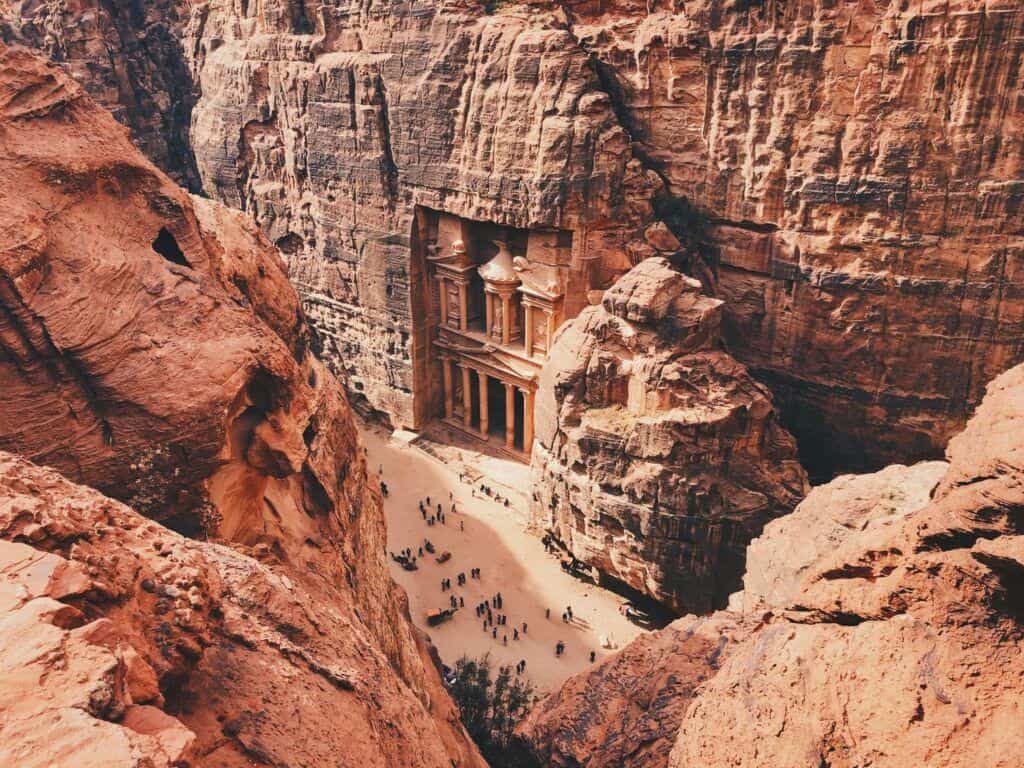 The Cost of Activities in Jordan
There are a few top destinations in Jordan that make it onto every traveller's list, like the Dead Sea, Wadi Rum, and Petra. It's fair to say they're famous for a reason and although I often recommend skipping super touristy attractions if they aren't worth the hype, none of these should be missed.
Wadi Rum
This area of breathtaking desert wilderness in southern Jordan, very near to the country's border with Saudi Arabia, is home to towering red sandstone mountains and an array of naturally formed arches and bridges.
Apart from the gorgeous natural landscape it also has a unique history. It was once inhabited by the Nabateans (who built Petra!) and it's said that Lawrence of Arabia himself passed through the area during the Arab Revolt.
There are loads to do here, like hiking, rock climbing, going on camel-back rides, stargazing at night, and off-road jeep tours! Be sure to visit the desert's most impressive natural landmarks whilst you're there, like the Burdah Rock Bridge, Jebel Um Ishrin, and Jebel Rum.
Petra
This world-famous archeological site was declared a UNESCO World Heritage Site in 1985, and the minute you arrive you'll understand why. It's hard to believe that the Nabatean people who lived in the surrounding desert were able to carve such intricate and beautiful structures into the pinky-orange desert stone as far back as the 6th century BCE.
Petra was also an important stop along the spice trade route and was occupied for a period by the Romans. The narrow and winding gorge known as the Siq that serves as a gateway into the city makes arriving at Petra even more spectacular, and builds up your anticipation!
There are many impressive structures in this ancient city, but it must be said that the Ad Deir (the old Monastery) and the Al-Khazneh (also known as the Treasury) totally took my breath away. I can see why they're favorites amongst many visitors.
I'd really recommend getting a two-day pass for Petra, and coming twice. Spend the first day exploring the tourist hotspots and the second looking a little further afield and soaking in the finer details.
You can get a tourist eVISA known as the Jordan Pass that includes a free VISA upon arrival and your entry (for one or various days) to Petra and other famous sites, so it's worth doing that before you set off on your holiday. Otherwise, you'll have to pay a 50 Jordanian dinar pass once you're there (though a two-day pass is under 60 Jordanian dinar so it's totally worth getting even if you don't get a Jordan Pass).
Jerash
Old, charming, and riddled with culture sum up Jerash well. It's a top-pick destination for history buffs, but despite the fact that I have very little interest in history I loved the city and I have to admit I was very impressed.
Jerash was built by the Semitic people sometime around the 4th century BCE and was conquered by the Romans in the 1st Century CE. It is considered one of the most important examples of Roman provincial architecture and was nicknamed the "Pompeii of the East" because of it. Did I mention it's a UNESCO World Heritage Site? You'll be collecting a few of those during your stay in Jordan…
I'd recommend getting there early in the morning and heading straight to the old roman ruins, the Oval Plaza, twenty minutes walk outside of town before the heat gets too unbearable, and then spending the hours of the late morning and afternoon exploring the town itself.
If you're tight on time and you can't visit them on separate occasions, this tour that takes you to Umm Quais, Jerash, and Ajloun Castle in one day is perfect! At around $100 it'll be more expensive than doing it independently, but think of all the planning and time you'll save and it's quickly worth the extra bucks. 
Snorkel in the Red Sea
Aqaba is riddled with diving agencies and snorkeling shops. Personally diving in the Red Sea was something I never knew I wanted to do, until I did it. The bright corals and exotic fish of all shapes and sizes put the day at the top of my traveling experiences within minutes. 
Did you know the Red Sea is home to over 1,200 species of fish? As well as dolphins, sea turtles, eels, and more! And the best part is, you don't even need to know how to swim to go diving (that seems totally strange I know, but essentially the instructor just holds onto you and takes you for an underwater tour and all you have to do is remember to breathe!).
I went on this tour and loved every moment. Plus, my guide was super friendly and calmed me down substantially when we got into the water and the panic kicked in! At just under $50 you can't go wrong.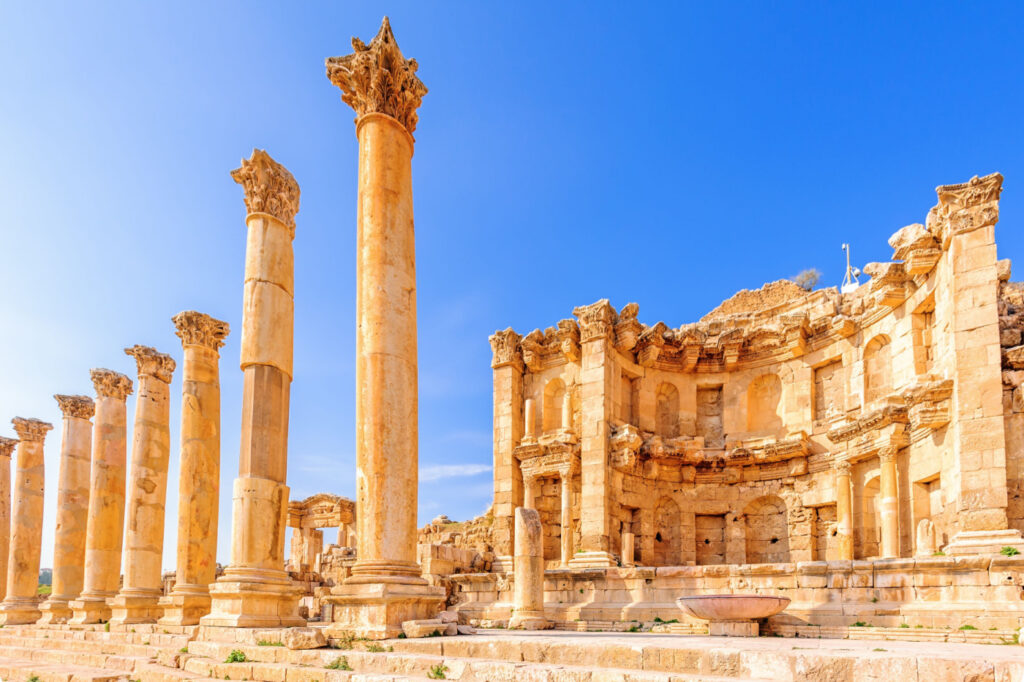 Total expenses
If you stick to mid-range accommodation and dining options and do one big activity a week, overall it'll average out at about $30 a day on accommodation, $5 a day on transport, $10 a day if you're cooking, and from as little as $15 a day if you always eat out, and some $25 a day for activities.
That means that if you enjoy the country and aren't holding back or splashing out you'll spend about $70-75 a day in Jordan.