It took me six years to get to Japan.
Why?
I didn't think I could afford it.
Every time I seriously looked into visiting, I would wince at the high cost of the train passes, read about how the hotels were super-expensive, and then fly to Vietnam instead. Or Taiwan. Or even Australia. Japan was simply too expensive for a budget traveller, so I decided to save it for when I was rich.
With that not happening any time soon, I decided to blow my money anyway, because I wanted to go and the gushing blog posts from travel writer friends had convinced me it would be worth the splurge.
Imagine my surprise, then, when I discovered that it really wasn't that expensive.
I arrived in Japan fully expecting it to be the priciest country I've ever been to, but I discovered it's more on a par with Western Europe or North America, and cheaper than Australia. It was way more affordable than Namibia, where my daily expenses came to $132, and way, way, way more affordable than the Democratic Republic of the Congo, where I averaged, um, $550 a day.
Anyway! This is about the cost of travel in Japan rather than my poor financial decisions, so let's get started!
My 16-Day Japan Itinerary
Here's a brief rundown of where I visited over my 16 days in the country — I think I managed to put together the perfect itinerary for first-time travellers to Japan.
Tokyo: 4 nights
Hakone: 1 night
Yudanaka: 1 night
Kanazawa: 2 nights
Takayama: 1 night
Kyoto: 3 nights
Hiroshima: 1 night
Osaka: 3 nights
What's Included in this Post
This budget breakdown covers how much I spent on accommodation, transportation, activities, food, and whichever miscellaneous items popped up while I was in country.
I've not included my flights into and out of Japan because this is going to vary significantly based on where you'll be arriving from. In case you're interested, though, I paid $320 for a return flight from Rome to Tokyo, which I scored through browsing my favourite site for flight bargains, Secret Flying.
The amounts in this guide are listed in Japanese Yen and U.S. dollars, simply because the vast majority of my readers are from the U.S. And, as always, I do not accept sponsored trips, so everything listed in this post is something I personally paid for with my own money.
Okay — let's get started with my expenses.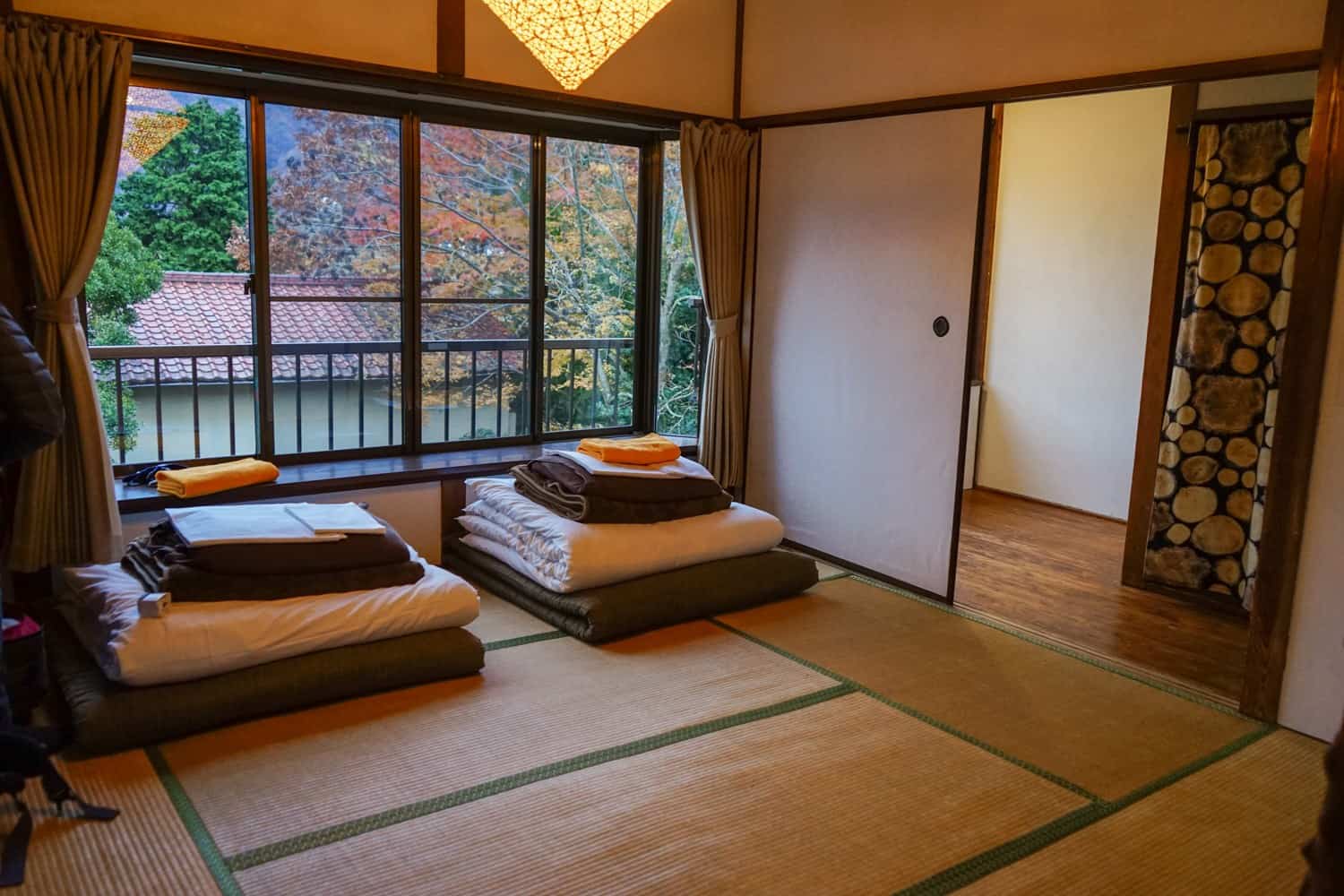 The Cheapest Accommodation Options in Japan
Like practically every country in the world, prices in Japan have increased post-pandemic.
In 2023, you'll be paying a little more for everything than you would have done a few years ago — in fact, prices almost doubled between my first trip in 2017 and today! — however costs are still on a par with most Western countries. Travel in Japan shouldn't be too devastating to your travel budget.
I'll start on the lower end of the spectrum. If you're willing to put in the time and effort, it's possible to avoid paying for accommodation entirely.
Couchsurfing exists in Japan and allows you to stay with a local for free, usually sleeping on their sofa and enjoying a local's insight into life in their country. Yeah, it's not the most comfortable of living situations, but if your budget's tight, it's worth sending out a few requests to hosts to see if anything comes of it. You can browse through the 300,000+ Japanese hosts on the Couchsurfing site — just be sure to read the references of anybody you choose to stay with.
Housesitting is a more upmarket option, aimed at mid-range and luxury travellers. Housesitting involves taking care of somebody's house for free while they're away, often (but not always) looking after their pets, too. It's best for long-term travellers or retirees, as you can't pick and choose dates and destinations, so you'll need to have a lot of flexibility as to where you go and at what time of year. If you do have that freedom, though, it's a wonderful way to cut down your travel expenses, soak up some home comforts, and live like a local for a while. Trusted Housesitters is the main site for getting started with housesitting, as they have the highest number of listings.
Finally, when it comes to free accommodation, you could take a look at WorldPackers in Japan, where you'll be able to volunteer for locals in exchange for food and board. There are some seriously cool options available on the site right now, from helping harvest honey for a bee farm in the countryside to lending a hand in the garden of a Buddhist temple. Readers of this site get a $10 discount for WorldPackers with the promo code neverendingfootsteps.
If you're not looking to travel for free and just want a clean and comfortable room to sleep in, there are plenty of great budget options, too.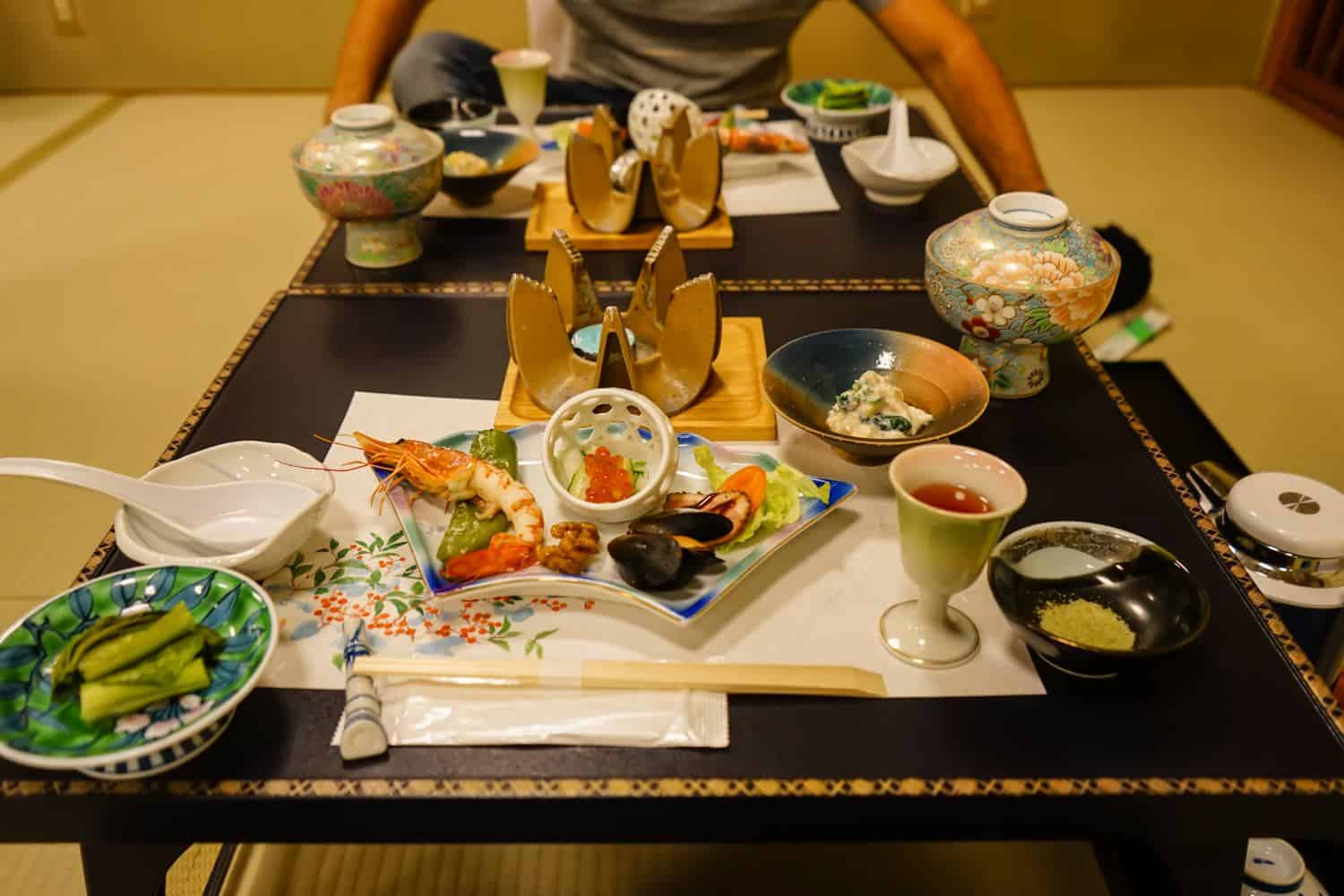 And then we have hostels. In Japan, you'll come across hostels all over the country, finding them on tiny islands, large cities, and even within the national parks. They're one of your best options for saving money.
Hostels in Japan are on a par with the rest of major cities in East Asia, and you can expect to spend $25 a night for a dorm bed for a well-reviewed hostel, with the price increasing slightly to around $45 a night for the absolute best of the best.
When it comes to private rooms in hostels, you'll be looking at $50 a night for a clean, basic room in a good location, so if you're travelling with friends or with your partner, you may find it cheaper to grab some privacy over settling for two beds in a dorm room. $90 a night will get you an exceptionally well-reviewed private room in a hostel.
I use HostelWorld to find the cheapest hostels, as they tend to have the greatest number of listings at the lowest prices.
And then there are hotels, which I'm going to jump into next.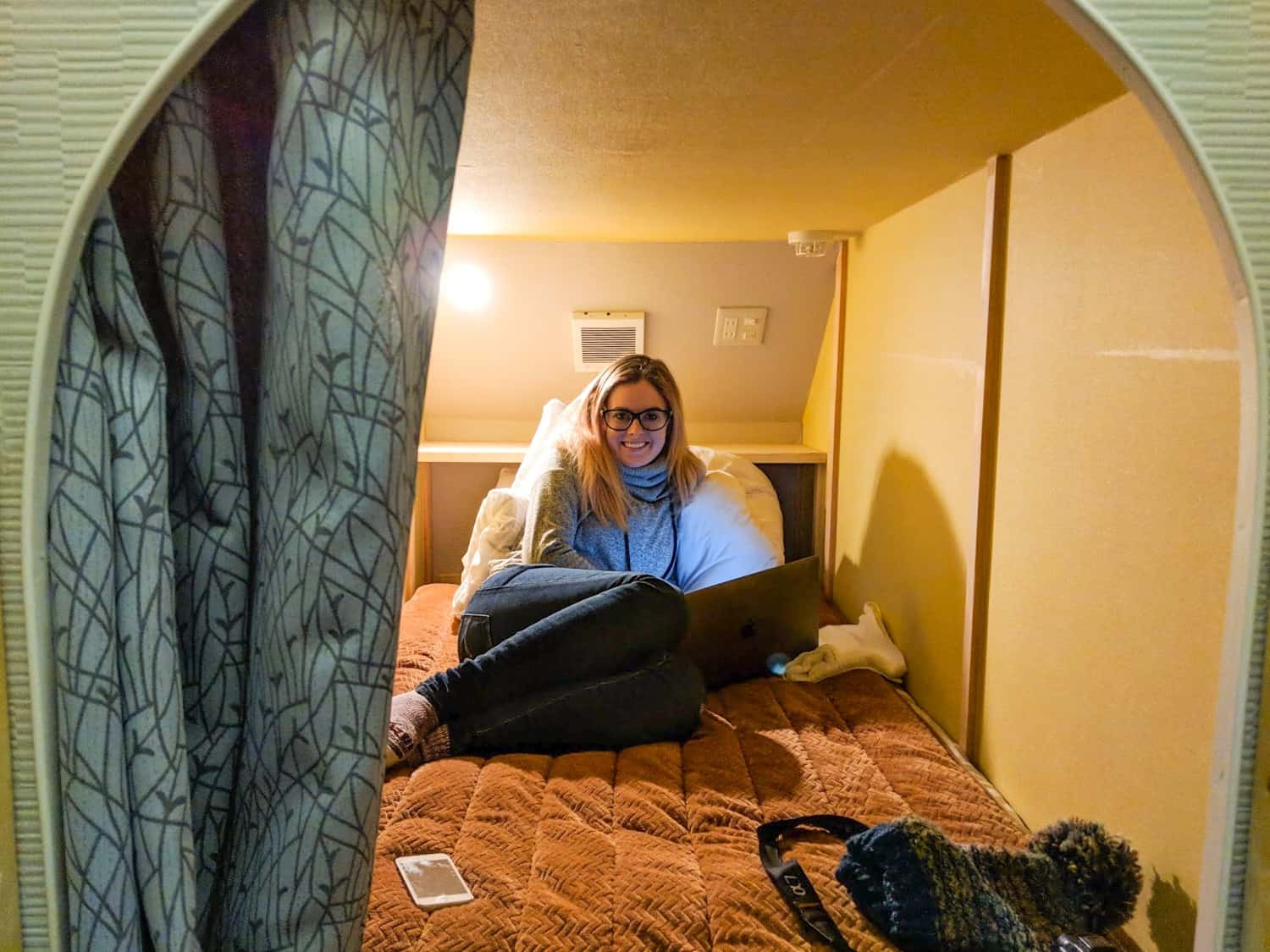 The Cost of Accommodation in Japan
There are so many different types of accommodation in Japan! I attempted to experience as many as possible while I was in the country.
I stayed in a capsule hotel, prioritised hunting down a ryokan, slept on a tatami mat floor, stayed in family-run guesthouses, and checked out some pretty cool hostels. While I did attempt to save money by staying in some cheaper places, I was also happy to splurge on extremely well-rated rooms, too.
As always with these budget breakdowns, I like to share the prices of where I personally stayed, along with a description of the property and whether I'd recommend choosing it, too — hopefully this helps make your trip planning easier!
I visited Japan with my partner, Dave, and we travelled on a mid-range budget; searching out good value accommodation that was highly-rated and in a central location. We prioritised locally-run properties that weren't too flashy or fancy; for us, a cosy vibe, unique furnishings, and welcoming staff are far more important than the generic decor of a hotel chain.
(Oh and just a quick note: hotels do charge different prices across a range of dates, depending on how busy a certain travel period is going to be. Because of this, it's hard to be super accurate in the costs that I list. To get to the quoted prices below, though, I looked at the rates across the next six months and took the average: it could be slightly cheaper or more expensive, depending on when you're visiting.)
Tokyo: $135 a night
Odds are, you're probably going to kick off your Japan adventures in Tokyo, and if so, it only makes sense to really throw yourself into the local experience. That's why we decided to stay at this lovely onsen-ryokan in Shinjuku. (Whenever readers ask me which neighbourhood to choose in Tokyo, I always recommend Shinjuku or Shibuya.) The reason why I loved this specific property, though, is because it's a ryokan (traditional Japanese Inn) that also has an onsen (hot pool). It's a great way to jump immediately into all things Japanese.
And it was wonderful; my favourite hotel in the country. The rooms were small and cosy and felt super-traditional and calming. The views over Tokyo at night from the window were incredible. And the rooftop onsen? With free popsicles afterwards? So good. It's located in a quieter neighbourhood, but still only a 10-minute walk to the subway. I really recommend this one!
Hakone: $80 a night
In Hakone, we opted for a private room in a lovely guesthouse, with a tatami mat floor to sleep on and a private onsen on-site. The photo of the tatami mat room above is of our room here. It ended up being another one of our favourite stays in Japan! The staff were lovely and there was a restaurant/bar that served up fantastic pizzas. It had a cosy and chilled-out atmosphere, with great food and wine, and lots of blankets to snuggle up with as we ate. It was also worth staying here just to experience the private onsen — we got to go in as a couple!
Yudanaka: $105 per night
In Yudanaka, we opted for a stay in a wonderful little ryokan; this one was even more traditional than the one in Tokyo! Often, ryokans can be super-expensive in Japan — as much as $500 a night for the experience — so I was thrilled to have stumbled across a more budget option in Yudanaka. It was run by an adorable Japanese couple and their house came with a private onsen, return transport to see the snow monkeys, and one of the most extravagant meals of my life. A kaiseki is a multi-course (like, 20 courses) meal that will see you eating roughly a week's worth of food in a single night, sampling fresh, local-to-the-region Japanese cuisine. It was phenomenal, and I loved having no idea what anything was. It even included homemade plum wine, which was so good! I highly recommend the experience (although strongly advise you not to add breakfast to your booking — we were still so full that we couldn't eat any of it!)
Kanazawa: $65 per night
Kanazawa is home to some seriously cool accommodation! We had a hard time choosing where to stay because every property looked so cosy and inviting. In the end, we settled on this minimalist, modern set-up — it was great value for money relative to most other places we stayed in Japan, especially when you consider it's only been open a year. It's in a great location, right outside Omicho Market, where you'll sample the best sushi of your life. Also within walking distance is Kanazawa Castle and Kenroku-en Garden, so you're really staying in the heart of it all. I recommend signing up for the traditional Japanese breakfast, as you'll likely not have had anything else like it before! There's also an onsen and laundry facilities (always appreciated mid-trip!), and the staff were so sweet and kind.
Takayama: $76 per night
In Takayama, we stayed in a small, locally-run guesthouse in the centre of town. It felt like particularly good value for Japan, as it was one of the few places we stayed that you could describe as spacious! It even had a kitchen and washing machine. The beds were comfortable and the hotel was within walking distance of everywhere, including the train station. It was quiet, the staff were lovely, and overall, it made for a comfortable stay!
Kyoto: $84 a night
In Kyoto, we stayed in a cosy hotel in the heart of town — we loved this place so much in 2017 that when we returned to Japan this year, we knew we'd have to stay there again! The property was in a fantastic location for exploring Kyoto and the bathrooms were nicer than anywhere else we stayed. It's one of the top-rated guesthouses in the city — while also being one of the cheapest — so when you take that into consideration, I'm convinced you won't find anywhere better to stay in Kyoto.
Hiroshima: $40 per bed
In Hiroshima, we opted for a capsule-style hostel because I didn't want to leave the country without trying one — you can see a photo of the "capsule" at the top of this section. Fortunately, we found ourselves in a room with only two other people staying there, so our capsule room with 20-odd beds was light on snorers. The owner of this place was ridiculously lovely and it was within walking distance of all of the monuments and activities. Really great bathrooms, a fun common area, and a cheap price: surprisingly, I would have stayed another night!
Osaka: $108 a night
I rounded off my time in Japan with a little bit of a treat, opting for this four-star hotel that offered a ton of freebies. It's all about the onsen here — it's open all day and is simply beautiful. After you've finished your daily bathe, there's free ice cream to eat, free comics to read, massage chairs to relax in, and even free ramen to slurp on. Yes, really! It was in a great location for Osaka — just a couple of blocks from the nearest metro station. The decor was calming and traditional; the perfect way to say goodbye to Japan.
In total, I spent an average of $97 per day on accommodation over my 16 days in Japan.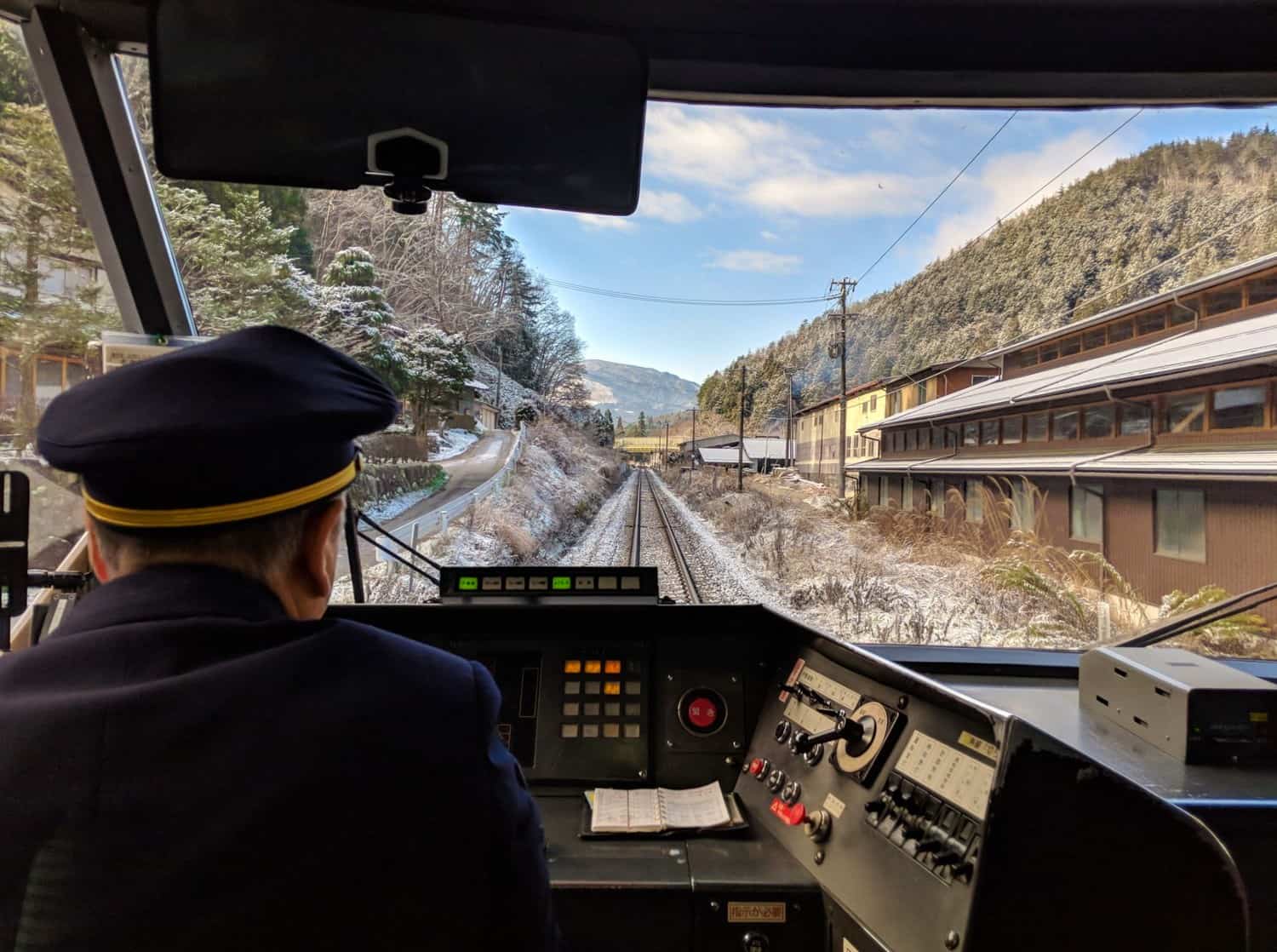 The Cost of Transportation in Japan
Okay, so let's talk about transportation now. And specifically transportation post-2023.
It used to be the case that practically every visitor to Japan would invest in a JR pass (a train pass that grants you unlimited rides over a certain time period). After all, the best way to explore this country is by train, and by buying said rail pass, you'd be saving a significant amount of money on your trip — especially if you were taking a similar route to my one. A JR Pass pre-October 2023 would have saved me a whopping $175 over buying individual train tickets.
Seems like a no brainer, right?
Well.
Well.
In October 2023, the Japan Rail Pass skyrocketed in price. No exaggeration here: prices increased by an incredible 70%.
What a baffling decision.
What that means is that it's not such a clear-cut decision anymore. The Japan Rail Pass still holds some benefits: If you're a first-time visitor to Japan and don't feel too confident about buying multiple single-journey train tickets, the pass will make it a lot easier: you just show it at any station and get on a train. You won't need to worry about any extra charges and will have the flexibility to take train-based day trips whenever you want.
For most travellers, however, the value proposition is simply no longer there. For example, my 16-day itinerary (Tokyo – Hakone – Tokyo – Nagano – Kanazawa – Takayama – Kyoto – Nara – Kyoto – Hiroshima – Osaka) would cost around 50,000 Yen ($350) with single tickets. However, a 14 day rail pass is priced at 80,000 Yen ($530)!
Alas, the Japan Rail Pass is no longer something I recommend — unless you're going to be taking enormous, lengthy rail journeys (like across the whole country) in a short period of time. Alternatively, if you do want that added sense of security and ease by not having to juggle a dozen train ticket bookings, you may find the extra price worth it.
So with all that being said: you're most likely going to be using the JR West website to book your single train tickets online. This covers the entirety of Japan that's west of Tokyo (all of the places I visited were west) and allows you to book your train tickets all in one place — and then you can reserve a seat on said train one month before its departure date. Honestly, it's pretty easy to use, book, and reserve — and being able to do it all online means you can get everything sorted before you step foot in the country.
Let's take a look at the some of the prices that a typical train journey in Japan costs — in this case I'll use my itinerary mentioned above to plot out the costs:
Tokyo – Hakone: 2,500 Yen ($17)
Hakone – Tokyo: 2,500 Yen ($17)
Tokyo – Nagano: 7,500 Yen ($50)
Nagano – Kanazawa: 8,500 Yen ($57)
Kanazawa – Takayama: 5,000 Yen ($33)
Takayama – Kyoto: 9,000 Yen ($60)
Kyoto – Nara: 700 Yen ($5)
Nara – Kyoto: 700 Yen ($5)
Kyoto – Hiroshima: 10,500 Yen ($70)
Hiroshima – Osaka: 10,000 Yen ($67)
So if you were to replicate my Japan route exactly, you would end up spending $381 on rail tickets. It sounds like a lot of money but I do want to stress that the trains in Japan are some of the best in the world. They're spotless, comfortable, modern, and lightning-fast. You will feel like you're travelling in luxury.
If you're not down to spend hundreds of dollars on trains, then the buses are going to be your best option. They're cheaper, slower, less comfortable, often run overnight, and are complicated to book. The best sites I've found for booking long-distance buses is Willer Express and Japan Bus Online — but even they don't run buses for several of the routes I took on my trip.
I thought it would be a good idea to share the cost of buses for the trip I took, so that you can compare them to the train and see how much money you could save.
Tokyo – Hakone: 2,250 Yen ($15)
Hakone – Tokyo: 1,800 Yen ($12)
Tokyo – Nagano: 2,200 Yen ($15)
Nagano – Kanazawa: No bus for this route
Kanazawa – Takayama: 3,300 Yen ($22)
Takayama – Kyoto: 3,800 Yen ($25)
Kyoto – Nara: No bus for this route
Nara – Kyoto: No bus for this route
Kyoto – Hiroshima: 4,300 Yen ($29)
Hiroshima – Osaka: 4,000 Yen ($27)
As you can, see prices are generally around half what they are for the trains. You'd be looking at paying $212 in total for taking the bus, with three trains replacing the routes where I couldn't find any existing buses.
We've covered the main ways to get in between the destinations, so now it's time to take a look at how much you could spend on transportation within the cities.
Fortunately, this was where I found Japan to be really affordable. I love to explore cities on foot and I found many of the places I visited to be surprisingly walkable. In total, I spent $6 on the metro in Tokyo, $7 on the metro in Osaka, and $2 on the metro in Kyoto! Everywhere else, I just walked.
A reasonably big expense was our Hakone Free Pass (spoiler: not free), although this was more of a combined transportation and activity cost. At a cost of 6,100 Yen, or $41, It provides you with unlimited transport around Hakone (where you'll find Mount Fuji), and discounted entrance to all the attractions in town. If you're going to Hakone, this will save you money because it covers everything you'll definitely do there.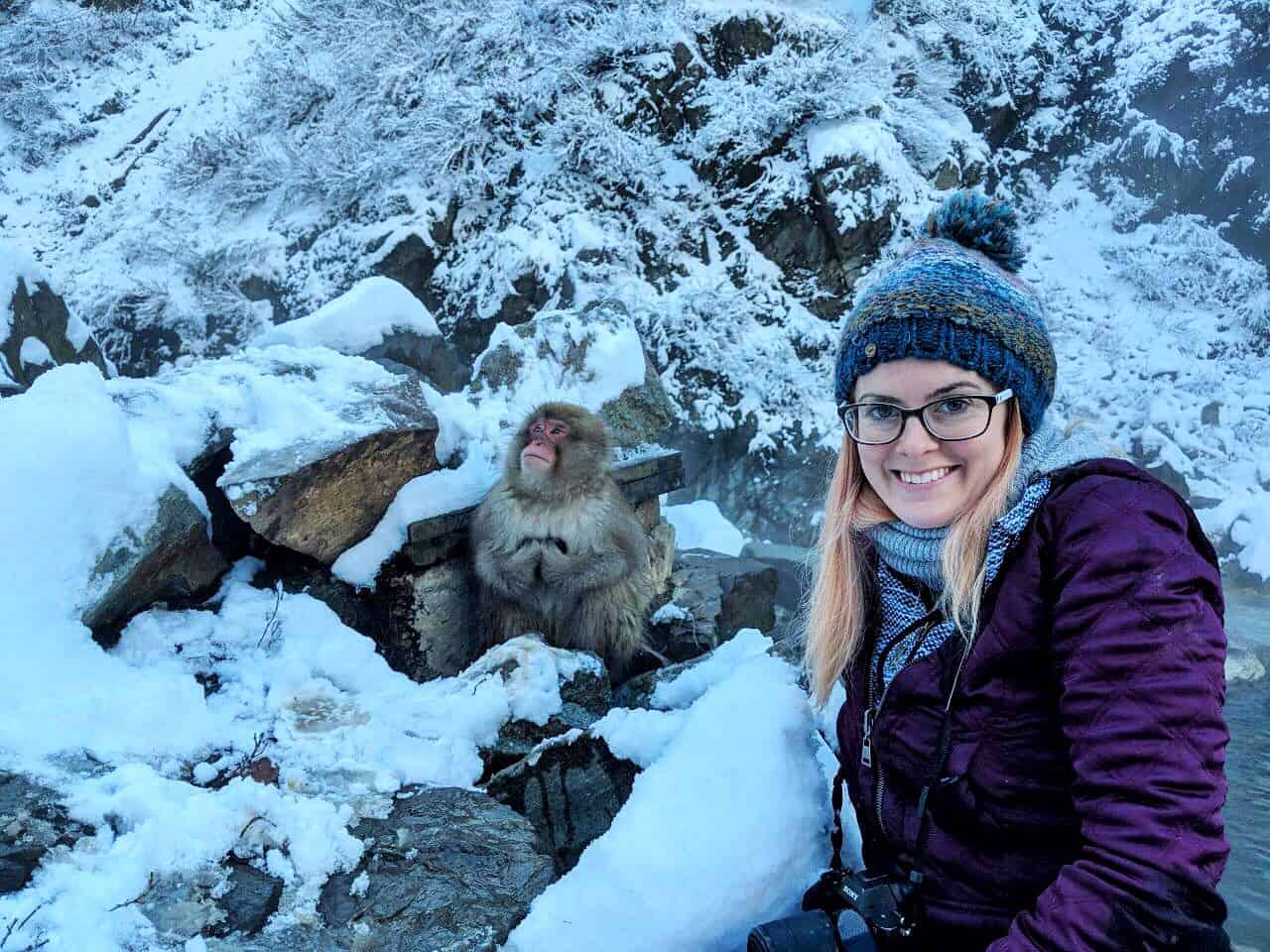 The Cost of Activities and Entrance Fees in Japan
Activities and entrance fees in Japan were very reasonably priced, and I never found myself outraged over the cost of anything. You'll typically pay less than $5 to enter most temples, museums, and gardens.
Here's how I spread my cash around:
Entrance fee for the hedgehog cafe in Tokyo: $13/1400¥
Entrance to the Snow Monkey Park: $7/800¥
Entrance to Kenroku-en gardens in Kanazawa: $3/310¥
Entry to the Golden Pavilion in Kyoto: $3/300¥
Entry to Ryoan-ji zen garden in Kyoto: $5/500¥
Ticket for the Hiroshima Peace Memorial: $2/200¥
My total cost of activities in Japan averaged out to $2 a day.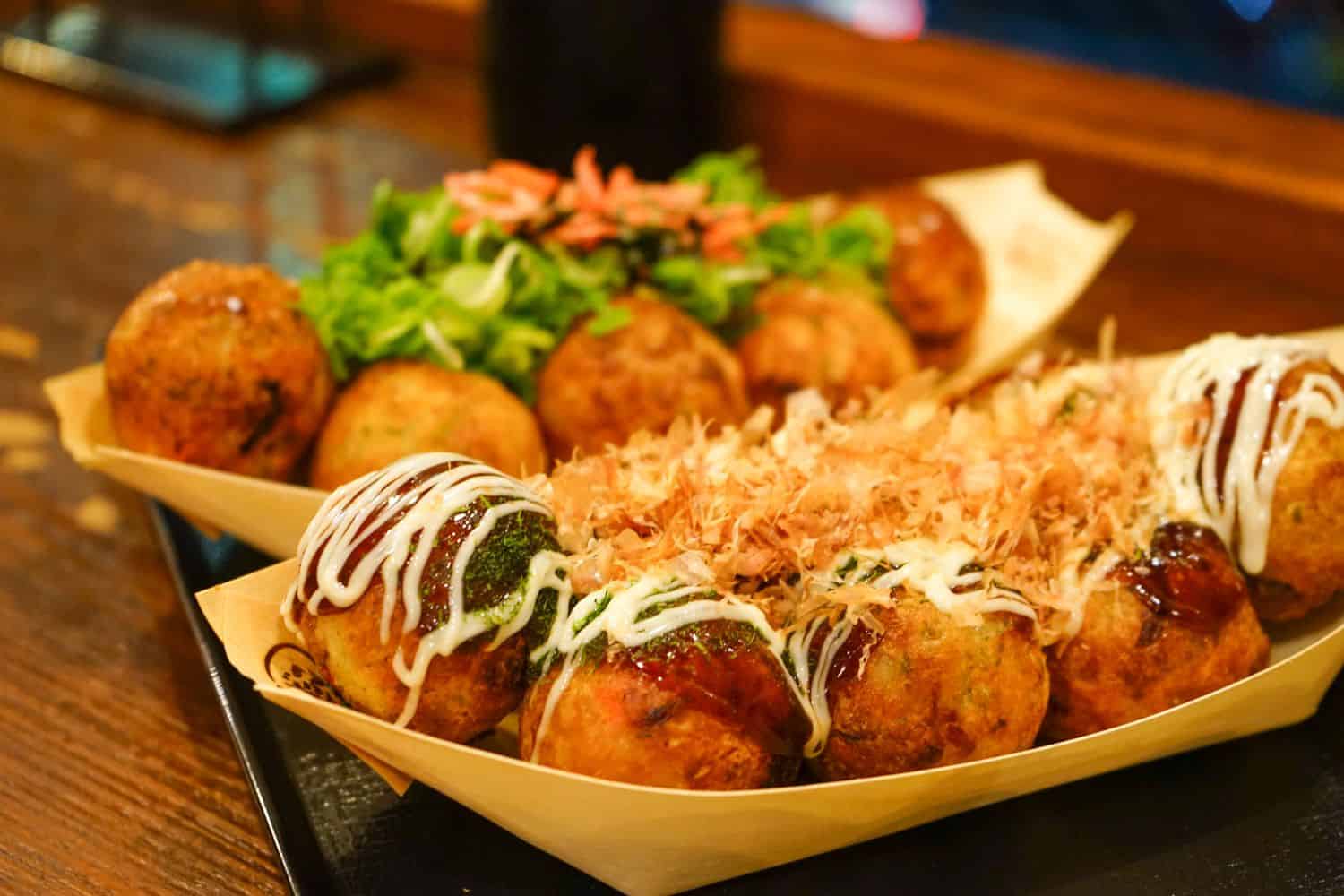 The Cost of Food in Japan
Oh, Japanese food — I love you so freaking much. And in Japan, I ate.
The good news is that as long as you're not going out to fancy restaurants, meals in this country can be great value. I rarely paid more than ¥1000 ($9) for a bowl of ramen, and street snacks like takoyaki were ¥500 ($4.50). We splurged on our kaiseki experience at our guesthouse in Yudanaka and paid ¥4000 ($36) for our food extravaganza. It's a budget option compared to many other kaisekis, which can easily come to $100 for the experience, but still our most expensive meal. Another splurge was on sushi in Kanazawa, which I paid ¥2000 ($18) for.
Whether you're on a budget or ready to splurge, it's essentially impossible to eat badly in Japan. If you're on a really tight budget, you can even get surprisingly decent food from 7-Eleven!
My total cost of food in Japan averaged out to $23.20 per day.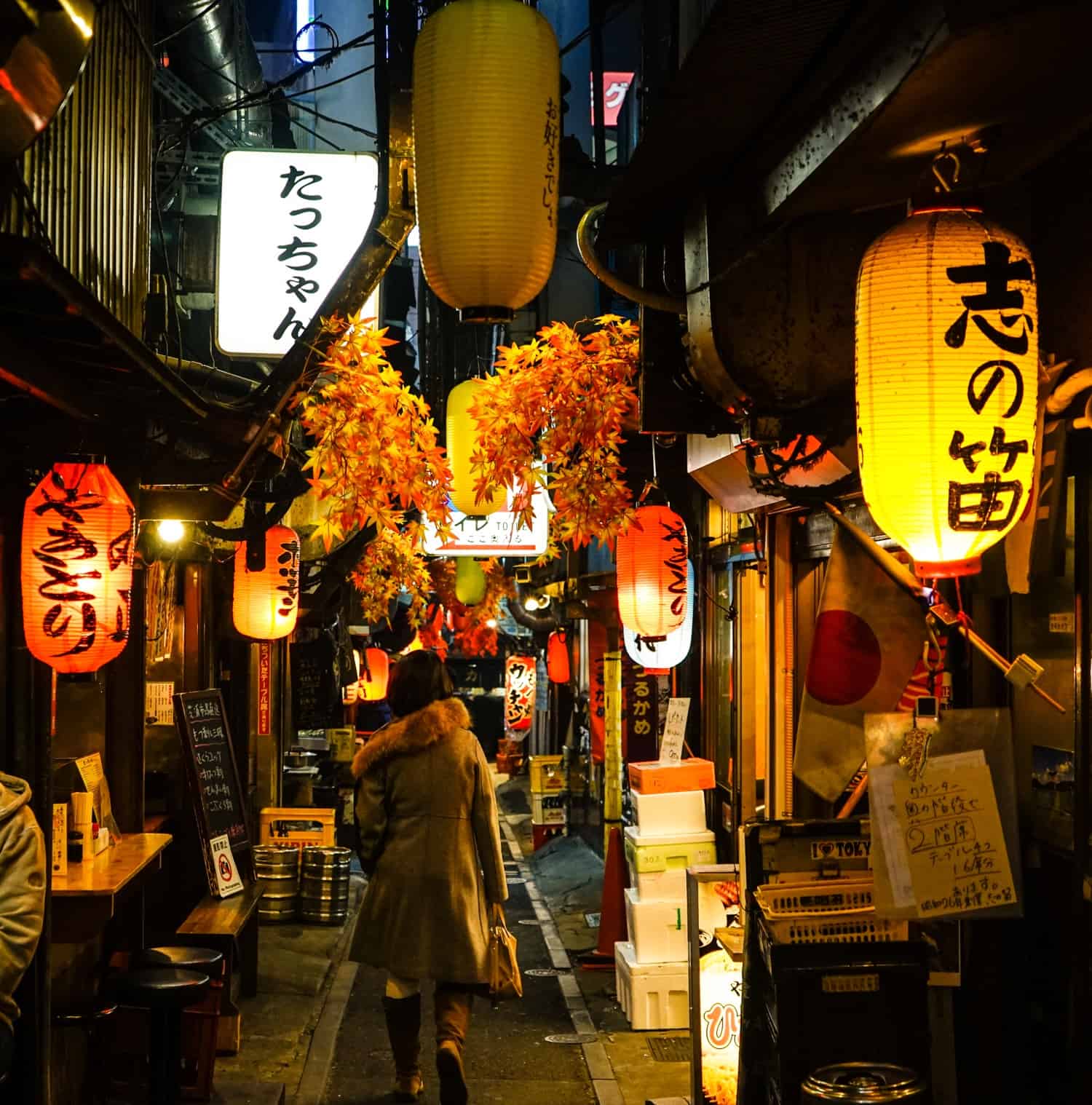 Miscellaneous Expenses in Japan
A local SIM card: $14
I mentioned above that I was able to buy a local SIM card when I purchased my rail pass. If you aren't going to be using a rail pass in Japan, I recommend taking a look at Airalo instead. Airalo is a company that sells local e-SIM cards for travellers. What that means is that you can buy a virtual SIM card online before you arrive in Japan, and then as soon as you land in the country, can switch on your data and start using it.
It's worked flawlessly for me and I'll never go back to physical SIM cards. It's just so easy! You'll pay $6 for 1 GB of data or $14 for 3 GB for Japan and can also top-up through the Airalo app.
If you're going down the Airalo route, just make sure your phone is e-SIM compatible first (all recent iPhones and many Androids are).
Insight Guides guidebook to Japan: $10 
My sister bought me this guidebook as a gift before I left for Japan and at first I was like, Insight Guides? Meh. I wish she'd got me the Lonely Planet instead. Then when I opened it up and started reading, I swiftly discovered that Insight Guides are my new favourite guidebook company. It was so, so useful!
What I love about Insight is that their books focus heavily on the history and culture of Japan, with big, beautiful pictures, tons of information about local customs, food, and how to travel responsibly and respectfully. I recommend picking up a copy before your trip to Japan, but not taking it to the country with you — they're big and heavy, so this is one for inspiration, planning, and education.
Luggage storage at Snow Monkey Park near Yudanaka: ¥500 ($4.50)
We had our backpacks with us when we visited the snow monkeys, so utilised the on-site storage facility while we hiked up the mountain in the snow. You can also hire snow shoes and winter gear if you're unprepared for the climb, but I was fine in my totally impractical sneakers.
Travel insurance for 16 days in Japan: $60
If you've read any other posts on Never Ending Footsteps, you'll know that I'm a great believer in travelling with travel insurance. I've seen far too many Go Fund Me campaigns from destitute backpackers that are unexpectedly stranded in a foreign country after a scooter accident/being attacked/breaking a leg with no way of getting home or paying for their healthcare. These costs can quickly land you with a six-figure bill to pay at the end of it.
In short, if you can't afford travel insurance, you can't afford to travel.
Travel insurance will cover you if your flight is cancelled and you need to book a new one, if your luggage gets lost and you need to replace your belongings, if you suddenly get struck down by appendicitis and have to be hospitalised, or discover a family member has died and you need to get home immediately. If you fall seriously ill, your insurance will cover the costs to fly you home to receive medical treatment.
I use SafetyWing as my travel insurance provider, and recommend them for trips to the Japan. Firstly, they're one of the few companies out there who will actually cover you if you contract COVID-19. On top of that, they provide worldwide coverage, don't require you to have a return ticket, and even allow you to buy coverage after you've left home. If you're on a long-term trip, you can pay monthly instead of up-front, and can cancel at any time. Finally, they're more affordable than the competition, and have a clear, easy-to-understand pricing structure, which is always appreciated.
With SafetyWing, you'll pay $1.50 a day for travel insurance.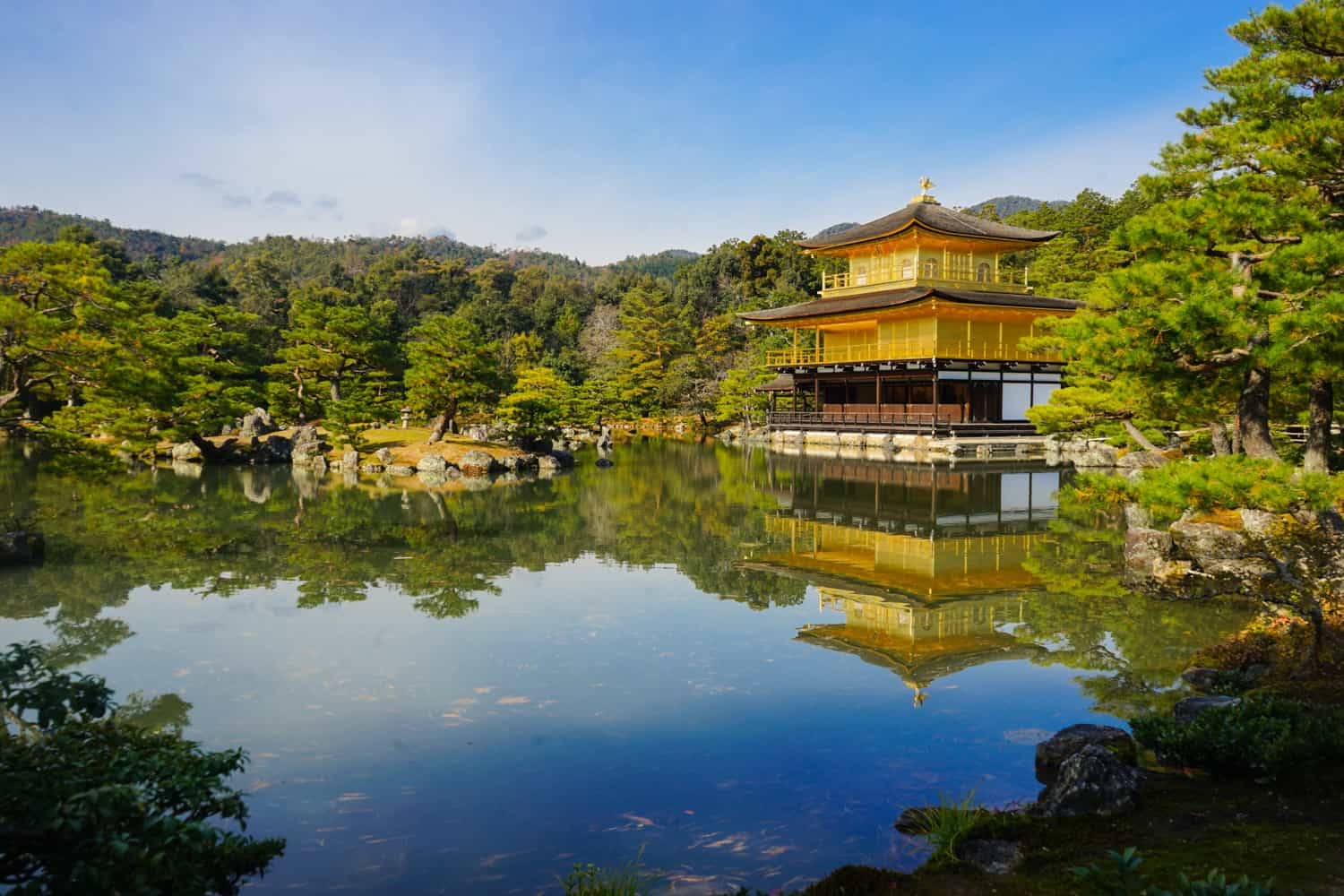 How I Track My Expenses While I Travel
Every time I share my expenses, you guys always want to know how on earth I manage to keep track of so many details from my travels!
Because Never Ending Footsteps is my company, the vast majority of my travel expenses are business expenses. I therefore studiously record everything I spend everywhere I go. I take photos of every receipt I receive and use Xero accounting software to record these expenses. In cases where I can't get a receipt, I'll take a photo of the price list and my ticket or food, or something as evidence.
Once a week, I then sit down and spend an hour or so uploading my receipts to Xero and making note of every penny I spent in each country I visit. It makes writing these posts super easy!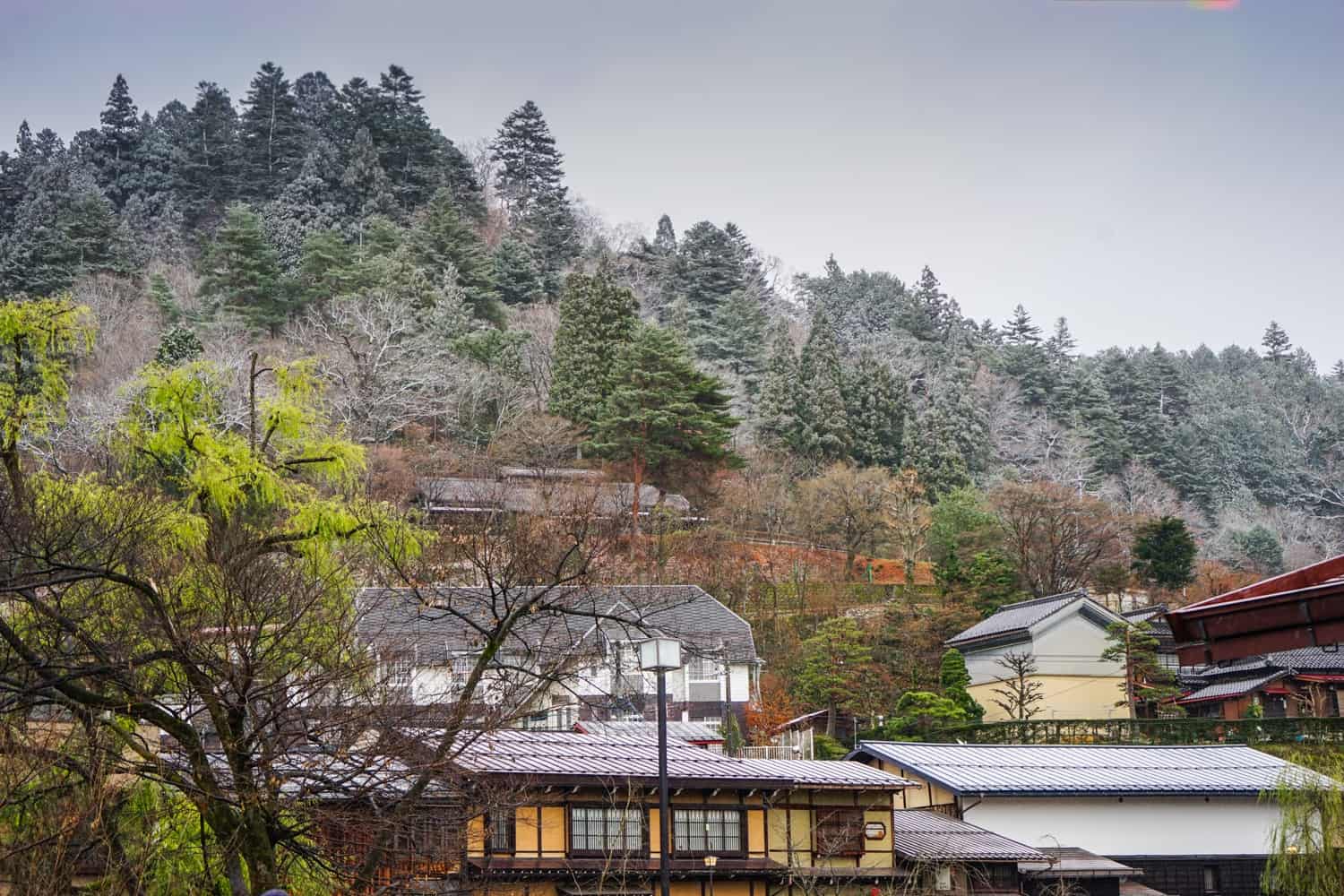 How Much Does it Cost to Travel in Japan?
It's time to tally up all of my expenses to see my total travel costs!
Accommodation: $97 per day
Transportation: $27 per day
Food: $23 per day
Activities/Entrance Fees: $2 per day
Miscellaneous: $2 per day
Average amount spent in Japan: $151 a day!
I don't know about you, but given Japan's pricey reputation, I'm fairly impressed with the amount I spent in the country, especially as I included quite a few splurges in there.
How about you? How expensive were you expecting a trip to Japan to be?
Related Articles on Japan

🇯🇵 What's it Like to Travel in Japan?
🏯 How to Spend Two Weeks in Japan: An Itinerary for First-Time Visitors
🍣 15 Weird and Wonderful Things to Eat in Japan
🎌 23 Incredible Things to Do in Osaka, Japan (2023)
🗼 21 Spectacular Things to Do in Tokyo, Japan
😎 Hipster Harajuku: The Coolest Neighbourhood in Tokyo
🦔 Should You Go to a Hedgehog Cafe? My Experience in Japan
🐒 Why Seeing the Snow Monkeys in Japan Sucked