Israel is one of my favorite countries to visit in the world. It has a wonderful climate, delicious local cuisine, gorgeous natural beauty, and even more beautiful people. But what attracts most visitors to the country is its incredible history and culture.
At just 8,550 square miles, Israel packs a lot into its small landscape, which changes dramatically from region to region. Within one short trip in Israel, you could swim in the Mediterranean, ride a camel through the Negev Desert, pick farm fresh fruit from trees in the lush north, and climb the peaks of a snow-capped mount Hermon.
On top of the incredibly diverse landscape, Israel is home to a unique blend of religions and cultures. The country (Jerusalem in particular) is known as one of the most important religious sites for the Jewish, Christian, Muslim, and Baha'i people, housing some of the most important historical biblical sites on the planet, alongside sixteen cultural and geographical UNESCO World Heritage Sites.
Of course, we can't ignore the ongoing conflict in the Middle East, which has caused massive distress throughout the region. I recommend doing some brief research on current affairs to assess the state of conflict in the country before you visit. That said, you are unlikely to notice any signs of war if you stay within the big cities.
I've been visiting Israel since I was a young child. With family living in both the north and the urban center of Tel Aviv, and countless friends dotted across the small country, I would say that I know Israel pretty well. My favorite cities have to be Tel Aviv / Jaffa, as well as Jerusalem, which is buzzing with excitement and local charm. I'm also a big fan of the northern parts of Israel, which are much lusher than the desert landscape down south.
Israel has been a pretty pricey place for as long as I can remember. Even when visiting with family, I have always been conscious of what I purchase and how much I spend along the way. Naturally, the cost of travel in Israel has only increased with time. So, to manage your expectations, ensure you're prepared to spend more than you might expect.
Accommodation and food will likely be your most significant expenses while in Israel. Depending on the time of year you visit, accommodation prices soar during spring and summer to account for the influx of tourists.
It's always best to know what to expect before visiting a foreign country, and being blindsided by unexpected Israel travel expenses is a sure way to ruin a good vacation. To make your trip more pleasant, I have used my personal experience to put together a detailed budget for the cost of travel in Israel.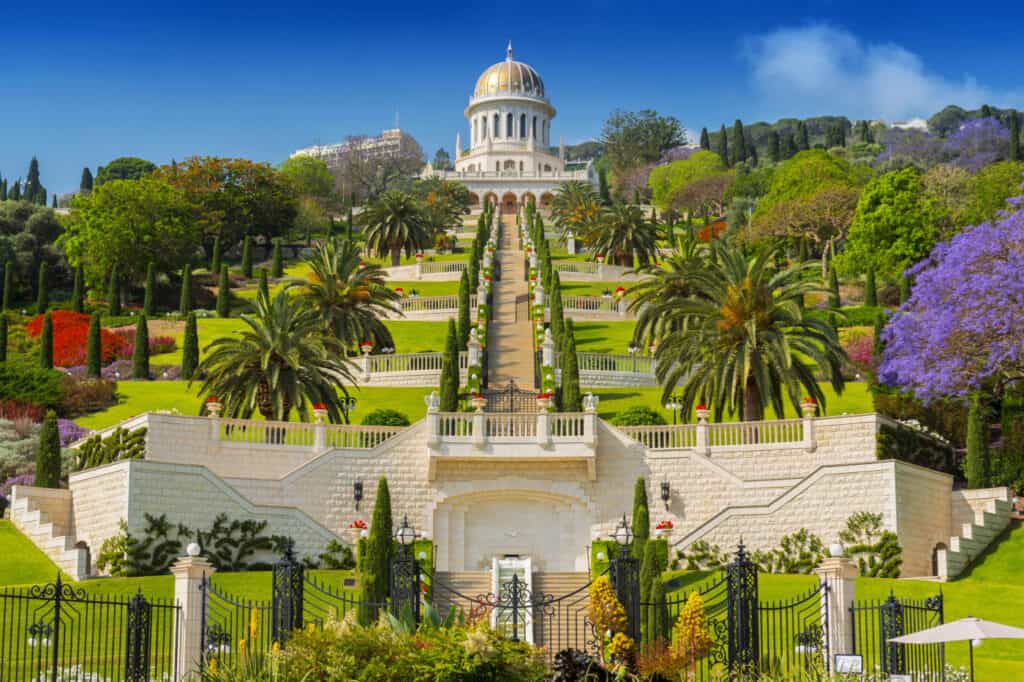 The Cost of Accommodation in Israel
As mentioned, Israel is by no means a budget holiday destination. The country holds the unpopular title of having one of the highest costs of living in the world, with Tel Aviv ranking as the most expensive city from numerous sources.
These high prices can be attributed to many factors, which are far too complicated to get into here. But the premise is that with so little land to work with (and even less fertile land to farm), the country has to import much of its fresh produce from across Europe. On top of this, over 60% of the country is covered by a barren desert, and other parts are covered by lakes and seas, leaving only a small portion to be habitable by humans.
While prices are high, there are always ways to reduce costs and save cash when traveling in any country. One of the best ways to save money on accommodation in Israel is to avoid travel during the busiest months. As a predominantly Jewish country, Israel follows a Jewish calendar with various religious holidays.
With many Jewish families congregating during certain holidays, I highly recommend avoiding travel during the following festivals:
Pesach / Passover – Early April
Rosh Hashanah (the Jewish New Year) – Mid-September
Hannukah – Early / Mid-December
Weather also plays a part in tourist numbers. The peak summer season lasts from June through to September, welcoming hundreds of thousands of visitors to the country. Booking outside of the high season is a great option. Alternatively, make sure you book accommodation well in advance to avoid paying increased fees.
The best time to visit Israel is in April, May, June, or September and October. Temperatures soar during July and August, often too hot to be able to do any exciting outdoor activities.
If you have family or friends in the country, why not ask if anyone needs a house or dog sitter for the duration of your stay? You could even time your trip around a house sitting opportunity. Some house and dog sitters even get paid for their services!
Workaway is a unique agreement where applicants help provide work (household needs, projects, or odd jobs) in exchange for food and accommodation from a host. 
Designed as a cultural exchange program, this concept is very familiar in Israel, where Kibbutzim and Moshavim were founded (these are socialist organizations where one works in return for a home and food). Some Workaway hosts even offer a paid allowance to ensure that workers receive a minimum wage for their services.
Couchsurfing can be considered risky in some countries but is typically safe in Israel. The official website advertises over 112 thousand hosts in Tel Aviv and Jerusalem who are willing to host you on their spare sofas or in extra rooms for no cost at all. While entirely free, Couchsurfing is also a great way to meet locals and gain a bit of local knowledge.
If you have it in your Israel budget to rent your private accommodation, there are plenty of affordable places to make your home away from home in Israel.
Airbnb offers some of the most affordable places to stay, from private rooms to shared spaces. Depending on the time of year you visit, you could find yourself a beautiful modern apartment in Tel Aviv with access to a swimming pool for as little as $100 per night.
Hostels are another excellent option for budget travelers, especially if you're traveling solo. Primarily located in Israel's biggest cities, some hostels offer shared dorm rooms for as little as $20 per person per night and private rooms for around $100 per night.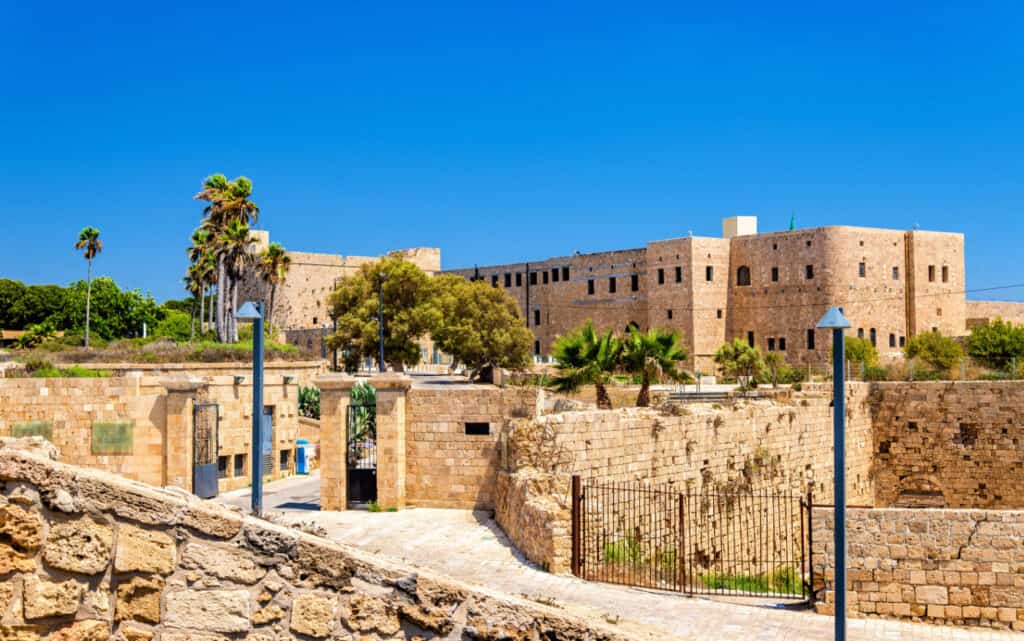 The best hostels in Israel
Tel Aviv / Jaffa: Set in the trendy Florentin district just a short walk from Neve Tzedek and Tel Aviv's best beaches, Florentin House ($135 for a double room) is an eco-friendly property with an onsite restaurant, shared lounge, and common kitchen. This hostel has facilities for disabled guests and family rooms, perfect for all budget travelers. If you want to be closer to the beach, WOM Beach ($40 for a single room) is a member of Brown Hotels and offers private pod-inspired rooms with convenient facilities like luggage storage and a shared kitchen.
Haifa: Hostel Roks ($90 for a classic triple room with a double bed and a sofa) is one of only a few hostels in Haifa, and no doubt the best. The property offers simple accommodation with free private parking, a shared lounge, and a terrace with barbeque facilities. Unlike most hostels, this one doesn't have shared dorm rooms and instead rends out double, triple, and quadruple rooms for friends traveling together.
Jerusalem: New Citadel Hostel ($20 per bed in a shared dorm) is just a short stroll from the famous Western Wall in the heart of Jerusalem. The main feature of the hostel is its rooftop terrace, which overlooks panoramic views of the Old City. Guests can use a shared kitchen and lounge – the perfect place to socialize with like-minded travelers after exploring the city. Ideal for solo women travelers, this hostel has female-only dorms.
Eilat: Arava Hostel (as low as $18 for a bed in a six-person shared dorm) in the town center of Eilat is just a short walk from North Beach. With free Wi-Fi, parking, and air-conditioned rooms, this basic hostel has everything you need for a good night's rest. If you're visiting for the diving, check out Exodus Hostel and Dive Center ($20 for a bed in a shared dorm), which offers adult-only accommodation. It's a one-stop-shop for divers in Eilat.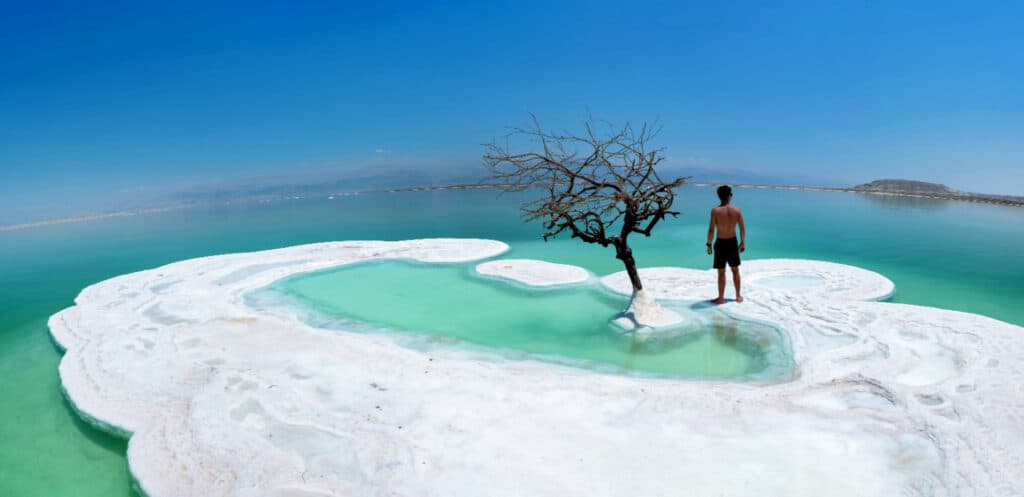 Where to stay while traveling in Israel
As mentioned, Israel is tiny. So small that you could drive from the Mediterranean to the Dead Sea in around three hours, crossing just 70 miles from west to east. The drive from south to north is also super quick, taking only about six hours.
Its small size makes it a great country to explore by car, with excellent road infrastructure connecting all major cities. The most significant cities you'll want to stay in when you visit Israel include Tel Aviv / Jaffa and Jerusalem, followed by Haifa, Eilat, and Netanya if you have more time. Once you've seen these five cities, you could also pay Herzliya, Acre/Akko, Nazareth, and the north of Israel a visit.
If you're wondering where to start, I created an itinerary for a two-week trip around Israel. It begins in the capital of Tel Aviv, which is where all international flights arrive. From there, it loops the country from south to north, stopping at beautiful natural oases, exciting cities, and historical landmarks along the way.
A two-week road trip around Israel
Day 1: Tel Aviv
Day 2: Tel Aviv
Day 3: Jerusalem
Day 4: Jerusalem
Day 5: The Dead Sea
Day 6: Negev Desert
Day 7: Eilat
Day 8: Caesarea
Day 9: Haifa
Day 10: Nazareth
Day 11: Sea of Galilee
Day 12: Acre
Day 13: Netanya
Day 14: Jaffa Port
If you have a bit more cash to spend on your trip and aren't interested in sharing common spaces or working for your accommodation, Israel boasts some exquisite hotels. Although expensive, the quality of these spaces makes them worth the high price tag:
The best hotels in Israel
Tel Aviv: Situated in the heart of the city, The Vera (between $300 and $400 for a classic room for one to two guests) is one of the city's trendiest boutique hotels. The rooms are decorated in a clean contemporary style, with concrete finishes and bespoke furnishings. Some rooms even have a terrace with city views. A superb breakfast is served daily in the common dining room, but my favorite spot in the hotel is the wooden rooftop deck. Hotel Saul ($270 for a single room per night, or $300 for double capacity) is another favorite, with cozy suites that will make you feel right at home and a delicious breakfast served daily in the hotel lobby.
Jaffa: Just a stroll away from the beach, Numa Hotel Jaffa ($270 for a single room or $300 for two guests) is a four-star eco-friendly property with city views. With all the conveniences of a 24-hour concierge, room service, and airport transfers, you'll feel like you're on vacation from the second you walk into this beautiful modern space.
Haifa: Easily one of Haifa's top hotels, Schumacher Hotel Haifa (around $200 for a classic room) is centrally located just a short drive from most main attractions in the city. The rooms are quiet and peaceful, decorated with trendy mid-century interiors, and fitted with a coffee machine and private bathroom. The Schumacher has a rooftop terrace where you can catch some sun or grab a drink, and breakfast is available daily at a partner hotel down the road. 
Jerusalem: For a boutique hotel experience, The American Colony Hotel (between $325 and $380 per night) is one of the world's top small luxury hotels. The property in East Jerusalem features an outdoor swimming pool, landscaped gardens, and gourmet restaurants on site.
Eilat: Resort accommodation is common in Eilat, and one of the most iconic resorts has to be the Queen of Sheba Eilat (around $200 to $220 per night for a double occupancy room). Its impressive facade will no doubt attract your attention. However, it's the incredible location overlooking the Red Sea, friendly staff, and gorgeous rooms that will make you fall in love with the property. Not to mention, the resort has its own shopping mall, leisure spa, gym, kids center, and massive swimming pool.
Netanya: The best place to be in Netanya is on the beach. So, you won't find a better hotel than the David Tower Hotel Netanya by Prima Hotels ($190 per night), right on the beachfront of the city. This hotel is as grand as they come, with high ceilings, an impressive lobby, and ever-beautiful flower arrangements to spice things up. One of my favorite spots in the hotel is the spa, which includes an indoor heated pool, Hammam, sauna, and fitness area.
The Cost of Transportation in Israel
Being such a small country, Israel is relatively easy and inexpensive to get around. All major cities are connected by well-maintained road systems and most with railway stations. Distances are so short that flying from one city to another is impractical unless you travel south to Eilat (a 45-minute flight instead of a three-and-a-half-hour drive). However, considering security checks and boarding delays, driving is usually the quicker alternative.
The country has one major airport, Ben Gurion International Airport in Tel Aviv. This airport welcomes daily flights from across the globe and is the main international hub of Israel. Haifa and Eilat also have airports, mainly used for domestic flights.
Since the country is in a current dispute with most of its neighbors, there are no train routes between Israel and other countries. Other than flying, the only other option is to arrive via boat.
Aside from private vessels that can use one of the many marinas along the Mediterranean coastline, there are a couple of cruise liners that make their way into the country regularly. These include the Royal Caribbean International, Silversea, and Celebrity Cruises, which typically dock in Haifa or Ashdod.
Once you've arrived in Israel, you'll be able to get around all the significant cities relatively easily. Tel Aviv is one of the most walkable cities in Israel. If you stay in a central location, you'll easily be able to walk from one attraction to the other, using the odd taxi or bus to cover bigger distances.
All cities and even most rural parts of the country are serviced by an efficient public transport network. Within Tel Aviv, a one-way journey on a bus costs the equivalent of $1.50.
Intercity bus services are the quickest and often the cheapest way to travel between cities. They frequently depart from Tel Aviv, Haifa, and Jerusalem and offer direct and non-direct routes around the country. The most popular bus companies include Egged, Dan, Afikim, Nateev Express, and Kavim.
To travel on one of these buses, you must purchase an electronic travel card called the Rav Kav, which can be bought for $1.70 at most convenience stores or grocery shops. The best way to plan your route is with Moovit, a reliable app available in many languages!
Another way to get around both in cities and between them is using shared taxi buses known locally as sherut. These mini-busses carry between 10 and 13 people and work on a fixed route basis. Unlike conventional buses, they don't have specific set stops, and you can often get them to drop you off right at your desired destination. A sherut from Ben Gurion Airport to Jerusalem costs around $17 for one person with luggage.
Intercity trains link most major cities. Tel Aviv has four stations, including a new high-speed train connecting Jerusalem to Ben Gurion International Airport. This train ride takes under an hour and is only around $6 each way. Trains also travel to Akko, Haifa, Beersheva, and Nahariya. Note that trains don't run on the Jewish holy day of Shabbat (between sunset on Friday and sunset on Saturday).
Traveling with a car can be more trouble than convenient in most Israeli cities, as parking is limited and traffic is heavy. However, if you are planning a road trip, having your own vehicle is a convenient pleasure to explore parts of the country not serviced by transport. Renting a car costs around $200 per week.
Taxis are abundant nationwide, and Ubers are available in big cities. Always remember to confirm prices and use a meter when traveling in a taxi, as taxi scams can be unpleasant, to say the least. Rates vary depending on the time of day you travel, with increased prices between 9 pm and 6 am. During Shabbat or Jewish holidays, you can expect to pay around 25% higher prices than usual.
Common transit routes and their corresponding prices:
Rough cost of a return flight between Tel Aviv and Eilat – $90 to $220
Rough cost of renting a car for two weeks in Tel Aviv – $400
Rough cost of renting a car per day in Tel Aviv – Between $30 and $50 per day
Rough cost of fuel – $2.5 per liter, depending on fuel consumption
Rough cost of a high-speed train from Tel Aviv Ben Gurion to Jerusalem – $5 to $6 (one-way)
Rough cost of a bus from Tel Aviv to Jerusalem – $5 to $6 (one-way)
Rough cost of a bus from Jerusalem to Haifa – $6 to $10 (one-way)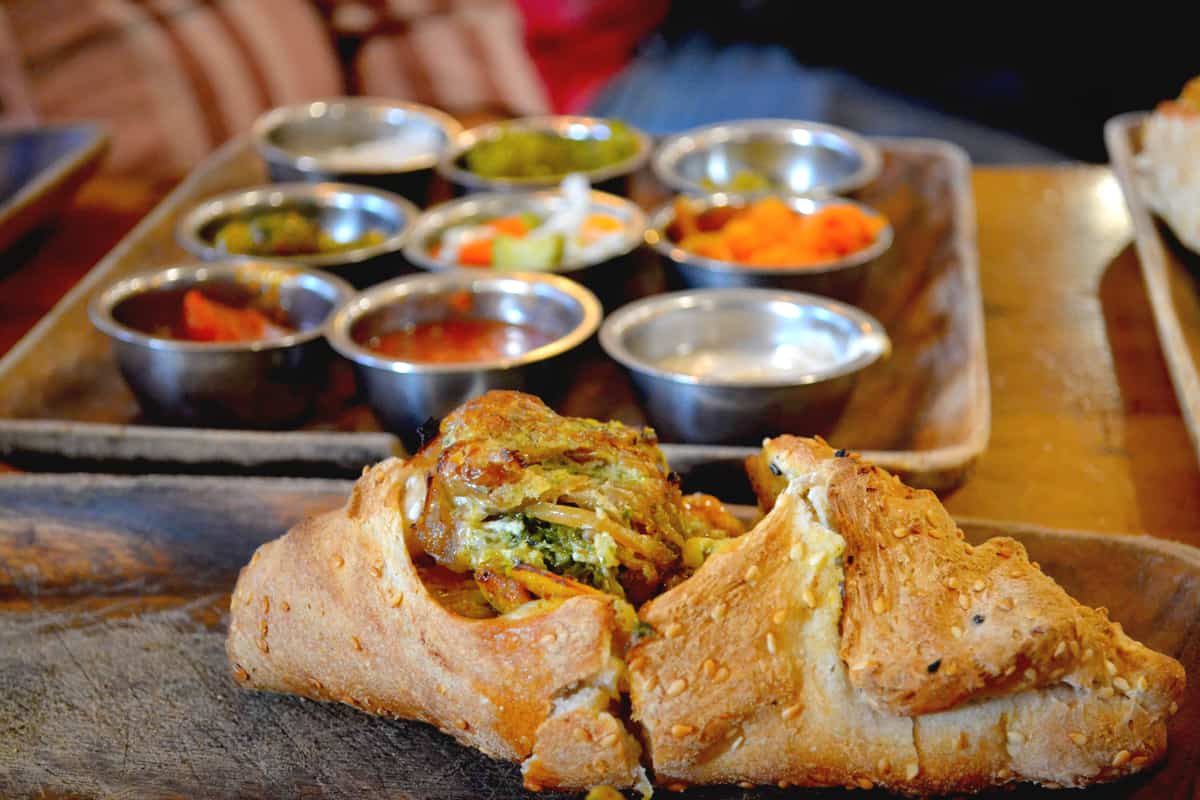 The Cost of Food in Israel
If there's one thing Israel is known for aside from its incredible biblical history, it is food. Nestled in the heart of the Middle East, Israel is one of the best places to enjoy authentic Middle Eastern dishes like hummus and shakshuka, two tasty dishes that have been adopted worldwide.
However, while Israel's cuisine is certainly Middle Eastern in nature, it is made unique by the international influences that have helped to shape it into what you taste today. With a large portion of residents from Eastern Europe, Northern Africa, and even America, these global influences have created a world-class cuisine.
Some of my favorite dishes here include sabich (pita filled with aubergine, boiled eggs, and tahini), Sfeni (a local Moroccan-inspired doughnut), chatzilim/babaganoush (an eggplant salad), and burika (a North African savory and deep fried crepe filled with mashed potato). Let's not forget about the classic Polish Jewish babka pastry, which is a sweetened cake baked with cinnamon and chocolate.
You'll find most of the traditional delicacies available in any food market or streetside in the big cities, and street food is undoubtedly the best representation of Israel's food culture. A short stroll through the bustling streets of Tel Aviv and Jerusalem will quickly reveal the most authentic falafel (deep-fried chickpea balls) stands.
Grocery stores are typically expensive for the quality produce you receive, although more affordable than in the USA. One of the cheapest supermarkets is called Rami Levi. Shufersal, Co-Op Shop, Mega, and Yeish are other grocery chains.
Cost of typical grocery store items:
1 liter of milk – $1.70
2 lbs of yellow cheese – $14
2 lbs of cold cuts or meat – $26
Mid-range bottle of wine – $11
A bag of apples – $1
Head of lettuce – 30c
Loaf of fresh bread – 50c
Meal breakdown costs
For traditional Israeli breakfast, shakshuka is the clear winner. This tomato sauce-based egg dish is made differently in different parts of the country, using tasty spices and often black olives. A decent portion at a street-side cafe costs around $10 and will keep you fueled for the day ahead.
For lunch, indulge in a juicy shawarma or falafel and pita sandwich filled to the brim with Israeli salad (chopped tomato, cucumber, and onion), hummus, tahini, and grilled aubergine. Don't miss out on the classic Israeli Jewish salmon bagel, prepared with smoked salmon and cream cheese and topped with capers.
Although you are likely to have tried these dishes before, no one makes them as well as the Israelis. Purchased as a takeout, a healthy portion of lunch could cost you just $8. However, eating lunch at a mid-range sit-down restaurant might set you back around $20, while a three-course meal might cost around $35 per person.
Dinner in Israel is the most expensive meal, and you can expect to pay between $40 and $50 per person to dine at a formal restaurant with multiple courses and drinks. Instead of ordering one meal for yourself, a traditional Israeli meal involves ordering a bunch of small plates for the table to share.
Choose from traditional hummus, tzatziki, tahini, and baba ganoush dipping starters and a range of vegetarian salads like tabbouleh, spiced carrot salad, Israeli couscous salad, and roasted paprika potatoes.
Alcohol is also pretty expensive. A single domestic beer costs between $6 to $8 from a restaurant or bar and as little as $5 if you purchase from a liquor store. A cocktail at a club in Tel Aviv is estimated to cost around $15, while a bottle of wine costs around the same.
If you're willing to buy produce and cook your own food, you could save some money and spend around $20 daily on food. If you eat out for every meal, expect to pay between $30 and $60 per day for food (depending on where you eat).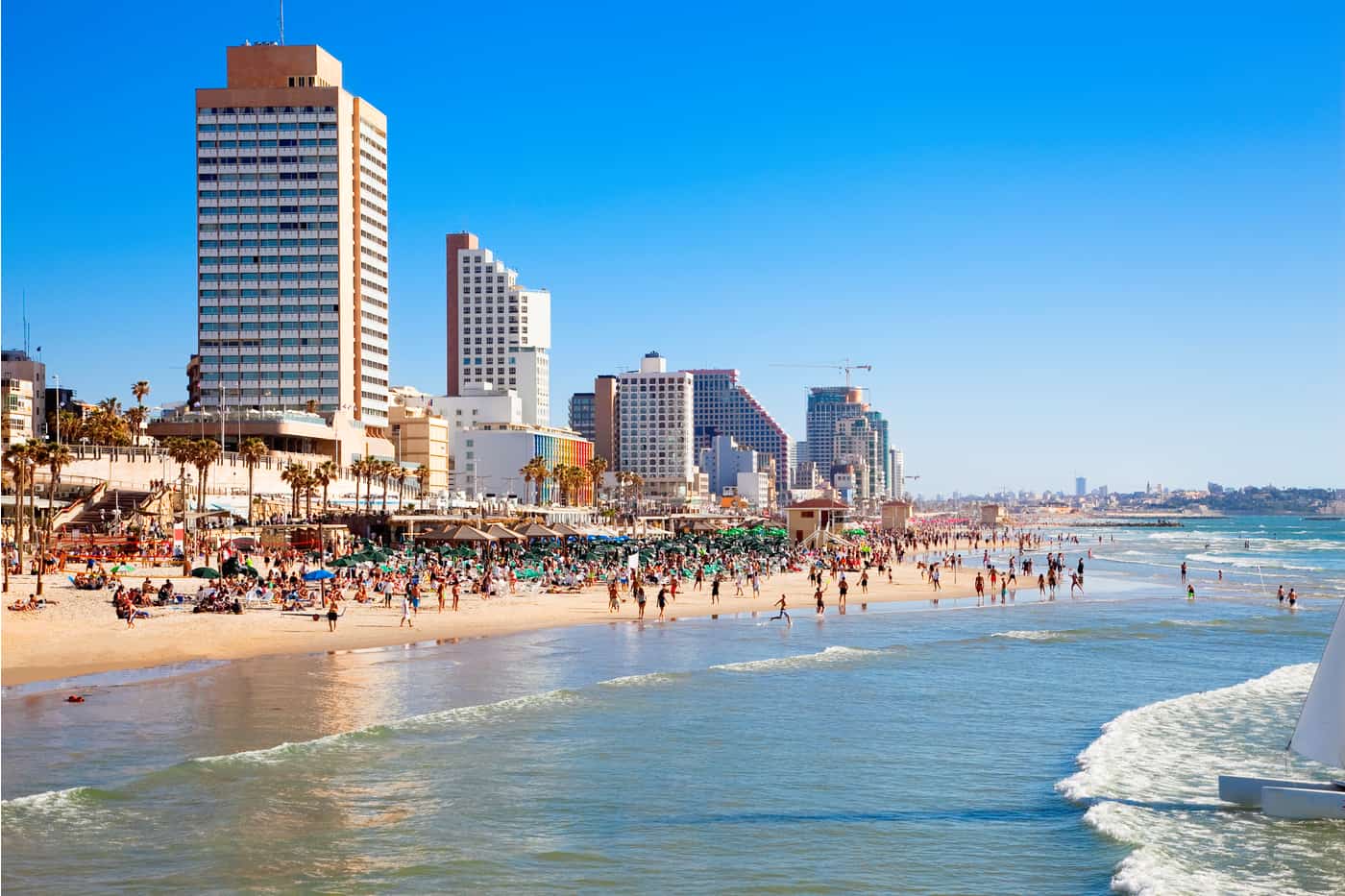 The Cost of Activities in Israel
The country really packs a punch when it comes to activities and adventures. Of course, the cost of activities for your Israel budget depends on what you choose to do, and the time of year you visit.
Generally speaking, entry into most national parks costs between $8 and $10, while most museums charge between $11 and $16 for entrance. There are also many activities that don't cost a cent, including exploring the historic city of Jerusalem, visiting Yad Vashem Holocaust Museum, and exploring Tel Aviv's White City.
History has no price, and one of the best activities, walking around the country's most iconic city and the main attraction, is also free. Without spending a penny, you can explore the Dome of the Rock, the Western Wall, the Mount of Olives, the Church of the Sepulchre, and the Valley of Kidron.
Other free activities include:
Machane Yehude Market in Jerusalem
Carmel Shuk in Tel Aviv
Botanical Gardens of the Hebrew University in Jerusalem
The Sataf Nature Reserve outside Jerusalem
The Bauhaus White City in Tel Aviv
The Independence Trail Walking Tour in Tel Aviv
Ben Gurion House in Tel Aviv
The Baha'i Gardens in Haifa
The Hecht Museum in Haifa
Hanging Bridges of Nesher Park in Haifa
The Ralli Museums in Caesarea
That said, there are many guided tours that you can join to indulge in a bit more than meets the eye. This Jerusalem and Bethlehem Guided Day Trip in Israel costs around $150 per person and includes a full-day tour from Tel Aviv.
The most popular activities with tourists usually include visits to religious and biblical sites, including archeological digs, ancient cities and fortresses, and modern museums. But many people also visit for the outdoor adventure and natural beauty.
For an authentic desert experience, slow things down with a Camel Ride followed by an authentic Bedouin Meal in Eilat for just $40. Although these tours can be gimmicky and touristy, they are still relatively authentic and well worth doing at least once in your life.
Eilat is the heart and soul of outdoor adventure in Israel. The town is best known for its incredible snorkeling and dive sites in the Red Sea which is safe to explore with an instructor.
Popular entrance fees:
The Israel Museum – $15
Tel Aviv Museum of Art – $15
ANU Museum of the Jewish People – $15
Tower of David -$10
Bauhaus Center Tel Aviv – $17
Nazareth Village – $14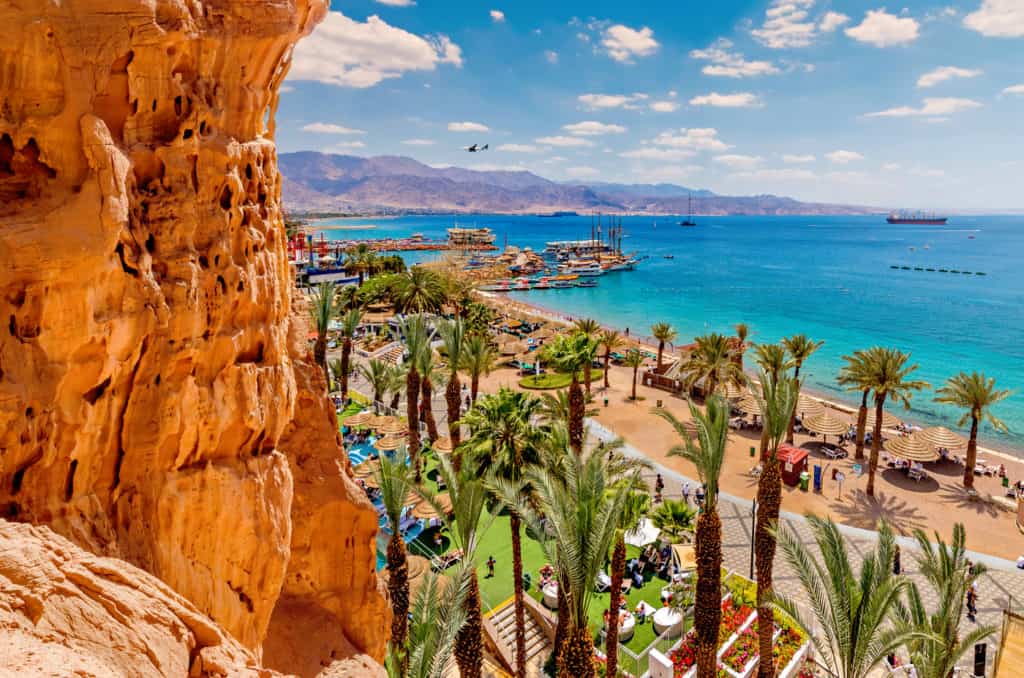 Total Expenses for a Mid-Range Trip in Israel
Even with all these numbers in mind, it's hard to calculate an exact daily Israel budget. Of course, what you spend will be related to how many activities you partake in, the time of year you visit, the restaurants you indulge in, and the luxury you seek in accommodation.
That said, here is a summary of your total expected expenses for a mid-range trip to Israel:
Accommodation: $200 /day
Transportation: $50 /day
Food: $40 /day
Activities: $30 /day
Total Daily Expenses in Israel: $320