You haven't lived until you've traveled to Indonesia.
Known as the land of over 1800 islands, this wonderful country has so much to offer its visitors. You can have any type of vacation in Indonesia, whether you want to spend some time on one of the many beaches in Bali, experience a chaotic city like Jakarta or roam through the jungles of Sumatra.
I was gifted with spending a whole month in this glorious country, and since I have returned home, I haven't been able to stop raving about it. I backpacked through the island of Java for two weeks before taking a ferry to Bali for ten days and then finished my trip on Gili Trawangan. Most travelers who visit Indonesia will visit Bali and leave it there, but let me tell you, this vast country has parts you have never even heard of waiting to be discovered.
Indonesia is a very cheap country to travel to, especially when you get outside of Bali. You'll meet so many travelers along the way who have been spending months exploring Indonesia because it's so affordable.
Over the month-long trip, I stayed in a mix between hostels and guesthouses and only used public transport to get around. I found Bali to be the most expensive stop on my trip, and even at that, it was nowhere near western European prices. Plus, Bali is a big enough island, so once you leave the likes of Canggu, the price of everything drops.
Indonesia has its own currency, the Indonesia Rupiah (IDR). Cash is widely used throughout the whole country, so be sure to have some on you at all times. In Bali, cards are more widely accepted than in other islands. I always ensured I had some hidden away somewhere just in case I ever found myself in a situation where I needed it.
The weather in Indonesia varies. Between April and October is the best time to visit because the rainy season has passed. This is by far the busiest time to go there. The prices of everything go up, you'll see a lot more tourists, and availability for buses and ferries can be hit or miss.
Indonesian food is delicious. When you try your first nasi goreng, you'll never be able to eat fried rice in another country again. The country's cuisine varies from region to region, and even if you find a dish you like in, say, Yogyakarta, it might taste different in Indonesian Borneo.
I found getting around Indonesia to be pretty straightforward. It wasn't always the most comfortable experience, but I arrived safely wherever I went, which was all I cared about. Java has a brilliant train line that stops in a lot of the main cities. Local buses are readily available and can bring you just about anywhere. If you can ride a moped, they're easy to rent and give you more access to the place you're visiting.
In this post, I'm going to fill you in on all of the costs of my trip through Indonesia so you can start planning the holiday of a lifetime.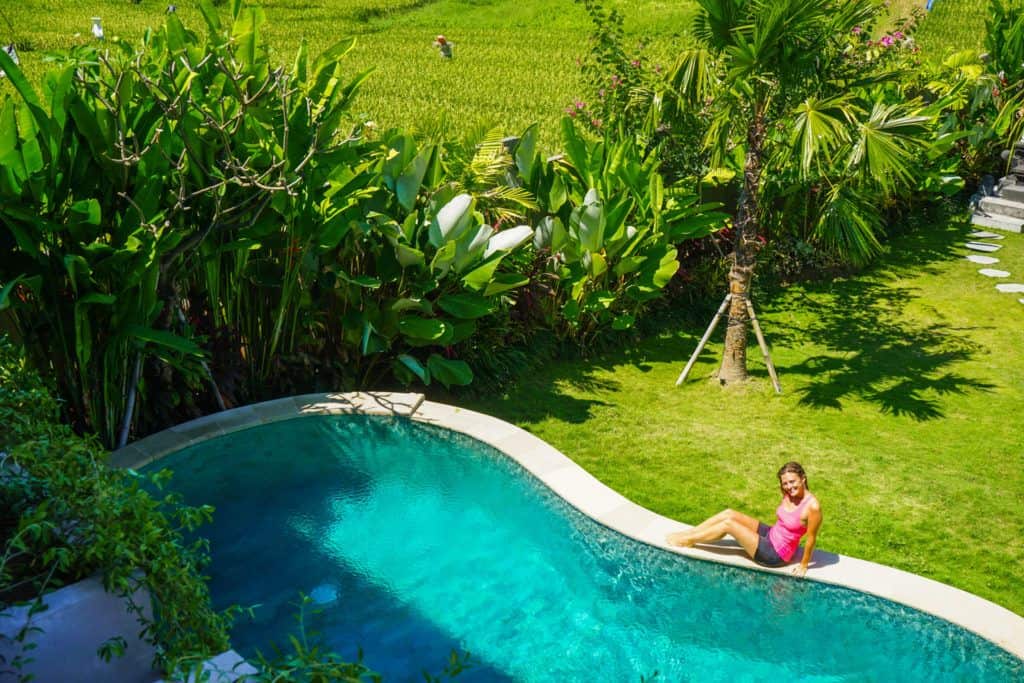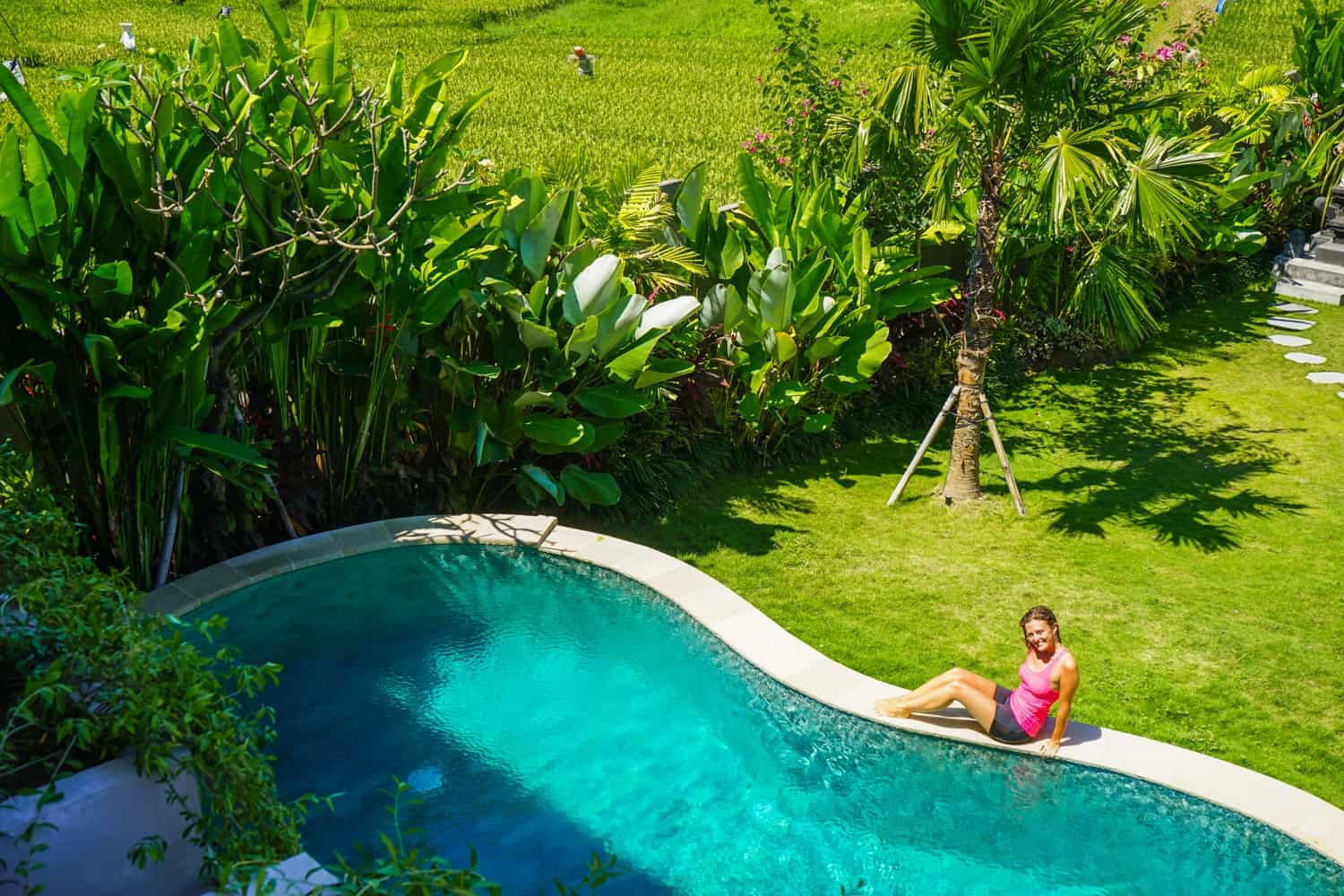 The Cost Of Accommodation In Indonesia
When it comes to accommodation in Indonesia, you get your money's worth. Even if you're traveling on a budget, you can still stay in guest houses most of the time. There are various options for you to splash your cash on too. A fancy villa with a pool in Ubud only cost me $66 for one night, and that's still a bargain compared to what you'd pay somewhere in the USA.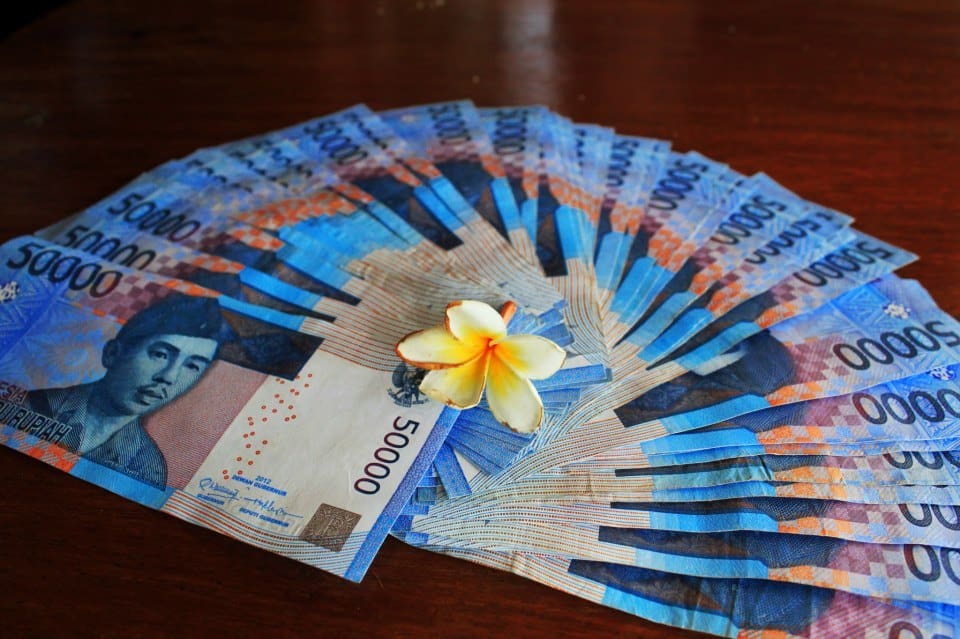 How To Save Money On Accommodation When Traveling In Indonesia
If you're not too fussed about spending too much on accommodation, plenty of cheap or free options are available that you'll love.
Would you like to get a taste of local life? Sign up for Couchsurfing to chat with people that live in the cities you're visiting and request to stay with them for a couple of days. Some hosts will let you stay on their sofa, and others may have a spare bedroom. It's free to use and has a review system to see guests' thoughts about their hosts.
Another way of finding a free space to stay is housesitting. This is where you'll take care of somebody's house for free while they're away, and usually look after their pets, too. It's best for long-term travellers or retirees as you can't pick and choose dates and destinations, so you need to have a lot of flexibility as to where you go and at what time of year. If you do have that freedom, though, it's a wonderful way to cut down your travel expenses, soak up some home comforts, and live like a local for a while. Trusted Housesitters is the best site for getting started with housesitting.
These days, travelers are searching for more than just tourist attractions. They want to experience local life in the countries they're traveling to. WWOOFing is one way to do this. It's a platform that gives people the opportunity to volunteer for organic projects like eco retreats in Denpasar or family farm work in Surabaya.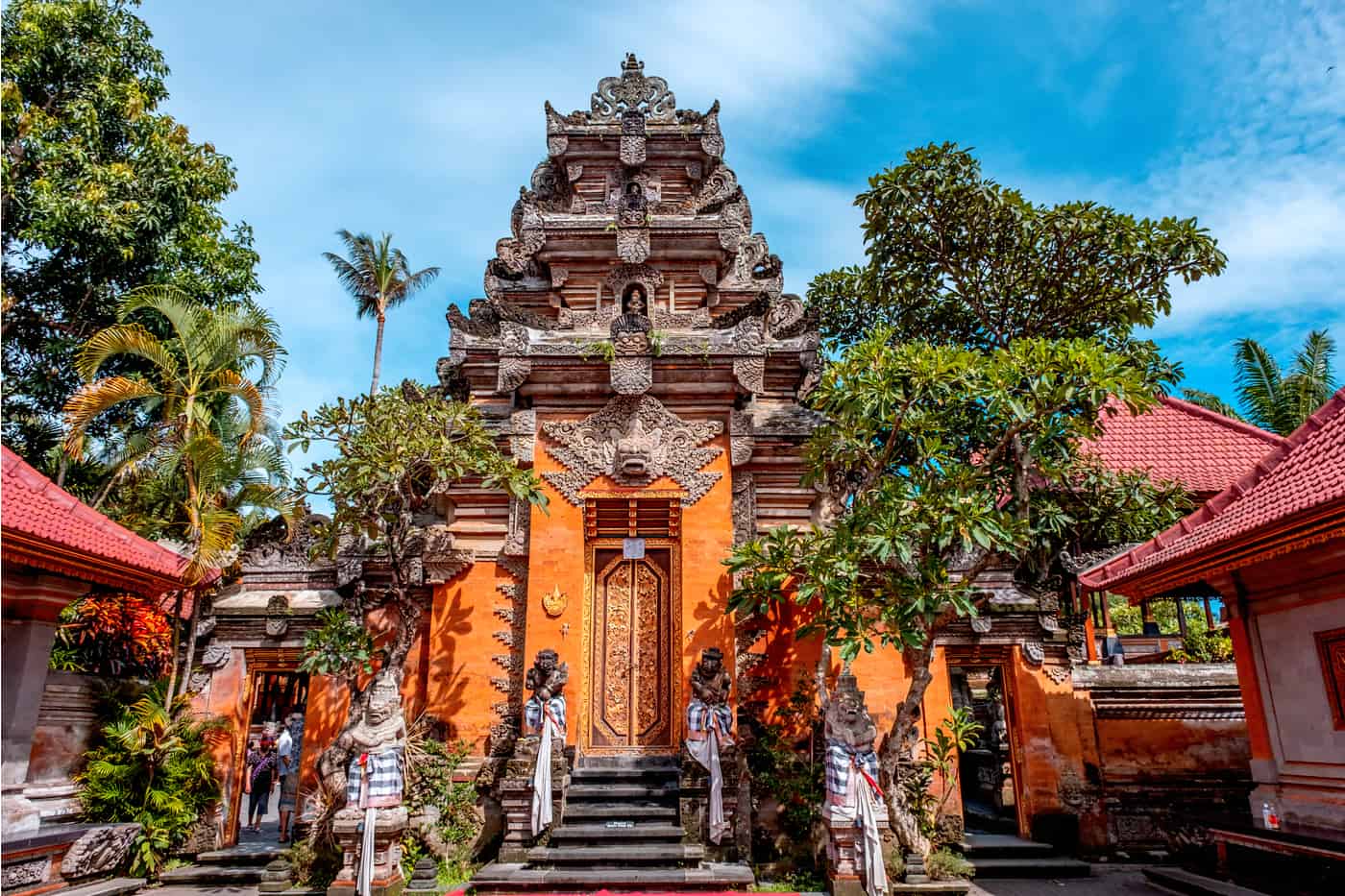 Hostels In Indonesia
Next up, we're going to talk about hostels.
Hostels aren't as widespread in Indonesia as in other Southeast Asian countries. Yeah, they're in all the touristy spots, but hostels can become scarce once you start going off the tourist trail. Surprisingly, hostels often cost more than guesthouses. I found this was the case in Canggu and Ubud. Even if they are pricier in certain places, they can be worth it, especially if you're a solo traveler looking to meet new people.
Staying in a hostel in Indonesia is cheaper than a mid-range hotel and will help you cut back on costs. Dorm prices usually range between $6 and $13 a night, whereas private rooms range between $16 and $20. Privates are an excellent option if you're traveling with somebody but still want to socialize with others.
The average cost of a bed in a hostel per night is $6.
Where To Stay When Traveling In Indonesia
For anyone who doesn't want to sacrifice their comfort, I have a list of the best-reviewed hotels and guesthouses in Indonesia that are worth the extra bit of money. I stayed at a few guesthouses and hotels during my trip because they were so cheap, so I found it hard to resist. It's not every day you get to wake up to an infinity pool overlooking a lush green rice terrace.
Most of my time travel planning goes into choosing accommodation. When I'm paying for somewhere to stay, I want to know I will be comfortable, safe, and close to everything, so I don't have to take a taxi when I want to eat out.
How do I always find the best accommodation? When I log on to Booking.com, instead of scrolling through the "top picks" suggestions they have given me, I click "best reviewed" instead. At least then, I know past travelers like myself have stayed there and enjoyed their experience.
Thankfully, you won't have to do that when you book accommodation in Indonesia because I have done everything for you. Here are my top picks.
Jakarta: Loewys Home Tanjung Duren Jakarta Barat – $33 a night for a queen room with a balcony. Whoever plans on traveling through Java typically starts their journey in the bustling capital of Jakarta. Get over your jet lag at this gorgeous guesthouse with the most welcoming staff and polished white look.
The rooms are spacious and comfortable, equipped with a flat-screen TV and bathtub to spend your time unwinding. Loewys Home is embedded between central and west Jakarta and is only 1.9 kilometers from the Central Mall.
Yogyakarta: Palem Kipas Homestay – $27 a night for a double room with a balcony. The staff at this homestay is what makes it so special. The owner is incredibly helpful, adding to the chill atmosphere, and will provide you with so much information about Yogyakarta.
It's situated in an adorable residential area with the Palace of Yogyakarta only a few blocks away. The ample beds are extremely snug and can be difficult to leave in the mornings. There's no better place to stay when you're in Yogyakarta!
Ubud: Sabana Ubud – $58 a night for a deluxe room with a queen bed and balcony. Ubud takes trendy accommodation to a whole new level. Sabana Ubud is a class example of this. The beautiful boutique hotel offers guests an outdoor swimming pool, a tranquil garden, and a bar where you can enjoy a nightcap. The rooms are fully air-conditioned and have charming views that you won't be able to get enough of. Take a trip to the famous monkey rainforest that's only an 18-minute walk away.
Canggu: D-Anyar Stay and Surf Canggu – $52 for a double or twin room with a private bathroom. This cute homestay is the perfect location if you're a lover of the beach and want to try your hand at surfing. You have access to an outdoor swimming pool, free private parking, and free Wi-Fi at this peaceful spot.
If you'd like to book surfing lessons or onward travel arrangements, the staff at the front desk will be more than happy to help you out. When booking accommodation in Canggu, it can be such a challenge because there are so many options to choose from. You won't be disappointed when you spend a night at D-Anyar Stay and Surf Canggu.
Gili Trawangan: Lost Paradise Gili – $38 for a one-bedroom standard bungalow. Live it up island style at Lost Paradise Gili. This is one of the top-rated places to stay in Gili Trawangan for a low price. With an excellent location close to South West Beach and Sunset Point, alluring, stylish rooms with modern touches, and tasty food served from the bar, all that you need to have a fabulous stay is waiting for you.
The hosts, Kiting and Darsen, are only one call away if you need help. Be sure to avail yourself of the complimentary breakfast every morning. Sometimes free breakfast can be hit or miss, but here it was delicious.
The average cost of a mid-range per hotel/homestay per night is $27 a night.
The Cost Of Transportation In Indonesia
Indonesia is a massive country with a decent public transportation system. Getting around is mostly easy but sometimes requires some help from a local. That's when you should utilize your hosts, as they'll know how to get you where you want to be for the lowest price.
On my travels to Indonesia, I used trains, buses, and boats to get around. And boy, was it an adventure. Some of the things you'll see on a local bus are interesting, to say the least. It's all a part of the experience, right?
Low-cost airlines give you access to all corners of Indonesia cheaply. Indonesian Air Asia, Lion Air, and Citilink are the more known ones and operate frequently. These are great for anyone on a tight schedule who wants to fit in as much as possible. A one-way flight from Jakarta to Denpasar in Bali can cost as little as $53.79, saving you from taking a 26-hour bus journey.
Buses in Indonesia are the cheapest way to get around. They run 24/7 around the clock, which provides you with flexibility. You have so many bus companies to choose from, some more luxurious than others. Personally, I used the Agra Mas bus company.
They have an extensive network, and you can rely on them compared to other privately owned companies. Their buses are comfortable with modern features like sockets and central multimedia, and the drivers don't drive like they're in Mario Kart.
When booking your bus and train tickets in Indonesia, use Traveloka. It finds you the cheapest tickets and saves you the hassle of having to bargain with merchants. The language barrier in Java can sometimes be challenging, so Traveloka cuts out that stress.
Here's a list of some popular bus journeys you could take while in Indonesia and their prices.
Jakarta to Yogyakarta with Agra Mas – $17.54
Yogyakarta to Bandung with Daltrans Travel – $19.86
Yogyakarta to Malang with Malang Indah – $13.24
Jakarta to Bali Denpasar with Kramat Djati Jakarta – $38.39
Malang to Bali Denpasar with Mtrans – $19.47
Some of these journeys are quite long, like Jakarta to Denpasar is over 24 hours. Don't forget to bring something to entertain yourself.
I suggest using trains in Indonesia when you can. As I stated before, the island of Java has a fully functional train line operated by PT Kereta Api Indonesia that stops by many of the island's top destinations, including Jakarta, Yogyakarta, Bandung, and Malang. If you want to get to Bali from Java by train, the last stop you can get off at is Ketapang. From there, you'll have to take a 45-minute ferry over to the island.
Please take a look at the price of these train journeys to compare them with buses. Also, factor in convenience before making your decision.
Jakarta to Yogyakarta – $21.50
Yogyakarta to Bandung – $21.50
Yogyakarta to Malang – $15.22
If you have already been to Southeast Asia before, you'll know that tuk-tuks are a handy way of getting around. Tuk-tuks are motorized versions of rickshaws that compete with taxi drivers for your hard-earned cash.
You'll see the drivers relaxing in the vehicle at the side of the road when they're not driving, sometimes even sleeping. You'll often hear them whistle when you walk past. They'll know you're a foreigner and chance their arm to get a sale. If you ever use a tuk-tuk, negotiate a price with the driver before you depart, so they don't try to scam you. Better to be safe than sorry.
Avoid using taxis in Indonesia; instead, use applications like Grab or Gojek that follow the same concept as Uber. All you have to do is tap in where you want to go, and the driver will be with you in minutes. Rides are very affordable, and if you opt to go with a motorbike cheaper, they're half the price again — a great way to save money.
When traveling between islands, you can take ferries. You can book tickets online through websites like 12Go Asia or from travel agencies wherever you are. The benefit of booking online is that you can see the reviews.
It's important to note that boat safety in Indonesia is a controversial topic. The safety standards aren't like in the western world, and accidents are a regular occurrence. Read reviews of companies before you book a journey with them.
I had a situation from Gili Trawangan back to Bali where the speed boat (not so modern) I was on almost capsized in high waves. The crew was acting recklessly, and a part of the wall started to come through mid-journey. It was a frightening ordeal altogether.
Unfortunately, I don't have the name of the company because I booked it from a stall at the side of the road.
The average cost of transportation per day in Indonesia is $15.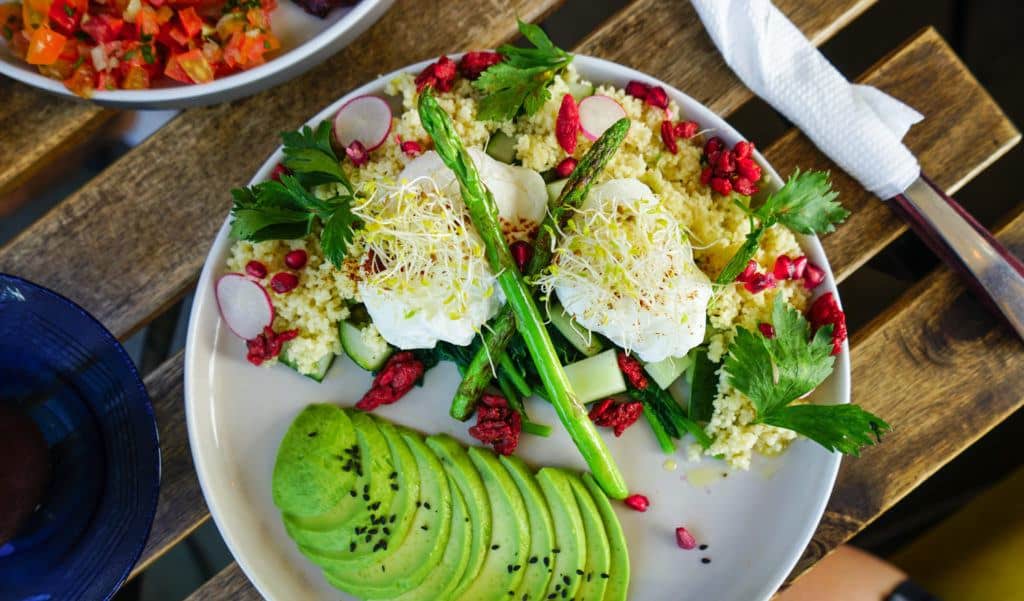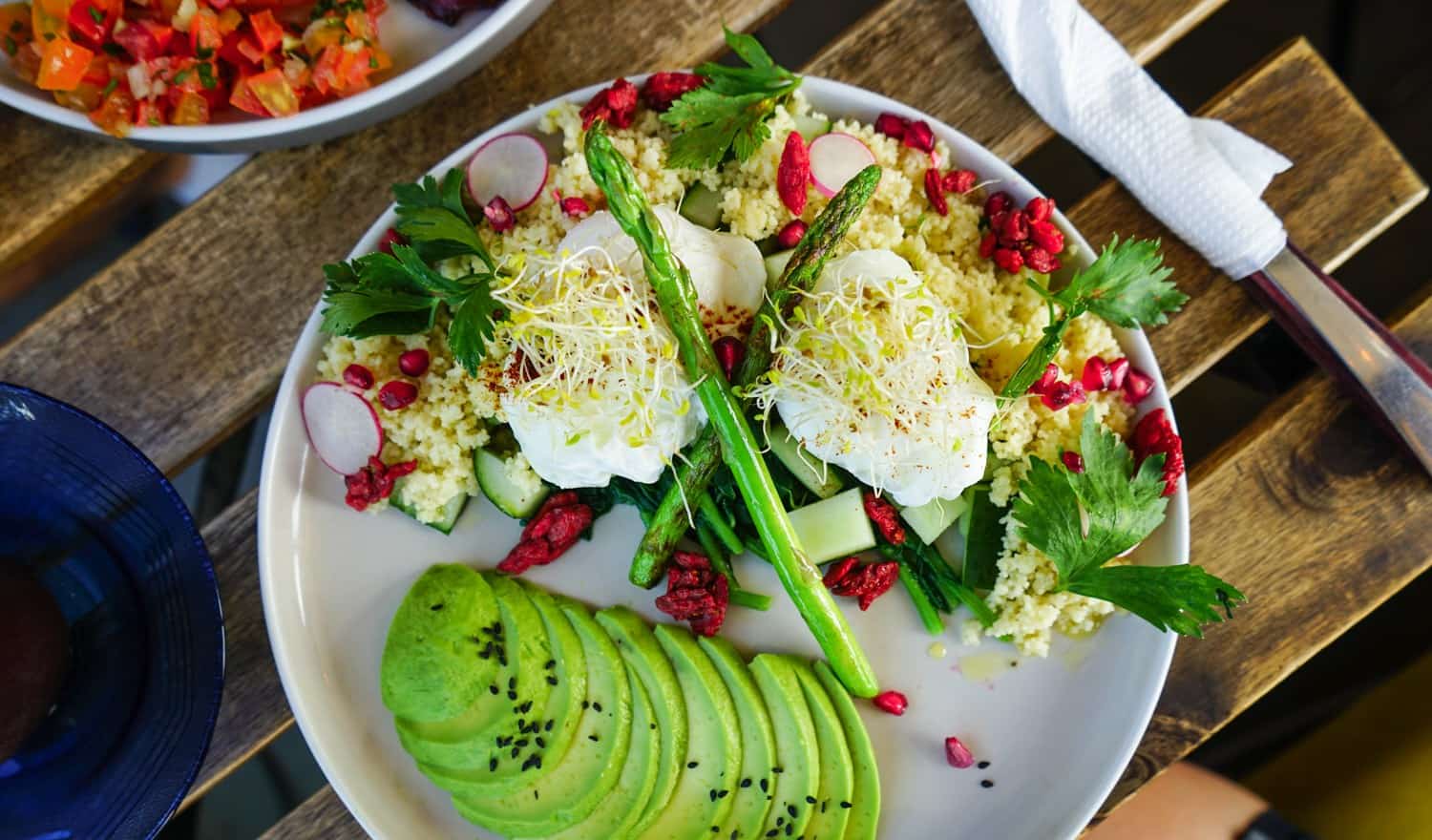 Cost Of Food In Indonesia
Indonesian food is a blend of influences from countries worldwide, including Eastern Asia and the Middle East. Before we look at some flavourful Indonesian dishes, we need to remember that because the country is so big, the cuisine is so diverse.
Even if you're on a budget, it's cheaper to eat out than buy food and cook it at an Airbnb. Street food is inexpensive. A portion of fried rice (nasi goreng) and chicken satay will only set you back $1.50, or some soto ayam, a broth-based soup that's just $1.20.
I loved Indonesian street food and ate it more often than not. It's great for the budget and tastes terrific. Diving into it can be difficult if you're not used to eating from street stalls, but trust me, once you have your first dish, you'll never go back.
Breakfast in Indonesia can be heavy. Typically, it consists of rice and some meat, usually chicken, and costs, on average, between $1 and $3. Don't feel rude if you can't stomach a Bubur Ayam at 7 am. In the big cities, you'll be able to find western food available for breakfast as a backup plan.
Standard Indonesian breakfasts:
Gudeg (unripe jackfruit cooked with coconut milk) – $1 to $2
Kupat tahu (rice cake and tofu in peanut sauce) – $1.50 to $3
Nasi goreng (Indonesian fried rice) – $0.8 to $2
You'll notice a running trend in Indonesia; meat is in pretty much everything, so brace yourselves. I ate a lot of chicken satay at lunchtime. It was so hard to resist walking past a street food vendor putting on a fresh batch and the smell hitting me in the face.
Standard Indonesian lunches:
Bakso (meatball noodle soup) – $2
Rawson (a nutty beef stew) – $2 to $3
Ayam goreng (fried chicken) – $1.50 to $3
For dinner, I sampled a variety of different dishes, but my favorite was beef rendang. It's a slow-cooked beef that's cooked in several spices and coconut milk. You can't leave Indonesia without trying it. Other mouthwatering dishes that you should try include ikan bakar and gado.
Standard Indonesian dinners:
Nasi uduk – (boiled rice cooked in coconut milk) – $2 to $3
Ayam taliwang – (roast chicken) – $3 to $4
Mie -(spicy curry noodle) – $2 to $3
Alcohol isn't as big in Indonesia as in other Southeast Asian countries. Yes, you can still purchase it, but a good proportion of Indonesians don't drink alcohol at all. Why is that?
Well, Indonesia is a predominantly Muslim country and is home to the largest population of Muslims in the world, so that explains it. Because of this, alcohol is quite highly-priced compared to other countries in the region.
Expect to pay $3 for a large bottle of Bintang, Indonesia's famous beer. It's so good; you need to try it when you're there. For a spirit and a mixer, the price is usually $5. Local wine is cheap but not that great in taste. A glass will cost $3, and for a higher quality imported wine, it will cost between $5 and $10.
Food budgets for different types of travelers
It will cost you more to cook and eat local food in your apartment. Supermarkets are costly, so if you wanted to do it, you'd have to go to a local market. When you're shopping for one person, it's better to eat from street food stalls because they're so affordable. But if you're adamant, that's how you want to do things, expect to spend $10 per day.
Some travelers aren't into street food, and that's perfectly fine. I found international restaurants almost everywhere I visited in Indonesia. You won't go hungry. If this is you, set aside $20 to $25 daily for your meals.
Non-drinkers who want to stick with street food will only spend $5 to $6 a day. Or if you eat at international eateries without a beer in the evenings, $17 will be fine.
The average cost of food per day is $6 for a budget traveler and $17 for a mid-range traveler.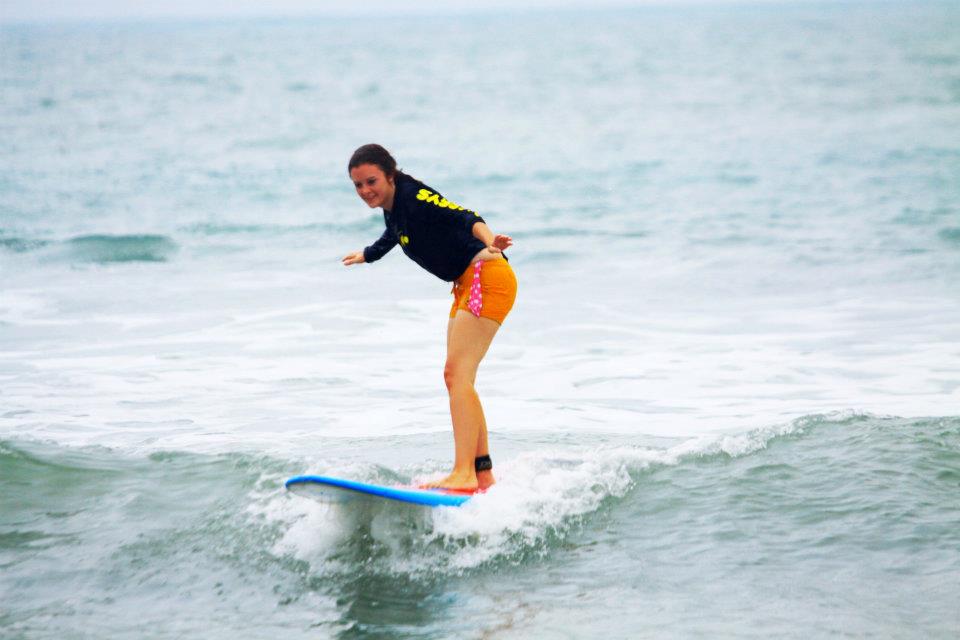 The Cost Of Activities In Indonesia
Indonesia offers something for every traveler. Enjoy thrilling hikes to active volcanos, boat trips to islands with komodo dragons, and days out spotting wild orangutans.
For a real hit of adrenaline, take a climb to see Mount Ijen, an active volcano famous for its large turquoise-blue acidic lake and blue flames that stay lit due to the sulfur emitted from the earth, forming sulfur dioxide gas. You'll have to wear a gas mask if you want to get right up to the gas. It's fascinating to see.
A tour from Bali will cost $147.94, which includes everything, from entrance tickets to transport. I did the tour from Malang before making my way to Bali, and it cost me only $80 through my hostel.
Hop on a four-day boat trip to see Indonesia's island inhabited by Komodo Dragons. Trek through forests, sail around breathtaking islands and get some snaps of the drags on in the wild. The excursion costs $865 for an all-inclusive four-day tour. Yes, it's pricey, but for what you get, it's well worth the splash.
Fancy getting up close and personal with some orangutans? Head off on a day trip to Mount Leuser National Park in Sumatra, home to Indonesia's famous Orangutan Care Center. A local ranger will take you on an adventure through the Sumatran rainforests to see the great apes with your own eyes. A full-day tour is priced at $140. With your booking, you get return transport, permits for the area, and lunch.
Swimming with Manta Rays on a day trip from Bali to Nusa Penida was incredible. I visited Crystal Bay, Manta Bay, and Mangrove Point and snorkeled in deep blue Indonesian waters, spotting Manta Rays. There are many tours you can take that have different itineraries, but I'd recommend you do this one for $70 if you really want to get the most out of your time.
If you're interested in seeing some authentic Indonesian temples, check out Borobudur in Yogyakarta. I took a half-day sunrise tour to see this unbelievable Buddhist temple. It's the largest one in the world. Wait until you see how big it is. You'll be blown away.
The tour cost me $40, including return transport from my accommodation and a local guide, but an entrance fee of $25 had to be paid when I arrived. You could possibly do this on your own for cheaper if you're confident enough to drive a moped in Yogyakarta's hectic traffic.
Other must-have experiences in Indonesia:
The average cost of activities per day is $25.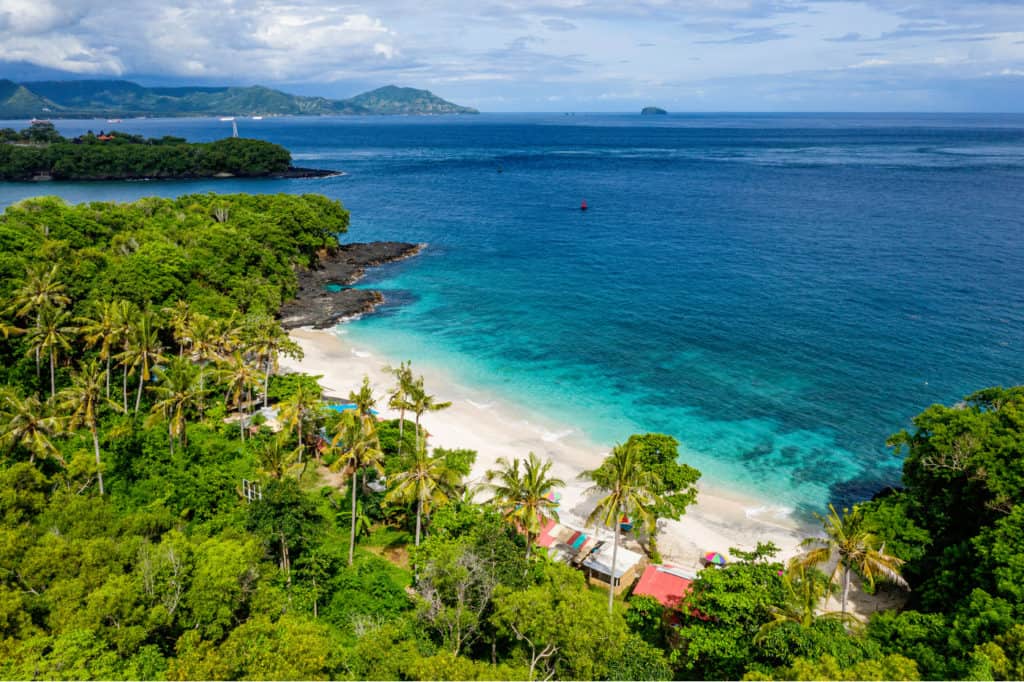 Total Expenses Per Day When Traveling To Indonesia
I have covered every cost you could possibly have when traveling to Indonesia. Now let me show you how much you're going to spend every day on travel expenses so you know how much to budget for your trip.
Accommodation – $6 (budget traveler) or $27 (mid-range traveler) per night
Transportation – $15 per day
Food – $6 per day (budget traveler) or $17 (mid-range traveler)
Activities – $25 per day
Total expenses for each day: $52 (budget traveler) or $84 (mid-range traveler).