If you'd have told me back when I first started travelling that Taiwan would end up being my favourite country, I'd have blinked multiple times in surprise.
Let's face it: it doesn't sound like that exciting a place. I didn't know anybody who had been, knew very little about it, and pictured it as an island blanketed in factories and filled with electronics.
I was delighted, then, to discover that Taiwan is all about the beautiful beaches, spectacular scenery, delicious street food, and some of the friendliest people I've ever met. After spending a full four weeks on the island during that first trip, I've since paid two additional month-long visits to this kickass island.
One of my aims for Never Ending Footsteps going forwards is to share detailed and accurate resources about the cost of travel. After all, I keep note of every single penny I spend while I'm on the move — I really should be posting more about my expenses! Having now spent so much time in Taiwan, I feel qualified to share how much you should budget for a trip there, especially as I've tried out several different travel styles during each visit.
I've spent a month travelling solo on the tightest backpacker budget I could manage.
A month travelling as part of a couple in mid-range-priced guesthouses.
And a month as a digital nomad, basing myself in an apartment in Taipei for a full four weeks.
Here's how much each of them cost.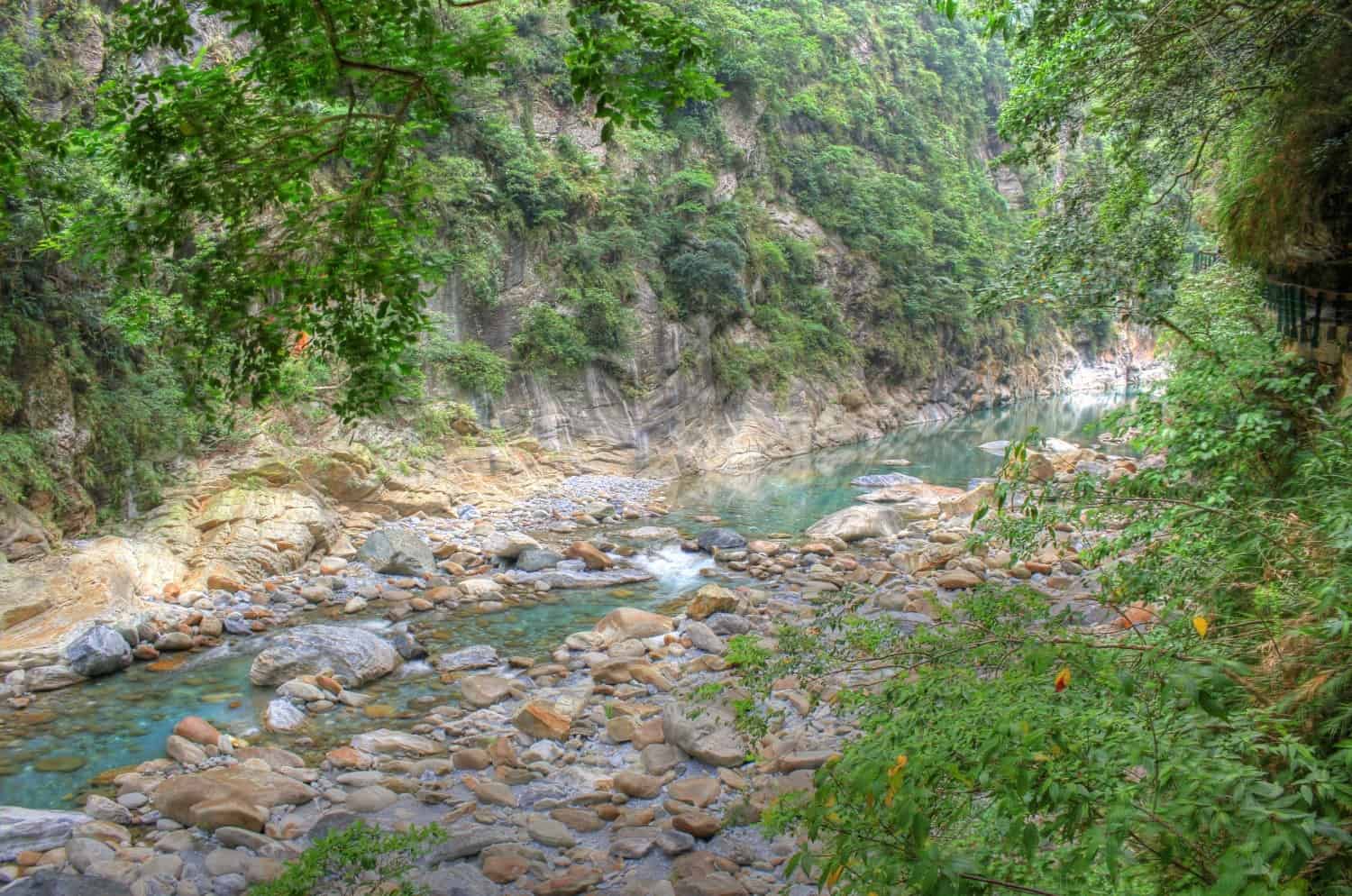 My Solo Backpacker Budget
Taiwan was my first destination in Asia and the first destination to show me just how affordable backpacking could be.
Rather than staying in the cheapest dorm room I could find, like I had been doing in Europe, I could afford to book the highest-rated hostel in town, because it was $10 a night rather than $8; I could head to a street market and find an entire meal for a couple of dollars; I could take a train across the length of the island for the price of a 30-minute journey back home in the U.K.
I spent $599.82 in 27 days. That's $22.22 per day! 
Accommodation
If you're looking to stretch your dollar as much as possible, aim to stay in dorm rooms in hostels. For some reason, private rooms in hostels and budget guesthouses in Taiwan are strangely expensive — often as much as $50 a night. If you're a solo traveller especially, dorm rooms are the way to go.
Here's where I stayed:
Taipei: A six-bed dorm at Flip Flop Hostel at $10.93/night
        I loved my stay at Flip Flop and it's one of my favourite hostels on the planet! It's full of amazing and welcoming staff, is located in a central area and beside a metro station and a park, and the beds are clean and modern with your own lights and power socket, which is always great. When I was feeling lonely one day, one of the staff members even invited me to dinner at his grandmother's house! When I was at Flip Flop, I felt like I was at home. Check out prices and availability here.
Taichung: A six-bed dorm at Taichung Suncake Hostel at $8.43/night
        Unfortunately, I can't give such a glowing review of Suncake Hostel. The main advantage to staying here is that it's the cheapest option in the city, so if you're on a very tight budget, look to stay here. It was extremely basic and quiet, but the dorm didn't have windows and there was a cockroach in the bathroom when I visited. If that doesn't bother you, see prices and availability here.

Kaohsiung: An eight-bed dorm at Hostel Hamasen at $11.20/night
Hostel Hamasen was your basic cheap hostel. It wasn't amazing but wasn't horrible. The staff were nice, you were within walking distance of a metro station and the beach, and the bathrooms were clean. I'd recommend it as a decent place to base yourself, but it wasn't, y'know, life-changing. Check out prices and availability here.

Hualien: An eight-bed dorm at Sleeping Boot Backpackers for $11.01/night
I loved this hostel just as much as I loved my one in Taipei! The dorms were quiet, clean, and modern, and you were within walking distance of everywhere you'd need to go in Hualien. The hostel owner was amazing and took me out for a free scooter tour of the city, bought me some local food to try, and took me to an Aboriginal dance performance outside of town. I felt so welcomed at this hostel! Check out prices and availability here. 
Transportation
I used a mix of transportation in Taiwan, ranging from daily metro trips in Taipei, to hopping on a local train around the country, to checking out the high-speed rail between Taichung and Kaohsiung. If you're on a budget, local trains are definitely the way to go. Here were my costs:
Ten days of metro use in Taipei: $3.60
Local train from Taipei to Taichung: $12.03
High-Speed Rail from Taichung to Kaohsiung: $26.13
Local train from Kaohsiung to Hualien: $17.43
Local train from Hualien to Taipei: $13.00
Food
Food in Taiwan is cheap, thanks to the plethora of night markets in every city. Back when I visited, though, I was terrified of most foods and opted to eat at supermarkets (I know!) and themed restaurants instead. And sometimes I was so intimidated by the menus that I didn't eat at all (again, I know). My only visits to night markets were with friends, and I'm kicking myself for skipping out on what is now one of my favourite aspects of the country. For food, I paid $248.56.
Activities
The great thing about Taiwan is that many of the activities you'll want to do in the country are free.
Entry to Taroko Gorge is free, as is the entrance to the Kaohsiung temples, as is the entrance to Sun Moon Lake, as is the entrance to the temples I visited in Taipei.
The only things I paid for in Taiwan was my bus trip around Taroko Gorge ($7.92) and my minivan tour of the Lotus Pond temples ($4).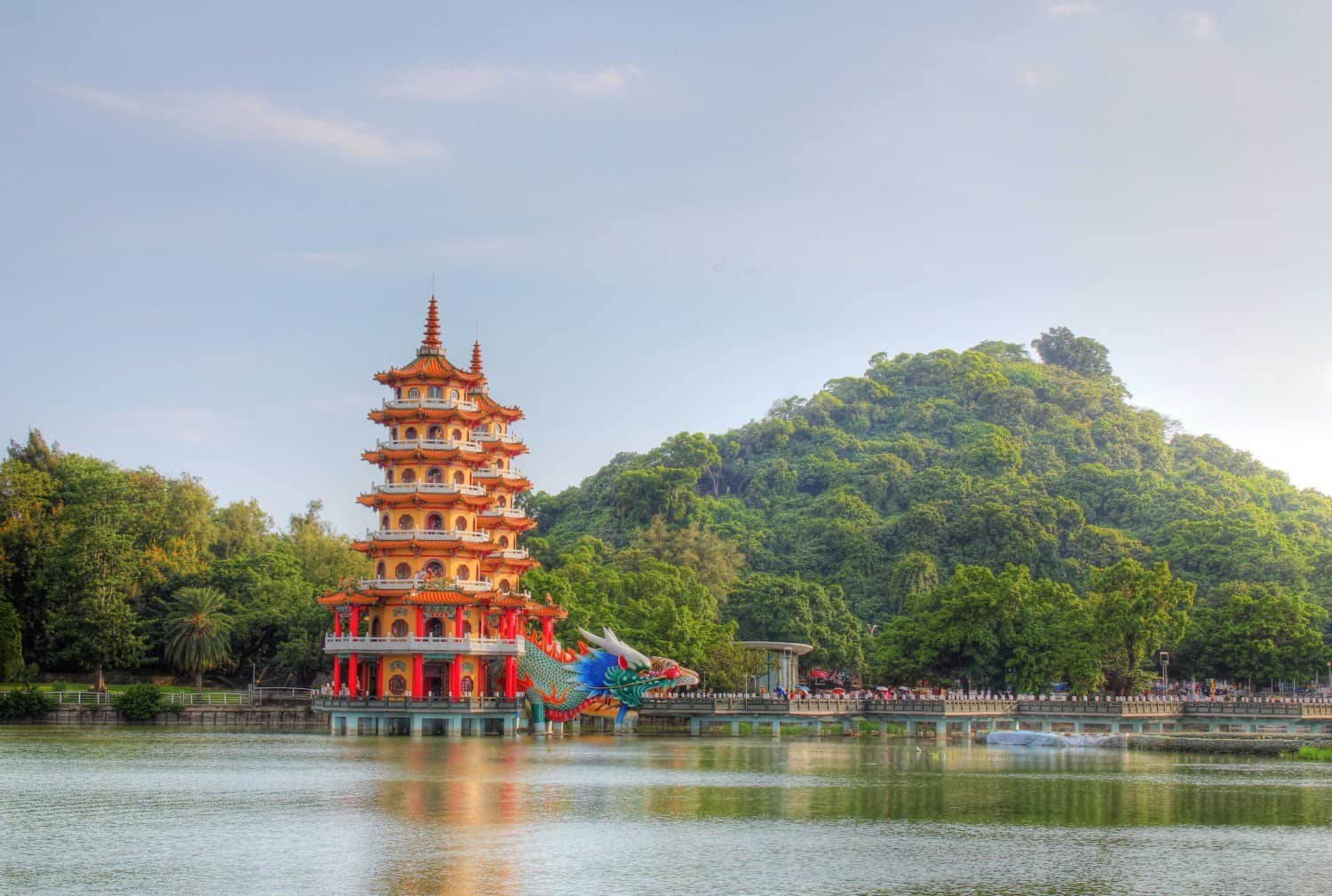 The Mid-Range Couple Budget
Several years later, I returned to Taiwan, but this time with my boyfriend in tow. My budget had expanded over that time, too, and I was looking to stay in either private rooms in hostels or budget guesthouses. When it comes to transportation, Dave and I travelled across the island in much the same way as I had as a backpacker, but we definitely ate way more street food than I did before! Activity costs were low once more.
Accommodation
I didn't stay in dorms while I was travelling in Taiwan this time around, but we did opt for a mix of private rooms in hostels and budget hotels. Here's what the costs looked like for us (this is for the total cost of the room, rather than just my share):
Transportation
Transportation was similar to my first visit: a mix of metro use in Taipei, the High Speed Rail, local trains for much of the rest of the country, and a scooter rental in several places. Here's my breakdown in detail:
High speed train from Taipei to Kaohsiung: $46.70
Return ferry ride from Kaohsiung to Qijing Island: $1.58
Bus from Kaohsiung to Kenting: $10.15
A day's scooter rental in Kenting: $9.50
Bus from Kenting to Kaohsiung: $10.15
Train from Kaohsiung to Hualien City: $17.65
A day's scooter rental in Hualien: $12.66
Train from Hualien City to Taipei: $13.74
Taipei metro costs for our 10-day stay: $10.93
Return bus from Taipei Airport to Taipei: $9.06
Food
Food was vastly different to my first visit! With my eating horizons now having widened to roughly 18 million times the size they were before, I dove headfirst into night market eating and surfaced several hours later with a duck tongue in my mouth. Dave and I ate mostly on the streets when it came to lunches and dinners, but usually headed to a cafe for a bread-based meal for breakfast.
My total food costs came to: $525.41.
Activities
Once more, many of the activities we did in Taipei were free, like access to Taroko Gorge, Kenting National Park, Yingge Ceramics Museum, and exploring the temples of Lotus Pond.
The only entrance fee we paid was for Taipei's Museum of Contemporary Art, which was $1.58.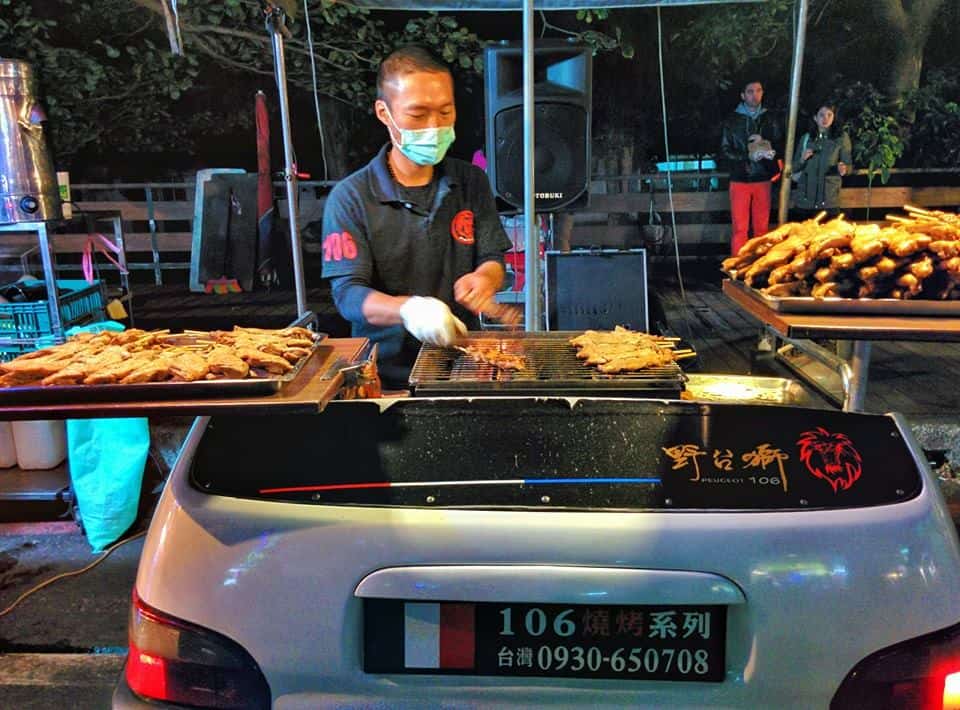 The-Basing-Yourself-in-Taipei Budget
Taipei is fantastic for digital nomads! If it wasn't for my extrovert boyfriend needing to know roughly 7,984 people in a city in order to keep his energy levels high, we would have seriously looked at making it our home base.
For this particular trip to Taiwan, we spent our entire month in Taipei. We booked out an Airbnb apartment for 30 days, didn't even leave the city for any day trips, and spent the vast majority of our time eating our way around the city.
Accommodation
Our Airbnb apartment came to $27.28 per night, or $54.56/night when you include Dave's share, too. We were in the heart of the Xinyi district, a few minutes' walk away from Taipei 101, surrounded by dozens of cafes and restaurants, and my favourite night market in the city: Tonghua!
Transportation
No real transportation costs came up during the month.
We used the metro to get around and I paid $3.25 for a month's worth of rides. We also paid $15.00 each way for a transfer from and to Taipei's airport.
Food
Street food galore! Our main reason for being in Taipei was to eat, and because we didn't really have much of a kitchen in our apartment, we ate out for every meal. There were lots of date nights, lots of visits to international restaurants, and many, many wanders around the night market. Western breakfasts in cute coffee shops were around $7, lunches at restaurants in shopping malls and international restaurants around our neighbourhood were roughly $10 each, and our evening meals were predominantly from Tonghua night market and were around $4 a meal.
I spent $650 on food for the month.
Activities
All of our activities (mostly hiking in the nearby mountains, walking in parks, and wandering around markets) were completely free in the city!
---
And that's how much it costs to travel in Taipei! To summarise, these are my daily costs for these different travel styles (so that means only my share of the accommodation is included):
Solo backpacker on a tight budget: $22.22 per day
As part of a couple on a mid-range budget: $34.71 per day
As part of a couple based in Taipei for a month: $50.03 per day
And if the affordable prices aren't enough to convince you to visit, check out my post about why Taiwan is my favourite country to give yourself a nudge towards booking your flight.
Have you been to Taiwan? How did my travel expenses stack up against yours?
Save This to Pinterest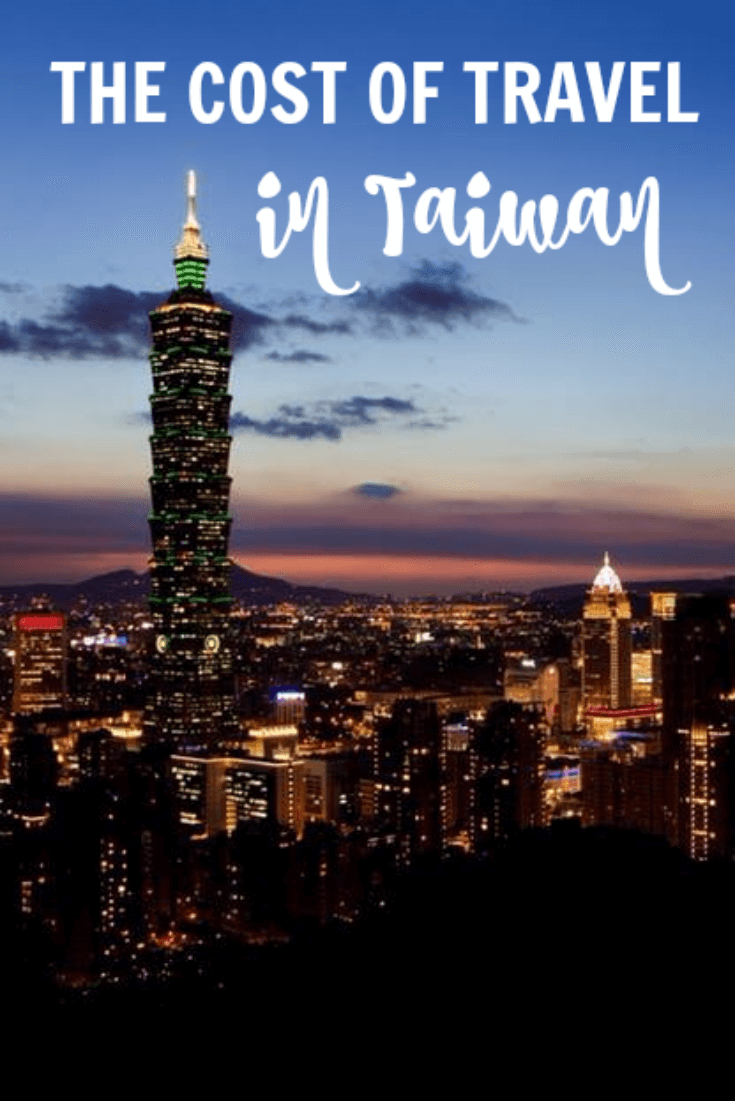 ---
Thanks for reading!
Never miss another post again! Subscribe to my newsletter and receive twice-monthly updates sharing my latest blog posts, stories I don't publish anywhere else, and advice on how you can live a life of travel, too.