Germany is one of my favourite European countries, and I'm fortunate to have visited a whopping four times so far. What can I say? I love regularly dipping in and out of this country on a mission to discover a brand new region, and I'm determined to explore as much of it as possible.
What I love about Germany is its stunning gothic architecture, the rolling hills of its countryside, the festive vibes that emerge during Christmas and Oktoberfest, the picturesque castles that leave you in awe, and the incredibly welcoming locals. I fell in love with the bustle of Berlin, the buildings of Frankfurt, the romance of Heidelberg, the arts scene of Munich, the beer of Cologne, and so much more.
And that's just the cities! You can't visit Germany and not venture out to some of the small villages. Seriously — they look as though they've emerged straight from the pages of a fairytale. Throw some seriously beautiful castles into the mix, and you'll be pinching yourself on a daily basis, wondering if Germany is even real.
In short, Germany is a world-class destination with so much to offer its visitors and explorers. Whether it's partying the night away at one of Berlin's most infamous nightclubs, sipping Gluhwein while wandering through cosy Christmas markets, or hiking the soaring mountains of Bavaria, in this country, there truly is something for everyone.
I've been recording every single cent I spend in the countries I travel through because I want to give my readers a realistic and accurate look at how much you can expect to spend in each country you visit.
Today, it's Germany's turn.
I visited Germany first of all on a high-end vacation with my partner, where I stayed in five-star hotels and dined in Michelin-starred restaurants. Next, I travelled there as a solo backpacker on the tightest of budgets, and then I entered Germany as part of a couple on a mid-range budget. In other words, I have enough German travel experience to be able to tell you exactly how much you can expect to spend on a trip to this wonderful country.
So, let's get started! Here's how much it costs to travel in Germany: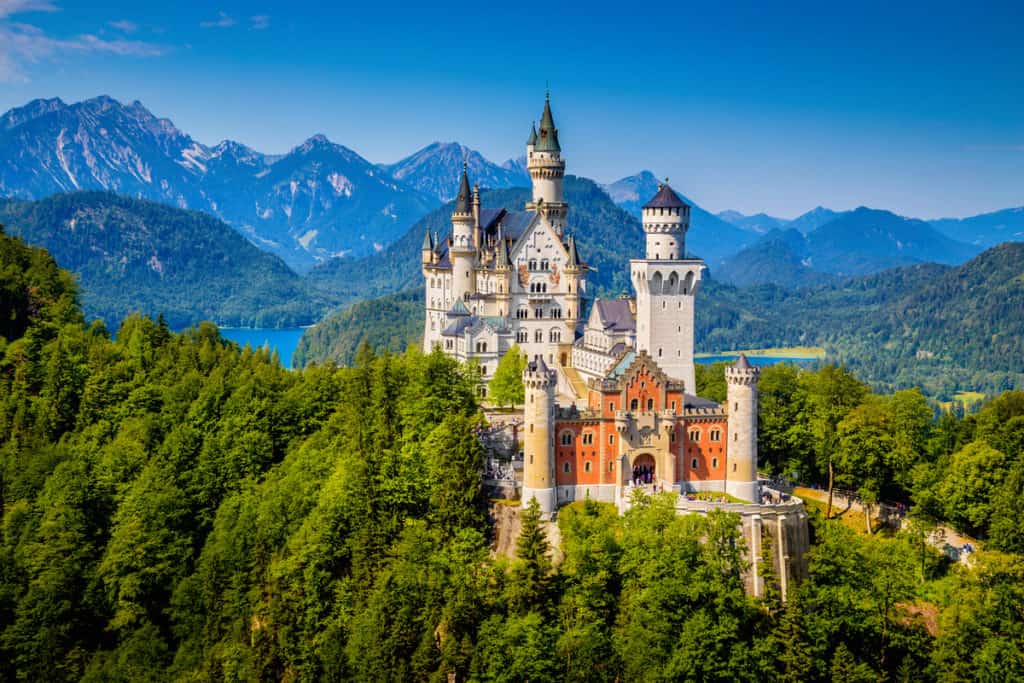 How to Save Money on Flights To/From Germany
My fellow Europeans will already know that scoring an affordable flight on this continent is rarely too much of a problem. Thanks to the vast range of budget airlines in Europe, getting to and from a different country is unlikely to break the bank.
As always, I recommend heading to Skyscanner to snag yourself a bargain of flights.
If you're flexible with dates and itinerary, you'll find the best deals by searching to flights to "Germany" rather than assuming that Berlin will be cheapest. You may find it costs far less to fly into Frankfurt or Cologne, for example. It's also worth setting your flight's departure date to be across an entire month in Skyscanner. This will show you the cheapest dates to fly and ensure you have the very best deal possible.
In general, you'll find that it's cheapest to fly to Germany outside of high season, which coincides with typical European summer vacation dates (late-June to late-August) as well as December, when Christmas markets reign supreme, and mid-September to early-October, when tourists pour into the country to celebrate Oktoberfest. If you do have the freedom to visit outside of high season, I highly recommend it, as it'll mean spending less on flights and accommodation while having to deal with fewer tourists. I've visited Germany in early-June, early-September, and mid-November, and found all three to offer up great prices and few crowds.
What if you're not European?
Fortunately, getting to Europe from North America is surprisingly cheap these days, and I wouldn't expect you'd need to pay more than around $400 for a return ticket. Allow me to introduce you to one of my favourite websites in the world: Secret Flying! I'd estimate that 80% of the flights I book these days are due to a deal I've found on Secret Flying.
If, however, none of the deals on Secret Flying work for you, that's when Skyscanner comes in! They check prices of practically every single airlines in the world to ensure that you're finding the absolute lowest prices.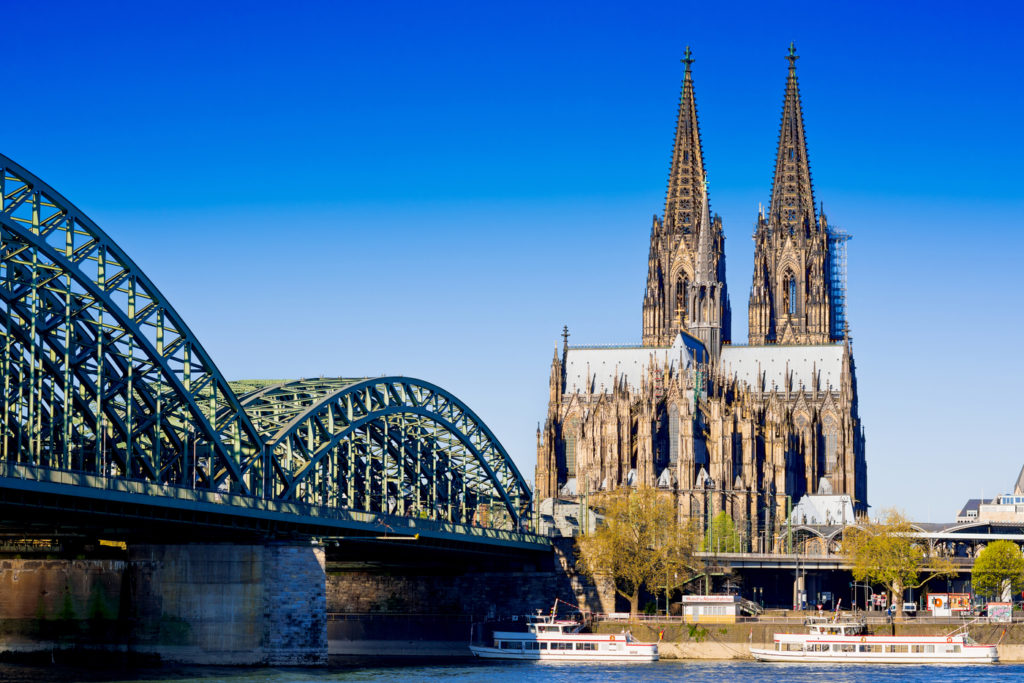 How to Save Money on the Cost of Accommodation in Germany
As always with travel, it's possible to cut your accommodation costs down to zero if you have the time and patience to seek out an offer.
Housesitting is a great option for free accommodation. This is where you'll take care of somebody's house while they're away, and usually look after their pets, too. It's best for long-term travellers or retirees as you can't pick and choose dates and destinations, so you need to have a lot of flexibility as to where you go and at what time of year. If you do have that freedom, it's a wonderful way to cut down your travel expenses, soak up some home comforts, and live like a local for a while. I have friends who have housesat in castles before! For free! Trusted Housesitters is the best site for getting started with housesitting, as they have the highest number of listings.
I'm suspecting, though, that for most of you, you're not interested in the free accommodation and just want somewhere clean, safe, and affordable to rest your head each night. If that's the case, there are several options available for you.
The first of these are hostels. In Germany, you'll come across hostels all over the country, finding them on tiny islands, in large cities, and even in the national parks. They're one of your best options for saving money.
Hostels in Germany are on a par with the rest of Western Europe, and you can expect to spend around $25 a night for a dorm bed for a well-reviewed hostel in Germany, with the price increasing to slightly about $50 a night for the absolute best of the best.
When it comes to private rooms in hostels, you can expect to spend around $70 a night for a clean, basic room in a good location, so if you're travelling with friends or with your partner, you may find it cheaper to grab some privacy over settling for two beds in a dorm room. $100 a night will get you an exceptionally well-reviewed private room in a hostel or hotel.
I use HostelWorld to find the cheapest hostels, as they tend to have the greatest number of listings at the lowest prices.
And, of course, there are always hotels, which will usually come in at around $20-$60 a night for a decent, clean, mid-range property in a central location. I always use Booking, as they have the most accommodation options for the cheapest prices.
The Cost of Accommodation in Germany
Munich – Jugend- und Familienhotel Augustin – ($122 a night for a family room): This hotel fits right in to Munich's distinctive and tasteful charm while showing off its modern vibe. Cleanliness and location are top notables, and the cloud-like beds, hotel garden and large lawn add a special touch to your stay. The restaurant and bar offer inexpensive drinks and tasty eats with a complimentary breakfast; and If you're craving a beer you don't have to wander far- St. Augustiner Brewery is attached to this steal of a hotel.
Frankfurt – The Flag Oskar M. – ($117 Business Single Studio): Classiness is in the air. Everything, and I mean everything, is modern, crisp and fresh. The Busines Single Studio is more like a mini apartment equipped with a kitchen, living room, private bathroom, free Wi-Fi and a balcony. But when it's time to venture out of your dream loft, you won't have to venture far. This hotel is conveniently located in the heart of Frankfurt's Old Town District, so walking or biking is an uncomplicated way to see the surrounding area.
Berlin – Studio-Apartments with Balcony in Berlin Mitte – ($131 a night for the whole apartment): If you want to live like a local during you visit, this is the way to go. In fact, the chic décor and simple pops of color will have you living like a classy local. This Airbnb is clean, open and coated in natural sunlight, courtesy of the many floor to ceiling windows leading to the spacious balcony. High speed Wi-Fi, underfloor heating and private digital locks come with the studio stay. Located in the Nook Building, the unbeatable location to Berlin's attractions includes a 2-minute walk to Hackescher Markt, a 15-minute walk to the TV Tower and a 10-minute drive to the Berlin Wall.
Heidelberg – Hotel Heidelberg Astoria– ($102 a night): What a jewel! This restored bed and breakfast is set in a traditional villa radiating old-fashioned charm. The rooms (less than ten of them) are clean, comfortable, welcoming and all about the freebies. Wi-Fi, parking, toiletries and a pair of comfy slippers are all included in your stay. The upscale neighborhood of Neuenheim is safe and cute, while the bed and breakfast is only a short distance from the city center and Heidelberg Castle (both a 25-minute walk) and mere steps away from the River Neckar. After a day of soaking up the romance of the city, you can grab a drink from the hotel bar and sip it on the picturesque terrace with an unreal backdrop.
Cologne- Zur Guten Quelle– ($108 double room with private bathroom): Family owned for more than 60 years by the Windecker's, affordable elegance has been made a priority over the decades. The rooms are stacked with sophistication shown through the sleek fixtures and patterned wallpaper while the communal areas are pleasantly welcoming, especially the garden and restaurant. The cuisine in the eatery boasts traditional German fare and delicious cider made from the Windecker's winery. Zur Guten Quelle's location is perfection as it is walking distance from Cologne City Center yet not close enough to bring the hustle and bustle of city happenings.
THE AVERAGE COST OF ACCOMODATION IS $116 PER DAY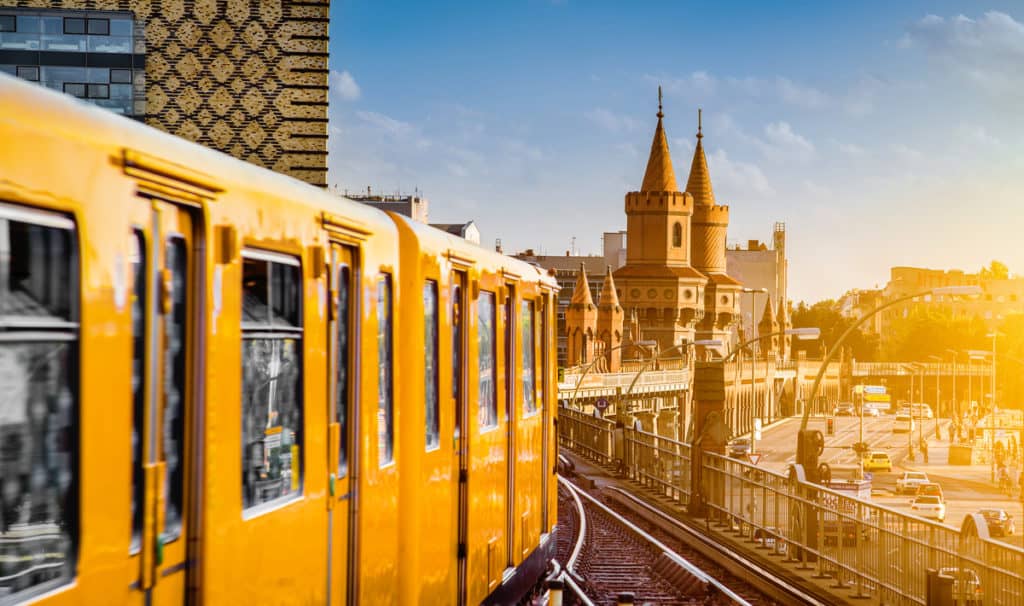 The Cost of Transportation in Germany
In Germany, ransportation is accessible is many forms within small towns, large metropolitans and throughout the country. The modern infrastructure and easy-to-follow connections are enough to ease the nerves of any newbie exploring the country. It did for me.
I was all about the public transportation during my time in Germany. Except for biking around in cities like Munich and Berlin, which was, let's be honest, more fun (and cheaper!) than sitting on a bus or a train.
In fact, biking is arguably one of the most used form of transportation. Germany's bike friendly vibe allows locals and visitors to get around in an easy and trendy fashion. Berlin on Bike offers rentals starting $12 per 24-hours and Pedal Helden in Munich has a great collection of city bikes for $22 per 8-hour rental.
Bus and Trams are easy to use and are reliable ways to see a city. However, each city runs its transportation slightly different, but prices are fairly consistent throughout the country. In Munich you can get Munich Card from Turbo Pass starting at $15.50 and includes 24-hour unlimited public transportation (bus, tram, regional trains and trams), reduced admission fees at various attractions and 70% off discounts. You can choose a single or a multi-day pass. I purchased a two-pass and found it very useful and thrifty.
The Frankfurt Card is comparable in price with a $13 price tag for an unlimited 24-hour pass with various discounts on museums, zoos and tours. If you have friends, you're in luck! A single-day group pass goes for $27 (total) for up to 5 people.
Railway System
S-Bahn, or Stadtschnellbahn which means 'rapid train' in German, is independently owned and operated in big cities such as Berlin, Frankfurt and Munich. A single ticket in Berlin is $3.50, a 24-hour pass is $10.50, and a 7-day pass is $43.
U-Bahn, or underground railways, are the fastest way to get from place to place within big metropolises. BVG is a wonderful routing and ticketing app, or website if you are on your browser, that allows you to plan and purchase tickets with ease. A one-way ticket in Berlin will set you back $3 but you can get a 24-hour unlimited pass for only $7. When purchasing, keep in mind that you get so much more for your money when you buy a multi-day pass.
When it's time to leave one city to venture to the next, the process will likely be a smooth one. Intercity Express (ICE), Intercity (IC) and EuroCity (EC) all connect larger urban areas in a clean and safety environment. TrainLine is a great resource for filtering through operators to find the best and most reasonable ride. See below for some trusted routes from one popular destination to another:
THE AVERAGE COST OF TRANSPORTATION IS $22 PER DAY
The Cost of Food in Germany
Germany's traditional cuisine has been laced in their heritage from the beginning of time but the fare has taken on some modern techniques and new ingredients to make it what it is today. Many might describe German food as simple yet hearty, and they wouldn't be far off, Germans love meaty and dense foods. Some of the most popular dishes include schnitzel, smoked pork, bratwurst, brezels (pretzels), Käsespätzle (their take on macaroni and cheese), Kartoffelpuffer (potato pancakes) and beer.
Although you can find many options in restaurants and cafes that are moderate in price, the most inexpensive way to eat in Germany is by doing your own shopping at the grocery store. You can get a liter of milk for less than a dollar, a dozen eggs for $2 and loaf of bread for $1.50. And, If you drink alcohol, grocery stores are the way to go. Expect to pay $6 for a mid-range bottle of wine and $1 for a 12-ounce beer.
Of course, if you are looking to explore the culinary scene, not every meal should be prepared in your hotel room. German eats are too good to ignore. Keep in mind as you visit restaurants, hosts and hostesses do not typically seat patrons, you seat yourself and sometimes that means dining at the same table as strangers.
A basic breakfast costs between $6 and $10 and might include a cappuccino ($4.50) and a croissant ($1.50). Lunch is the biggest hot meal of the day and normally consists of three courses: a soup, a main dish and a dessert. Each dish is typically bought a la carte, so you have the option to pick and choose depending on your budget and your growling stomach. Tomato cream soup is $5, pork and potatoes runs at $14 while a piece of cake is $5.
Dinner is the lightest fare and is usually made up of sandwiches, breads with cheese, cold cuts, desserts and yogurts and averages $12.
When it's time to drink, Germany knows how to get it done. Known for overflowing steins, bars and restaurants don't limit their offering to only beer. Expect to pay $8 for a cocktail, $5.75 for a glass of wine and $5.75 for a bottled beer. I found beer on tap ran substantially cheaper at $2.50 a pint in pubs throughout the country.
And finally, don't forget to tip! Rules about tipping in various European destinations are fuzzy, but in Germany good service should be reflected with a 15% tip at the end of the meal.
EATING OUT AVERAGE PRICE PER DAY: $46
SHOPPING AT THE GROCERY STORE AVERAGE COST PER DAY: $11
COMBINATION OF BOTH: $29
The Cost of Activities in Germany
Germany is a playground for a range of activities depending on the time of year you go; but one thing is for certain, the beauty in sightseeing is year-round.
Castles are native treasures in Germany which makes it easy to feel like you're floating through a fairytale as you encounter each stunning fortress on your sightseeing journey. The Schloss Neuschwanstein in Bavaria is jaw dropping while Heidelberg Palace is probably where Cinderella lived at some point. It's truly gorgeous and unforgettable- especially during the Heidelberg Castle Festival. The fortress is transformed into a stage beneath the summer stars, lending its magic to the performers through theater and orchestras. Tickets range from $16 to $59, depending on the performance of choice and your seat location.
If you are a lover of Christmastime, plan your trip during the month of December and even a bit into January- the official Christmas season in Germany ends on January 6. Christmas markets pop up all over the country in honor of the holiday, offering sweet treats, hot cider, beer gardens, gifts, games and rides. It's free to roam the markets but it's likely you will spend some dough. It's a challenge to not let the Christmas spirit get ahold of your wallet at these festive gatherings.
This list of must-dos wouldn't be complete without the mention of Oktoberfest. Despite the name, the fest actually kicks off in September of every year and takes over Munich for 16 days. Six million people come for the festivities during the two-week span to celebrate the German tradition with music, games, rides, Bavarian eats and an all-around great time. The cost to attend Oktoberfest if free but beware: a single beer can cost up to $17.
If you aren't able to make it during Oktoberfest, don't fret, the legendary Hofbraeuhaus Munich is open year-round. Self-proclaimed as the "the most famous tavern in the world" the establishment doesn't disappoint. Overflowing steins, gigantic (and shared!) wooden tables and traditional German songs in this oversized restaurant make it impossible to do anything but clink the stranger's stein sitting next you. Spilt beer is a thing there but it's totally worth it.
The Berlin Wall is one of the nation's biggest attractions but don't expect to find much of it left. Although full of a tangible past, the wall itself has morphed into a canvas for artists and taggers, alike. However, for all the history buffs don't write it off just yet, the seeping history is worth a visit- and it's free. The East Side Gallery is the largest remaining segment of the wall and is accessible for tourists to stroll along and take in the significance that once was. But if you prefer to leave Berlin with a history lesson, opt for a tour for a reasonable fee ($18).
Below is a list of various activities that Germany has to offer:
Germany is a country that is beautiful throughout, with cities full of personality and a countryside full of heritage, making it easy to get your money's worth simply by exploring the various regions and the deep history. As always, your experience (and budget) is what you make it.
THE AVERAGE COST OF ACTIVITIES IS $41 PER DAY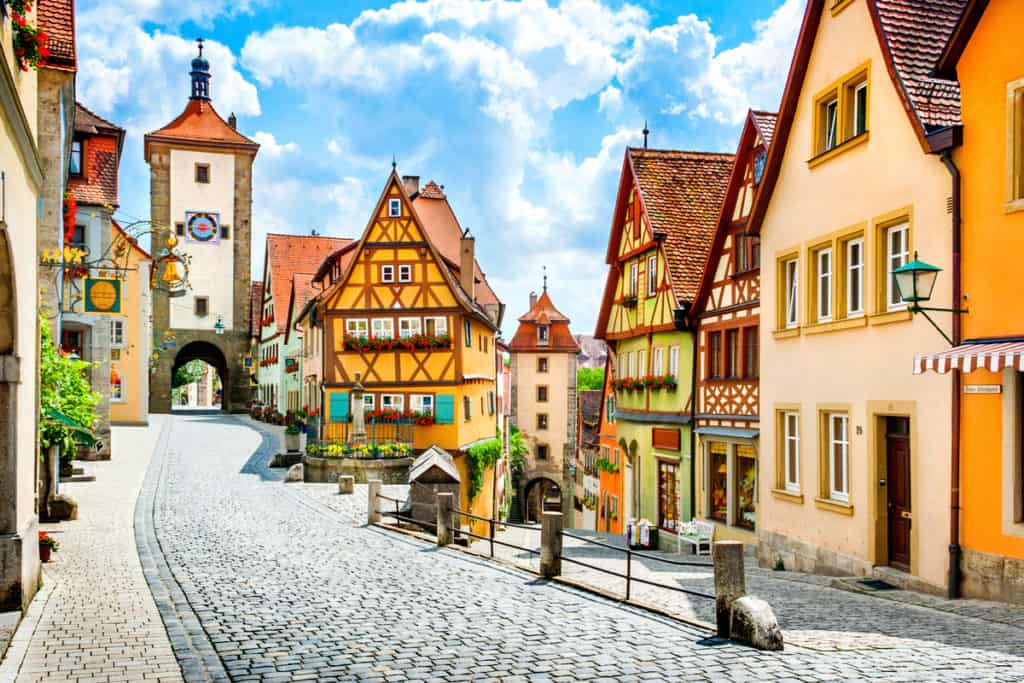 The Cost of Travel Insurance in Germany
If you've read any other posts on Never Ending Footsteps, you'll know that I'm a great believer in travelling with travel insurance. I've seen far too many Go Fund Me campaigns from destitute backpackers that are unexpectedly stranded in a foreign country after a scooter accident/being attacked/breaking a leg with no way of getting home or paying for their healthcare. These costs can quickly land you with a six-figure bill to pay at the end of it.
In short, if you can't afford travel insurance, you can't afford to travel.
Travel insurance will cover you if your flight is cancelled and you need to book a new one, if your luggage gets lost and you need to replace your belongings, if you suddenly get struck down by appendicitis and have to be hospitalised, or discover a family member has died and you need to get home immediately. If you fall seriously ill, your insurance will cover the costs to fly you home to receive medical treatment.
I use SafetyWing as my travel insurance provider, and recommend them for trips to Germany. Firstly, they're one of the few companies out there who will actually cover you if you contract COVID-19. On top of that, they provide worldwide coverage, don't require you to have a return ticket, and even allow you to buy coverage after you've left home. If you're on a long-term trip, you can pay monthly instead of up-front, and can cancel at any time. Finally, they're more affordable than the competition, and have a clear, easy-to-understand pricing structure, which is always appreciated.
With SafetyWing, you'll pay $1.50 a day for travel insurance.
How Much Does it Cost to Travel in Germany?
Accommodation: $116 per day
Transportation: $22 per day
Food: $29 per day
Activities: $41 per day

Total amount spent per day: $208
Related Articles on Germany

🌈 15 Best Things to Do in Berlin, Germany
🧭 23 Things to Do in Frankfurt, Germany
🏰 The Absolute Best Things to Do in Munich, Germany
⛪️ The Best Things to Do in Cologne, Germany
💣 Exploring a Berlin Air Raid Shelter as a New Zealander
[Photo of market stall via: By Marbury/Shutterstock]