China is one of the most fascinating countries I've ever been to.
As one of the largest countries in the world, it boasts some incredibly diverse landscapes, food, people, history, and development. With a history dating back 3000 years, it's a country with heritage and culture at every turn.
When I last visited, it was around the time of Chinese New Year and I spent a month travelling across the country. If you get the chance to travel to China during their new year, I would whole-heartedly recommend it — it was so much fun! There were decorations everywhere, fireworks filling the sky, and everyone was in a joyful mood. Of course, this means that you might need to book some things ahead of time before they sell out, but it was so worth it. One of my favourite memories was celebrating Chinese New Year in Shanghai over hotpot with new local friends.
Regardless of when you do end up visiting, however, know that travel in China takes some planning.
This is predominantly due to the visa requirements and application process, which can be onerous — yes, even when visiting as a tourist. It will differ for every country, but odds are: it'll be a pain in the ass. I needed to provide several forms and documents, proof of onward tickets, and even a list of every country I'd visited over the past 10 years. As a travel writer who travels full-time, that last part made me want to cry!
Even though the visa application is a slightly more stringent than other countries, I promise you it's worth it, and especially if you go through the process and score a long-term multi-entry visa. My tourist visa cost around $110 but it's a multi-entry visa that's valid for 60 days per entry but for the next 8 years. Not a bad deal at all, considering I can regularly return over the next eight years to see more of this amazing country.
Another important thing you should do ahead of your trip to China is download the WeChat app. This is the primary messaging app in China and you'll use it regularly while in the country. You should also download a VPN ahead of time, but I'll get to that later in the post.
For now, get ready to learn more about China and what you can expect from a trip there. Above all, it's a place where all your senses will become ignited and you get to step a little outside of your comfort zone. I met some of the loveliest people in China and crossed some major things off my bucket list.
If you go in with an open mind, ready for some adventure and unpredictability, you'll have the time of your life!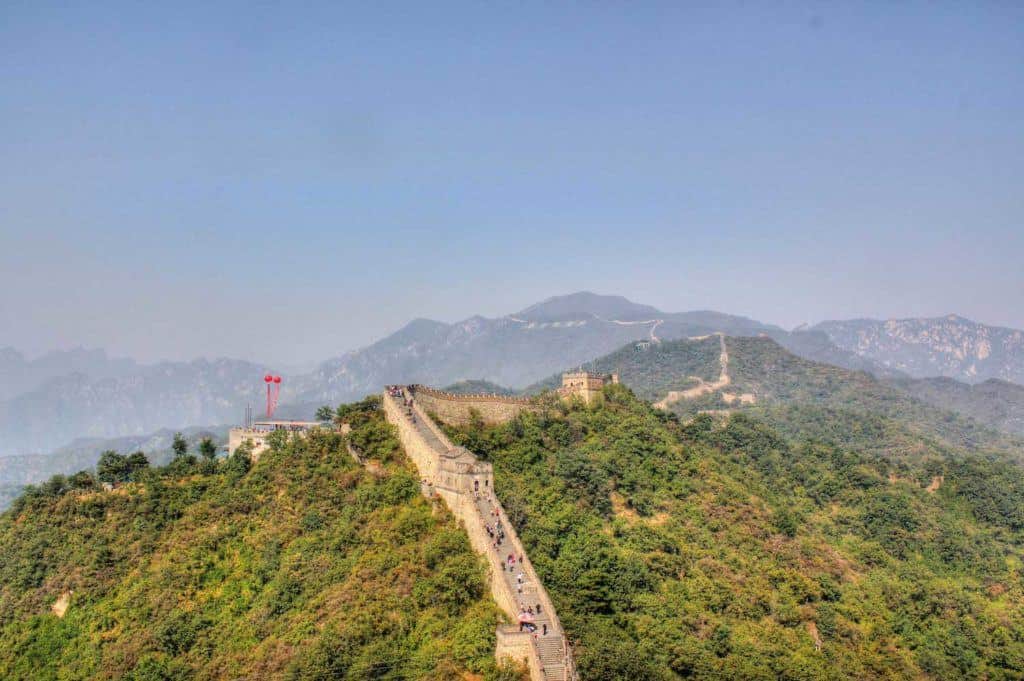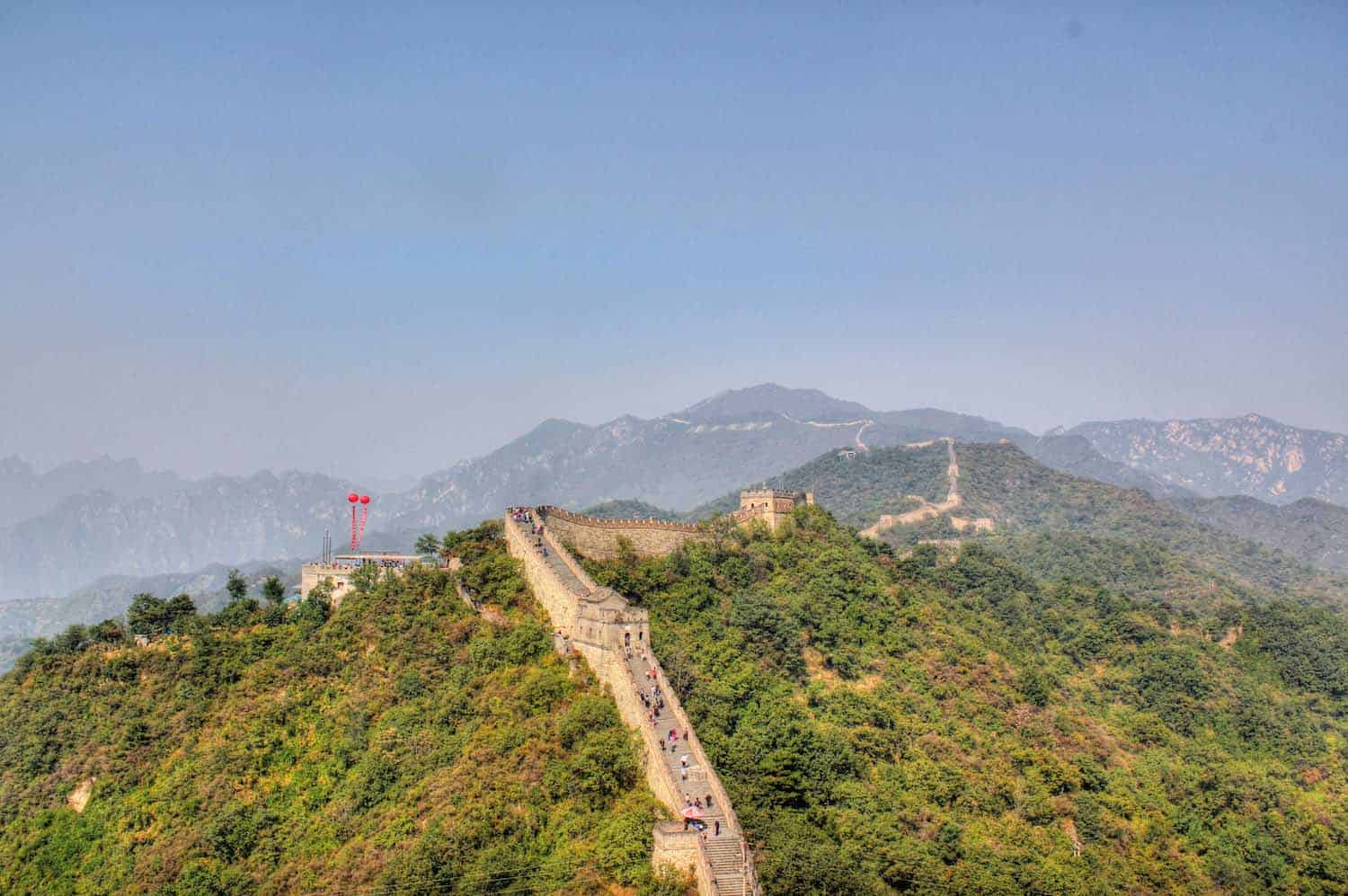 What's Included in this Post
This budget breakdown covers how much I spent on accommodation, transportation, activities, and food while I travelled around the country.
I've not included my flights into and out of China as this is going to vary significantly based on where you'll be arriving from.
The amounts in this guide are listed in U.S. dollars, simply because the vast majority of my readers are from the U.S. I also included some prices in Chinese Yuan (CNY), as this is the local currency that you will use the most.
Okay — let's get started!
The Cost of Accommodation in China
Finding places to stay on a mid-range budget in China is fairly easy. One of the most important things that you'll want to consider for accommodations is the location and staff, especially if you're a foreigner because it really helps to be closer to things or have staff who speak english and offer good recommendations and advice.
Guesthouses, hostels and homestays usually start at around $20 (129 Yuan) per night, while mid-range hotels will start at around $80 (516 Yuan) per night, but this usually includes breakfast.
Here's a list of my favourite accommodation options in China:
Beijing — Jingshan Garden Hotel ($92 a night): You can't get much better than a hotel located in a traditional Chinese Hutong (a land or alley formed by traditional courtyard compounds) right behind The Forbidden City. Even though you're located within a short distance to many places of interest, there's still a very local feeling and flavour. In addition to having an A+ location, the staff are also very welcoming. Upon arrival they share a guide to China, offer suggestions and call for information at tourist sites to help you make the most of your stay. And the rooms themselves are comfortable and clean. There is also a restaurant attached that sells both delicious traditional Chinese dishes and western fare.
Shanghai — Kevin's Old House ($106 a night): What I loved about Kevin's Old House was how unique it was! In a world where hotel chains vie to offer slick, modern, and high-tech features, Kevin's stands out from the crowd. It's cosy and eclectic and stepping inside the building leaves you feeling as though you've walked straight into 1930s Shanghai. It's an experience you won't find anywhere else in the city. You're in an excellent location in the city, too, close to all of the best restaurants and bars. The staff are wonderful, the breakfasts delicious, and I hugely appreciated having a washing machine in my room, too!
Yangshuo — The Bamboo Leaf Yangshuo ($80 a night): Yangshuo has some incredible, stunning landscapes coupled with a smaller town feeling. And this is the perfect base for all your explorations. The facilities and rooms are beautiful and clean, and that includes the onsite outdoor swimming pool with a stunning backdrop of the Yangshuo mountains. The hotel restaurant serves delicious food in generous portions. But most of all, this hotel really sells itself with the value of service and hospitality. They are all incredibly knowledgeable about the area and will go as far as sending you location links through WeChat (messaging app) for the places that you want to visit. Considering not everything in Yangshuo is properly marked, this is very helpful. And the hotel also offers a free shuttle to and from town, free bicycles, and free e-bikes for hire.
Hangzhou — Rock&Wood Cozy House ($64 a night): Hangzhou was one of my favourite cities in China. There was just something endearing about walking down the Ancient Qinghefang Road or taking a paddle boat on scenic West Lake. Staying at this cute guesthouse is the best of both worlds. Thanks to its location a quiet residential area only a few minutes walk from the lake. At the same time, you're still within accessible reach of downtown. The host is there to help you with anything you need from sightseeing tips to a delicious breakfast that comes included. Needless to say, you'll leave your stay here feeling mentally refreshed.
Chengdu — Buddha Zen Hotel ($44 a night): Home of the famous pandas, Chengdu is the place to go to see these beautiful creatures up close. Beyond this, there's tons of temples to explore and authentic Sichuan cuisine to taste. During your trip to Chengdu, I highly recommend staying at Buddha Zen Hotel, which is located next to Wenshu monastery; an area where there are plenty of adorable cafes and restaurants around to help bring out your inner foodie. Plus, it's in a quiet area, so you won't have to worry about not getting any sleep. You're also in good hands with the owner who will help make your stay comfortable, whether you need transport, local recommendations, or advice for how to get around.
Nanjing — Tingoo Inn ($70 a night): For many centuries, Nanjing was the capital of China. This makes a visit to this historical city worth it during your travels, especially considering it's only within a few hours of Shanghai. Tingoo Inn is a cute hotel that checks all the boxes, from welcoming staff to the luxurious amenities to the location. It resembles a Chinese tea house with its boutique decor and relaxing ambiance, and they have a beautiful, laid-back garden on the property where you can unwind with a cup of tea. The rooms are spacious, clean and comfortable. And the hotel is also equipped with all the necessities and more, including a delicious breakfast in the morning, free laundry service and free water bottles whenever you need one. Plus, you're within walking distance from top attractions like the Nanjing Wall and the Confucius Temple.
Xi'an — Eastwood Inn Xi'an ($20 a night): If seeing the Terracotta Army Warriors (soldier figures that accompanied the tomb of China's first emperor) intrigues you, then you'll definitely want to pay a visit to the city of Xi'an. And you can stay at this lovely, affordable homestay while you're there! You're within walking distance of both a metro station and the Wenchang Ancient City Wall. Every room is clean and features comfy beds with a private bathroom attached. There is also a 24-hour front desk where the staff are more than willing to offer their recommendations. This is a comfortable, conveniently located, affordable homestay that's perfect for a couple of days in Xi'an!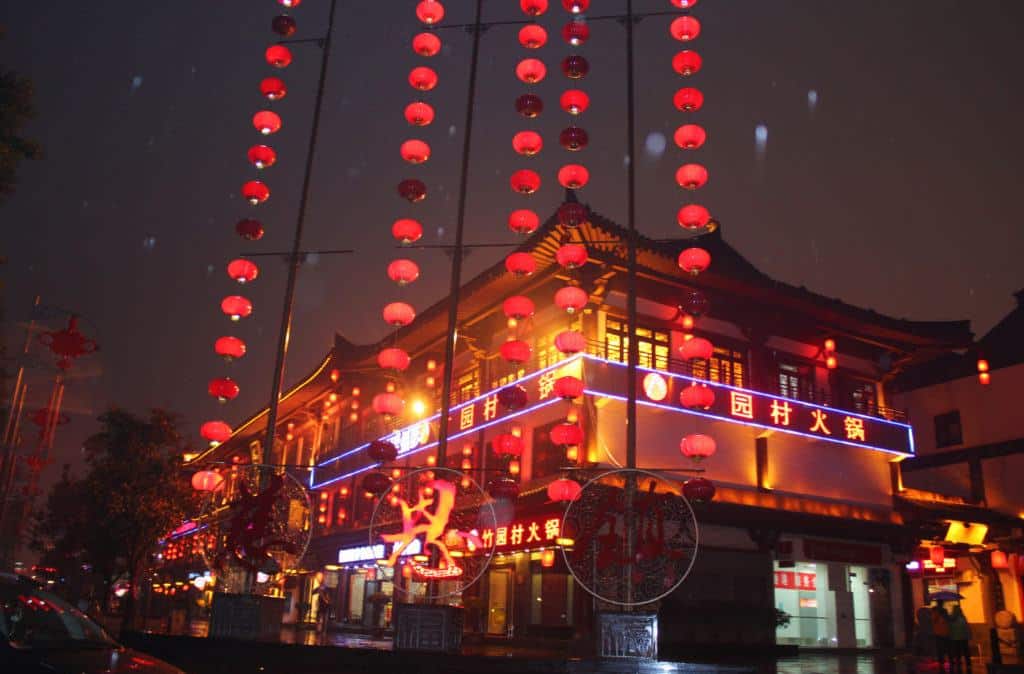 The Cost of Transportation in China
Transportation in China was some of the best I've ever experienced in all of my travels so far. It was easy to navigate and efficient when it came to time. Unlike some other countries where I've had a number of stopovers and long haul drives, getting around China felt like a breeze in comparison.
Here are the most common forms of transportation in China:
Underground Metro — If there is an underground metro system available, this is one of the fastest, easiest and cheapest ways to travel around a city in China. I used the metro system in Beijing, Shanghai, and Hangzhou. You can expect to pay around $0.46 – $1.39 (3 – 9 Yuan) for a metro ride depending on the distance.
Most cities offer 1-day, 3-day and 5 or 7-day passes which are a great option for value, especially considering you'll likely be using the metro a lot for getting around a city. For example, the fare for a 1-day pass in Shanghai was $2.79 (18 Yuan) and the fare for a 3-day pass was $6.96 (45 Yuan). Definitely pretty reasonable!
Taxis/Didi — I used taxis a couple of times and if I was with a local friend of mine, we would take Didi, which is like the Chinese Uber equivalent. I wouldn't rely on Didi unless you know Mandarin or are with people who live there because it doesn't always work with foreign credit cards. That being said, taxis are everywhere and really easy to hail in major cities, but not many taxi drivers speak English, so have a translator app handy or name a major landmark that you're heading towards that they would recognize.
Each Chinese city has a different base rate for taxis. Bigger cities like Shanghai and Beijing start at $2 (13 Yuan) for the first 3 km. The other cities might start around $1.30 (8-10) Yuan for the first 3 km. To give you an idea of a full taxi ride fare, from Beijing airport to the city center (about a 40 minute drive) it costs around $18 – $23 (130 – 150 Yuan).
Note that Taxis don't accept foreign credit cards usually, so always have cash in the form of small bills on hand to pay your driver.
Train — China has one of the biggest high-speed rail networks in the world, which links nearly every town and city. I took the train to access most of the cities I went to, and it was always very reliable, quick, comfortable and straightforward. Not to mention, I thought the prices were quite reasonable.
As a tourist, you need to verify your ID when you pick up a ticket. So once I booked my tickets through Trip.com, this only meant that my ticket was issued, but it didn't mean I had the ticket in hand. To get your ticket, you need to go to the train station ticket office before your train, show your booking number and passport. I would recommend booking your train tickets at least 3-4 days in advance.
Here were some of the routes I took and their respective prices:
Nanjing to Hangzhou:

$20 (129 Yuan)

Hangzhou to Shanghai:

$13 (83 Yuan)

Beijing to Nanjing:

$69 (445 Yuan)

Shanghai to Guilin:

$100 (645 Yuan)
Flight — Even though China is a large country, and it might feel like taking flights to get around makes sense, in most circumstances taking the train is better because of its high speed, punctuality, and lack of need for extensive check-ins and wait times. Not to mention, the prices are more or less the same, and sometimes the train is even cheaper. But in some cases, taking a flight may be an easier option for you. Here are some of the routes and their respective average prices from Skyscanner:
Beijing to Shanghai —

$123 or 794 Yuan
Shanghai to Guilin —

$98 or 633 Yuan
Guilin to Chengdu —

$165 or 1,066 Yuan
Chengdu to Xi'an —

$81 or 523 Yuan
The Cost of Food in China
China has some pretty remarkable food. I feel like I could have had hotpot and bubble tea every day. There's something really special about going to eat hotpot with a group of friends. I just love the communal aspect of it. It's less of a food dish and more of an experience (although the food part is good too!).
If you're unfamiliar with hotpot, it's typically a simmering pot of seasoned broth, paired with thinly sliced meats, veggies, mushrooms, noodles and more. You essentially cook and season your food by putting it into the pot, dipping it in a selection of sauces and then digging in. If you go with a decent size group, then you'll probably pay around $18 – $20 (116 – 129 Yuan) for a hotpot meal.
One of my other favourite food experiences was eating Peking Duck in Beijing, a dish that has roots since the Imperial era. Usually a Peking Duck meal will include thin slices of duck, wraps and add-ons. If you go to eat this at a restaurant, you'll likely pay around $32 (207 Yuan) for a meal, which is why you want to do it once to try it, but it's not something I would eat everyday.
In general, standard Chinese and western dishes will cost around $10 – $16 (64 – 97 Yuan) when you eat out at a restaurant. And breakfast and lunches will be cheaper, especially when it's at a street vendor. I ate at a lot of food markets and a steamed bun, fried rice, or a dish of chow mein noodles would only offset me around $3 or less.
If you want to save a little money and have access to kitchens, then you could definitely buy groceries for under $30 a week.
The Cost of Activities and Entrance Fees in China
China is certainly the land of sightseeing. I've wanted to see The Great Wall of China for as long as I can remember, and it blew me out of the park. It was a beautiful sunny day in January and I could see the wall stretch on and on and thought to myself how lucky I was to see one of the wonders of the world.
My best piece of advice would be to take a week day tour that leaves early in the morning from Beijing because The Great Wall itself is about a 2-hour drive away from Beijing. It's possible to take public transit, but I definitely saved time and had a smooth experience with a tour. We left around 6 am and got there before 9 am, and there was a moment when we were the only 7 people or so on that section of the wall—it was pure magic and also very rare. So trust me, the earlier you can get there the better, because people start to come in around 10 am.
I don't remember the name of the company I went through, but I remember it cost around $40 for the tour which included entry and round-trip transportation from Beijing. Make sure to ask the people at your accommodation about tour companies because they will have a better idea of the best ones to book through.
Here's a breakdown of some popular attractions in China and their respective costs:
(Beijing) The Great Wall of China:

$6 – $7 and $18 for cable car and slide down
(Beijing) The Forbidden City:

$9.99 (April 1 – October 31) or $7.99 (November 1 to March 31)
(Beijing) Summer Palace:

$4
Chengdu Research Base of Giant Panda Breeding:

$8.50
Zhangjiajie National Park:

$38.34 (March 1 – November 30) or $21.49 (December 1 – February 28)
(Shanghai) Yu Garden:

$6.18
(Hangzhou) West Lake:

FREE
(Xi'an) Emperor Qinshihuang's Mausoleum Site Museum:

$23.19 (March 1 – November 30) or $18.55
Miscellaneous Costs
Chinese SIM card: I don't know about you, but one of my least favourite aspects of arriving in a new country is having to figure out how to get connected. Specifically: buying a local SIM card so that I have data to use while I'm in the country.
There's locating a store that will sell you one, language barriers to deal with, various forms of ID you might need to bring, scams to navigate, and… well, it's a headache.
This year, I've started using Airalo, which sells local e-SIM cards for travellers, and it's absolutely improved my travel experience. What this company allows you to do is to buy an e-SIM online before you arrive in China, and then as soon as you land in the country, you can switch on your data and start using it. It's worked flawlessly for me and I'll never go back to physical SIM cards. All you need is an e-SIM-compatible phone (all iPhones are, and most Androids). You'll pay $7 for 1 GB of data, $14 for 3 GB, or $21 for 5 GB for China, and can top-up through the Airalo app.
Virtual Private Network (VPN): To get a full range of internet access in China and circumvent the country's internet censorship, you'll need a VPN. Believe me, it's worth it. You can't access Google or most social media accounts without one. I was travelling through China for one month, so I got the 1-month plan with ExpressVPN which costs $12.95.
Travel insurance: If you've read any other posts on Never Ending Footsteps, you'll know that I'm a great believer in travelling with travel insurance.
As someone who works in the travel industry, I've seen far too many Go Fund Me campaigns from destitute backpackers that are unexpectedly stranded in a foreign country after a scooter accident/being attacked/breaking a leg with no way of getting home or paying for their healthcare. These costs can quickly land you with a six-figure bill to pay at the end of it.
In short, if you can't afford travel insurance, you can't afford to travel.
Travel insurance will cover you if your flight is cancelled and you need to book a new one, if your luggage gets lost and you need to replace your belongings, if you suddenly get struck down by appendicitis and have to be hospitalised, or discover a family member has died and you need to get home immediately. If you fall seriously ill, your insurance will cover the costs to fly you home to receive medical treatment.
I use SafetyWing as my travel insurance provider, and recommend them for trips to China. Firstly, they're one of the few companies out there who will actually cover you if you contract COVID-19. On top of that, they provide worldwide coverage, don't require you to have a return ticket, and even allow you to buy coverage after you've left home. If you're on a long-term trip, you can pay monthly instead of up-front, and can cancel at any time. Finally, they're cheaper than the competition, and have a clear, easy-to-understand pricing structure, which is always appreciated.
With SafetyWing, you'll pay just $1.50 a day for travel insurance.
How Much Does it Cost to Travel in China?
It's time to tally up all of my expenses to see my total travel costs!
Accommodation: $80 per day
Transportation: $3 per day
Food: $30 per day
Activities/Entrance Fees: $20 per day
Average amount spent in China: $133 a day!