Asheville's reputation has exploded over the last few years.
This hipster enclave in North Carolina offers up a delightful mix of great restaurants, bustling craft breweries, and a vibrant arts and music scene, all in the foreground of the beautiful Blue Ridge Mountains.
Asheville is what some call 'Mountain South'; a combination of welcoming Southern hospitality and rugged mountain charm. The town is also a place of transients, so there's a wide range of diverse and eclectic locals to hang out with. Here, you're just as likely to start up a conversation with somebody originally from Michigan or Maryland than one born and raised in North Carolina.
And that shouldn't be a surprise. People move here simply because Asheville is cool; because they're excited to be a part of such a welcoming community. This helps Asheville retains its weird and wonderful charm, and we wouldn't be surprised if you ended up considering a move here, too. It has a way of capturing your heart.
So let's talk about all that Asheville has to offer. Whether you're on a romantic weekend escape or planning a mid-week visit there's sure to be something that will take your interest.
The town of Asheville itself has a total of 26 breweries, which provides visitors and locals alike with a bevy of options. Head further out and you'll come across another 34. Likewise, eating out in Asheville is always a treat. International cuisine is well-represented along with classic Southern and local North Carolinian fare.
Beyond tofu tacos and farm-fresh meals, Asheville is a gateway town to the magnificent Appalachian Mountains. The Blue Ridge Parkway swings by the town, bringing the promise of exceptional views and easy access to some of the best hiking on the east coast. We've shared some recommendations below, including a trek to the summit of Mt Pisgah. But if you find yourself with plenty of time, the options are endless, including the timeless Max Patch, a simple 50-minute drive away.
Before we dive into our 3-day Asheville itinerary, it's worth thinking about how you plan on getting around town. Asheville itself is very walkable. In fact, on foot is one of the best ways to explore. Simply wandering around town from the French Broad River to Biltmore Avenue will be one of the highlights of your trip. However with so much to see beyond the town and such cheap parking within, a car is a great option to help you make the most out of your Asheville adventure.
Now let's get down to business and dive into the best activities, restaurants, and bars to visit on your three-day trip to fabulous Asheville!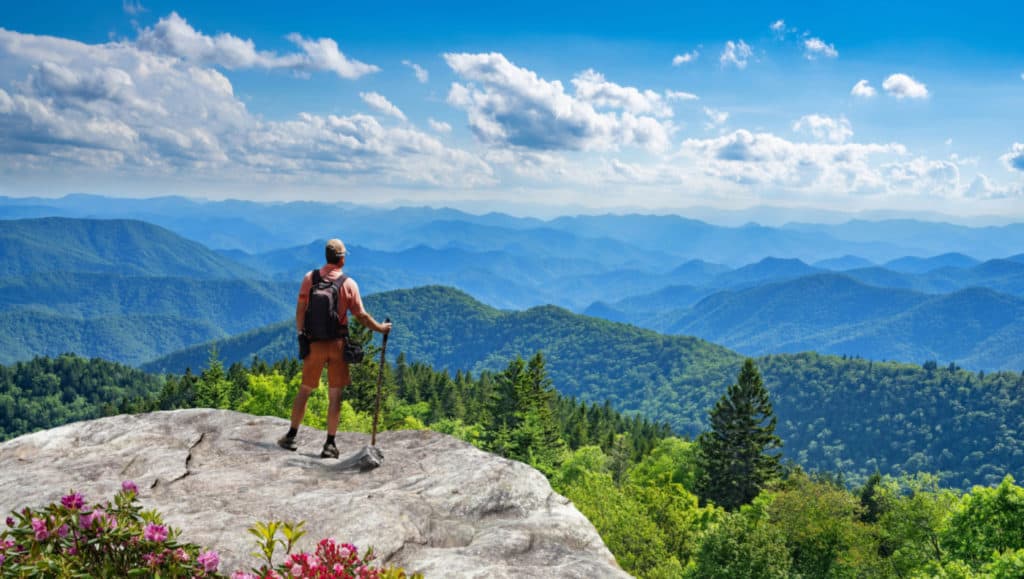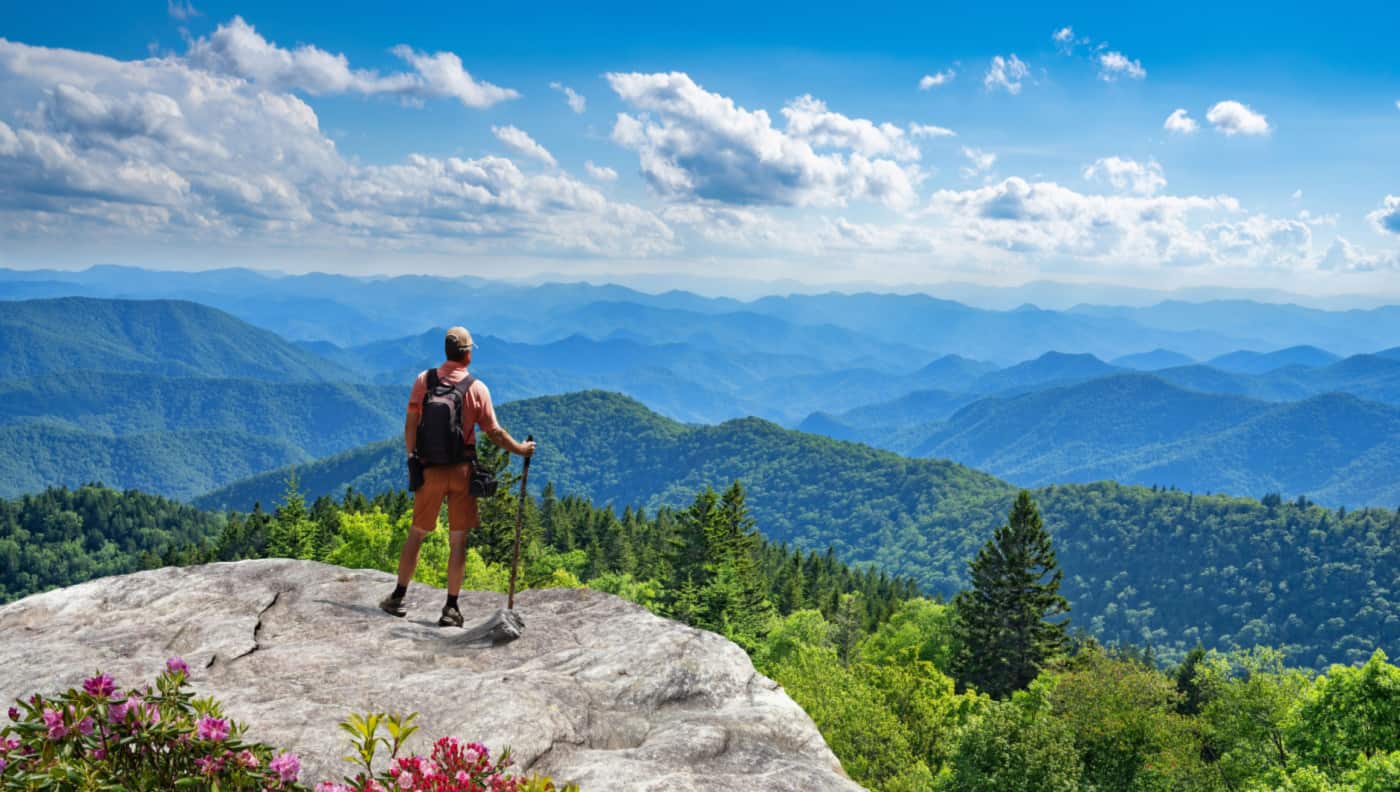 How Many Days to Spend in Asheville
2 days in Asheville is enough to catch a glimpse of this unique and historic city.
With 3 days, you can tack on a short day trip to some of the state and national parks nearby to enjoy hiking and fresh air. With 3 days in Asheville, you can do a bit of sightseeing, get out in the mountains, soak up the city's vibrant culture, and so much more.One day at the Biltmore estate. One day just wandering around: downtown Ashville, Biltmore Village, Grove Park Inn, art district etc; And one day drove the Blue Ridge Parkway and did some short hikes. 3 days in Asheville, NC is truly the perfect amount of time. Breweries, the Biltmore, and gorgeous trails, what more could you ask for when it comes to a weekend in Asheville itinerary?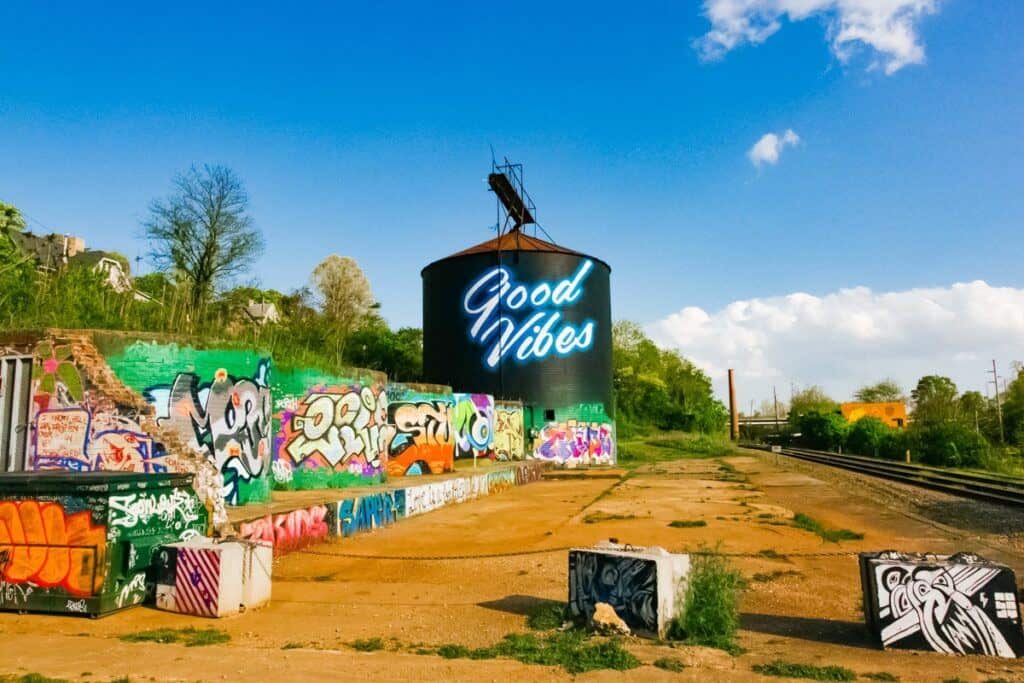 Day 1: Explore the Quirks of Asheville
Asheville is all about the weird, wonderful, and wacky. When you pair that with delicious food and a phenomenal craft beer scene, it isn't hard to see why Asheville is becoming such a hot place to visit.
Once you've dropped your bags, there's no time to waste. With 72 hours to spend in Asheville, it is time to start exploring, and we recommend beginning in the River Arts District, otherwise known as RAD.
For over four decades, artists have been reenergizing a slew of run-down industrial buildings, transforming Asheville into the artist haven we know today. Now, the buildings that line much of the French Broad River have become a part of what's known as the River Arts District.
Here, you'll find works from over 200 local artists, featuring exhibits, crafts, and galleries, with each spot having something different to offer. A simple walk through the district will be enough to uncover a colorful culture of art and collaboration.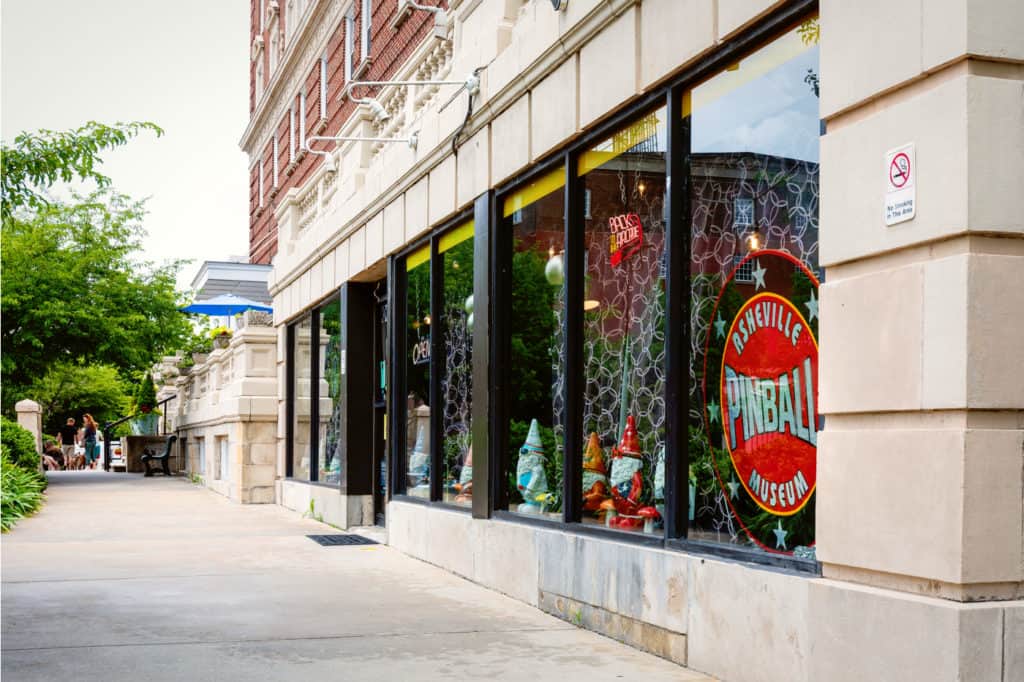 Next, make your way to the Asheville Pinball Museum.
If you were ever in doubt about Asheville's ability to embrace all things eclectic, then wonder no more. At this epic museum, you can explore both classic and modern pinball machines — there are over 70 of them in the space, ready for you to play. Take a moment to unleash your inner child and embrace the dose of nostalgia. For $15, you'll have unlimited access to as many machines as you wish to play.
If the weather outside isn't flash, this is a great option for a rainy day activity.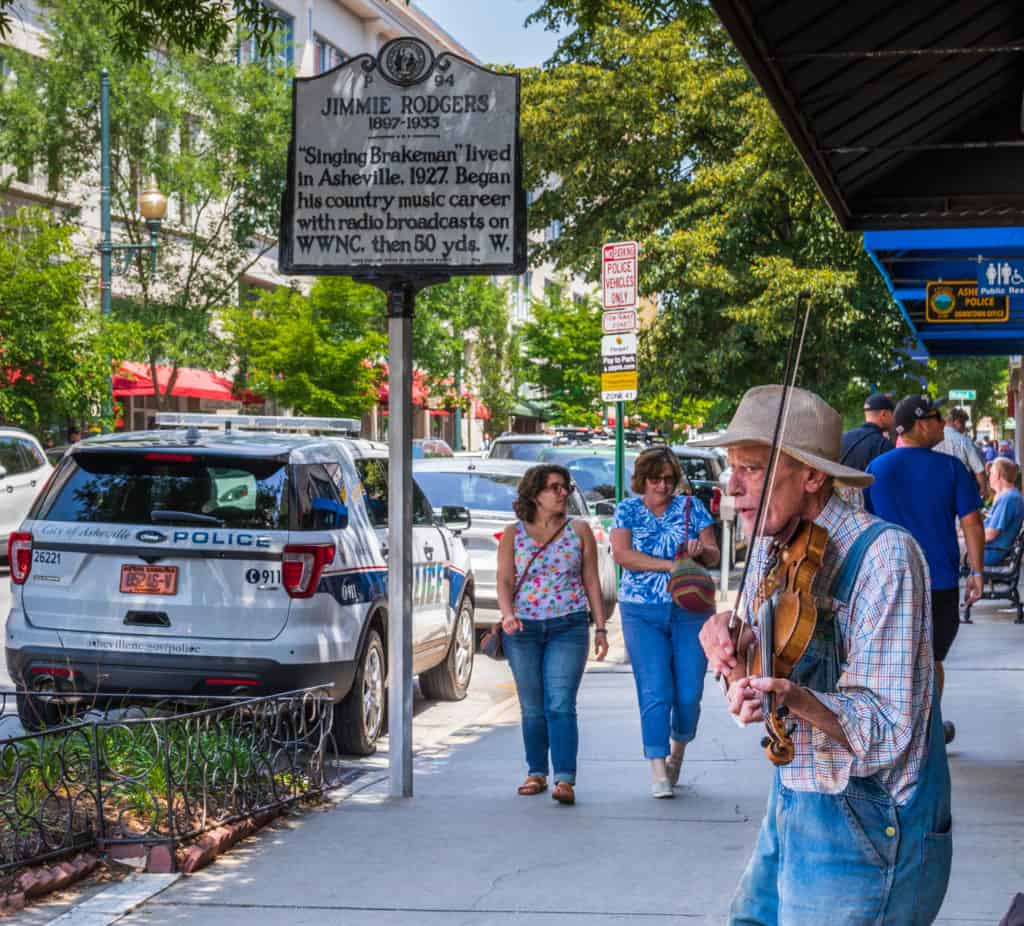 Street performing is a common part of life in Asheville, so as you continue to explore, you will no doubt come across a variety of interesting — and sometimes mystifying — performances. Asheville loves live music and the quality of street performances in the town is some of the best in the country. If you stick around and enjoy the show, make sure to support those local artists.
Speaking of public performances, if you're escaping to Asheville for the weekend, today may very well be Friday. If that's the case you must head to Pritchard Park for Asheville's weekly drum circle. Join those ending their workweek with a community-sized bang at 5pm.
Dozens of players descend upon the amphitheater in the park and play in harmony as though they've been training all week. The drum circle grows throughout the night as others dance and enjoy the evening. There's perhaps no better way to sum up the beauty of Asheville, than by experiencing this weekly concert.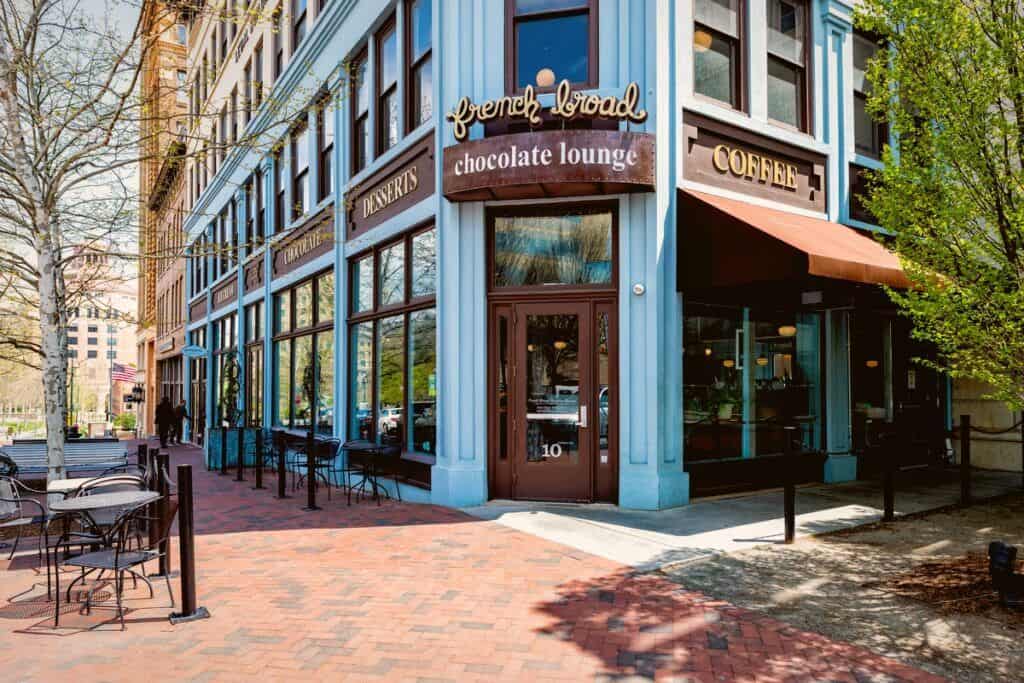 Where to Eat
Asheville has a reputation for being a foodie haven, and honestly: you really can't go wrong. But a trip to Black Bird restaurant is sure to give your tastebuds a workout and introduce you to classic North Carolinian fare. Featuring delicious farm-to-table options, fresh catch of the day from coastal Carolina, and, of course, plenty of local craft brews, Black Bird ticks all of the boxes.
For a late afternoon snack, French Broad Chocolates awaits your arrival. A bean-to-bar chocolate maker, French Broad Chocolates is located right in the downtown area and they make everything on-site! Packed with delicious desserts, confectionery, and homemade ice cream, the options are endless. Gluten-free and vegan options are also available.
For dinner, make your way to Curate for authentic Spanish cuisine. The name Curate comes from the Spanish language meaning, 'cure yourself'. Curate is all about great food and the curing effects of sharing time and tasty dishes with friends and family. What better way to spend your first evening in Asheville than by enjoying Curate's zesty tapas, charcuterie, and paella de verudas.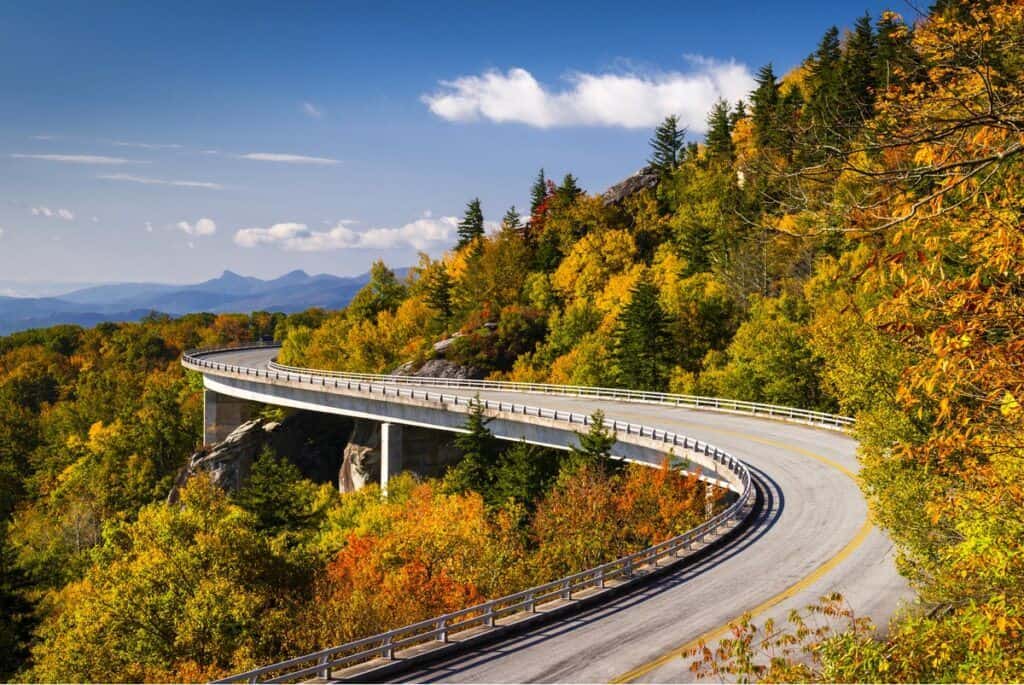 Day 2: It's Time for an Adventure
By now, we know that Asheville is all about quirks, beautiful buildings, and vibrant artwork. But standing proud behind the downtown streets are the towering Appalachian Mountains and the brilliant Blue Ridge Parkway.
With excellent weather for the majority of the year — Asheville enjoys pleasant temperatures from March to October — there is no excuse not to get out and enjoy the town's excellent local hiking.
The Blue Ridge Parkway is a National Scenic Byway that runs for 469 miles (755km) and a great section is just minutes away from Asheville. Expect numerous overlooks with dramatic long-range views. Have a great playlist ready in order to take this day trip to the next level.
There are tons of hikes to choose from along the parkway, none more famous than the Appalachian Trail. But if you don't feel like hiking all the way to Maine, you can settle for the beautiful Mt Pisgah trail. The 2.4 mile (3.9km) out-and-back hike comes with a watchtower at the summit. The uninhibited views are worth every step of the hike.
On the return journey, make sure to stop by Sliding Rock: part-waterfall, part-natural waterslide. Sliding Rock costs just $4 per person and with the cold mountain water waiting for you, is best visited on a warm day. If you're there when summer's in full-force, this 60ft rock slide will have you racing towards the swimming hole for a great way to rest your weary hiking legs. Seriously — it's so much fun! And not as dangerous as it sounds.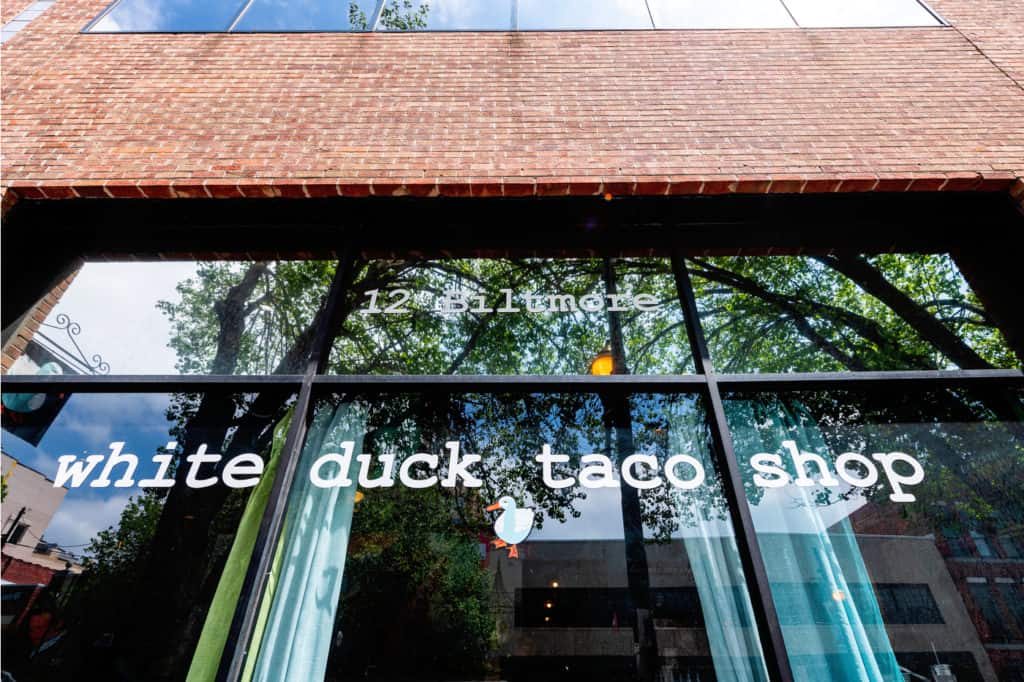 Where to Eat
Before setting out on your outdoor adventures one of the best places in Asheville to fuel up is the Biscuit Head. Here you will find classic southern cuisine that is as delicious as you would expect.
Their famous dish is their biscuits and gravy. But these are no run-of-the-mill biscuits, in fact, you are spoiled with the variety of toppings to choose from. There is a butter and jam bar with dozens of flavors to sample so you can get your morning meal just right. Alternatively, grab a savory option, with a topping of yummy fried green tomatoes.
For dinner, you can't pass up White Duck Taco. Stop by this Asheville institution on the way back from your journey into the mountains. White Duck Taco has two locations, however, the one to go to is located on the French Broad River. It isn't hard to see why it's so popular, with a gorgeous backdrop and the late afternoon sun poking through the canopy, White Duck Taco often has a line out the door.
But don't let the sight push you back to your car, as the line moves super quick. Choosing a taco is the real challenge. White Duck Taco takes influences and flavors from around the world. So you're just as likely to try a Banh Mi Tofu taco as you are the classic Spicy Buffalo Chicken.
Don't forget to leave room for dessert to delight your tastebuds as you watch the sun's last rays bounce off the glistening river.
If you aren't ready to call it in, make your way to the Double Crown for great live music, beer, apps, and a great selection of bourbons. On nights without live music, the Double Crown runs a popular karaoke night, which is, of course, when a bourbon or two will really come in handy.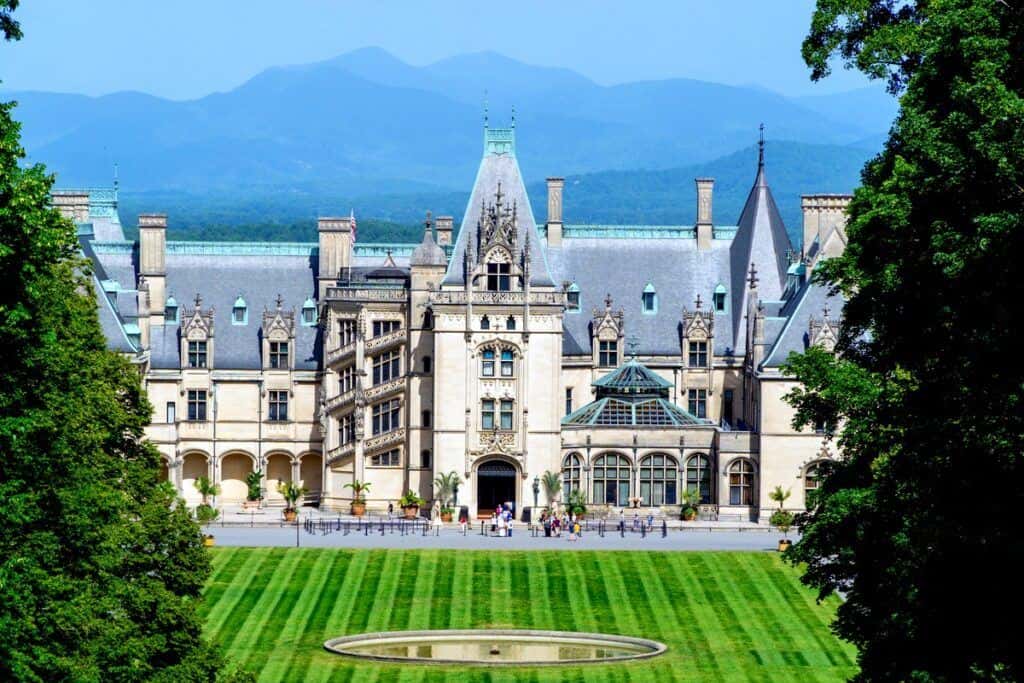 Day 3: Kickback and Relax
After a big day in the mountains, why not spend your last day in Asheville relaxing and seeing the sights? A visit to the Biltmore Estate is a must-do for every first-timer in Asheville. Built in the late 1880s by George Vanderbilt, this stunning property continues to wow visitors well into the 21st century.
Upon arrival, the striking architecture may feel familiar to some visitors. If your mind is throwing up images of Macaulay Culkin, you're on the right track: the Biltmore was used in the filming of Richie Rich.
But that's not why people tend to visit. It is after all, the largest privately-owned house in the country. Spend your morning exploring the manicured gardens, the home, and even seeing some farm animals. Finish off with a glass of wine at the Biltmore Estate Winery.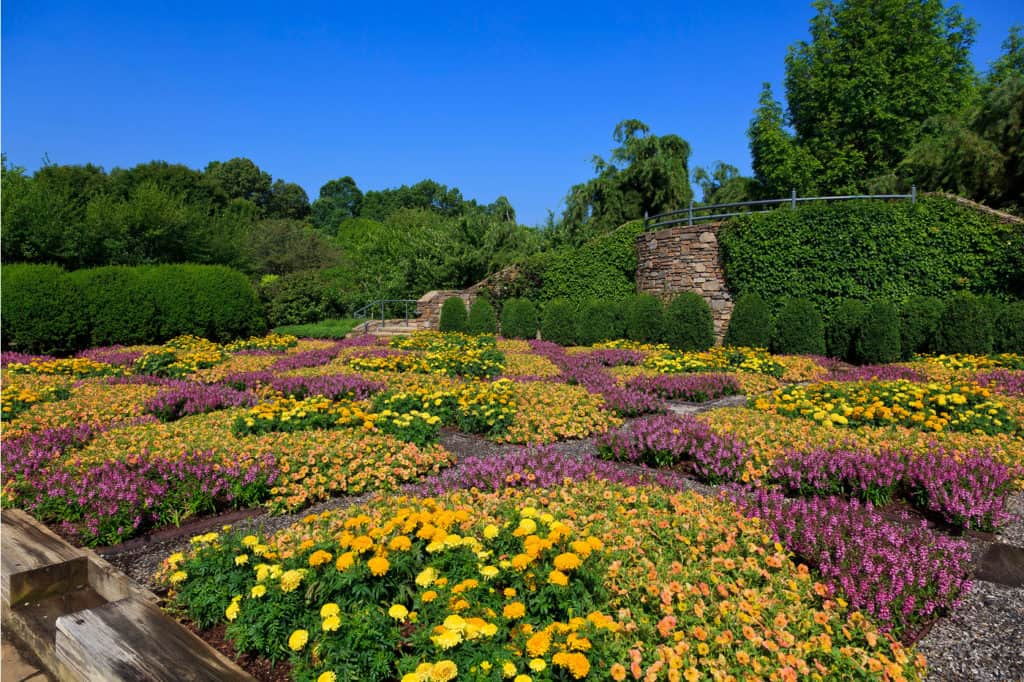 Now that you have a taste for the finer things in life, it's time to make your way to the North Carolina Arboretum. The spectacular 434-acre natural garden is sure to put your mind at ease as you stroll around the colorful trails. Here you can switch off and take in the scenery or spend your time learning about the many natural wonders that call the Arboretum home.
The main attractions include the Blue Ridge Court and the Heritage Garden which harks back to the old days of homesteads in the Appalachian Mountains.
The best way to get around the Arboretum is to hike or bike. There are numerous trails to choose from, including the Bent Creek Trail which is dog-friendly.
When you have had your fixed of gorgeous landscapes, change things up by roaming the Grove Arcade. Head back to downtown Asheville for a taste of Art Deco architecture. The Grove Arcade is home to a collection of unique and independent stores, perfect for that last-minute souvenir.
Finish up with a visit to the Battery Park Book Exchange and Champagne Bar. Put your feet up with a selection of books a glass of champagne and toast to a great 3-day adventure in Asheville.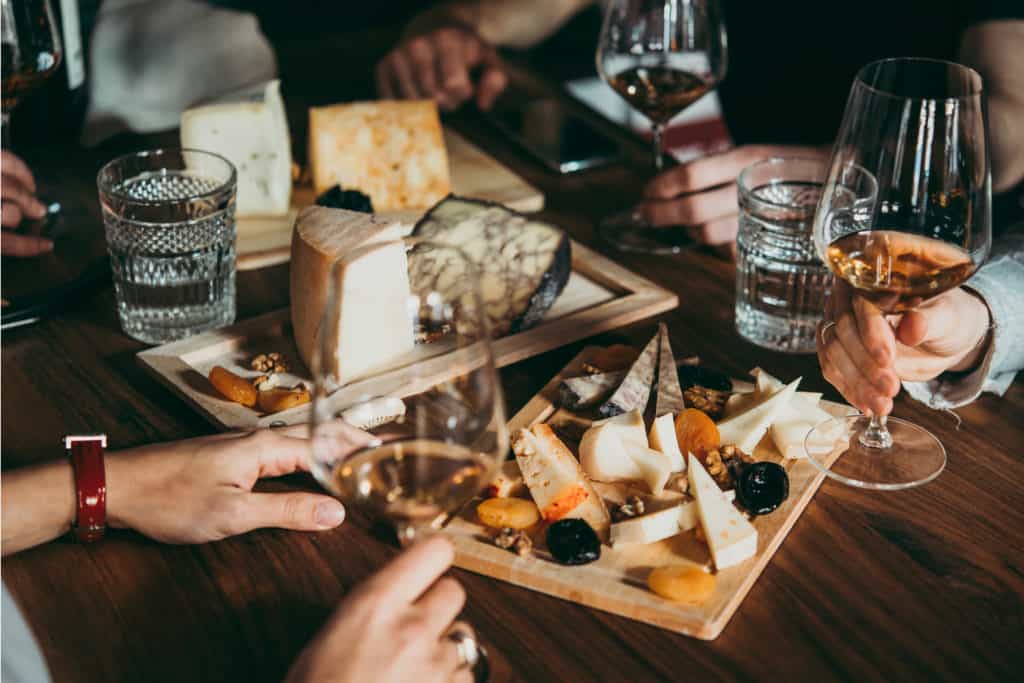 Alternatively…
Continue where you left off on day 2, but instead of hiking mountains sample delicious handmade cheese on the Western North Carolina Cheese Trail. Now the good news is if your feet are tired, this trail involves no walking. Rather, you can drive to each location and try an amazing variety of cheeses. The cheese trail stretches all around the west half of the state, but many locations are only a short drive from Asheville. These include Three Graces Dairy and the Spinning Cider Creamery. Both operate as farm-to-table farmsteads, producing delicious aged and rind cheeses.
Also on the trail are a variety of wineries. End your adventures on the Western North Carolina Cheese Trail with a visit to the Pleb Urban Winery. From there, follow the walking trail along the French Broad River as you make your way towards the River Arts District.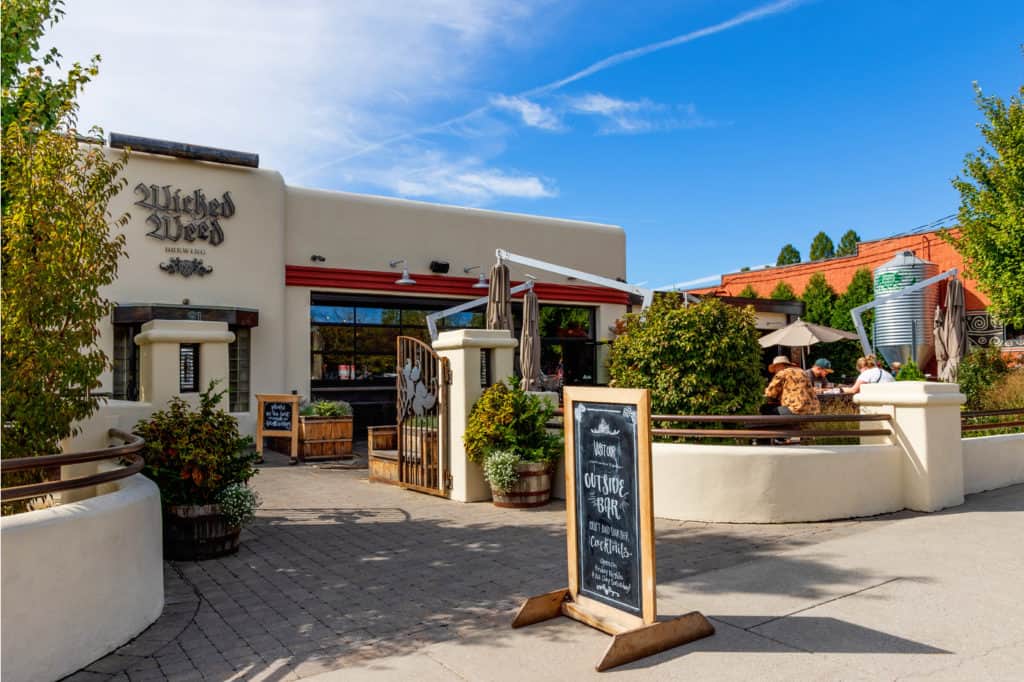 Where to Eat
There is no shortage of breakfast options for your final day in Asheville, including the exceptional Early Girl Eatery. But make sure to keep some room in the belly for a late morning treat. Double D's Coffee and Desserts is a funky cafe set within the confines of a red double-decker bus. This popular Asheville attraction slings some of the best coffee in town along with a variety of tasty bakery items. For sweet tooth travelers, switch up the black coffee with a Double Decker White Mocha or the Kick In The Bum, the perfect energizer to end your Asheville adventure with a bang.
To finish up your Asheville trip by wandering down to arguably the best brewery in town, Wicked Weed Brewing. We have saved this one for last for a reason and Wicked Weed is well worth the wait. Kick back with your traveling party and make the most of the sprawling outdoor patio. Order from their expansive selection of craft beers, with everything from barrel-aged sour ales to hoppy lagers before enjoying the dazzling fire pit. For the proper beer connoisseur, a visit to the on-site Funkatorium is a must.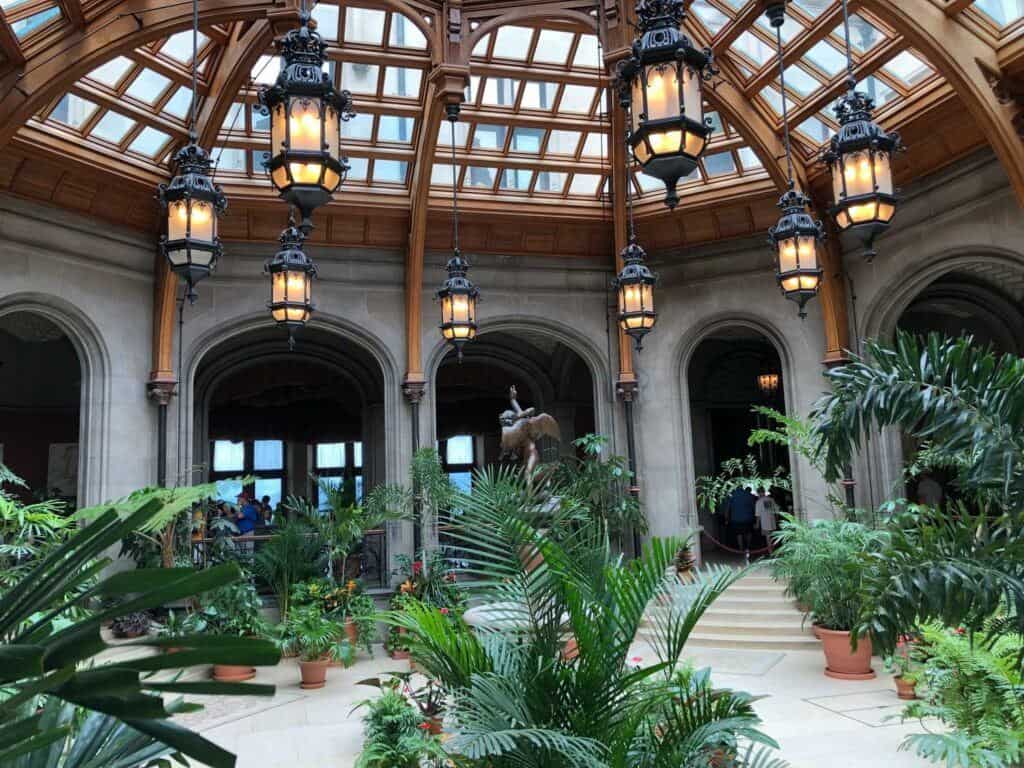 Where to Stay in Asheville
With plenty of options for places to stay in Asheville, narrowing down your options can be tricky. Fortunately, there are some truly remarkable options for every type of budget.
Budget: Bon Paul and Sharky's Hostel ($38 per night for a dorm/$80 for a private double): There's just one hostel in Asheville, but fortunately, it's a great one! Bon Paul and Sharky's is cozy, quiet, and comfortable, in a super-safe area, with restaurants and cafes within a walkable distance. The bathrooms are spotless and the staff are excellent at giving advice and recommendations for making the most of your stay. If you're on a tight budget, this is a no-brainer for Asheville.
Mid-range: The Hilton Garden Inn Asheville South ($172 per night for a queen room): This Garden Inn is perfectly located for exploring both Biltmore Estate and Asheville itself, with immaculately clean rooms, friendly staff, and cloud-like beds. It's been freshly remodelled, too, so it feels as though you're one of the very first guests to step inside. All in all, this is a great option for Asheville.
Luxury: The Inn on Biltmore Estate ($520 per night for a deluxe king room): If you're looking for a truly iconic Asheville experience, celebrating a special occasion, or looking to tick something off your bucket list, you have to stay at the Inn on Biltmore Estate. Yep, you'll be staying within Biltmore Estate itself. How incredible is that? Everything here is incredible, from the luxurious rooms, the spectacular views over the mountains, and the professional staff. Seriously, if you're looking to splurge, this has to be what you go for.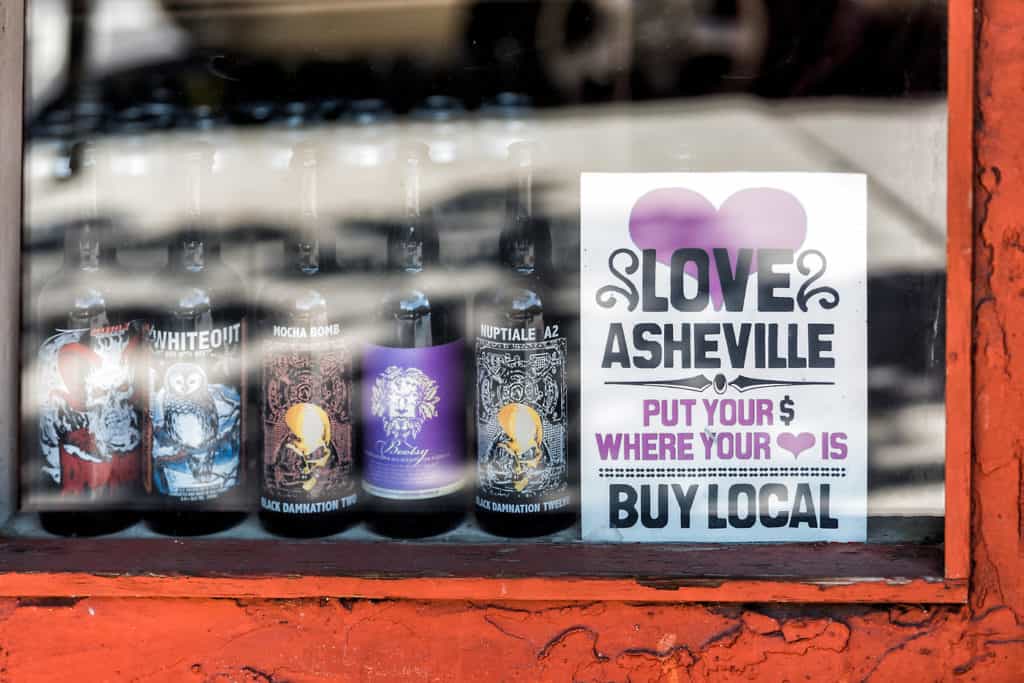 What to Know Before You Go
The best time of year to visit Asheville: The weather tends to be reasonably temperate in Asheville, so any time of year feels like a good time to visit. Still, if we had to narrow it down, I'd recommend the shoulder season: March to May, and September to October. At this time of year, temperatures range between 60 and the mid-70s, and you'll either be marvelling at all the spring blossoms or snapping photos of the fall foliage.
If you're going to be planning a trip in winter, note that the Blue Ridge Parkway occasionally closes when snow or ice make driving conditions dangerous.
Check out the Visitor Centre: They often have coupons for attractions in town, so if you make sure you visit when you first arrive, you may find yourself snapping up a bargain.
The best way to get around Asheville is by car: If you're only going to be exploring the downtown area, you'll be absolutely fine exploring on foot, but most accommodation is a few miles out of town, and if you want to explore the nature trails and Biltmore Estate, you'll want some transport to help you out.
Of course, Uber and taxis are around in Asheville, so if you're not able to drive yourself, that's absolutely an option. Plus, there's no need to worry about a designated driver while brewery-hopping across town, which makes for an added bonus.
Travel insurance: If you've read any other posts on Never Ending Footsteps, you'll know that I'm a great believer in travelling with travel insurance. I've seen far too many Go Fund Me campaigns from destitute backpackers that are unexpectedly stranded in a foreign country after a scooter accident/being attacked/breaking a leg with no way of getting home or paying for their healthcare. These costs can quickly land you with a six-figure bill to pay at the end of it.
In short, if you can't afford travel insurance, you can't afford to travel.
Travel insurance will cover you if your flight is cancelled and you need to book a new one, if your luggage gets lost and you need to replace your belongings, if you suddenly get struck down by appendicitis and have to be hospitalised, or discover a family member has died and you need to get home immediately. If you fall seriously ill, your insurance will cover the costs to fly you home to receive medical treatment.
I use SafetyWing as my travel insurance provider, and recommend them for trips to the U.S. Firstly, they're one of the few companies out there who will actually cover you if you contract COVID-19. On top of that, they provide worldwide coverage, don't require you to have a return ticket, and even allow you to buy coverage after you've left home. If you're on a long-term trip, you can pay monthly instead of up-front, and can cancel at any time. Finally, they're more affordable than the alternatives, and have a clear, easy-to-understand pricing structure, which is always appreciated.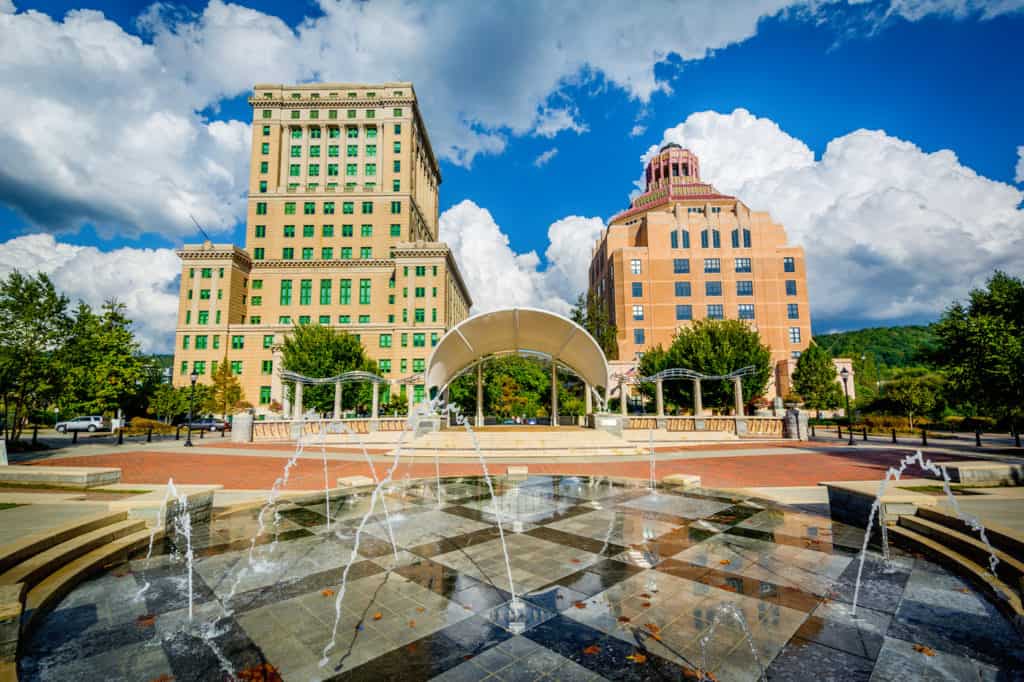 Final Thoughts
Three days in Asheville is enough to scratch the surface of this amazing town. You'll visit beautiful gardens, roam mountains, and jump between breweries and renowned restaurants. Asheville has something for everyone.
Not only is it a great place to reunite with friends, or simply get away from the big city, but it also has a romantic streak for couples seeking time by themselves, and the town welcomes families with open arms. Even breweries have a knack for showing kid-friendly films in the early afternoons.
However you choose to spend your 3 days in Asheville, there's no doubt you will be itching to come back for more.