My trip to Borneo was one of the worst I've ever taken.
How did it all go so wrong?
I'm not entirely sure.
When I left you last, I was tiring of Kota Kinabalu. I had just spent three weeks in the city and while I initially adored everything about the place, by the end of my stint there, I was sick. Delving into the local food scene had been incredible, but eating oily, fried carbs topped with sugar for three meals a day for three weeks straight left me agitated, nauseated, and on the verge of a panic attack. A huge percentage of Malaysian food is the opposite of healthy, and eating so many greasy dishes had sent me on a surefire route to stomach cramps.
At that point, I wanted nothing more than to head to a new country, but I knew I couldn't leave Borneo without seeing the parts that make it so special. I wanted to spend time in the rainforests and flail with excitement over spotting a rare wild animal.
Dave and I jumped on a bus and journeyed further into Sabah.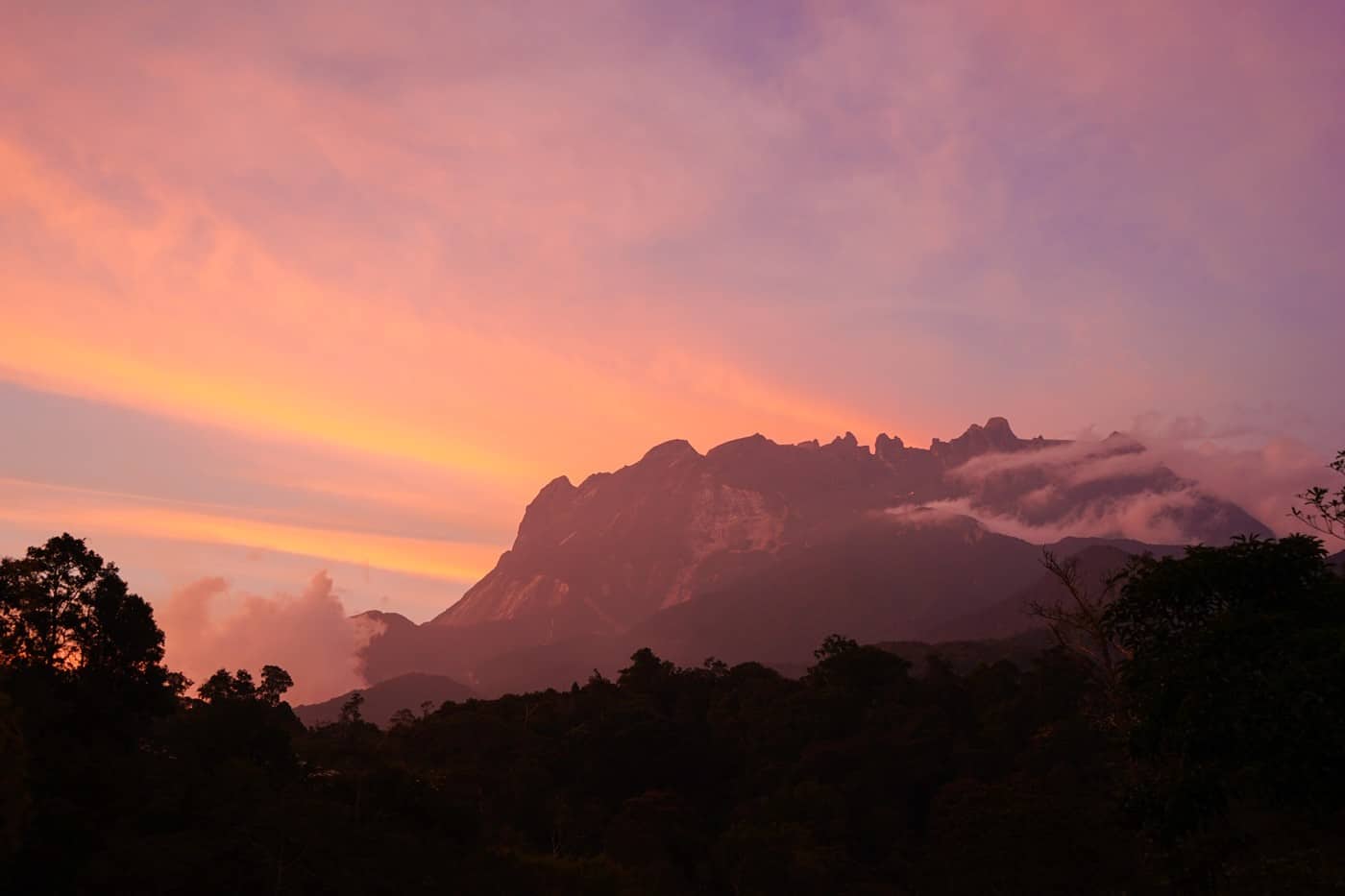 Our first stop was Kinabalu Park.
As much as I wanted to tackle its famous mountain, I was travelling with a carry-on bag and didn't have suitable shoes, let alone all the other gear I'd need. I'd read online that there were several hikes snaking around the base of the mountain and, knowing that both Dave and I were aiming to get healthier, booked us a couple of nights in a nearby lodge.
The altitude hit me hard, as it always does, and I found myself in the park with a searing pain in my head along with an inability to catch my breath. The walking trails themselves weren't anything amazing, I have to confess, and the park isn't a spot I'd recommend going out of your way to explore, but it was exactly what we had been looking for. Fresh air, silence, and the opportunity to disconnect and spend some much-desired time in nature.
We travelled onwards to Sandakan and on our first morning, I awoke feeling strangely unsettled. I promptly threw up.
We were in Sandakan to check out the orangutan and sun bear sanctuaries, and I was devastated to now have to miss out on both of them. While Dave sent me photos of the animals and had a wonderful time, I alternated between sleeping and vomiting in the shared bathroom of our hostel.
Budget travel is glamorous.
We were due to head into the rainforest the following morning, but when my symptoms continued, we postponed our departure. I was dizzy and nauseated, and standing up was enough to have the room whirling.
I was well and truly over hostel life by this point, so I searched out the most expensive hotel in Sandakan, and whisked us both off to the Sheraton. Situations like these are exactly why I always recommend travelling with an emergency fund!
Our night of luxury didn't fix my stomach as I'd hoped, but I couldn't miss out on the rainforest. I sucked it up and battled through the two-hour drive to the Kinabatangang River.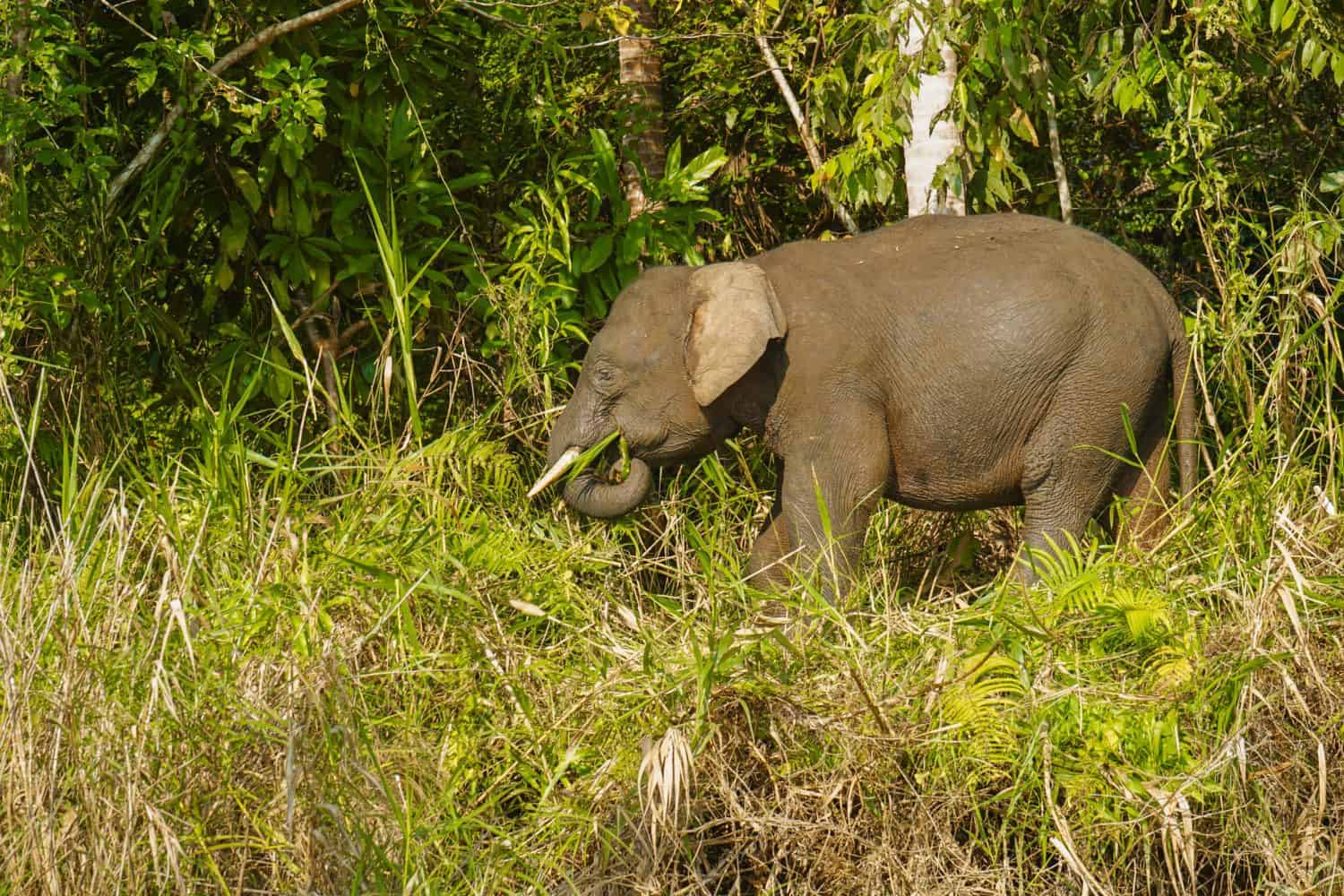 We were staying with Osman, an expert animal tracker and king of the rainforest. His walls were adorned with photos of him showing David Attenborough around the area, and as we ventured out on to the water, his sharp eye revealed dozens of animals we would have otherwise missed. It was incredible to see the other tourist boats failing to see anything while Osman nipped around them to show us a wild orangutan the other trackers had missed.
When Osman asked us which animal we most wanted to see and we told him the rare pygmy elephant, I had my doubts it would work out. I never have good luck when it comes to animal-spotting on my travels (see my trip to Etosha National Park for evidence), and I assumed being on the water here would be just as fruitless.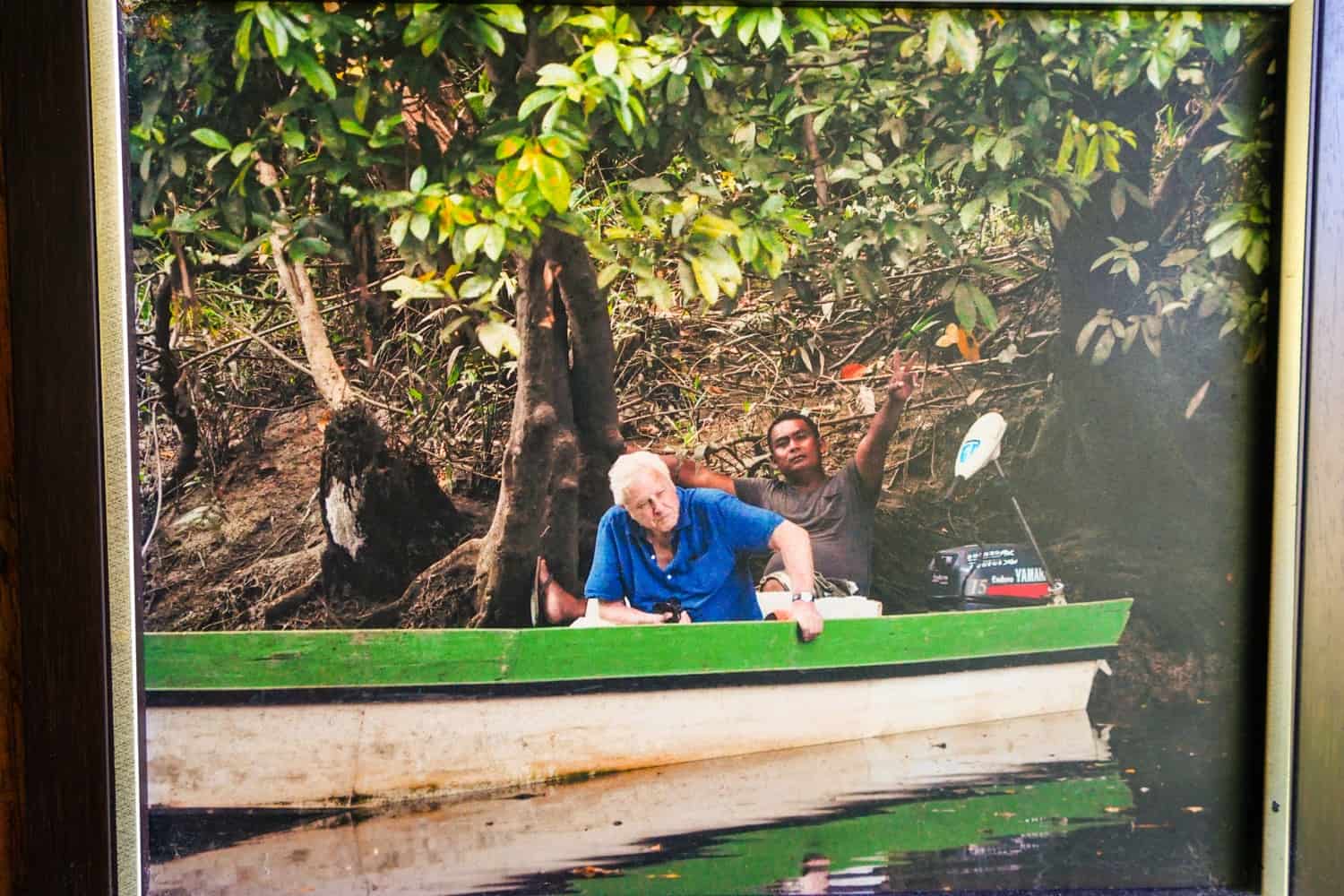 I should never have doubted him, because after an hour of cruising along the river, a herd of elephants popped out of the jungle and made my life.
The Borneo pygmy elephant is the tiniest elephant sub-species in the world, and one that you can only find in Borneo. Sadly, there's only a thousand of them left in the world, so to stumble across over a dozen of them was incredible. We came within a couple of metres of them and then spent a beautiful hour watching them crashing through the rainforest, swimming in the river beside us, and trumpeting to each other through the trees.
It was one of the most magical moments of my life.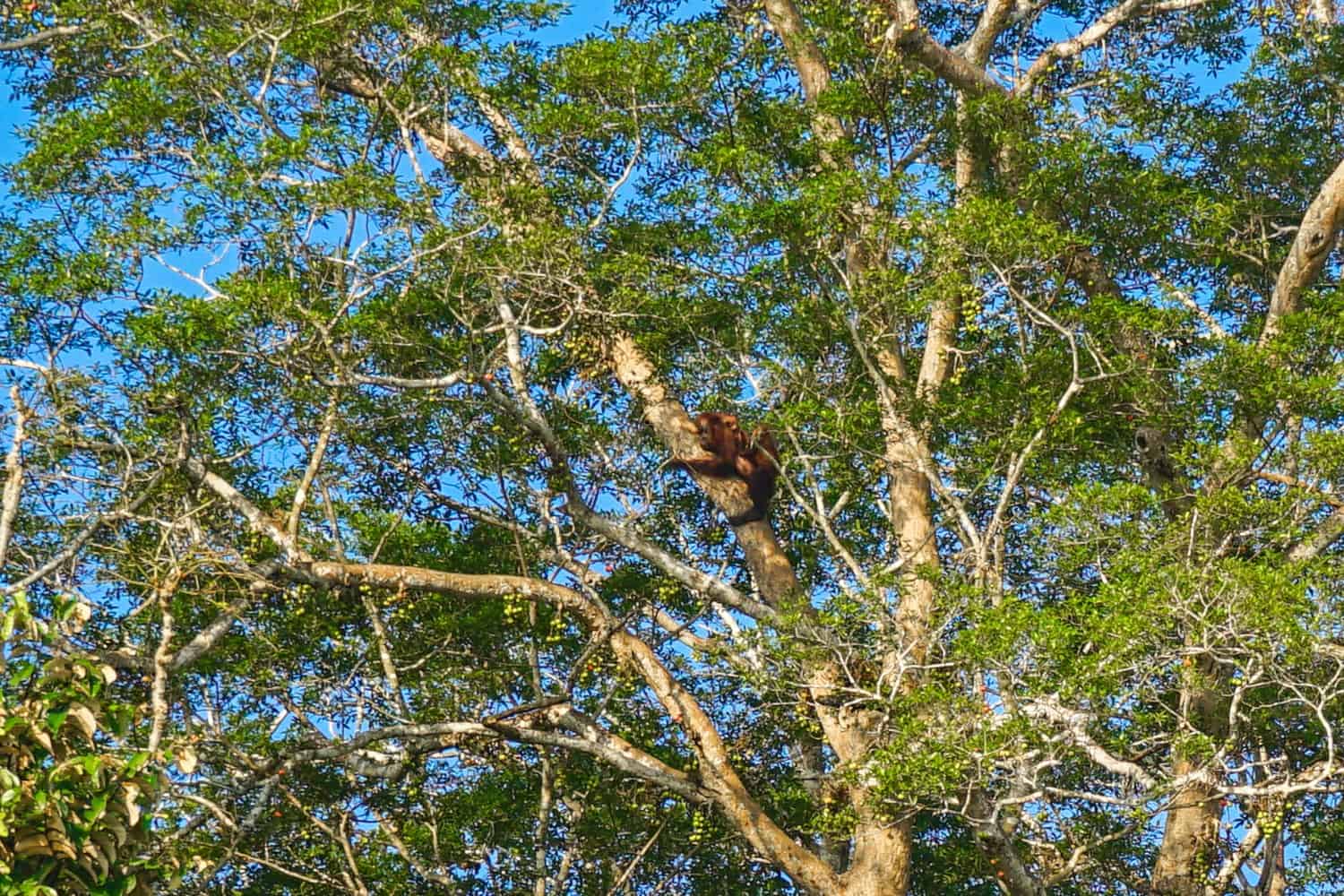 That evening, Dave fell ill.
I watched helplessly as he ran to the bathroom all through the night, and started to worry we'd contracted some kind of tropical virus that needed immediate medical attention. I was still feeling dreadful, and now Dave was in an even worse state than me.
Getting sick while travelling is bad enough, but we were at a homestay, sharing a house with a large family that we had to run past on our way to the bathroom. It was awkward and awful in equal measure.
Osman was convinced we had cholera.
A shopping mall in Kota Kinabalu was currently experiencing an outbreak, he told us, and his eyes widened in horror when we confessed we'd eaten several times at one while we had stayed there.
He told us to leave, reminding us that we were three hours from the nearest hospital. He said we should go back to Sandakan to be close to medical help. He was frightened by how sick Dave was, and his fear was starting to make me nervous. I was still feeling awful and now I was starting to wonder: was it cholera?
I don't think it was, but the thought of staying in a humid house with no air conditioning and a family watching from the living room as we repeatedly threw up didn't sound like fun.
Less than 24 hours after we arrived, we left.
The car journey was horrendous as the scenery spun around me and I was convinced I was going to be sick at any moment. Somehow I held it together and we went back to the Sheraton to spend a ton of money on a two night stay at a hotel we weren't well enough to take full advantage of.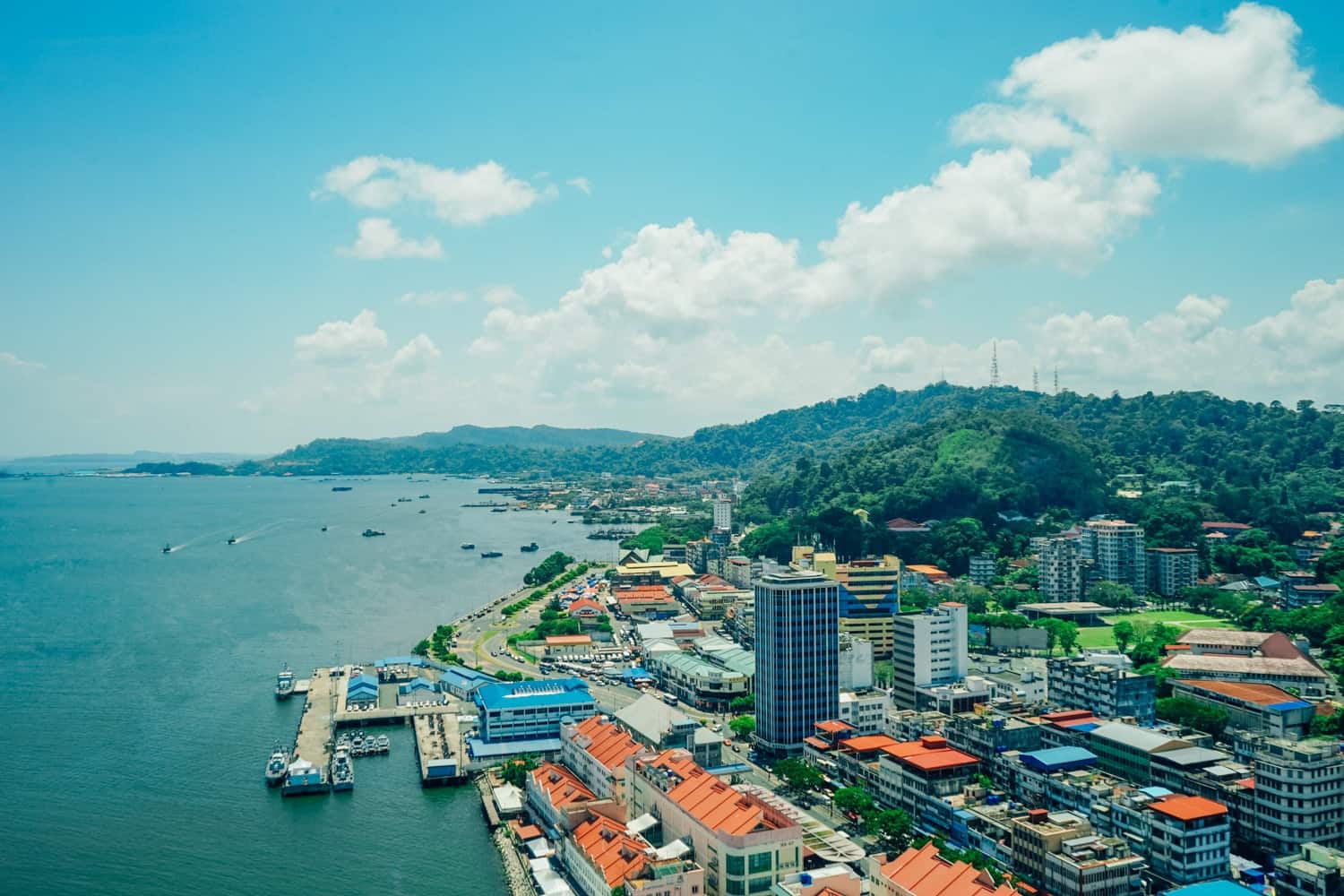 We finished up in Borneo with a single night in Sepilok.
Dave had loved getting to know the orangutans and sun bears at their respective sanctuaries a few days ago, and wanted me to experience it for myself. Despite us staying a mere five-minute walk from the animals, I was still so dizzy that I couldn't drag myself out of the room to see them. And that just about summed up our time in Borneo.
This trip had been a disaster.
I couldn't believe I'd spent an entire month on the island, but just one day in the rainforest. Our boat trip on the Kinabatangang River had given me such a breathtaking taster of what it's like to travel in this part of the world, but a combination of bad luck and bad timing meant that it was all we could experience.
I'm sure I'll be back one day, but for now, we were heading out of Borneo as fast as we could.
I couldn't wait to get the hell out of there.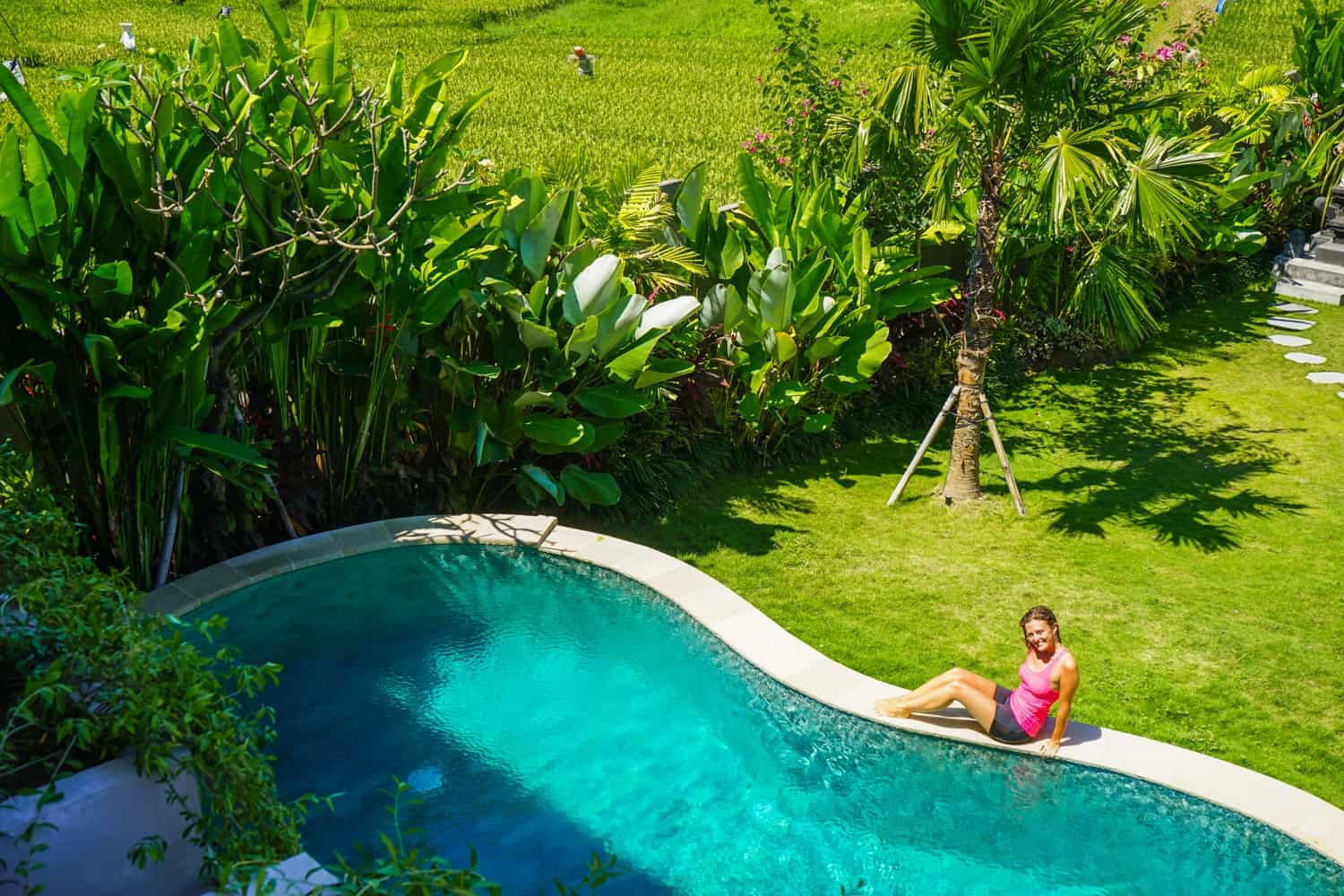 We flew to Bali to heal ourselves.
Borneo had transformed us into broken humans, dizzy, sick, and craving any kind of food that wasn't noodles. We weren't ready to leave Southeast Asia, but we wanted to move to a place where we could eat healthily, work out, have a great quality of life, and recover from our not-cholera. There was no question in my mind that Bali was the best place to do so!
We chose to base ourselves in hipster-slash-hippie Canggu, which is about as far away from being culturally Balinese as you can imagine. This health-conscious spot is full of coffee shops, vegan restaurants, co-working spaces, and rice paddies. Locals don't eat there. It's the sort of place that often makes me feel embarrassed to be a digital nomad, as conversations veer towards levelling up, crushing it at crossfit, and how to make money through dubious means. Over breakfast one morning, I spotted a shirtless guy performing handstand push-ups in the middle of a busy street. In other words, bromads abound.
As much as I disliked Canggu as an external observer, I have to be honest with you guys. This was exactly what I needed at that moment in my life. We were close to the beach, and staying in an inexpensive pool villa in the rice paddies. There were dozens and dozens of paleo/vegan restaurants within a 10 minute walk, and they all offered delicious, healthy meals. I read books, I lazed by the pool, I ate well, and I nursed myself back to health.
Here are some of my favourite meals from my time there.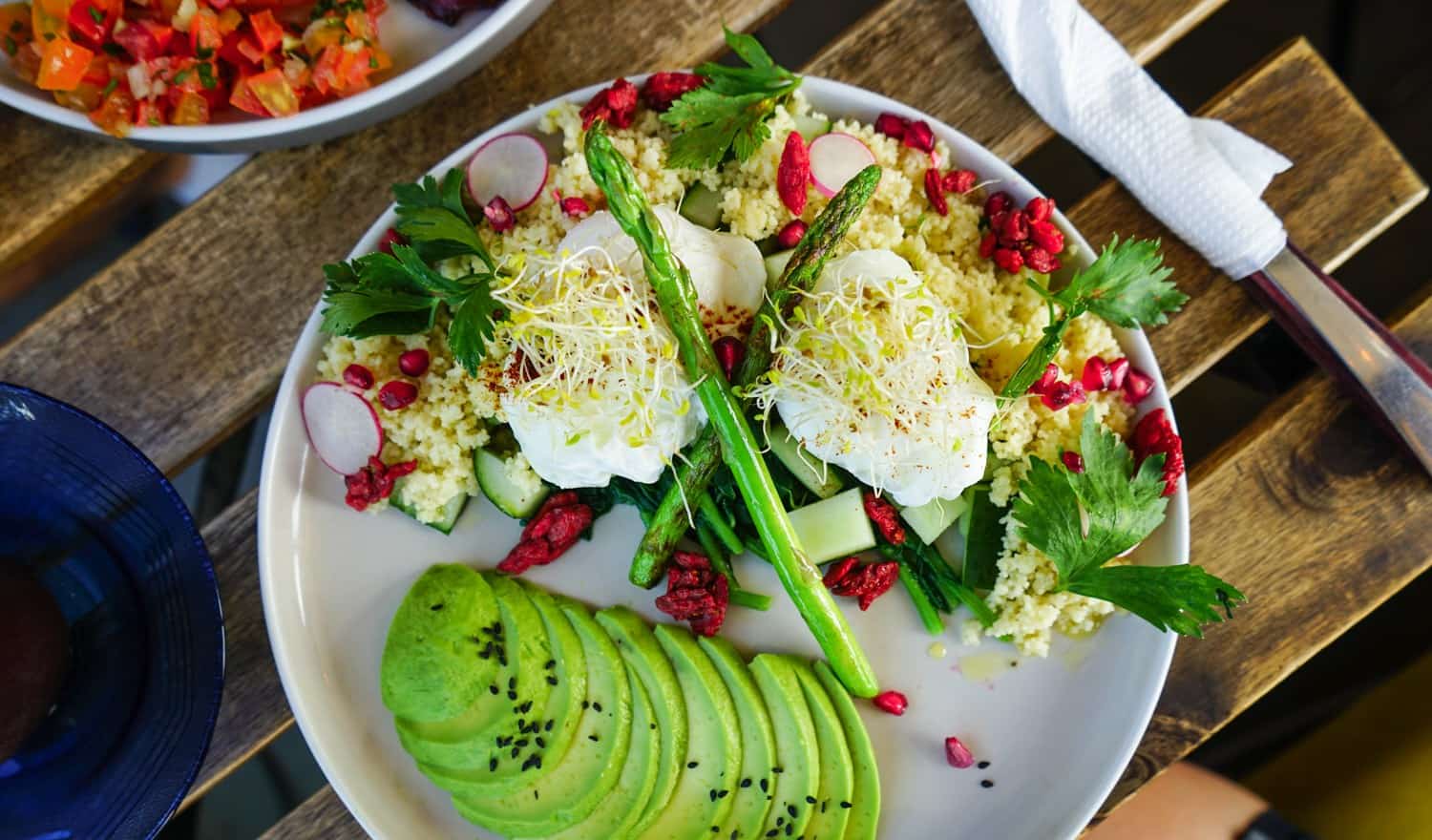 Our original plan was to spend two weeks recovering from not-cholera in Canggu before moving on to the Philippines, but sometimes you have to listen to your body and do what's best for it.
I felt good in Bali.
I felt nourished, healthy, and happy. I'd gathered together the perfect work-relaxation routine while we were in town, and I'd already decided which restaurants and cafes were my favourites. I didn't want to leave them. I didn't want to say goodbye to my beautiful villa in the rice paddies; to my favourite hangouts; to friends who were on the island.
If you'd told me at the start of this three-month stint of Southeast Asia travel that I'd end up spending three weeks in Bali, I would have been flabbergasted. I'd never been able to form a strong connection to the island on past visits, and therefore never craved returning on any subsequent travels around the region. A few months ago, it was right at the bottom of my destination wish list.
Travel is unpredictable and spontaneous, though, and Bali gave me exactly what I needed to start feeling like myself again.
Countries Visited: 2
Indonesia and Malaysia.
Places Visited: 5
Canggu, Kinabalu Park, Kinabatangang River, Sandakan, Sepilok.
Distance travelled: 2,885 miles
Number of flights: 2
Number of buses: 2
Number of boats: 2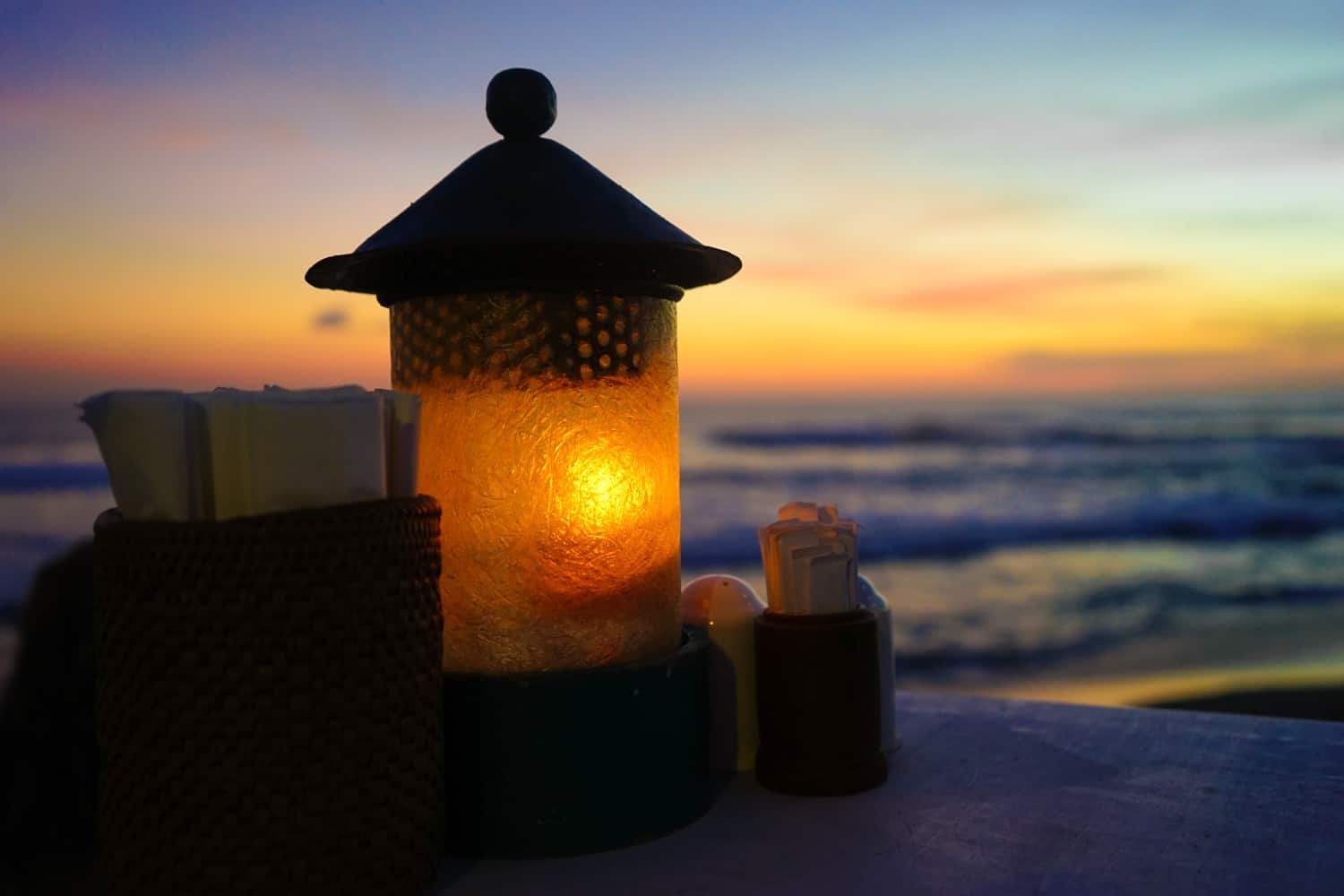 Highlights of the Month
Finding my perfect routine in Canggu: I love forming a routine when I travel long-term, because it keeps me grounded and gives me a sense of normality in an otherwise unconventional life. In Canggu, I found the perfect balance yet again. After treating myself to a delicious paleo breakfast, I'd head back to the room and sunbathe beside the pool while reading a book. Lunch would usually have me opting for a poke bowl or some ceviche, and I'd finally pull my laptop out to get some writing done.
Sunset was my signal to stop for the day, and I'd head over to the beach to meet Dave, watch the sun set, and sip on an ice cold beer. After dinner, we'd spend the rest of the evening watching TV shows, chatting about our future plans, and wondering if we'll ever recover from not-cholera.
Watching the sun rise over Mount Kinabalu: Mount Kinabalu is often shrouded in cloud, so when I happened to accidentally wake up with the sun, I grabbed my camera and wandered out onto the balcony. The air was cool and crisp, the sky was vibrant, and I could just make out a tiny trail of humans making their way back down from the summit.
My glorious hour with the pygmy elephants: I can't put into words how breathtaking it was to spend a full hour just metres away from a herd of pygmy elephants. I took plenty of video footage that I can't wait to share when I write about this experience in more depth.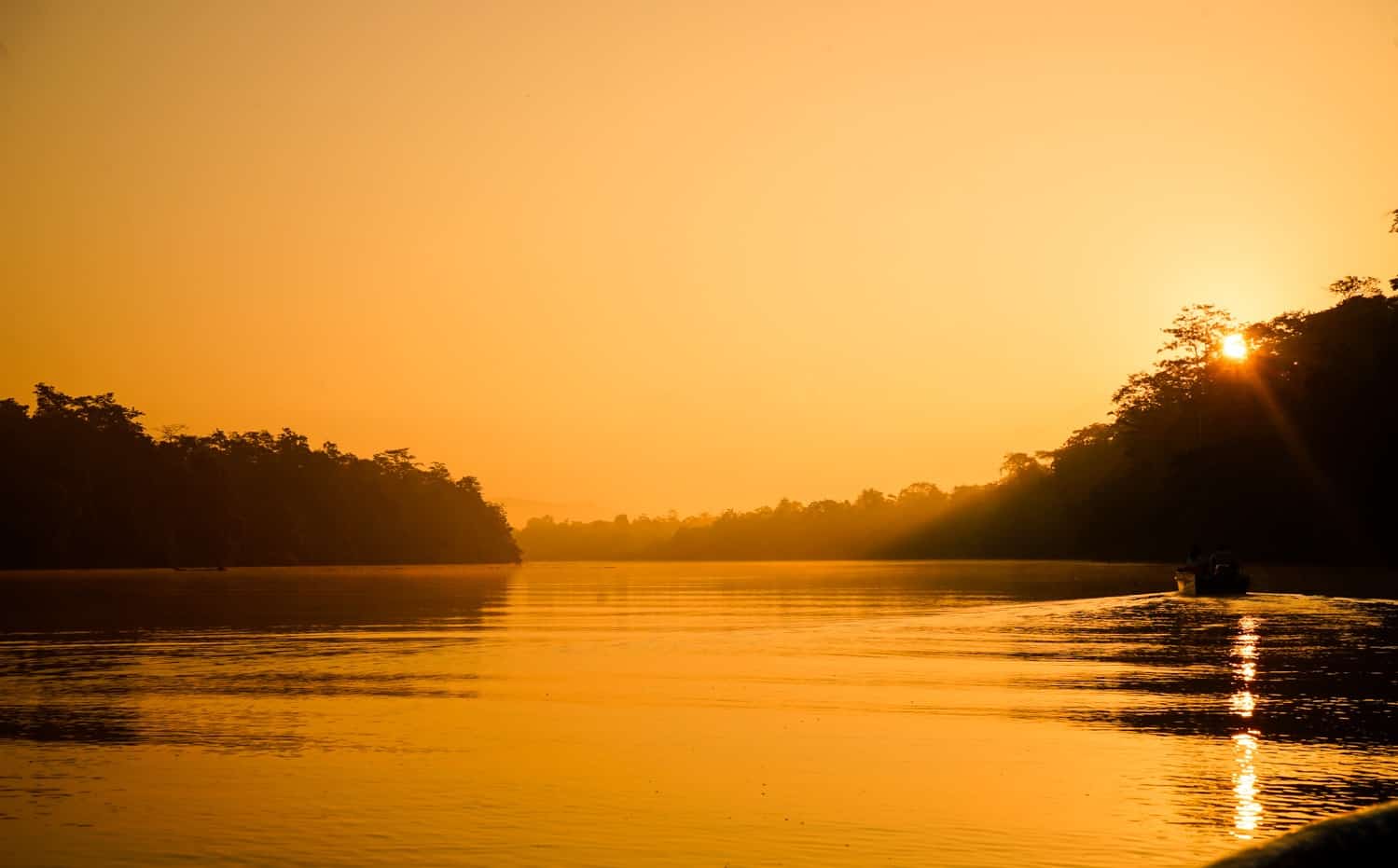 Lowlights of the Month
Contracting not-cholera: I've been sick while travelling before, but I'm fairly certain this was one of the worst bouts of illness I've encountered on the road. I was out of action for a full two weeks, and I'm still not feeling 100% a month later. I don't know what kind of virus we contracted in Borneo, but it's one I don't want to ever run into again.
Missing out on the orangutans and sun bears: I love orangutans! I love sun bears! And that's why it sucked that I didn't get to spend any time with them while I was in Sepilok. You know you're sick when you're a five-minute walk from dozens of adorable animals and can't muster up the energy to see them.
Seeing so little of what makes Borneo special: I still can't believe I only spent one day out of a month in the rainforests of Borneo. Our trip was disastrous, and we encountered a hell of a lot of bad luck, but I'm not letting it taint my impression of the island. I'm confident I'll be able to return in the future to have a far more enjoyable experience.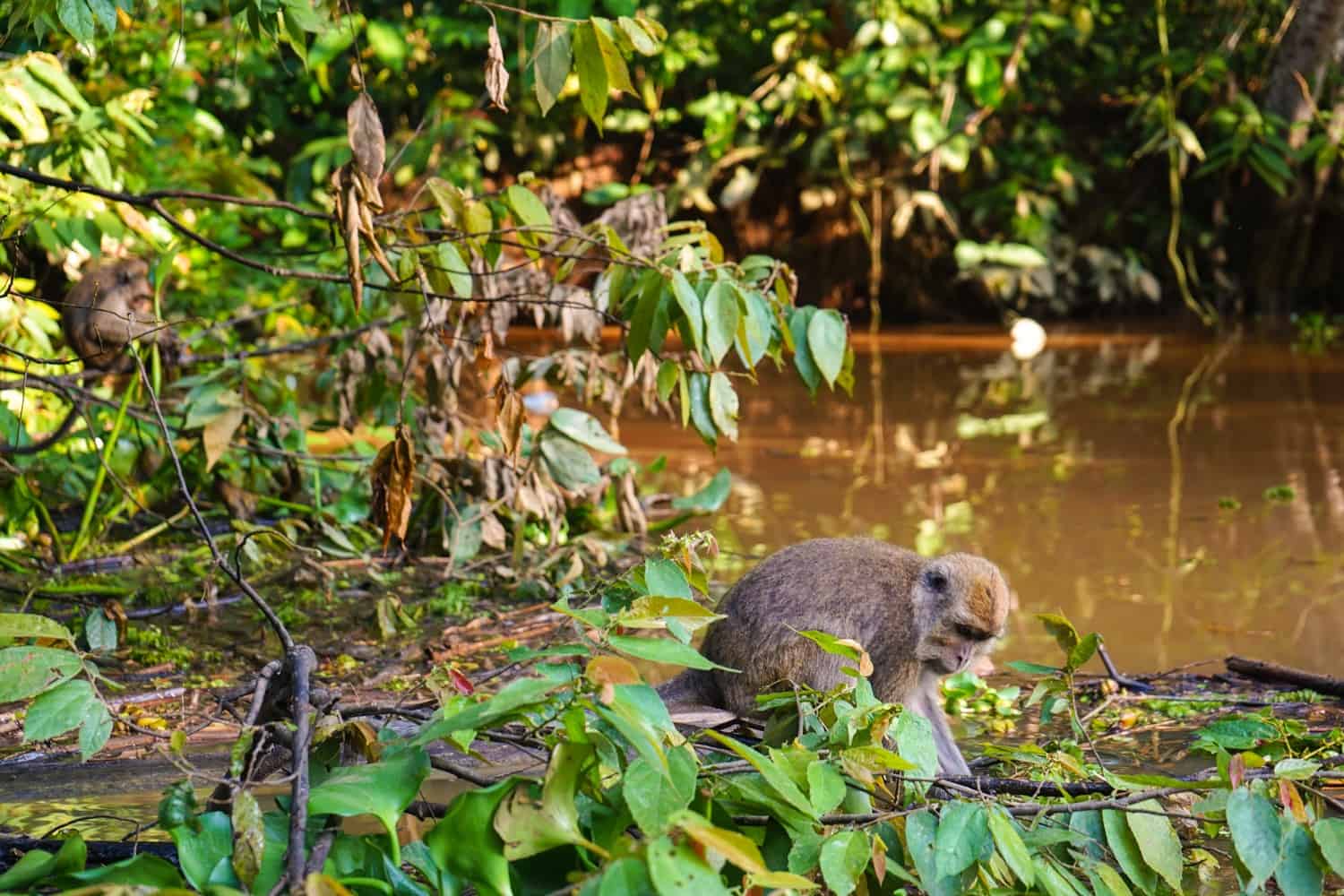 Incidents of the Month
I thought I was having a stroke: When I was having dinner in Kinabalu Park and half of my face suddenly erupted in pain, I immediately began to panic. I felt a tremendous amount of pressure in the left side of my face, and was convinced my sinuses were about to explode. I attempted to remain cool and calm while waiting for it to pass, but it didn't pass and I was no longer cool or calm. An hour later, I was pacing in our bedroom in tears because I was so convinced something was seriously wrong with me. I was in so much pain that I couldn't sleep and I was worried that it wasn't fading away.
In desperation, I pinched my nose and equalised my ears and, um, well, it entirely disappeared. No more pain, no more pressure, and no more fear. I can only assume I accidentally unequalised my ears at some point and it resulted in a scary evening of sinus weirdness.
I booked the wrong freaking flight. Again: Argh! Long-time readers already know I have a habit of booking myself on the wrong flight, and I have no idea how I continue to repeat my mistakes.
This mishap was particularly ridiculous.
As Dave and I booked our flight from Sandakan to Bali, I argued that we should buy the more expensive flight, as it would get us in earlier and ease the stress of our travel day. As we made our booking, I read out the flight number three times to Dave, as well as the departure and arrival time, and the cost of the flight. I repeated the numbers over and over to ensure we would be on the same flight.
And then I booked an entirely different one to the one I'd been reading out.
How?!
I literally have no idea how I managed to do it. It was, um, so fun to discover my screwup while Dave and I were at the airport and about to board a flight I somehow didn't have a ticket for.
I yelled at a group of obnoxious tourists: The walls of our guesthouse in Kinabalu Park were some of the thinnest I've come across, and when I settled down to sleep, I could still hear the guests next door talking. If they had been speaking English rather than Mandarin, I would have been able to hear every loud word they uttered.
I waited patiently for them to stop for several hours, but they didn't. It was midnight. Dave knocked on the wall to silence them, but they ignored him. And finally, I lost my temper and roared, SHUT UP!!! through the wall at them.
I'm fairly certain I woke up the entire lodge, but it caused them to finally go to bed, so 13/10 would scream into the night again.
My Next Steps
Well, that's a change of scenery!
I'll be swapping sunshine for showers in May, and heading back to my homeland for a summer full of music, festivals, food, and hikes. I loved getting to know the U.K. better last year and when I left, I promised you guys I'd be back very soon for more fun and games.
Up first is, as always, London! It looks set to be fairly warm and sunny while I'm in town, so my plan is to spend as much time as possible outdoors. I've got a gin-themed afternoon tea planned, as well as introducing Dave to some of my favourite restaurants. We'll be looking to hunt down the very best street markets, cafes, and outdoor bars, picnicking in parks, and I've even snagged a ticket to see the Rolling Stones, too.
Mid-month will bring my first stint of U.K. walking, as we'll be heading up to the Peak District with some friends to see this part of the country for the first time. On the agenda is hiking, hiking, hiking, and a hell of a lot of cosy pub lunches to numb the pain of my inevitably emerging blisters. We'll be basing ourselves in Bakewell for this adventure and renting out a homey-looking cottage while we're there. I'm especially looking forward to trying their famous Bakewell Puddings while I'm there!
The second half of the month will see Dave and I heading to Bristol, which fast became our new favourite city in the country when we checked it out for the first time last year. We'll be filling our lives with gin and cider, taking long walks beside Bristol's Harbourside, and exploring Bath for the very first time.
If the weather holds up, it looks set to be another fantastic month!
What are your plans for May? Have any tips for my time in the U.K.? Let me know in the comments below!