I started my 12th month of travel in Essaouira, a beach town in Morocco that I instantly fell in love with. It felt much more relaxed than Marrakech, the medina much smaller and the people friendlier. I planned on spending a week there because I loved it so much, but after a few days it really began to grate.
I had men approach me in the street and mumble and try and grab them at every opportunity (this was while I was completely covered from my neck to my wrists to my ankles. I had scarves around my head, over my face… It wasn't like I was dressing inappropriately!) My friends even had rocks thrown at them when they ignored a vendor in the medina.
So whilst it is true that it was less intense than Marrakech, the hassle was still present and it was really beginning to wear me down…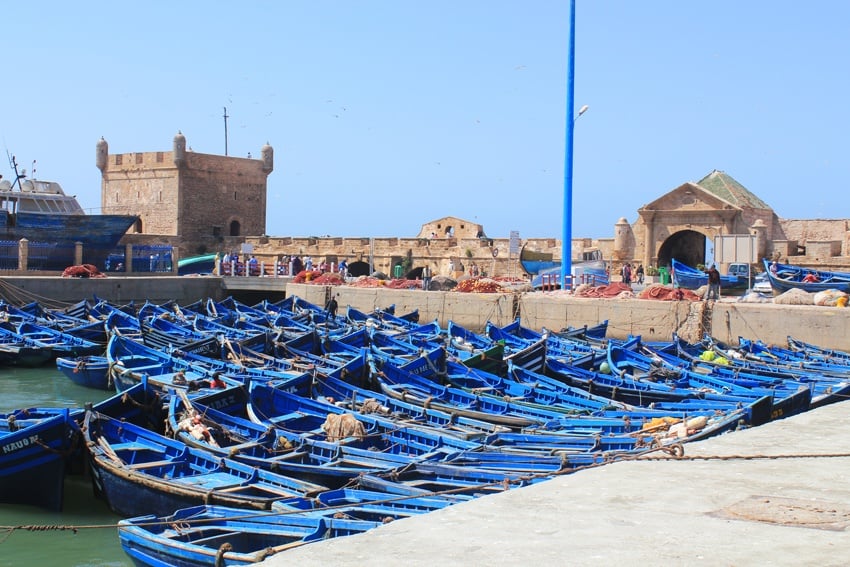 But after planning to spend five weeks in Morocco, could I really leave after just two?
I decided to head to Chefchaouen to try and figure out what to do next.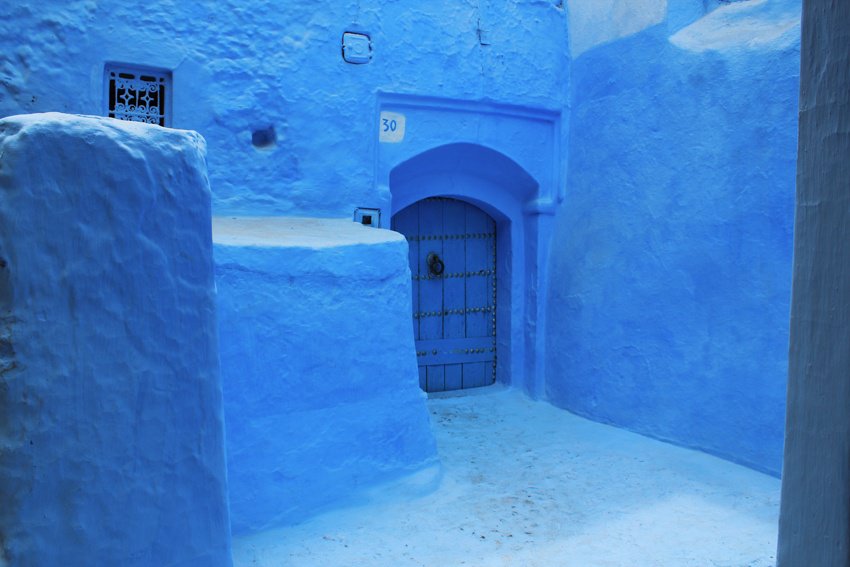 Chefchaouen was the place I was most looking forward to visiting and it ended up being the only place in Morocco that I truly loved.
It was stunning.
I think I took more photos in Chefchaouen than I have done in any other place in the world – it was just SO photogenic! Not only that, but it was incredibly peaceful too. Of course, there was still hassle, but it didn't feel threatening here. If you said no, you were actually left alone!
I was sad to leave after five days of bliss but it was time for me to explore somewhere new. I was heading to Tangier.
This was a huge mistake.
Honestly, my one day in Tangier was spent mostly hiding in my hotel room. The one time I ventured outside, a guy started shouting at me, chasing me down a street and then he aggressively tried to grab my chest.
I was done.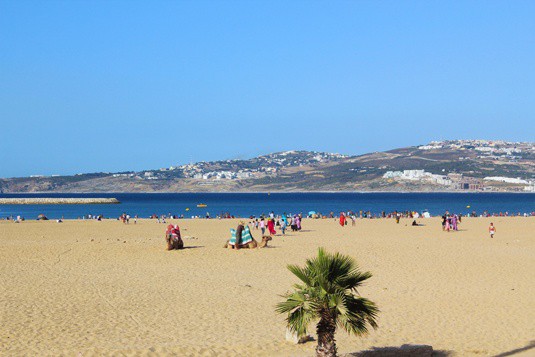 I am disappointed with my time in Morocco as, prior to my arrival, it was probably the country I was most desperate to see.
I left feeling torn and conflicted.
I absolutely adored the country itself – riding camels through the Sahara desert at sunset, experiencing the complete and utter chaos of Marrakech, the hippie town of Essaouira, the gorgeous colour of Chefchaouen, it's a beautiful country. But the Moroccan men completely ruined my experience.
The stares I can cope with, the clicking, whispering, muttering and shouting as I walk past I can mostly deal with and pretend to ignore, but throwing rocks at me? The spitting at me, the running up and grabbing my boobs and calling me a whore when I freak out and run away? I don't see how any woman could deal with that.
Perhaps it was worse because I travelled alone? Because of my age? Either way, I don't plan on returning to Morocco for a very long time and I'd certainly never travel solo in Morocco again.
But at the same time, I found myself wrestling with feelings of guilt and doubt ever since deciding to flee the country earlier than planned and return back to London for a few weeks – I felt like a coward, that I was giving up and avoiding my fears, and I was angry that I was running back to my comfort zone when things got too hard for me. After all, I wouldn't have been able to run back home if I'd have still been in Asia.
But it was the right thing for me to do.
I needed to get a ton of work done before embarking on my crazy Interrail adventure (more on that tomorrow!) and knowing that I'd have very little time to write over the next month meant that it was good for me to sit still, not spend any money, and get a load of work done.
However, I found myself spending most of my time at home anxiously counting down the days until I could leave and fly to Frankfurt, mostly because I'd be meeting up with Dave after spending 5 very long weeks apart!
It has been wonderful to be back travelling together and we spent the majority of our time in Frankfurt exploring the amazing cider district. Dave even introduced me to the Australian concept of a "Sunday session" (drinking on a Sunday afternoon). We went to Hooters for the first time! I know, we're pretty classy.
And then my Interrail adventure began, with an eight hour train ride to Prague. Travelling in first class was a new experience for me and having power sockets and free cups of tea made the trip a LOT more enjoyable than I was expecting.
Since arriving in Prague it has been raining constantly, which is disappointing. Hopefully, the weather will get better over the next few days.
I did, however, find a statue of two peeing men, which basically made the trip to Prague entirely worth it.
Onto the statistics for the month!
Distance travelled: 3733km
Countries visited: Morocco, England, Germany, Czech Republic
Cities visited: Essaouira, Casablanca, Chefchaouen, Tangier, London, Frankfurt, Prague
Number of photos taken: 1092
Number of buses: 2
Number of trains: 4
Number of planes: 4
Money spent:
Morocco: £268.40 over 12 days = £22.33 per day (+ £192 for flights back to England).
England: £1,100. Yes, I bought a new Macbook Pro!
Germany: £72.50 over 3 days = £24.16 per day.
Czech Republic: £10 over 1 day = £10 per day.
Total amount spent: (Excluding my Macbook Pro) £542.90/$845.07
Number of times I was groped in Morocco: 4,491,735.
The next month:
I'll be spending the next month exploring Eastern Europe with my 30 day Interrail pass! Dave and I recently finalised our itinerary and it involves visiting lots of new countries for both of us, which I am SO excited about! Our route will take us through the Czech Republic, Slovakia, Hungary, Croatia, Bosnia, Montenegro, Serbia, Romania and Bulgaria before we finish up in Turkey! I know I'm going to be absolutely exhausted after cramming so much travel into such a short space of time so I'm glad I'll have over a month planned in Turkey to relax afterwards.
Looking to follow along with my travels through my monthly summaries? You can read the previous month's summary here, the next month's summary here, or head on over to the monthly summary page to read from the very beginning!