Posted by
August 31, 2012
in
Africa, Morocco
|
28 comments
on
My main reason for heading to Morocco, and flying into Marrakech, was so that I could visit the Sahara Desert.
Wherever you go in Marrakech you'll find hundreds of tour operators offering desert tours ranging from 1 to 3 nights and the abundance of options can be a little overwhelming.
I decided to book through my hostel as the thought of bargaining with Moroccan men scared me the prices they offered were similar to those I found online. I went with the 2 night option and paid $70 in total.
So what's the difference between the tours?
The one night tour is for people who have a limited amount of time to see the desert. You visit the Zagora sand dunes which, in the words of my hostel owner, is kind of crap with lots of rocks and mountains. The two night tour takes you to the Erg Chebbi dunes – the amazing ones I showcased in my photo post. The three night tour took you to both Zagora and Erg Chebbi, and, well, I didn't see too much point in wasting a day going to the rubbish dunes when I could see the amazing ones!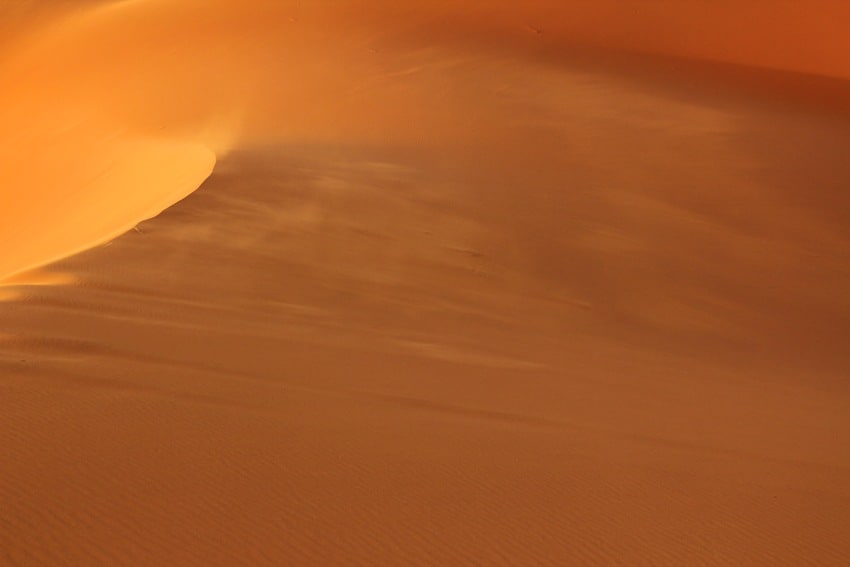 However, what I naively didn't realise when I booked the tour was that the Sahara Desert is really far away.
Like, two days of driving far away.
Like, two days of driving on one of the most dangerous roads in the world.
So, the first couple of days were filled with mostly uninteresting stops and reminded me just how much I dislike being on group tours. When I travel, I love being able to do exactly what I want when I want (which, granted, isn't an awful lot) and group tours leave me feeling frustrated at being told where to go and what to do.
We visited quite a few Berber villages, the first of which was incredible to see, even though it was very touristy. When we visited five more that were identical to the first, I was beginning to get weary. I just wanted to get to the bloody desert!
We were even allowed to spend two whole hours at the, erm, extremely small cinema museum of Ouarzazate.
After a very long and very tiring day of over 10 hours of driving we finally reached our hotel for the night, where I nearly passed out at the excitement of having wifi in the almost-desert.
And then I actually passed out from exhaustion.
The second day began at a horrifically early hour but today, I wasn't complaining.
Today, I was finally going to see the Sahara Desert!
However, as always, the day's driving wouldn't be complete without visiting even more Berber villages. These ones were slightly more interesting – dry, dusty mountains, massive gorges, spectacular waterfalls, and lush green valleys, which looked wildly out of place in the middle of the desert.
And then it was time for the final drive.
Over the next two hours, I watched the surrounding landscape get flatter and flatter, the rocks get smaller and smaller and the sand get oranger and oranger (is oranger a word? Probably not).
And then, at 6pm, we finally arrived.
I was finally in the Sahara Desert and it was all I could do to keep from crying with happiness.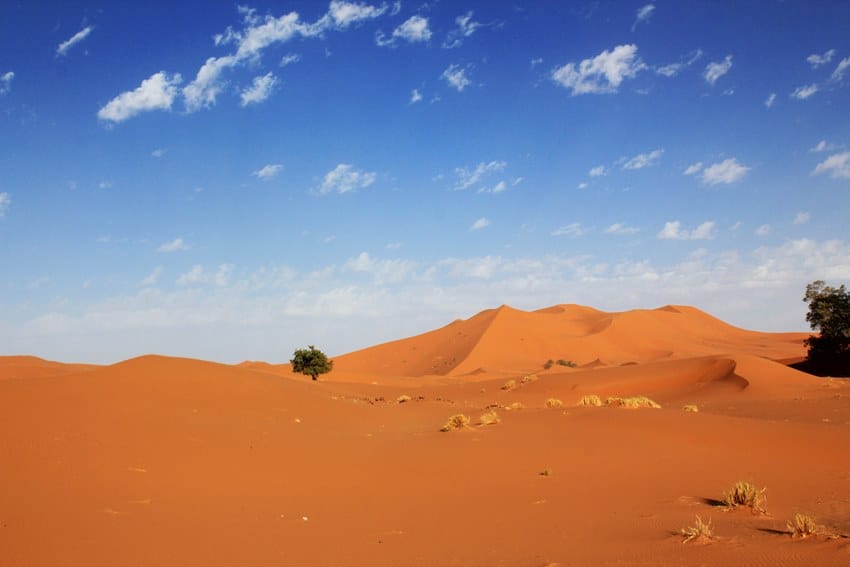 It was so, so, so magical. I'd never seen sand so orange, never seen so much sand before in my life. I loved it!
We were greeted by our Berber guides for the desert and taken over to meet our camels.
This was the moment I had been dreading.
Knowing the ridiculous things that always seem to happen to me, I knew that there was no way I'd be able to successfully ride a camel without having a near-death experience.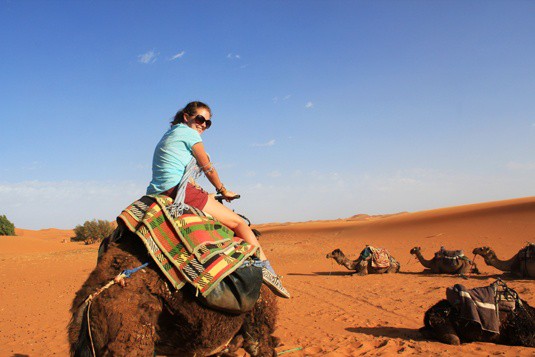 Which is why I was completely astonished to find myself gracefully hopping on top of the camel with perfect poise and courage, and not freaking out.
Hey, I'm good at camel riding!
For the next two hours we rode deeper into the desert. I soon realised that although riding a camel on flat surfaces is a piece of cake, going up and down sand dunes is an absolute nightmare.
I can't even begin to explain just how uncomfortable it is.
You see, when you're sat on a camel and start going down the steep edge of a sand dune, every step it takes drops its feet instantly about half a metre into the sand.
And to climb up a sand dune camels do some some sort of strange gallop that had my metal handle bashing into my ribs and camera as I fought to stay upright.
With just a one metre rope connecting the camels together, it meant that we were constantly bumping into each other with camels tripping all over the place and me screaming that I was about to get eaten.
This was a lot harder than it looked.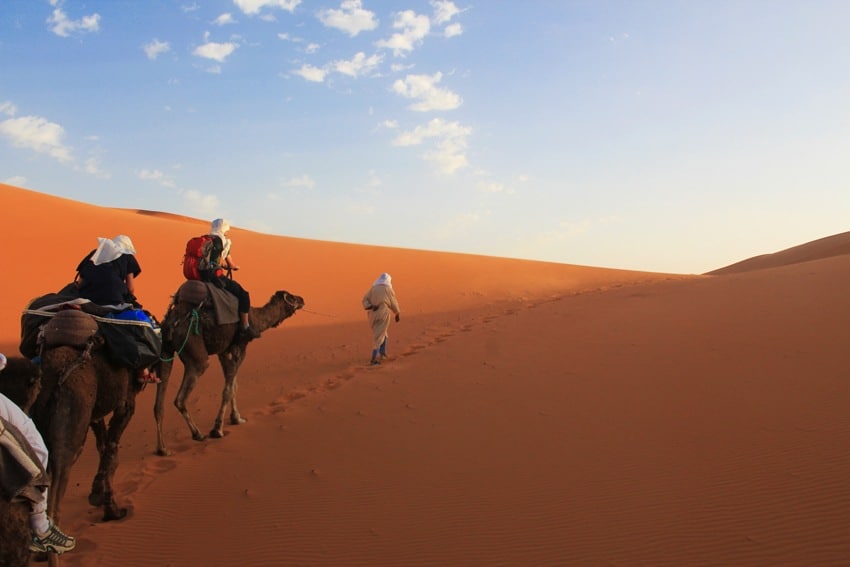 There were a few moments of relief, however. The first of these when we dismounted to watch the sunset.
Our guides motioned towards the largest sand dune, at least 100 metres high, and we soon realised that we were going to have to climb it! It took at least 15 minutes to reach the top and I quite often felt like I was literally taking one step forward and two steps back!
It was absolutely worth it though, as the view at sunset was one of the best I've ever seen.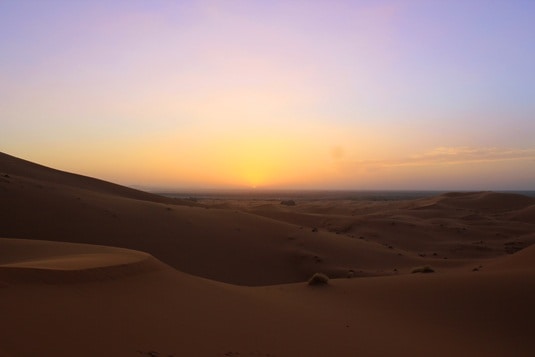 An hour of more camel riding later and we reached our camp for the night. Our evening was spent eating chicken tagine, listening to our guides play Berber music as we danced around the campfire, and racing each other up the sand dunes until we were too exhausted to move.
Of course, we all wanted to sleep under the stars that night and so we dragged our mattresses out of the tents and onto the desert sand.
Having spent my entire life in polluted London, I always pee myself with excitement when I go somewhere without light pollution and can actually see the stars for once.
And these stars were incredible. With zero light pollution, you could see the Milky Way over the sand dunes and I was completely transfixed.
So. Many. Stars.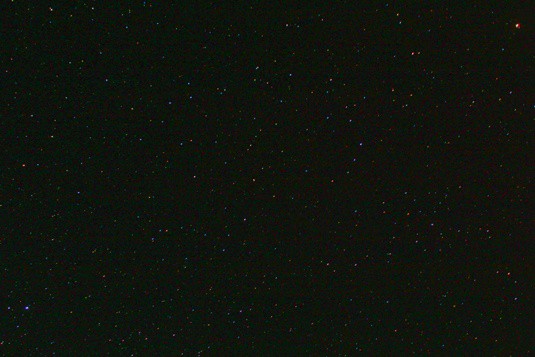 Once the campfire had been extinguished, we all settled down into bed and it was at this point when I felt an entirely new and unexpected sensation.
Cold. 
It was absolutely freezing and I was wearing shorts and a t-shirt, with just a thin sheet to cover me. I was not going to be getting much sleep tonight, but for once I didn't mind.
I lay awake for much of the night and saw more shooting stars than I thought possible, and before I knew it it was 5am and it was time to hike up another sand dune to watch the sunrise.
The sunrise was just as spectacular as the sunset from the night before. There was something so peaceful and relaxing about watching the sun rise over a landscape that had no buildings or people in sight. There was nothing but sand stretching out in every direction, fading out into what seemed like infinity.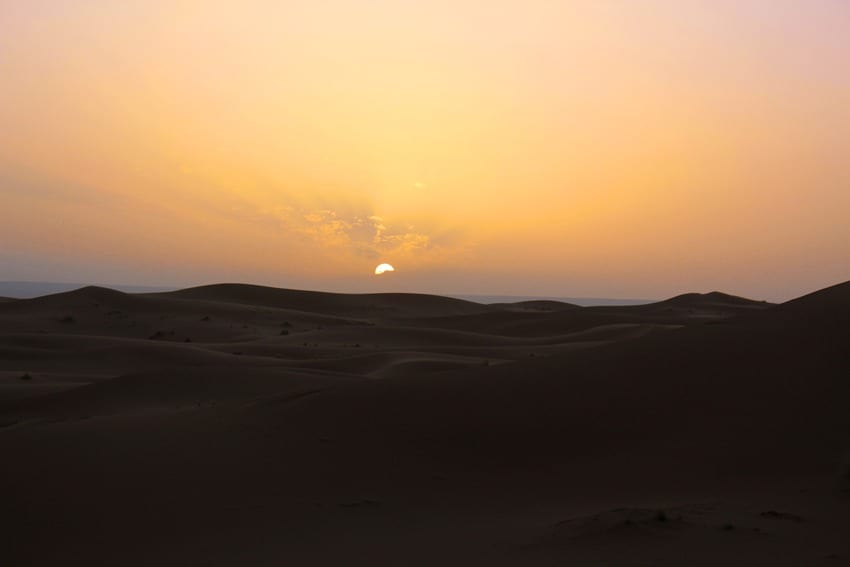 We dejectedly traipsed back down the sand dune to our waiting camels and eased ourselves back on, grimacing at our rapidly appearing aches and pains from the previous days riding.
It wasn't going to be a gentle ride back.
Two hours later and, sadly, it was time to leave. 
As I've said a million times before, the Sahara Desert has been the highlight of, well, my entire life. It is the best thing I've ever done and has kick-started my new-found obsession for deserts.
I can't wait to return…
Posted by Lauren.