Posted by
August 24, 2012
in
Africa, Morocco
|
41 comments
on
Everybody said I'd hate Marrakech. 
Even I fully expected to hate it.
And it's true that within just a few minutes of arriving (on a delayed flight at 2am!) I felt my rage levels rapidly increasing. It was everything I'd expected it to be, and everything I dislike in a city – it was large, crowded, noisy, polluted, chaotic, intense. I had a feeling that it wouldn't be long before I was huddled up in a corner of my hostel, trembling and refusing to go outside.
On my first day, however, something miraculous happened. On my first day, I discovered a side to Marrakech that I wasn't aware existed. Marrakech was fascinating; it was beautiful. Oases of palm and orange trees in tranquil gardens that made it surprisingly easy to escape the hustle and bustle – making the city much less intimidating. I even found myself enjoying the food – ALL of the food!
Much to my surprise, I found myself really, really liking this city.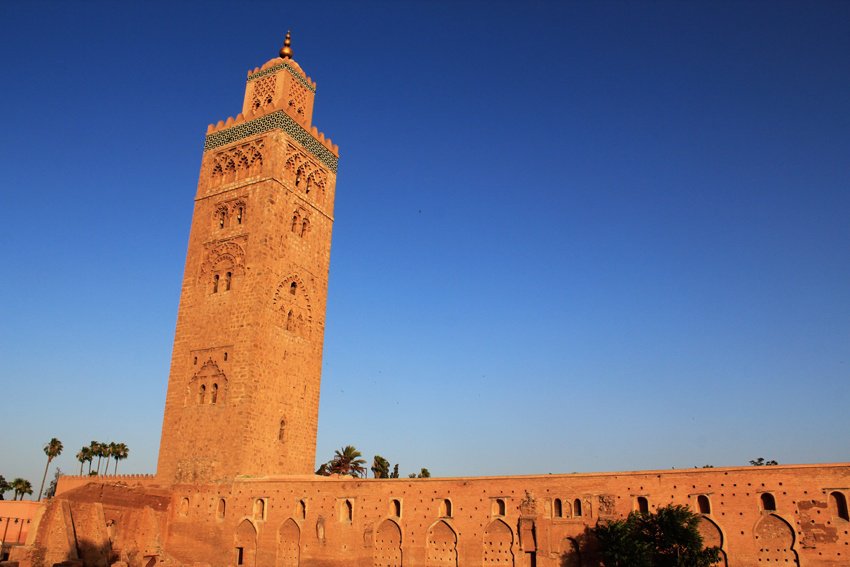 Astonishingly, my first few days in Marrakech were some of the least challenging of my entire time in Morocco. I met Katrina, another solo traveller, at the Riad where I was staying and immediately I was grateful to have found someone who was also terrified to venture out alone. We decided to hire a guide for the day to help us navigate.
This was an excellent decision.
The medina in Marrakech is absolutely insane. Terracotta houses and shops line a claustrophobic labyrinth of streets filled with tourists, vendors, cars, scooters, donkeys, camels and just about anything you can think of. Within seconds of entering, expect your senses, and your sanity, to be completely overwhelmed by the craziness.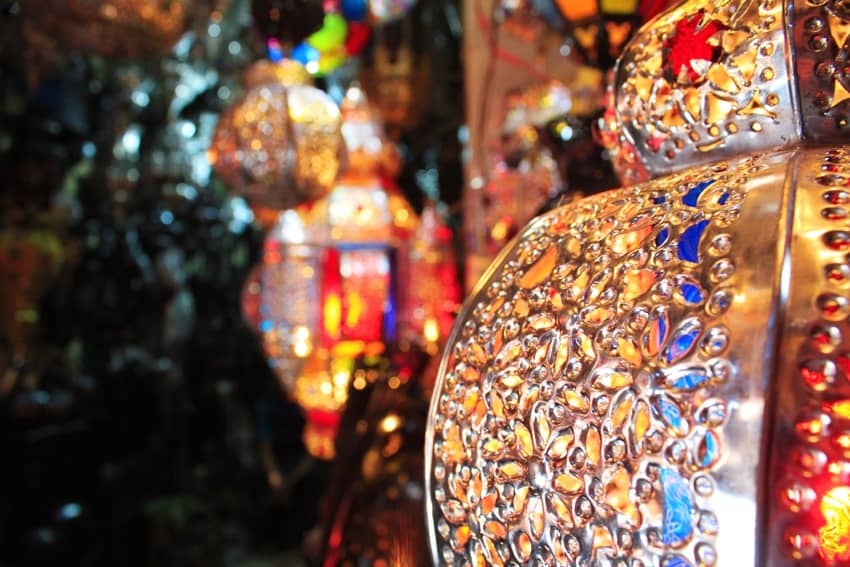 On our way to the souks, we first stopped off at the Bahia Palace, a 19th century palace and gardens with some amazing architecture – it's worth a visit just for the incredibly intricate artwork and ceilings.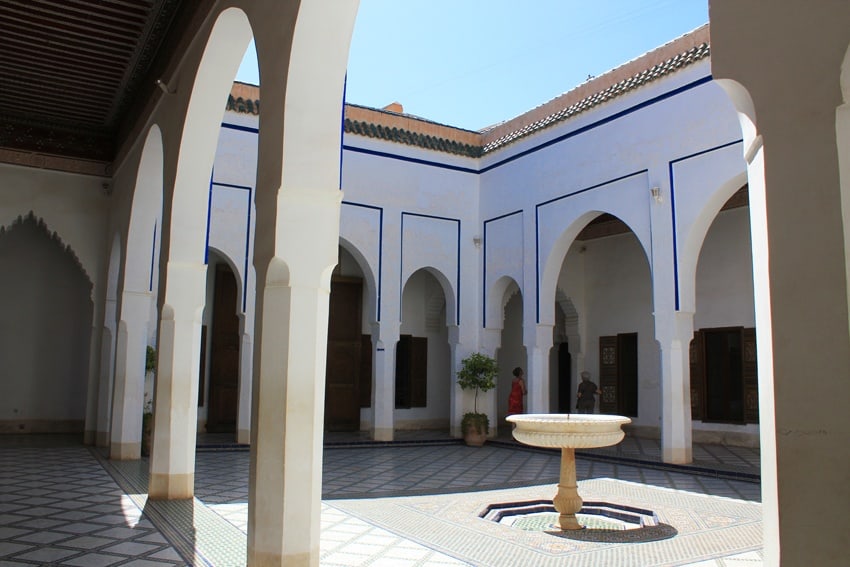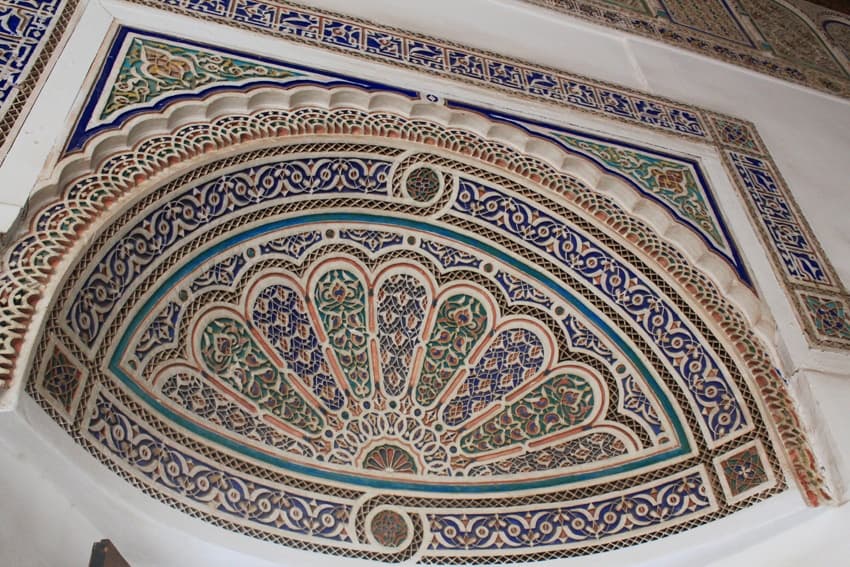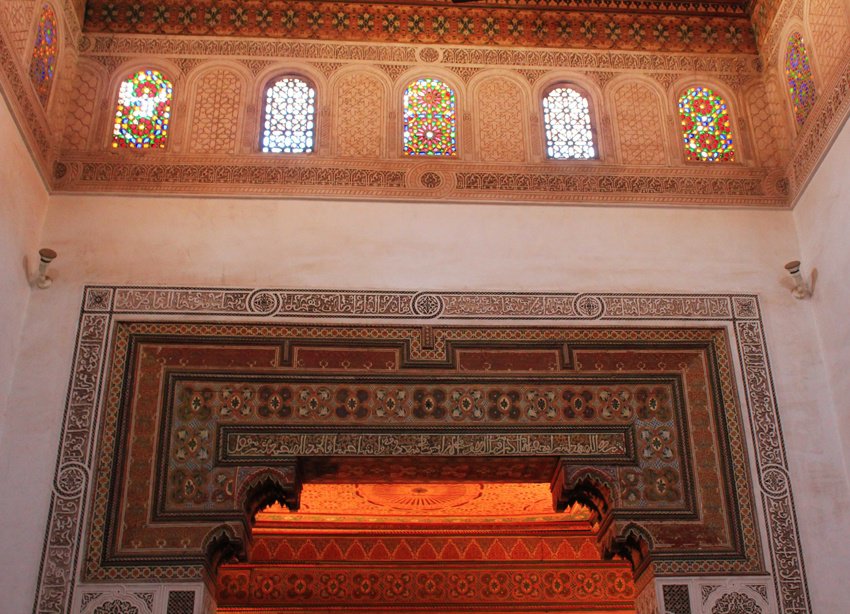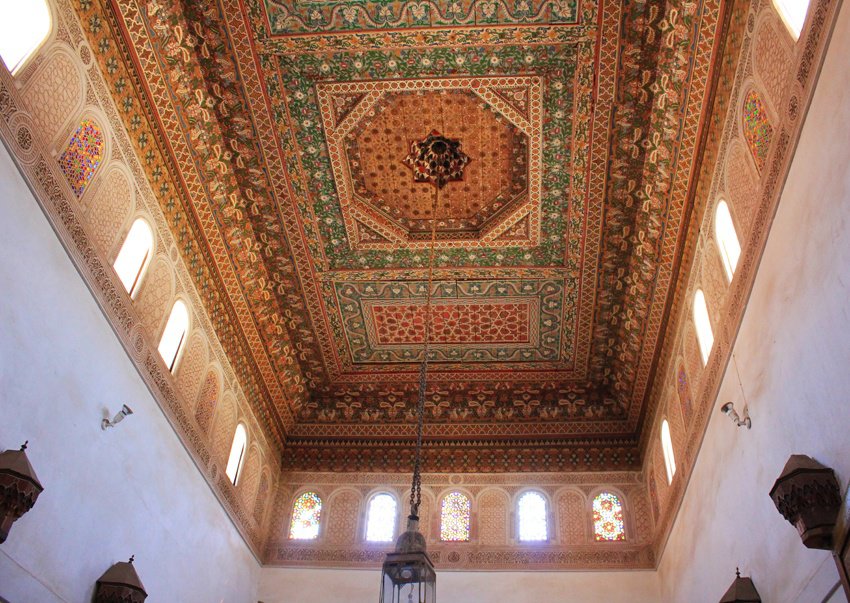 And then it was time to venture into the madness of the souks.
One of the many benefits of having a guide accompanying us was that most of the vendors left us alone and we experienced very little hassle. There were still shouts of "English!" "England!" "Fish and chips!" "See you later, alligator!" (the last one providing hours of entertainment and confusion – where on earth have they heard that?! ) but there was less aggression in their sales technique, it wasn't as intimidating.
And so, for the next three hours, we explored. First, we checked out the fabric and clothing section.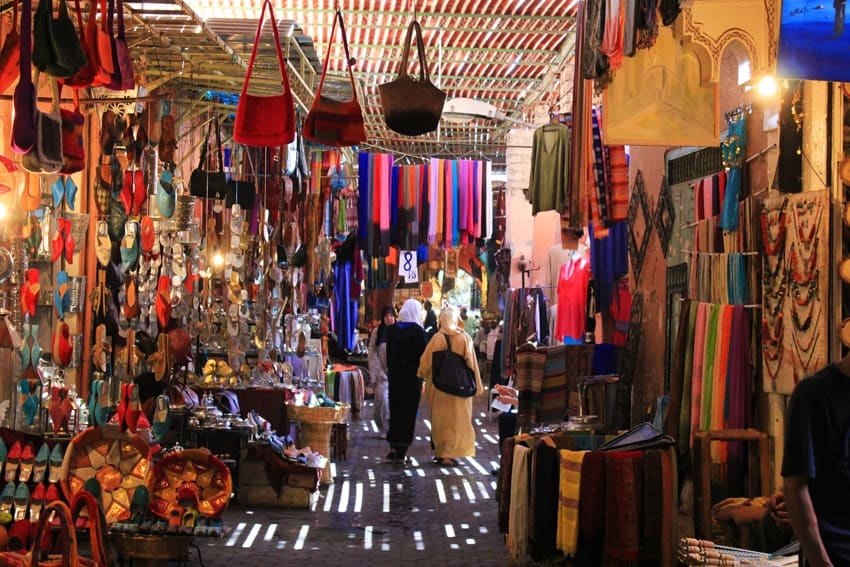 And of course, we couldn't escape without trying on our own desert-style headscarves!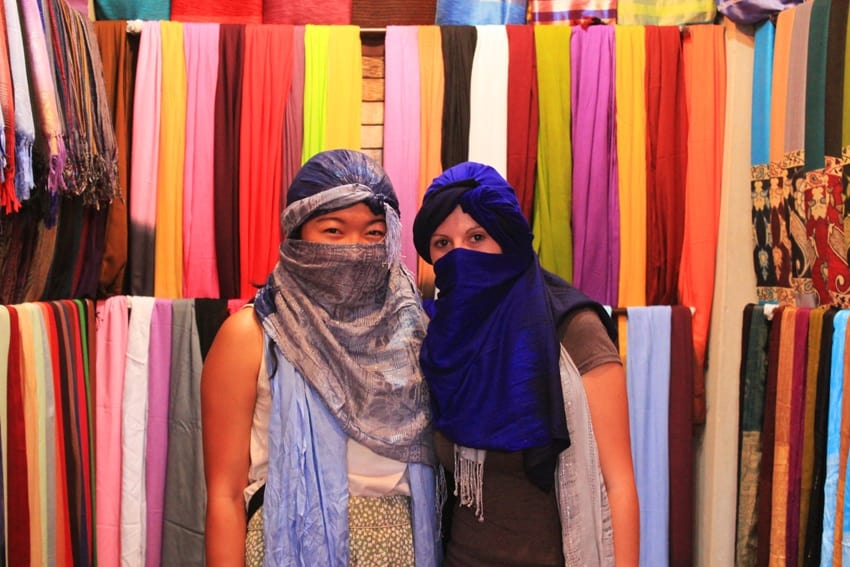 Next up, were the gorgeous and vibrant lantern stalls. This was one of my favourite areas and I so desperately wanted to buy one to hang from my backpack…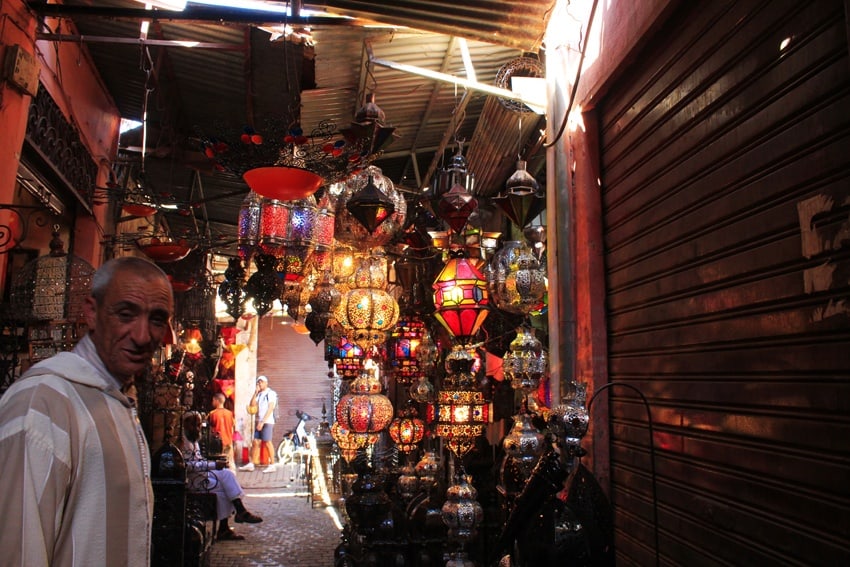 We spent a few minutes visiting the leather shops of the souks, which were hot, noisy and scary, prompting us to quickly leave.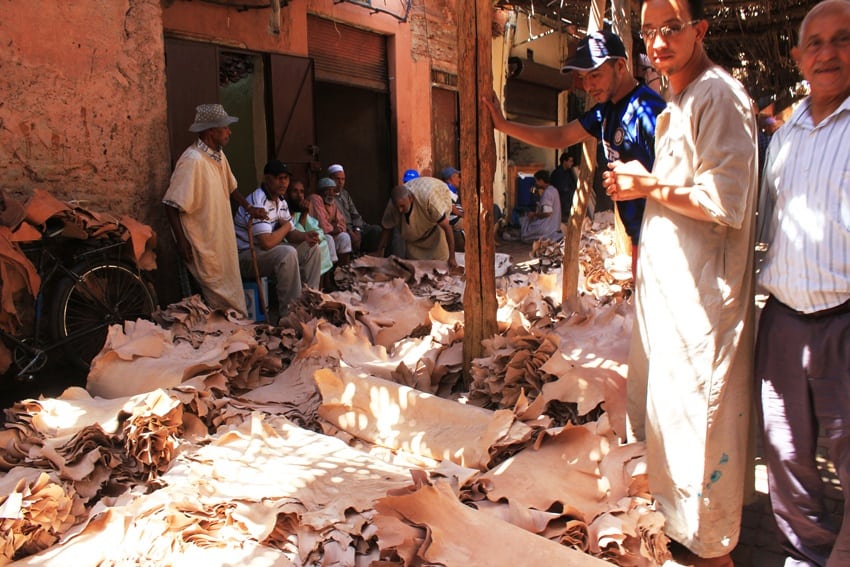 And then, finally, after a quick lunch of chicken tagine, we climbed up to the roof terrace of a nearby shop and were rewarded with views over the whole medina, as well as the Atlas Mountains in the distance.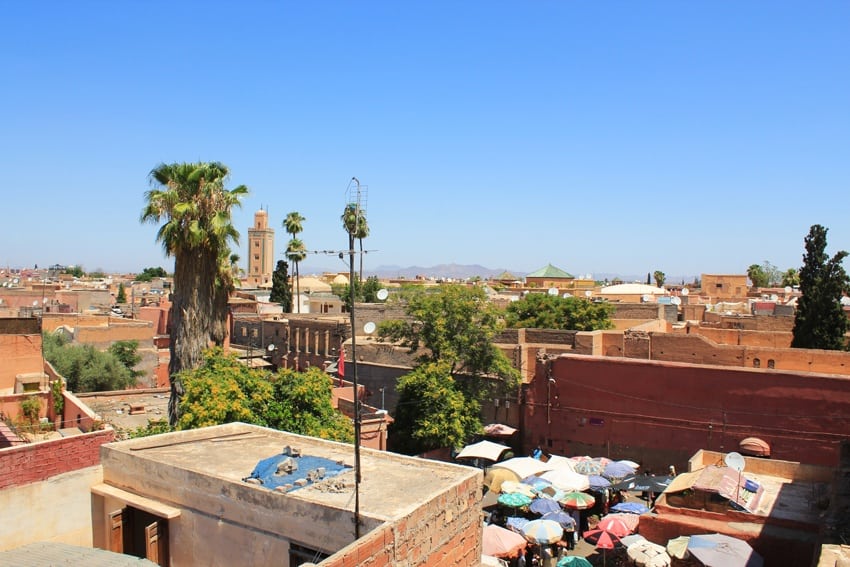 After spending much of the morning and early afternoon walking around in the sweltering heat, Katrina and I were both exhausted and cut short our tour to head back to our hostel to nap.
However, we then found ourselves with a slight problem. When almost every single street in Marrakech looks like the alleyway in the photo below, we ended up extremely lost for over an hour and found that we needed a guide just to find our way back!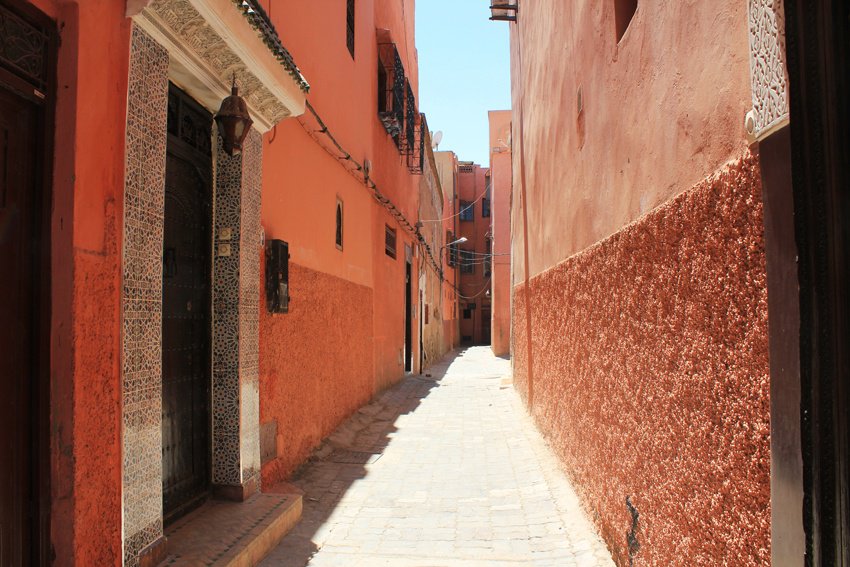 If you're visiting Marrakech for the first time, I can wholeheartedly recommend hiring a guide on your first day to take you around the souks and to see some of the main attractions of the city. I have no doubt that had I been wandering around on my own I would have ended up seeing just 10% of what I experienced with my guide – and would have spent the majority of my time absolutely lost and terrified.
Indeed, one of the true delights of Marrakech is the joy of wandering aimlessly through the alleyways and medina, but I can honestly say that after having explored first with somebody who knew where everything is I felt a lot more comfortable walking around in the days that followed.
I paid approximately 100 MAD (11USD) to hire a guide for a half-day.
Posted by Lauren.